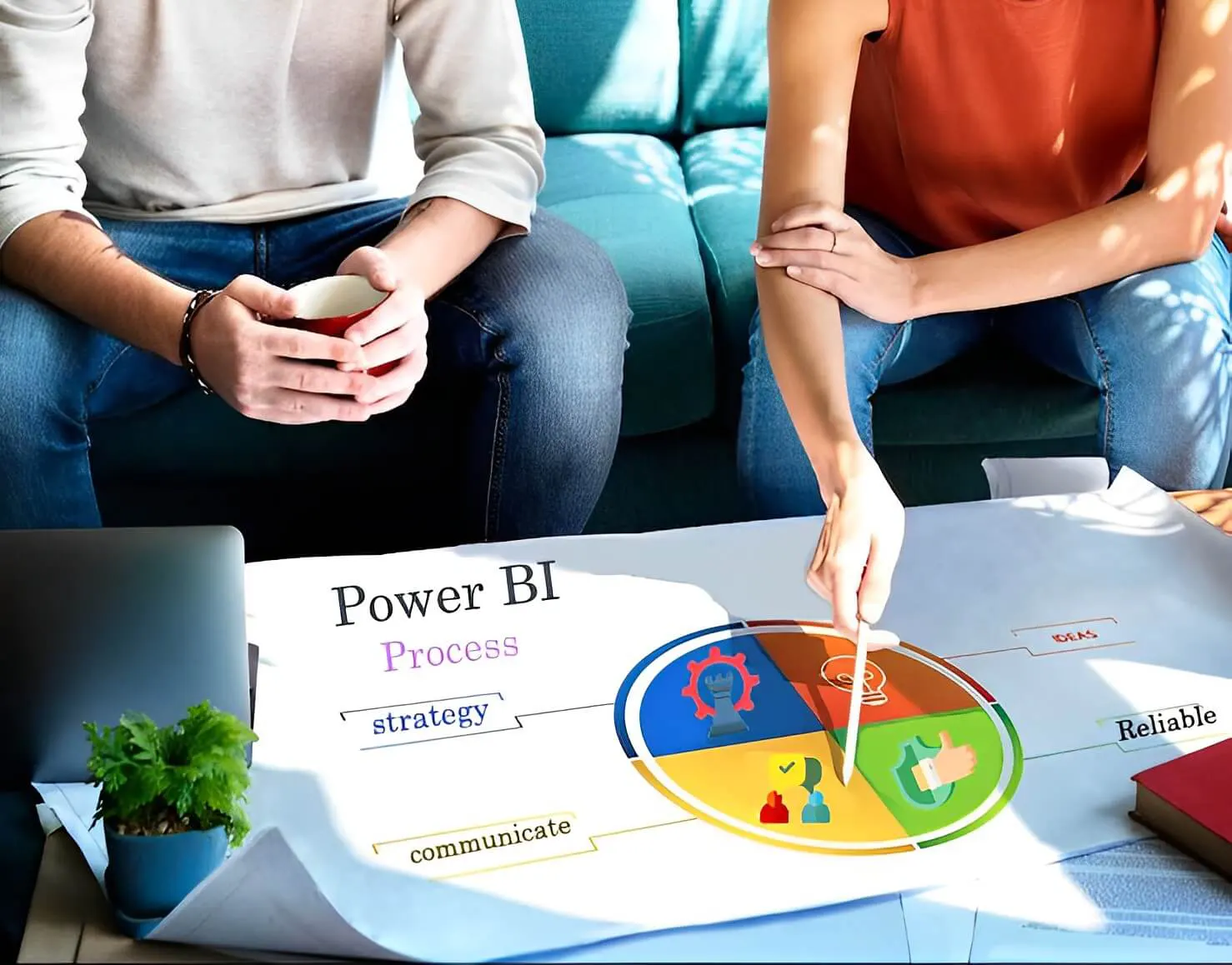 Introduction
The term "business intelligence" (BI) refers to an organized strategy that encompasses a set of actions targeted at generating, implementing, and managing BI solutions. The development process of BI is one such structured method. The framework that is used for the creation of BI consists of multiple steps, including the collecting of requirements, the modelling of data, ETL (Extract, Transform, and Load), the generation of reports, and the deployment of the software. The first step is to have an awareness of the demands of the company and to determine the key performance indicators (KPIs) that must be assessed.
Business Intelligence (BI) has gained widespread acceptance as a method for efficiently planning and managing the system life cycle to enable intelligent decision-making. This is due to BI's ability to provide actionable data. The implementation of business intelligence (BI) in any major company should, in principle, be a very straightforward operation; nonetheless, politics, variations in management styles, and differing expectations may occasionally result in unanticipated outcomes.
The design of the database schema and the construction of data models that may be used for analysis are both aspects of data modelling. The process of loading data into the database after having it extracted from numerous sources transformed into a format that is acceptable for analysis, and then loaded into those sources is referred to as ETL. The process of developing reports requires the creation of dashboards and reports that provide insights into the operation of the company. In the end, deployment is putting the business intelligence solution into production settings and seeing to it that it receives continuing maintenance.
1. Draft a strategy for making use of data analytics
While it is true that the insights obtained via data and analytics are unquestionably powerful, it is also true that the process itself is complicated. Nevertheless, the vast majority of companies simply cannot afford to ignore these insights. It is expected of leaders to make decisions that are both prudent and focused on the long term.
When executed effectively, a data analytics strategy may close the gap between an organization's long-term goal and the value it provides to individual consumers. The first stage is to become aware of the organization's primary objective. Second, when you are working toward achieving your goals, you should make achieving the most crucial outcomes your top priority. Determine the needs that your organization has now as well as those that it will have in the future. Provide clear examples from the past when attempting to explain operational inefficiencies or a choice that resulted in unintended consequences. Once you have identified the goals of the business and the value that Power BI brings to the organization, it will be much simpler to obtain the buy-in of executives and other stakeholders.
2. Define Your Boundaries with Preciseness
We are up to the challenge. To begin, let's agree that the requirements of the business, in conjunction with the requirements of its IT partners, should be utilized to define the scope of the project. Kimball believes that the scope of a business intelligence project has to be large enough to be valuable, but it also needs to be modest enough to be viable. The degree to which something is significant determines whether or not the organization believes it to have value. It is not difficult to complete a task if that task can be broken down into manageable chunks. Keeping this in mind, you should consider taking things slowly.
3. Data Governance
This is an important point to consider. If adequate data governance is implemented, it is possible to assure the data's usefulness, availability, privacy, and security. Before deciding on a data governance plan, you shouldn't wait till Power BI is completely installed before making a decision. Several different structures may be used to establish a data governance policy. Investigating the possibility of establishing and enforcing norms with the assistance of a governance board or data stewards is one of the options to consider. Because of this, it is essential to include business users in the process of establishing data standards.
The development of standards for master data management will serve as the driving force behind the attainment and upkeep of high data quality. In conclusion, the firm has developed into a strong culture that is driven by data as a direct result of the policies that were formed by the governance team.
4. Put in motion an effective communication strategy
It is very necessary to keep the project's supporters as well as any other parties interested in the project informed at all times. There are many different modes of proactive communication to choose from. To ensure that everyone is on the same page and understands the project's objectives, timeframe, limits, problems, and threats, the first step is to have a kick-off meeting. Send them a typical weekly status report to keep them abreast of the work that has been made on the project as well as any challenges that have surfaced.
Maintain communication within the same group on the current state of the project by arranging frequent meetings to discuss its advancement. Your team will be able to interact more effectively when data silos are broken down with the assistance of Power BI Consulting Services. These services enable members of a team to access the same data regardless of whether they are physically present in the same office or working remotely, which improves the efficiency of team communication.
5. Share content across teams
Business users can effortlessly exchange material across multiple teams within an organization by using Power BI, which fosters cooperation and reduces the amount of isolated data reservoirs. For instance, you may create a specialized workspace for your sales team so that they can exchange reports, and you can configure permissions for individuals to restrict their access to data depending on their location or the job they play in the company.
You also have the option of developing an application that will allow you to share a collection of reports with your complete workforce and incorporate the data into the day-to-day operations of the organization. Users can view data and dashboards from a centralized area, exactly where their teams talk, without having to switch contexts since Power BI reports can be easily shared using Microsoft Teams. This is another convenient option to distribute Power BI reports.
6. Making decisions with reliable data
This involves searching for patterns, trends, and important insights that might assist you in making choices based on accurate information. You may be certain that your choices are based on correct information if you make use of trustworthy data and effectively analyse that data. This can lead to improved results and success in accomplishing your objectives. Using reliable data and effectively analyzing that data.
7. Superior accessibility
You can have superior accessibility thanks to the fact that Power BI is enabled to operate via remote applications on a wide number of internet platforms and devices, including Android, iOS, and Windows devices. Having graphical functionalities that are simple to use and intuitive eliminates the need for your users to undergo professional training to utilize the application. Making sure that the training the employees get is concise and completed quickly.
Bottom Line
Developing a BI Analytics Services that is effective is not a simple undertaking, but it is achievable with Power BI Consulting services and appropriate strategy. The deployment of Power BI for Microsoft Teams not only stimulates in-depth cooperation across international boundaries but also motivates coworkers to make frequent and simple use of the data that is instantly accessible inside Teams. You'll be able to design a BI solution for your company that not only satisfies its requirements but also provides actionable insights if you follow the approach and the structure that we offer.