Hire Tableau Developers
Hire Tableau developers from Aegis Softtech to elevate your analytics game. Enlist the expertise of a professional team who are handpicked to provide you with the ultimate solutions and unlock your data caliber. With in-depth knowledge of the latest analytical platform, Hire Tableau Experts and get 100% punctual delivery of any project.

TRUSTED BY
GLOBAL CLIENTS


















Tableau Front End Developers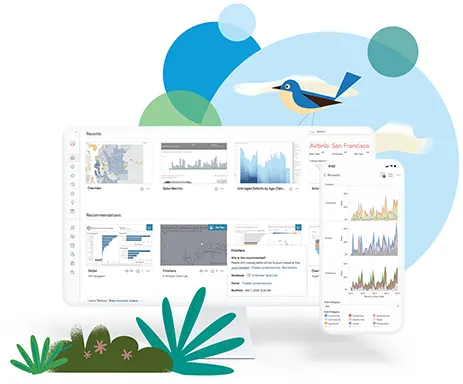 Our Tableau Front End Developers have versatile skills to fit many industry verticals. Enlisting engineers from Aegis Softtech lends their result-driven skills to guarantee the success of your business.
Transform complex business data into picturesque data landscapes for easy decision-making.
Skilled engineers from Aegis Softtech assist you to make sense of your data by identifying patterns and interpreting complex data.
Programmers can create Custom dashboards as a perfect solution for the real-time tracking of critical metrics and KPIs.
They are experts in report creation with your business's raw data.
Why Choose Aegis Softtech To Hire Tableau Developers?
Aegis Softtech has been at the forefront of offshore team expansion for over 12 years. With us, Businesses can get access to top talents in the industry. We hire the most skilled professionals and seamlessly integrate them into your enterprise or startup, to work as an extension of your team.
No Hidden Costs
Proven track record of customer satisfaction
Diverse solutions from one platform
Optimal data analytics techniques
Numerous successful project implementations
Highest developer output
Tableau-certified engineers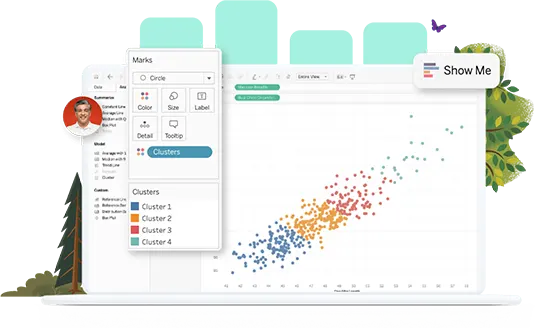 You can hire our Tableau Developers Across
USA

Canada

UK

Germany

France

Singapore

Italy

Israel

Australia

Japan

Netherlands

Sweden

Switzerland

Norway
Hire Tableau Experts To Transform Data Into Insights
Hire Tableau experts from Aegis Softtech to make accurate data-driven decisions. With extensive experience in the BI domain, our experts offer end-to-end support from data processing to visualization. Our adept team can clear any roadblocks and quickly adapt to your data needs. Maximize ROI and transform your organization by hiring our proficient developers to complete your project on time and within budget.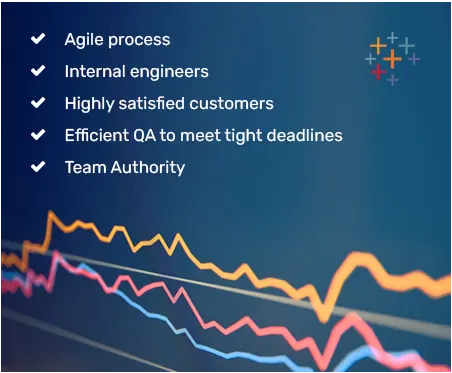 Unlock data's potential with our Tableau BI experts who leverage advanced tools and agile methodologies to deliver unparalleled business intelligence, data analytics, and data-driven strategies for better decision-making.
From advising to planning, creating, and deploying a complete data pipeline, we work as your consulting data partner to meet your data needs.
At Aegis Softtech, we prioritize data security and guarantee complete protection and data safety data.
We hire the top talented developers after a rigorous screening process and background check. You can be at peace as we handle 90% of the hiring process. You have to align the developers to your company's specific requirements.
We pride ourselves on having passionate developers who strive for excellence in every project they undertake. Their commitment to delivering quality work ensures outstanding results that benefit your company in multiple ways.
Hire Tableau Front End Developers For Diverse Industry Needs
Hire Tableau Front End Developers to bring transformative data solutions specific to your industry. We cater to multiple industry verticals and offer tailored solutions. Hire Tableau Experts from Aegis who possess the know-how of each sector and expand offerings to various customers.
Insurance
Digitalize and speed up the claim process utilizing the power of Tableau. Hire Tableau Developers for cutting-edge digital product setups that provide seamless digital experiences to our clients.
Manufacturing
Manufacturing companies can digitize their manufacturing processes through agile and innovative solutions through our developers.
Automotive
Our developers offer digital solutions enabling the automotive industry to design best-of-the-breed products and manage production and other related operations.
Healthcare
Get an expert who creates data management applications with advanced functionalities that effectively manage health-related terminologies.
Education
Our team can effectively resolve data management and visualization challenges and provides insightful data visualization to the education industry.
Finance
Aegis provides Tableau financial services to assist the finance sector in creating comprehensive and adaptable applications.
E-Commerce and Retail
Our tech-savvy engineers can use Tableau databases to create multiple e-commerce and retail applications for businesses of all sizes.
Media
Our developers can assist the entertainment and media industry by providing Tableau technology assistance.
Hospitality and Travel
With their deep expertise, our dedicated Tableau developers specialize in building cutting-edge tourism and travel applications, incorporating key features.
Real Estate
Our Tableau programmers understand the inside-out of the real estate sector, enabling them to deliver optimal Tableau solutions.
Transportation and Logistics
Count on our proficient Tableau specialists to assist you in creating a comprehensive web application solution that enables you to manage all data aspects of your transportation and logistics firm's insurance.
Discover Ways To Hire Tableau Experts
A mutually beneficial approach (win-win) where both parties strive for success is the basis of our philosophy. By fostering a diverse client portfolio, we also succeed when you succeed. Our dedicated Tableau Front End Developers seamlessly integrate with your team, collaborating closely to help you achieve your goals.
Complete the Form
Communicate your Needs
Approve our Proposal
Commence your Offshore Team
Choose Your Hiring Models
Dedicated Resources
We offer dedicated Tableau engineers for companies. The exceptional developers offer tremendous benefits working as your employees.
Fixed Time and Price
It is an intelligent model for cost-conscious entrepreneurs and startups. It offers flexibility within a fixed pricing structure and is ideal for medium to large projects with specific development requirements.
Hourly Dedicated Resources
The hourly engagement model is ideal for uncertain project scopes. Pay only for the work completed with no additional upgrade costs.
Frequently Asked Questions (FAQ)
With over decades of experience, our Tableau engineers possess deep domain expertise in delivering digital solutions to your organization.
Following an analysis of your business requirements, we can arrange a meeting between you and our developer, allowing you to evaluate their suitability and ultimately select the ideal candidate.
Yes, our developers can accommodate different time zones and provide flexible working hours to cater to the needs of our clients.
When you Hire Tableau Developers from Aegis, we take the confidentiality of your information and data very seriously. As a part of our standard practice, we sign all the necessary legal forms and documents, including a Non-Disclosure Agreement (NDA).
The industry expertise and domain wisdom of our engineers, leave no room for dissatisfaction. If, by any chance, you are not happy, then stay in touch with our service manager for mediation and a favorable solution. Changing your developer is very easy.

If I create a table viz in tableau which is having subtotals in it, when I drill on the subtotal value it shows all the values instead of showing only the subtotal data?
Tableau is a prevailing and quickest increasing data visualization tool applied in the production of Business Intelligence. There is an increasing demand of Tableau in many sectors.
Problem(s) I must admit that the Tableau Desktop Qualified Associate was not a piece of cake for me.