Microsoft Dynamics ERP Services to Upgrade Business Processes
Businesses are constantly evolving, and so is the technology they use. One can't afford to lag and expect to be successful. As a result, businesses need to keep upgrading themselves with the latest and most advanced technology to stay ahead in the competition.

At Aegis, we help organizations bring together people, data, operations and customers to drive faster, more effective business outcomes. Our Microsoft Dynamics ERP services deliver a new purpose-built approach to streamline critical business functions. This includes sales, managing customer engagement, resolving customer issues, managing projects and resources in the field, and delivering professional Microsoft ERP services.
Our Microsoft ERP implementation has helped numerous companies leverage real-time data to make informed decisions. Reach out to our Microsoft ERP software services company to know more about how we can help you.
Microsoft ERP Solutions
Dynamics ERP is a popular cloud-based application for startups, small-scale businesses, mid-sized and large companies. It's a business application platform that delivers insights across operations, sales, and customer service.
Microsoft ERP cloud services includes financial management, human capital management, supply chain management and operations management software. The software helps customers modernize their businesses by adapting to their customers' changing needs and emerging trends in their industries.
The Microsoft ERP solutions are designed to help companies with the following: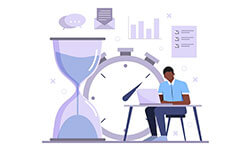 Improve Efficiency
It integrates with your existing systems and provides a single view of the entire organization for efficient operations.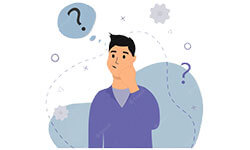 Decision Making
Dynamics ERP solutions help gain new insights into your organization's potential and make better decisions based on this information.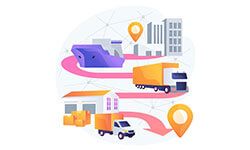 Streamline Operations
It also helps you streamline business processes like payroll processing or vendor payments to reduce errors and improve performance.
Organized Platform
You can organize all your data to allow you to analyze it quickly with a central system and a single view of operations.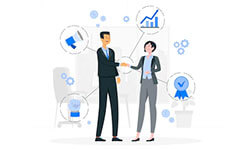 Better Customer Relationships
Companies can deliver exceptional customer service with fewer resources with Microsoft ERP implementation.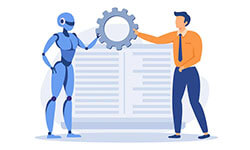 Automated Solutions
You can create pipelines and automate redundant tasks in marketing, sales and finance, which help to increase productivity.
When Do You Need Microsoft ERP Implementation?
Microsoft Dynamics ERP implementation can be a good idea if your business grows and you need to become more productive. Many companies grow rapidly, and this growth is a result of necessity or opportunity. Sometimes they start with one software package that works well initially, but as their business grows, they may find that this system is no longer adequate for their needs. This is when Microsoft ERP cloud services are of immense use. There are a lot more reasons why many organizations move to Microsoft ERP services:

When you require real-time access to data
Microsoft ERP solutions help you access data from anywhere, anytime, on any device. This software provides ready-to-use business intelligence so that you can make informed decisions. It also allows you to create any custom report with real-time data.

When you want a single view of all customer interactions
Using Microsoft Dynamics ERP features, you have a single view of all customer information regardless of their channels, such as online chat, telephone, or email. This lets you deliver an exceptional experience across all communication channels.

When your business is growing
With Microsoft ERP implementation, your employees collaborate seamlessly on essential tasks such as sales orders, invoices and inventory management. Since it is available on mobile devices, your employees can access it anytime.

When you want to gain better visibility to make better decisions
Microsoft ERP Software Services Company offers various reports that provide insight into what's happening at any given point in time. You can also use these reports to help plan future strategies backed with data.
Aegis Softtech's Microsoft ERP Services
Our Microsoft Dynamics ERP services are designed to meet the diverse requirements of businesses from various domains, including manufacturing, distribution, retail, services, the public sector, and more. We help companies manage financials, purchase and sales processes, human resources, production, inventory management and more in an integrated manner. Here are some of the Microsoft ERP cloud services we offer:
Microsoft Dynamics AX
Microsoft Dynamics AX is a total solution offering that includes modules for Financial Management, Supply Chain Management, Manufacturing and Human Resources.
Microsoft Dynamics GP
We use Microsoft Dynamics GP to streamline your financial processes and help you make intelligent decisions based on real-time data.
Microsoft Dynamics NAV
Our developers customize Microsoft Dynamics NAV to improve operational efficiency while reducing risk and automating manual processes.
Dynamics 365 for Finance
We leverage Microsoft Dynamics 365 Finance to give you real-time visibility into your financial health and performance across locations.
Dynamics 365 Business Central
We support finance and operations for mid-size organizations and enterprises to automate end-to-end business processes.
Microsoft ERP Software Services
We can work on various platform features perform additions and customizations to adapt quickly as your business grows.

Microsoft Dynamics ERP RapidStart Services
We can accelerate the implementation of Dynamics ERP with RapidStart services. We use a set of questionnaires to understand your business requirements better to get a head start on configuring the platform. This means you'll get a fully-customized ERP platform to fit your business needs — explicitly designed to propel your business performance and cut down the manual work.
We deliver Miscrosoft ERP Services across
USA

Canada

UK

Germany

France

Singapore

Italy

Israel

Australia

Japan

Netherlands

Sweden

Switzerland

Norway
Maximizing Performance Through Microsoft Dynamics ERP Features
Dynamics ERP is a business management solution that helps you automate and connect your financial, supply chain, and operations management processes. While there are numerous Microsoft Dynamics ERP features, here is how these features work together to maximize your business performance across various verticals:
Sales
Increase sales velocity
Single, unified view of prospects and customers
Boost your sales force's productivity
Make better sales decisions
Marketing
Measure marketing campaign effectiveness
Improve ROI with integrated email marketing campaigns
Real-time visibility into customer responses
Create targeted marketing campaigns
Finance
Managing cash flow
Keeping track of accounts payable and receivable
Streamlining accounting processes
Budgeting
Real-time finance performance tracking
Customer Service
Improve customer satisfaction
Promote customer loyalty
Engage customers across social networks, websites, email campaigns, mobile devices, etc.
Make it easy for field agents to quickly respond to customers' needs from any location or device
Human Resources
Improve employee engagement
Recruiting and hiring employees
Tracking employees' time and attendance and employee performance
Managing employee benefits and compensation plans
Field Service
Optimize scheduling and dispatch processes
Provide customers with self-service tools
Provide service agents with comprehensive customer information at their fingertips
Supply Chain
Manage product design
Manage purchase orders
Coordinate with manufacturing, planning and shipping
Inventory control
Cost tracking
Project Management
A single view of project progress
Coordinate between multiple departments for procurement and planning
Budgeting and planning
Our Microsoft ERP Software Services Capabilities
Selecting a software development solutions providing company is a big decision. Whether you're considering a cloud-based or on-premises solution, our Microsoft ERP services team is the best choice because of our vast exposure to the platform. We have worked with several organizations spanning from new Fintech startups to global organizations helping them to streamline and handle all of their business information in one place — through ERP solutions.
Here's why we are the best ERP to choose:
Noticeable Increase in Performance
We design your ERP system to automate and streamline your business processes to increase productivity and profitability.
Affordable
Our Microsoft Dynamics ERP services are more cost-effective than other enterprise software systems. Additionally, they offer predictable pricing—the price you pay will never increase unless you choose to add more users or functionality.
Scalable
Our solutions are scalable to your needs and can be customized as your business grows or changes. We can add more team members and new tech experts with additional specialties when your requirements increase.
Flexible
You can choose how to deploy our ERP team. We can help you right from migration from your old ERP to Microsoft ERP solutions, or we can work alongside your team to add new features. We're pretty flexible about the hiring models and the working models of our ERP team.
Working Expertise
We have worked with companies of various scales and domains, helping them gain greater control over your financials, inventory, operations and people. And we can do the same for you.
We're Working in Global Time Zones

India

New York

London

Tokyo

Australia
Our Team

Today, the healthcare business is putting out significant effort to address concerns such as technological implications and improved consumer satisfaction. It had already begun for the healthcare provider to deploy the numerous technology applications in their field of expertise. In addition, they are focused on improving the customer interaction among the provider and its (patients), which will eventually result in increased customer satisfaction and loyalty. People like to believe that they are receiving customized attention. They don't need to be served as a number.
It is common for businesses to emphasize the importance of maintaining positive relationships with consumers. There is a common belief that if consumers were not there, a company's ability to operate and generate money would be severely limited.
The first things that come to mind when thinking of a brand are logos, color schemes, and taglines. A brand, on the other hand, is much more than this.