Magento eCommerce Development Services | Magento Website Development Company
Deliver enriching shopping experience through user-friendly and addictive Magento stores. Let go of all the worries clouding your mind about how effective your e-store is once you hire Aegis, the trusted Magento website development company.

TRUSTED BY
GLOBAL CLIENTS


















Custom Magento eCommerce Development Company Support - Solution to Every Business
Want your eCommerce store to stand out from the hundreds of other e-stores in your business? Wish to provide the most improvised buyer experience that hooks the visitors? Want your eCommerce store to function seamlessly from now on to forever? Then Magento web development services are just what you need. Magento is one of the most flexible eCommerce platforms out there that provides a wholesome service for the retailers as well as the shoppers irrespective of the type of business.
We deliver Magento eCommerce services across
USA

Canada

UK

Germany

France

Singapore

Italy

Israel

Australia

Japan

Netherlands

Sweden

Switzerland

Norway
All-in-One Magento Website Development Services
Magento web development services provide you with an opportunity to create an elevated and reinforced eCommerce store designed to pull in the customers. Think of any requirement or innovative concept you want to implement through your e-store and Magento 2 will have the right toolset for you. Aegis as the top custom Magento eCommerce development company offers a host of services to help you create, run and maintain a Magento e-store.
Next-Gen eCommerce Solutions with Magento 2
Create e-stores that focus on customer experience with the enhanced features of Magento 2.
Complete Magento Web Development Services
Any custom Magento eCommerce Development Company can develop an eCommerce store with Magento 2 from scratch for B2B and B2C businesses. With the aid of our Magento experts and developers, your e-store will help in providing a streamlined shopping experience to customers.
Customized Design Elements
Don't settle for what is available. Extend your imaginations and capabilities till the maximum with the Magento 2 features. Include new modules and extensions, customize the website design, integrate with third-party software and build that perfect e-store.
Magento 2 Migration Services
Jump to Magento 2 from any other e-commerce platform you are using with the utmost ease.
Migrate to Magento 2
The support for Magento will stop from mid-2020 and it's time to make that switch to Magento 2. As a part of our Magento ecommerce solutions, we facilitate in seamlessly migrating your platform to Magento 2 with minimal downtime.
Cross-Platform Migration
Using any other ecommerce platforms other than Magento? Well, we can help in easily migrating to Magento 2 without any loss of data or huge crashing of your website. Jump ship to Magento 2 now to enjoy its amazing features.
Optimization for Website Search
Let your customers find what they want in a jiffy with the instant search customizations on Magento 2 store.
Automatic Search Completions
Don't let your customers go through the trouble of typing out the whole phrase. Instead, use the Elasticsearch feature of Magento 2 with automatic search suggestions and autocomplete features designed to make e-store searches simpler.
Integrations with Third-Party Search Tools
Do you want an extended feature available in some third-party tools? Well, you can seamlessly integrate these search tools with Magento 2 platform and make searching easier and natural on your ecommerce store.
Magento 2 Integration with Third-Party Software
Extend the functionality of Magento 2 platform by including other software to uplift the e-store.
Integrations for Store Management
There are several platforms for customer relationship management, customer account management, product catalogue management, shipping management and inventory management that can be integrated with Magento 2 to streamline the entire business operations.
Integrations for Website Enrichment
Apart from the backend tools to facilitate easy functioning, there are several extensions and software you can use to optimize the website design and features. If you are at a loss about these tools, just hire a good Magento website development company.
Expert Magento Development Team
Hire a dedicated Magento team from Aegis to work and monitor your e-store 24X7.
Recognized Magento eCommerce Development Company
With our Magento website development services, you can create a new e-store from scratch, extend an existing e-store, redesign the ecommerce website and further innovate and optimize to ensure that the customer experience is above the mark.
Magento Store Support and Maintenance
You can hire our dedicated team of Magento experts for a long duration to watch over and maintain the store to ensure that there are no unexpected crashes, unnecessary downtime or steady dwindling of the website performance.
Magento Store for Global Reach
Move beyond countries and continents to market your product worldwide through different e-stores with Magento 2.
Multilingual and Multi-Currency Support
Customize your Magento store to support operations in multiple languages and accept payment in multiple currencies based on the location and the preferences of the customers.
Single Access Point for Multiple E-Stores
You can host multiple ecommerce websites with Magento 2's multi-site feature. Efficiently build your brand, watch over its performance and strategize business moves from a single point.
Magento eCommerce

to Extend Beyond Limits

Magento 2 offers an omnichannel e-store that cannot be stopped by any physical or digital limitations. The global ecosystem of Magento 2 enables you to personalize the website experience based on the place, nationality and the local language of the visitors, which further aids in better conversions. Magento 2 is best to extend above your own limits and push away any boundaries that stop you from implementing additions to grow your business.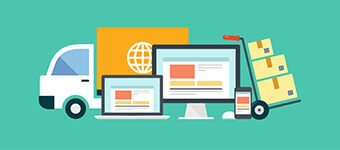 Streamlined Order Management
You can include multiple vendors through the Magento 2 platform and enable a streamlined order processing flow connected with individual vendors. This operation helps in running separate distribution centres integrated with the inventories in warehouses, handle complex back orders and deliver quick updates to customers, all from the same platform.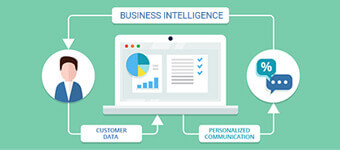 Powered-Up Magento BI
You need the support of data analytics to run any business and Magento 2 fulfils that too. Magento Business Intelligence is one of its attractive features that help businesses to take their businesses up a notch. With dedicated storage space, automated full-stack data management and visual tools, Magento 2 truly is an all-in-one platform.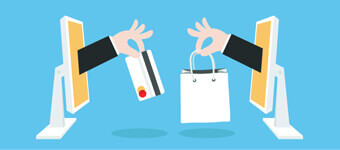 Magento Marketplace
Magento Marketplace is where you can access thousands of Magento 2 themes and extensions developed by the top Magento web designers. You can include new features for your eCommerce store, minimize your workload and increase the effectiveness of the frontend and backend functioning of the Magento store.
Innovation in Magento Made Possible with Aegis
Every ecommerce store requires constant work and innovations to keep it relevant. In the times when thousands of online businesses are battling for the attention of your customers, you cannot ignore the fact that your e-store needs to win over the customers beyond all marketing loops of the competition. We are an expert Magento website development company who have made it possible for businesses to realize their true potential and get ahead of the restrictions of budget or digital limitations.
Everything You Need to Run a Successful E-Store
Strategic Approach to

Magento Solutions

We integrate your Magento eCommerce store with the new functionalities of Magento 2 like smart searches, filters and discrete functionalities directed to minimize the bounce rate and increase customer satisfaction.

Mobile-First

Design

Lots of people are accessing e-stores from mobile phones and therefore, we will customize your website to look friendly and easy to use on mobile phones for easy interaction and smooth experience.

Heightened User

Engagement

We include social media plugins that link to the business social media accounts and design push notifications for mobile phones and desktops to keep your online business alive in the customers' minds.
Frequently Asked Questions
Get better insights into how we work and the Magento development services we provide.
There are several advantages of using Magento:
Versatile website design and optimization
Complete security features
Customizable content management system
Streamlined order processing
Automatic inventory integration
Integration to shipping and order-related services
Advanced SEO
Sophisticated searching options
Magento 2 holds a lot of benefits when compared to Magento 1 in terms of the security features, mobile responsiveness and customization options for the e-store. Also, Magento will stop providing support for Magento 1 from June 2020 and the new improvements and features will only be added to Magento 2 and not on Magento 1. Hence, it's best to migrate to Magento 2 to get all the benefits of what Magento has to offer.
Yes, sure we can. Just let us what kind of e-store you want along with the functionalities and details about the vendors and we'll develop the Magento store all set for your relaunch.
The duration of developing a Magento store varies on the extent of the project. Some require a very simple few page store while some may have hundreds of product pages included. Therefore, it can take anywhere from 2 months to 6 months or so based on your project scope. If you want to know a specific time estimate, please contact us.
We have two main hiring models - the first for a one-time project and the second for long-term needs. Both of these models are flexible and you can include any Magento development services you require along with it. No matter what model you choose, our Magento developers will work in your preferable time zones so that you can have access to the team during your comfortable times.

Every company owner is attempting to have an internet presence at this time. There is no better method to reach out to consumers all around the world than via a website. Millions of companies have already invested in the development of their eCommerce websites, but there are still many more that are working hard to create interesting and creative online shops. As a result of the growing number of online consumers as well as the growing number of online shopping websites, the degree of competition has also risen in recent years. It has become more challenging to maintain a competitive, quick, well-designed, secure, and responsive e-store on today's search engine results pages.
Nowadays, nearly everyone likes online shopping since it is simple, convenient, and saves time and money by eliminating the need to travel. It also allows you to compare various shops and goods all at once. The reputation of any eCcommerce business is based on how user-friendly it is, as well as the kind of services that are made available to consumers via the site.
Have you ever though how would your ecommerce site look if you put all of your products right on the front page of the website?