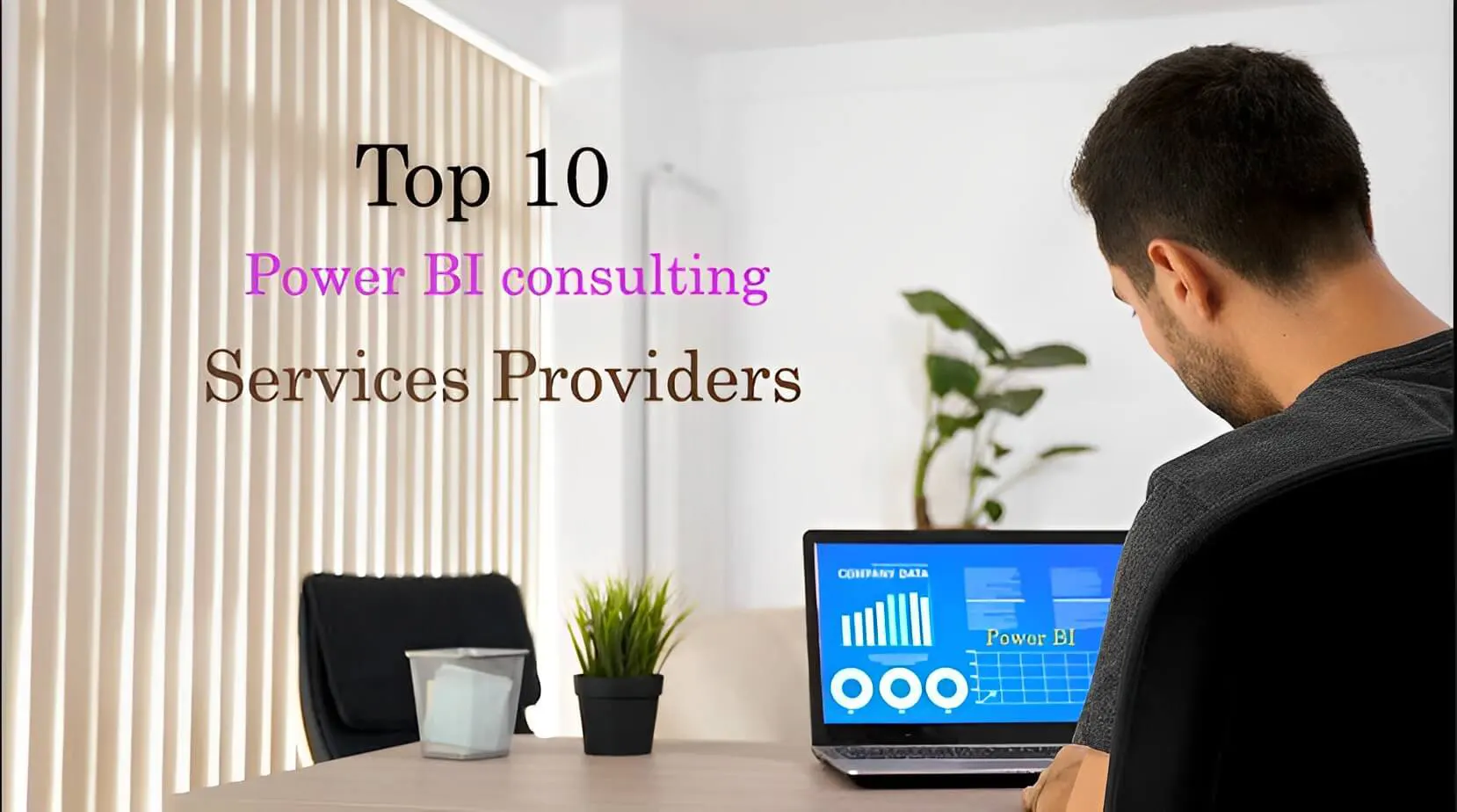 The right BI consulting partner helps an organization understand and implement its operations with quality data, analytics & management. The precise tools and service providers make the difference in today's competitive world. If you are ready to invest in exciting technology to scale your capabilities, here are 10 expert Power BI consulting service providers to choose from.
Building a successful business strategy requires a combination of digital tools and technology sub-services. It cannot be done in-house and requires the support and assistance of Power BI consulting service providers. This again is not an easy task as the number of vendors has grown worldwide.
It is time to restructure your company's vision and plan a BI roadmap.
Analyze your current business movement
Before choosing the BI tools, kit and operations think about the following:
What data do you need to make decisions?
Is there a dashboard in place?
Is the IT department equipped to address challenges?
Which database and tools will add value to the business processes?
Learn how Power BI can be a game changer
Choose the right partner to address the challenges, implement, and establish strong governance.
1. Aegis Softtech
Aegis Softtech is based in India and offers customized IT services in diverse genres like Finance, Healthcare and Real Estate globally. Dedicated project managers and developers offer Power BI solutions. They gather insights from data in the cloud or on-site to provide solutions. If your company is starting a new project you can expect the following from the experts deployed:
Concept to delivery of software solutions
Cost-effective IT services for business growth
Managed IT outsourcing across time zones
Flexibility and dedicated project managers
Teams will perform Q&A testing for better functionality and speed
Use of cloud applications, AI and ML tools
Tableau BI and enterprise mobility.
Each developer is qualified and with a large team to access no project is ever delayed. MS business intelligence, Dynamic ERP and CRM an organization is enabled with the latest technology. Aegis Softtech is an Indian company that began operations in 2003 and now has completed over 3000 projects across the globe. Experts can be called for consulting, analysis, and support services. If your IT team is facing hurdles in implementing software solutions or systems, look out for the experts from Aegis Softtech. Become a part of the digital revolution to make the company's vision alive.
2. Beyond Intranet
When you select a proven Power BI consultant, they will add meaning to the data sets your organization has. The future of your business is secure when you get Power dashboards, visualize data and connect to trending patterns. An ideal source will improve KPIs and build digital assets. When you get a team, which has a proven work record, expect better ROIs and turnaround key solutions.
What does Beyond Intranet offer to its clients?
1. An attitude towards work that evolves with the latest technologies.
2. The latest competencies of Power BI.
3. Availability of industry knowledge and use of in-built data analytics effectively.
4. Project managers with good communication skills.
5. Offering top-notch visual data solutions for better decision-making.
6. Gathering diverse data sources and converting them into reports.
7. Project implementation is done with a feasibility check for all Microsoft power platforms and services.
8. Developing dashboards that add value proposition.
9. The global delivery model for Power BI.
Beyond Intranet offers global solutions with local compliances for its clients. Its projects run successfully across the UK, USA, Australia and the Middle East. With a friendly and easy team, it is fun to work with them. They offer transparency and accountability for all the work being done on the project.
3. Power BI consulting
Are you looking for a service provider who can offer interactive reports, explore data and transform your business? Look no further, Power BI consulting is your go-to partner to scale operations and productivity. Using proven methods, the experienced team offers several services related to Power BI and everything connected to data security.
When your organization onboard the Power BI consultants get exclusive package deals such as:
1. Visualization architects and analytical developers to enhance your data sets for business development.
2. Get live data exploration with the latest dashboards.
3. All dashboards can be personalized for different departments.
4. Get a unique 360-view to scale operations or productions of your company.
5. In-built security apparatus to stay clear of hacks and breaking down of systems.
6. Get the key metrics and precise performance indicators to prioritize and get actionable results.
7. Evaluate business trends and use predictive modeling.
8. Beyond Intranet also provides capabilities to optimize different Microsoft products in your business environment.
9. The company helps large companies and startups integrate tools and solutions.
With the expertise of Beyond Intranet teams create a SharePoint online and make graphic reports more interactive for decision making. Get different data from lists and libraries for general access or encrypted usage of Power BI for management.
4. Blast Analytics
Blast Analytics firm is focused on providing top-notch data analysis solutions to industries to aid them in better understanding their clients and making knowledgeable decisions.
The company provides services, including
1. Digital Analytics
2. Data warehousing
3. Data conception
4. Predictive analytics.
Their team of specialists works carefully with customers to provide modified solutions that meet their exclusive business requirements and areas.
Blast Analytics is well-known for its ability to collaborate with a wide diversity of data sources. It does this by setting up an interactive version of Power BI for clients, which assists them in doing decisions depending on data analyses. The needs of the company's clients, who are its workers, guide the implementation of the Power BI integration. Customers come from a wide diversity of fields, including healthcare, agriculture, banking, pharmaceuticals, industrial, retail, and charitable firms, to name a few. It has structured its services around the solutions that Microsoft offers for companies to assist such organizations in integrating and modifying the gears to meet clients' needs.
What sets Blast Analytics apart from other companies in the industry is its commitment to transparency and collaboration.
5. Motifworks
Motifworks is the best Power BI consulting firm that has extensive know-how and has assisted enterprises in adopting Power BI and becoming data-savvy corporations. The goal of our specialists is to attain actual time business information, and the firm does this by developing BI implementation strategies and making unique imagining dashboards. Accelerate the Statistics and BI Initiative by using a single management strategy for corporate BI projects. Redefining the potential of a connected and flexible business environment by emphasizing dependability, scalability, and productivity is what they do.
Their services include:
1. Data engineering services
2. Data and AI
3. Big data consulting and Analytics
4. Data visualization
5. BI consultancy
6. Microsoft Development
7. DevOps consulting services
Their focus on creating strategies that drive business value and their commitment to quality has earned them an outstanding reputation in the market. Whether it's building a custom software solution or providing ongoing support and maintenance, Motifworks is dedicated to delivering world-class service to its clients, helping them achieve their Power BI digital goals. Its Power BI functionality does it applicable across a wide variety of sectors and objectives, and it provides BI services that are both cost-effective and efficient.
6. Saviant Consulting
Saviant Consulting is known as a reliable specialist in intelligent data business and power business intelligence consulting firms in several innovative firms across the globe, allowing industrialized equipment and procedures to attain more. It offers ground-breaking solutions to industries worldwide. They specialize in providing digital transformation solutions and services to companies across various industries. They can convert your most important business data into visually appealing and engaging dashboards. They can take in data from hundreds of sources, both internal and external, by implementing APIs and achieving flawless interfaces with software such as Microsoft Suite, Hadoop, Salesforce, Spark, Oracle, and the Google database, amongst several others.
Their services include
1. Industrial IoT consulting
2. Business Intelligence
3. A Data Platform and Analytical Framework
4. Modern APP development
5. Power BI consulting
6. Strategic BI consulting
7. AL and ML
Their team of skilled professionals works closely with clients to understand their business needs and goals, and then they design and develop customized solutions to meet those specific requirements. They believe in building long-term relationships with their clients and providing ongoing support to help them stay competitive in today's fast-paced business environment. Their dedication to excellence has earned them a reputation as one of the most trusted and reliable consulting firms in the industry.
7. EPCGroup
EPCGroup is the market-leading engineering and power bi development firm that specializes in providing high-quality work across a broad spectrum of verticals. Being a multinational corporation that has successfully finished projects in a variety of countries all around the globe. EPCGroup is committed to providing solutions that are not only leading-edge and effective but even safe, environmentally approachable, and best value. Using the quite recent iteration of Power BI, the firm advises and assists other businesses in developing a data-driven culture. They provide training to companies so that they can use data analytics and real-time insights to make informed choices.
The company provides other services, such as:
1. PowerApps
2. Microsoft Intune
3. Exchange consulting
4. Microsoft Exchange consulting
5. Dynamics 365
6. Dynamics 365 Business Central
7. Dynamics 365 Consulting
8. Power BI consulting services
9. customized visualization
10. Power BI And Excel
11. Power Bi predictive analysis
12. Power BI Training
13. Power BI governance
They have always been one step ahead of competition because of their 25 years of expertise in database architecture, BI, ETL, and lots more. They deliver the greatest automated visualization experience possible by combining their acquaintance in Power BI programming with implementation strategies and complete service implementations.
8. ScienceSoft
ScienceSoft is a company that specializes in the creation of Power BI and offers its customers a Power BI solution that includes the whole stack. Its interactive dashboard allows you to both has included essential numbers, graph styles, and visual features to create an exceptional perspective. Moreover, the dashboard is completely customizable. They make use of the most recent developments in BI technology to assist your company in reliably revealing the most insightful and actionable data in real-time. Its Power BI tools can convert data into visually compelling representations, which in turn empowers organizations to make critical decisions with assurance. The devoted Microsoft Power BI experts employed by the company assist businesses in analyzing their data and arriving at the most appropriate findings.
They offer services related to
1. Data Analytics
2. Application services
3. Power BI embedded
4. Power BI training
5. Manage IT Services
Since its inception in 1989, Science Soft has been a foremost provider of data analytics services. The firm has certifications from ISO 9001 and ISO:27001 and is in collaboration with Microsoft Power BI since 2016. They are dedicated to using the newest technology to create innovative and effective solutions that meet their client's unique needs. Science Soft focuses on building strong and lasting relationships with its clients, working closely with them to comprehend their goals and challenges and develop solutions that help them achieve success. Their commitment to quality and customer satisfaction has earned them a reputation as a leading software development firm in the technology industry.
The company's reputation aimed at excellence in software development has earned them a loyal customer base and an impressive portfolio of successful projects across an extensive choice of industries including healthcare, investment, and retail.
9. Softweb Solutions Inc
Softweb Solutions Inc is a foremost firm in software development industry, with expertise in providing innovative and pioneering technological solutions. The firm has been around for over a decade and has a wealth of practice and understanding in delivering top-notch services to clients across various industries. Their team comprises highly skilled and experienced professionals who are dedicated to providing clients with personalized solutions that meet their unique needs.
The Power BI developers at Softweb create solutions based on Power BI, which assist businesses in improving data search and locating previously concealed perceptions within their data.
Softweb Solutions Inc offers services, such as
1. software development,
2. IoT integration,
3. cloud computing
4. data analytics
5. artificial intelligence
They are committed to using the latest and most advanced technologies to deliver cost-effective solutions that help businesses achieve their goals. The company maintains the greatest possible product quality and security by using an exceptional staff of data scientists, dedicated developers, technology experts, and academics recruited from all around the globe.
10. FluentPro
FluentPro is a company that specializes in providing innovative solutions for project portfolio management and migration to Microsoft Office 365. Since 2010, more than one thousand of the world's most prestigious companies have relied on this software to efficiently manage Microsoft PPM Platform solutions. They are known for their expertise in the field and their commitment to providing top-notch services to their clients. FluentPro is focused on improving the efficiency and effectiveness of its clients' businesses by helping them manage their projects and portfolios more effectively.
They offer a range of services including
1. Project Online migration
2. Web app development.
3. API Development
4. App development
5. PPM migration
6. Power BI consulting
FluentPro's team is made up of experts in the field who are dedicated to understanding their client's unique needs and delivering solutions that meet those needs. They work with clients across a range of industries including healthcare, government, finance, and telecommunications. If you are looking to improve your organization's project management or migrate to Office 365, FluentPro is a company worth considering. It offers a comprehensive collection of automatic solutions for efficient backup and disaster recovery of Project Online data, hence lowering the likelihood of data being lost.
Conclusion:
If you're looking to analyze your data and visualization with Power BI, you may need to consider consulting services from experts in the field. To help you find the right provider, we've compiled a list of the top 10 Power BI consulting services that offer a range of solutions to meet your business needs.