Tableau Consulting Services
Tap into the most valuable asset at your disposal – the data – with our Tableau consulting services. Take guided business decisions during the critical stages with the quick platform of Tableau with our Tableau Developers.
Aegis Softtech, a leading Tableau development company is here to empower you to make the most of your valuable data. Our developers hold the expertise in offering efficient services for Tableau development in India, and other parts of the world.

TRUSTED BY
GLOBAL CLIENTS


















Skilled Tableau Consultants
Organizations are competing with each other to grab some valuable data insights which form the crux of business decisions. While many focus on getting the best data analytical tool available, not many consider the visualization options which are vital to decipher and understand the result of the analysis. Tableau is one of the most efficient tools available for not only data analytics but also for data visualization. Tableau consultants at Aegis Softtech, a renowned Tableau development company, help in implementing the new software effectively, and enable your employees to work with ease from the first day. Tableau development in India and around the world is growing magnificently because of the positive impact that it has on businesses.
Tableau Support Team for Data Assessment

Any software needs quality data to work with. Our Tableau developers India perform extensive research on the data and fix any issues to maximize the results from the analysis.

Certified Tableau Consultants

We can do a complete evaluation of your company using our finest trained and knowledgeable Tableau experts available.

Design Automated Workflows

You can get rid of the most tasks that require a human touch and automate the workflow with Tableau Support Services right from data collection and processing to analysis and visualization.
We deliver our Tableau Services across
USA

Canada

UK

Germany

France

Singapore

Italy

Israel

Australia

Japan

Netherlands

Sweden

Switzerland

Norway
Best Among Tableau Consulting Companies
There are numerous Tableau consulting firms out there that offer consultations, but Aegis is one of the few who not only gives you advice but also gets down on the task with you and helps you with the implementation of strategies. Tableau has the abundant capability to redefine how you approach data analysis and data visualization. With some help from our Tableau support team, you can exploit Tableau to the fullest and truly make a difference in employee productivity. Aegis Softtech, a Tableau development company with immense experience, leaves to stone unturned to enable you to make the most of your business-critical data.

Proof of Concept
Are you not clear on how Tableau can help you with the data analysis and your decision-making process? We can create a complete roadmap to implement Tableau along with the proof of concept about all the advantages it can bring to your business.

Tableau Support Services for Performance Optimization
Sometimes, you may have a great tool with you but not much productivity. We will deal with data problems, analyze the drawbacks and guide you to make the best use of the platform to target an solve your business issues.

Consultation on Data Visualization
One of the most important aspects of data management is visualizing the results of data analysis. Our Tableau consultants are highly knowledgeable in the practical ways of creating visual representations that deliver the intent of the analysis.

Tableau Server Consultation
With the various actions made possible in Tableau, all of such information needs a secure place to be stored. This is where the Tableau server comes in. You can effortlessly save tons of valuable data with no worries about security.

Tableau Support Team for Project Implementation
If you want help in either implementing Tableau for the first time or require some guidance on making adjustments, our consultants are there for you. We will help you through every way of the process until you are highly satisfied.

Tableau Training
We offer virtual training sessions as a part of our Tableau consulting services wherein our experts will provide classroom training, one-to-one classes with your employees till they ace the tool. You can obtain high productivity once your employees are familiar with it.
Professional Tableau Consulting Firms
Data analytics is one of the top proven ways to reach business decisions faster and better. Just having a data analysis and visualization software isn't sufficient. You should know the best practices that come with it and the proper ways to use the platform to your advantage. Aegis is one of the most preferred Tableau consulting companies in India with years of expertise in data analysis tools. You can do a lot with the Tableau software and that's where the help of the experienced Tableau consulting firms such as Aegis comes in.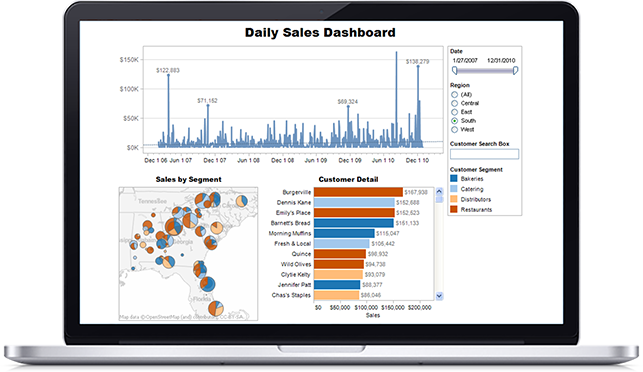 Tableau Ad Hoc Services
At times when you require the extended help of Tableau developers India, we can pitch in to create from scratch or continue from the middle.
Dashboard Customization
Give as much importance to visualization with Tableau dashboard customizations to spot new trends and guide business decisions.
Tableau Tuning
Edit and personalize new data flow paths based on the latest business needs and optimize the performance and outcomes from Tableau.
Guidance from Scratch
If this is the first time you are incorporating Tableau, our Tableau support services offer the much-needed training and advice to get off to the right start.
Tableau Strategy Planning
Have any specific business idea in mind? We can guide in setting up customizations specifically for positive business results.
Setup Data Flow
Create streamlined process flows for analysis by setting up data collection, conditioning and analysis and couple it with dashboards.
Invest in Tableau to See the Monumental Difference
Did you ever have trouble in making business decisions? Did you face any issues of deciphering what the results of data analysis meant? Have you struggled with getting the data insights at the right time? There are a thousand other problems that many organizations have faced when it comes to data analysis and visualization. Our Tableau developers India single-handedly solves a majority of such issues and provides straightforward solutions in the form of quick review and easy-to-understand visuals.
As one of the trusted Tableau consulting companies in India, we understand the needs of your business and customize the Tableau platform to let your company get all the benefits it can.
Beautiful Visualizations
For all those struggling with understanding the analysis or how to let others understand what the results stand for, then Tableau is a godsend with its attractive and straightforward visualization options. It supports complex computations and blending of dashboards to create visuals that make better sense.
Powerful Computation
Irrespective of how hard or complex the computations are, Tableau can handle and manage any vast requirements. You can handle millions of data rows with ease and make live connections to multiple data sources, and access and combine data to get it analyzed on the Tableau platform.
Highly Scalable
As the volume of your data requirements grows, you can scale the capacity of Tableau. It is much suited for companies that want to scale a data management system across the organization and bring a unified interface for all data operations.
Tableau Support Services for Easy Implementation
You don't have to worry about knowing programming languages for using Tableau. Without any coding, you can easily work with data analysis through the simple clickable options, and drag and drop features. You can even take a step ahead and interact with the parameters directly.
Facilitating Interactions
Tableau gives the users complete freedom on how they want to interact with the platform - be it with the data sources or the visual methods. With Tableau support team, you can automate the dashboards, merge dashboards, use new visualization techniques and move around with the data points present on dashboards.
Frequently Asked Questions
Do you want more information about how we operate at Aegis or have any questions about Tableau consulting services? Here are answers to some of the common questions many prospects ask us.
Many companies in the market provide Tableau consulting services. However, not all can be the right partner for your endeavours. Here are a few criteria to pick the right one:
The years of experience they have
The ability of the consultants to be vocal and clear
The additional skills they possess
Their practical knowledge in data analytics and the associated tools
Their hands-on experience in customization of Tableau
Yes, we can. In addition to Tableau consulting services, we also provide implementation services for Tableau and therefore, you can come to us for all your Tableau needs.
Yes, you can use Tableau on mobile phones and it automatically customizes the dashboard according to the type of device you are using.
Tableau is one of the most promising data analysis software and, therefore, you can trust and implement it all across your organization. It is one of the top platforms for business intelligence since the past few years and there is more such scope for organizations to adapt to it.
We can guide you to leverage the Tableau features according to the specific needs and your business issues. We also provide inputs and suggestions to set up dataflows on Tableau for quick insights.

Are you looking for how you can get to grow so that the tools of data maintenance can help you to a great extent? There are many things that you need to keep in mind, from staying in touch with the latest technology to keeping pace with the trends that are going on in the market.
Over the past years many analytics industry has been thriving. They have given good amount of prospects and opportunities to firms to make tools that are explicitly would serve the precise
Companies are responsible for the safety and confidentiality of their client data and employee information.