Tableau BI Services
Struggling to make insightful decisions for your business? Well, with Tableau supporting your every move, you can now implement strategies and decide future planning with surety at proper times.

TRUSTED BY
GLOBAL CLIENTS


















Result-Oriented Tableau Financial Services
Tableau is a powerful end to end data analytics platform with attractive visualization options for a wholesome decision-making experience. Companies in the finance and banking sector have a lot of scope for data analysis, where the timely insights are of immense help. Tableau financial services offer various features and customizations that shape the functioning of a financial company. From personalized services based on the users to cost management and risk analysis, we provide multifunctional Tableau BI services.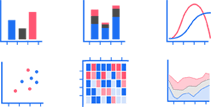 Pricing Trends
Look up the past and current data to forecast the direction of the demand and decide the pricing. Compare with your competitor's pricing and take into account various external factors to recognize pricing trends.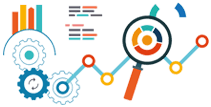 Risk Management
Take a pro-active approach to the risks by using the intuitive analysis of Tableau. Identify any suspicious customer activity, flag unrecognized transactions and minimize money risks for both you as well as the stakeholders.

Audit Business Revenue
For companies that provide financial services, Tableau can be a great help to audit and analyze the business expenditure. Our Tableau financial services are intended for safe and smart money management.
We deliver our Tableau Financial Services across
USA

Canada

UK

Germany

France

Singapore

Italy

Israel

Australia

Japan

Netherlands

Sweden

Switzerland

Norway

Exhaustive Tableau Development Services
Let the transformation begin with Tableau
Data analytics is the key in the game of the competition when it comes to innovation and smart decisions. However, a lot of organizations struggle with half-baked data insights and complicated data processing and unreliable systems. Our Tableau development services are aimed at solving it all with just a single change of introducing Tableau in your organization. We provide comprehensive Tableau development services to let those hidden insights form the basis of your decisions.
Tableau is known for its interactive dashboards that enable businesses to quickly grasp the insights, anticipate, compare and combine reports. Our Tableau experts will customize your Tableau software, be it on the desktop or server that redefines your operations.
If you truly want to achieve business intelligence, then Tableau's automated dashboard operations and clustering features will enable in uncovering breakthrough insights that have the capability of pushing your business limits to the maximum.
Tableau has a simple drag and drop options to create visual representations of the data analysis in a quick, digestible format. Anyone can use this visualization feature as it is pretty basic to quickly create any number of graphs and report required.
You can combine different data sources, have various storage points and access it all from the single platform - Tableau. You can make use of web data connectors and change data parameters to streamline the ETL path.
Handy Data Insights Made Possible with Tableau Mobile
Keep yourself updated with the real-time data insights wherever you are with Tableau Mobile installed on your smartphone. No matter if your organization is using Tableau Server or Tableau Online, you can sync your mobile and see the data whenever you want. Even when you are not connected to the server, the data will still be available to you regardless of where you are. Our Tableau professional services set you on the right path of creating a robust data management system throughout your organization.
Controls Optimized to Your Device
You can not only view the data but also interact with it. Create filters, move around the data sets and interact with the data freely.
Intuitive Interface Design
Don't worry about finding the data you want on a small screen. The intuitive interface displays your favorites at the top, making it simple to access.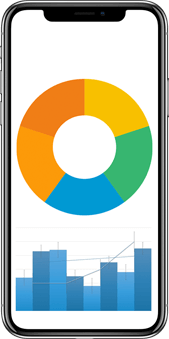 Create Subscription and Alerts
Don't limit yourself to data operations. You can subscribe to workbooks and set up alerts for data limits directly from Tableau Mobile in just a few clicks.
Mobile-Based Workflow Implementation
Excited to try Tableau Mobile? We will guide you in setting up your Tableau platform on mobiles that brings data operations right to your fingertips.

Sophisticated Tableau Professional Services
Our Tableau professional services will make it possible to go beyond the fundamental analytics that your company has been used to. You can implement innovative data strategies that make it possible to perform sophisticated analysis every single day. Just imagine all the valuable and powerful insights you can gather about your business, your customers, your revenue models and even your employees!
Tableau Training
Get your employees trained to utilize all that Tableau has to offer. Increase employee performance and make refined decisions.
Tableau Server and Desktop
Implement the best Tableau platform according to your budget and needs integrating with the rest of your data operations.
Tableau Consulting
Our Tableau consultants will be with you through every step until you have mastered it.
Workflow Implementation
Let us create new workflow systems that cater solely to a specific business application with Tableau.
Grow Higher and Quicker with Our Tableau Insights
From setting up queries personalized to answer business challenges to creating new visualization templates for immediate needs, our Tableau professional services cover a broad scope. Our Tableau experts at Aegis are one of the best in the industry and combined with their hands-on knowledge of data analytics makes it an excellent mix for businesses. With us side by side, you will be surprised at the potential the data can bring for your organization.
Interactive Dashboards
Make use of the automated dashboard features, interact with the data on the dashboards, combine dashboards for a holistic view and perform any action you want to get a better view of the data insights with Tableau.
Report Automation
Why spend countless hours creating reports when you can build a report with just a click? We will set up automation for report generation based on your particular parameters which will decrease the time of mundane tasks.
Cross-Database Working
Cut out all the manual work you do when working between different excels. With Tableau, you do away with the time-consuming tasks and directly can join different datasets, create visualizations of the data quickly and build insights.
Prepped Data for Analysis
Don't spend long hours waiting for the analysis to complete. Tableau keeps your data prepared and ready for analysis and therefore, you can do away with the waiting time and quickly get the results.
Optimal Performance
Let us optimize your Tableau software to give you the best performance. We will set up automatic workflow systems, customize worksheets and create systems to identify data patterns and integrations with data sources for enhanced operations.
Frequently Asked Questions
Let us give you more information about our Tableau BI services and how Tableau will benefit your organization.
Yes, you can integrate Tableau with other platforms like Hadoop tools, Salesforce, Google Analytics, MySQL, Oracle and many more and use them for various data interactions. As a Tableau development company, we can set up the integrations for seamless data flow.
Tableau can be set up on a desktop, mobile or online and this decision is based on your usage. Also, the cost of setting up these models will differ. We advise you to get in touch with a reputed consultant to make this decision. Our Tableau consultants are best in the business and they can give you suggestions based on your business scale and budget.
There are several tutorials and videos online from which you can get an idea of using Tableau. If you need more in-depth guidance, we will provide training sessions and one-to-one coaching on using Tableau's features for your business operations.
Generally, setting up a data analytics platform is not a one-time done and dusted work. You should keep making changes to the system based on your operations, new requirements and scale up the usage. We can analyze your existing system, rectify the issues and create new data flows and customizations for increased outputs from Tableau.
If you already have good knowledge of data analysis and have practically worked well with Tableau, then you can do the job by yourself. However, keep in mind that it takes a long time to set up the data paths, customize the dashboards, create the visualizations on Tableau.
On the other hand, you can get the help of an expert Tableau servicing company to quickly complete the job thoroughly and get some expert guidance on the latest trends too.

If I create a table viz in tableau which is having subtotals in it, when I drill on the subtotal value it shows all the values instead of showing only the subtotal data?
Tableau is a prevailing and quickest increasing data visualization tool applied in the production of Business Intelligence. There is an increasing demand of Tableau in many sectors.
Problem(s) I must admit that the Tableau Desktop Qualified Associate was not a piece of cake for me.