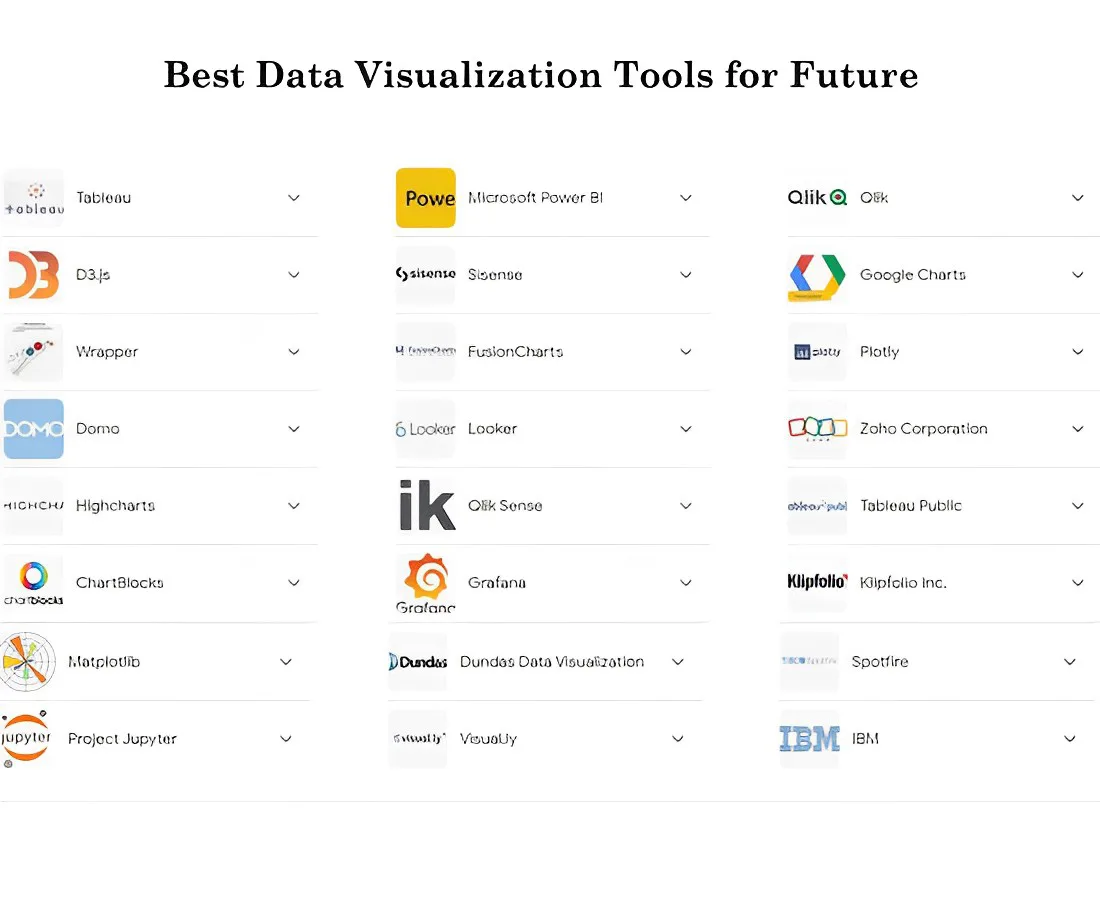 The interpretation, understanding, and comprehension of data are all being profoundly impacted by a powerful tool known as data visualization. The first step in gaining an understanding of data is to visualize it. Data analysts use a variety of data visualization techniques, including charts, diagrams, maps, and others, to simplify the interpretation and presentation of intricate data and linkages.
It is essential to modify the data representation with the particular audience in mind. For instance, users of fitness mobile apps who scroll over their progress may simply work with representations that are not too sophisticated. This post will offer you valuable insight into the most recent trends and technologies in data visualization that you need to keep an eye on, regardless of whether you are a data analyst, a marketer, or the owner of a firm.
Top data visualization tools list
Microsoft Power BI
Microsoft Power BI Service is a comprehensive business intelligence (BI) platform offering a range of tools that simplify the aggregation, analysis, visualization, and sharing of data for non-technical users in businesses. The user interface of Power BI is considered a larger level of intuitiveness, particularly for those who possess prior familiarity with Excel. Furthermore, its extensive connection with many Microsoft products makes it a flexible self-service tool that needs little initial training.
Additionally, Power BI Report Server is available for organizations that need the retention of their data and reports inside their infrastructure.
Chartio
Chartio is a quite recent addition. Chartio is a tool that helps in demanding data from essentially any source, and it frees you from the need to handle complex code. In addition to this, it presents the data in a format that is easier to grasp and offers a visual representation of the SQL data. Also, the platform offers robust collaboration features, which make it possible for teams to conduct data analysis together. It provides excellent dashboards, a powerful no-SQL query builder, and true simplicity of use.
Tableau Desktop
When using the Tableau Desktop tool to choose data from a data source, you have the option of either creating a new data connection or using one that you have already stored. This vital tool allows you to make data connections as well as view any links you have already saved. It gives you access to your data irrespective of the location in which it is retained. It is equipped with proficiencies such as the ability to perform the best computations, to mix data, to facilitate real-time collaboration and lots more. In addition, Tableau Desktop is equipped with a selection of user-friendly interactive tools, including filters, drill-downs, and tooltips.
Qlik Sense
The business intelligence (BI) tool known as Qlik Sense has seen widespread use among companies spanning a variety of sectors and sizes. The intention behind the development of Qlik Sense was to assist users in "seeing every aspect of the narrative that lies inside their data."Since its founding in 1993, Qlik Technologies, the business that is responsible for the development of Qlik Sense, has seen consistent expansion. Whereas Power BI is dependent on preset associations, the data model of Qlik Sense is an ad-hoc association data model. It even helps users to give the ability to generate new report objects inside the web page.
Klipfolio
Klipfolio is an effective and insightful piece of software. It includes two separate products, which are called Klips and PowerMetrics. The price of Klipfolio is one of its strongest selling points. The most significant expense is the assignment of resources to develop a dashboard. This is because its dashboards are often dynamic, instantaneous form and adjustable. Over 11,000 clients in 85 different countries are now being served by Klipfolio. It is equipped with capabilities such as Data Visibility, The ability to scale, Standardized Data Sets, Connectivity with Business Intelligence Tools, and many more.
Looker
Looker is the business intelligence (BI) software that you should go with if you want to take advantage of its extensive feature set. It works on a program known as Saas. Because of its intuitive user interface, Looker makes it simple for anybody, no matter their level of technical ability, to browse and investigate their data. Looker can obtain genuine results in real time because it operates entirely inside the database, and it does so by capitalizing on the freshest and quickest analytical databases available. Looker also has tools for team collaboration, making it easier for groups to work together efficiently. In addition to this, it has functions such as data filtering, auto modeling, report dashboard, and many more.
Zoho Analytics
Zoho Analytics is a complex self-service preparation of information software that assists businesses in collecting data by enabling input from a range of sources, recognizing mistakes, finding data trends, converting and enriching data, and scheduling export all without the need for scripting. This assists businesses to save time and effort in the data preparation process. In addition to this, it is useful for categorizing data and building up processes to synchronize the prepared data with statistics or data warehouses. In addition, Zoho Analytics provides users with access to a comprehensive selection of cutting-edge functions, such as mixing data and collaboratively sharing.
Domo
Domo gives customers the ability to effortlessly combine data from a variety of popular platforms and apps by providing a comprehensive selection of pre-built connectors. It is the first digital advertising analytics consulting company in globe, it is established by analytics specialists to motivate the revolution of data advertising to accelerate revenue development. It can assist businesses in enhancing essential operations, such as scorecards, data filtering, and data discovery, amongst other things.
Google Data Studio
The beginnings of this may be traced back to the year 2016. This data Studio is a free tool used by several companies being a site tool it makes personalized dashes and easy to create intelligences. They are beneficial for monitoring critical KPIs for clients, displaying trends, and contrasting performance over time. Because it brings together data from a variety of sources and makes it possible to do more in-depth analyses, this technology is very useful for companies. It helps in getting all the insights together.
Mode Analytics
Businesses are given the ability to generate reports more often and from a variety of places thanks to Mode Analytics. The purpose is to consolidate all of the company's commercial, practical, as well as financial data into a single system, where it will be accessible and agreed upon by the entire organization. They are intended to relieve obstacles that currently exist in the analytical procedure of today. With this, you can see insights that your users are provided by Mode Analytics. These tools range from SQL queries and Python Featuring multimedia components and statistics that may be tailored to your needs.
Metabase
This tool is only one of several crucial approaches that can be used to assess the danger posed by data and reduce the risk that is connected with the collection and utilization of data. A few famous database management systems are mixed with Metabase. This tool can assure adherence to data safety rules guaranteeing all stakeholders in IT and BI in similar pages. It is introduced to the field of corporate business intelligence with the intricacy and simplicity of consumer products.
Improvado
Improvado is made by developers to collect all the data related to marketing. Any size of company can use it and it works on cloud. Users can assess and associate the efficacy of promotion operations and networks with any type of dashboard. The operations are made easier because of the centralized server, which adheres to protocols, which are sets of regulations. You are assured that you can obtain detailed integrations at each level. The in-depth integrations will help people get complete images of their desired marketing campaigns.
Dundas BI
It is extremely open, flexible and comprehensive programmable data. The data analytic platform which could be customized with simplicity. Users can embed this data analytic program without any hassle. With this tool, users can upsurge profits. With the help of extremely communicative embedded analytics, you can gain satisfaction from the customers. You are going to be ecstatic to learn that Dundas BI has recently become an essential component of a product. This tool is specially made for entrenched analysis scenarios and graying classification. This tool lets customers enhance their application with interactive dashboards and highly advanced data prep.
JupyteR
This tool works best for public relations and marketing campaigns that establish a strong synergy. In these campaigns, the tool contributes to the development of trust and reliability, while advertising continues to raise awareness and bring in new leads. Successful businesses are aware of the significance of combining their public relations and marketing activities to create a consistent and powerful brand presence. They are also used in many cross-platforms.
Google Charts
Google Charts is a charting library that is based on JavaScript. It is designed to enhance applications of web via including interactive capability of charts. Google Charts offers a myriad of charts for users. For instance, zone charts, spline, line charts, pies, and bar charts can be used by Google Charts users without any hassle. Google Charts offers an ideal method to envision data on the website. On or after complicated charts to modest ones, with a gallery which offers big ones that can be made used all the time. Try using JavaScript if you using Google Charts.
Matplotlib
Matplotlib is a well-known and sophisticated library in Python. You could build visuals aesthetically pleasing and useful with only a few lines of code due to the many plotting possibilities that Matplotlib offers. Matplotlib can assist you in the creation of a variety of graphs, including line graphs, scatter plots, bar charts, and even plots in three dimensions. Shell programs, Python scripts, and web application servers all create frequent use of it. Most popular libraries in Python, such as NumPy and Pandas, are often imported along with Matplotlib for a determination of manipulating as well as analyzing data.
Sisense
Sisense is a Business Intelligence software established in 2004 it is powered by artificial intelligence (AI). Sisense may simplify complicated data by dividing it up into more manageable segments, getting rid of all irrelevant details, and presenting the information in a way that is both clear and short. It can function on low-cost hardware by using RAM, CPU, and disk space. Connecting to SQL, and NoSQL databases is a useful feature provided by this tool. New users have an easy time working on it by carrying out operations with such a tool.
FusionCharts
FusionCharts is an innovative way in which firms' show their data which is completely transformed as a result of a revolutionary imagining tool. FusionCharts provides you with a multitude of capabilities that may address the charting requirements differently. With symbols, lines, and shapes, a workflow diagram is a kind of diagram that indicates the process that can be followed to finish a job or a group of activities. The live connectivity to the database is included in paid editions of FusionCharts. Users of FusionCharts are given the ability to show data in a manner that is not only interesting and instructive but also calm to recall due to the software's pie charts, bar graphs, heatmaps, treemaps etc.
Infogram
With Infogram, one could turn uninteresting data into a visually appealing presentation that is easy to understand and that can successfully deliver the message as well as capture the attention of clients. People can make digital charts, visualizations, and diagrams, and share them with others. Infogram offers customers a user-friendly WYSIWYG editor that turns their data into shareable, publishable, or embeddable infographics. It comprises pie charts, bar diagrams, support tables, and chat clouds, also has an additional 30 collaborating charts with over 500 maps, all of which are designed to assist you in visualizing data.
Wrapper
The wrapper is a data visualization tool that does not need operators to write any coding, and it enables users to effortlessly respond to data to build or publish charts, graphs, and mappings. Integration of your conceptions into your website creates possibilities via the application of custom layouts, and access to diagrams of surrounding regions is also provided.
Highcharts
Highcharts is a straightforward to understand and simple application tool. It gives entry to many graph chart formats, Highcharts makes it possible for data and growth teams to focus on the tasks that fall within their purview by providing end business customers with an interface that is simple to configure and apply. It offers collaborative in-dashboard comments for presentations and collaboration as well as dynamic dashboards which may dynamically change depending on queries that you run. Once it is up and running, its widespread library of analytics code, known as Blocks, is capable of speeding up repetitive operations.
ChartBlocks
It is a design tool that gives the capability to effortlessly input data, generate visualizations of where data, and share those insights. You have access to different design choices, making it simple to decide how you wish to present the interpretation of the data. It's possible to include the charts in websites with the help of inserted code. Incorporating charts in web apps and webpages is made simple and fast with the help of the ChartBlocks app programming interface (API). Operators can design, make, change, also, remove charts like PNG, JPEG so on by this API. In addition, users can create, modify, and erase datasets, as well as add data or files to historical data, broadcast real-time information, and obtain raw data.
Grafana
Grafana is a free-of-cost and open-source toolkit that was first developed at SoundCloud for monitoring and alerting processor systems. Grafana has been used by a large number of businesses and organizations ever since it was first released in 2012, and the community of users and developers that contribute to the project is quite active. It is a data model with several dimensions that contains time series information that is identifiable by metric names and key/value pairs. Grafana maintains the display of data in a fluid manner as well as the flow of data across teams and team members.
Plotly
The plotly comes with more than 50 chart designs. These sorts of charts include a wide range of applications, including statistical analysis, financial data representation, geographical mapping, medical data visualization, and three-dimensional data representation. Plotly eliminates the need for us to manually compute the x-positions of bars, in contrast to Matplotlib, which requires us to do so. Plotly takes care of this for us. Even the creation of these charts in three dimensions is a possibility. It is capable of rendering a diverse selection of chart kinds.
Chart.js
Chart.js is a toolkit that provides creators and programmers with the capability to make a wide diversity of charts with canvas elements included in HTML5.
Chart.js provides users with a wide diversity of straightforward and aesthetically pleasing graphics, some of which are dynamic and collaborative. It is a simple method for effortlessly including free charts that are attractive and interesting on your website. A strong visual contrast is done across datasets thanks to the use of mixed chart kinds also it has excellent rendering speed across all contemporary browsers.
Kibana
Displaying data may be performed with the help of the open-source software called Kibana created by Elastic Company. By using Logstash, it is possible to link Kibana with a diversity of backend data stores. The ability to query and evaluate data is Kibana's primary function. Users can search the data stored in Elasticsearch for certain events or phrases included within their data for several purposes. Users can work on features of Kibana including the usage of tables, geographical maps, and a great many other options.
Visual.ly
Through the use of Visual.ly platform, both people and organizations are agreed with the ability to fully express their creative potential while also effectively and persuasively sharing information. It is used for examining vast volumes of logs. Visual.ly is now undergoing a data presentation and consumption paradigm shift, which makes it a necessary tool for anybody who wants to leave a long-lasting impression via the use of visual material. It includes things like films, infographics, and interactive microsites, among other things.
RAW
RAW intends to fill a gap in the functionality offered by existing spreadsheet programs. Open-source projects served as inspiration, and the product was created on top of those efforts. The RAW development team welcomes input from the wider community. It provides around 30 different visual models that allow you to analyze numbers, hierarchies, and time series to get insights from your data. You have the option of saving your project, exporting it as a vector or raster image, and editing it inside the software of your choice.
IBM Watson
IBM Watson is a game-changing tool that has fundamentally altered how people communicate with computers and process knowledge. Through the use of skills in artificial intelligence, Watson has shown as an effective and adaptable tool across a multiplicity of business sectors. Natural language processing, a kind of computer technology that interprets the meaning and structure of human language, is used here. It converts information and artificial intelligence into dependable visual content and fosters collaboration all while adhering to changing data regulations and constraints.
Sigma.js
Handlers can construct amazing and dynamic network visualizations with the assistance of Sigma.js, which is a robust and flexible JavaScript toolkit. Sigma.js comes with numerous sets of these squares, all of which are capable of being connected. As a result of its capacity to automate the aggregation of data and the unification of metrics, companies can give more of their resources to analyzing and understanding the data rather than spending endless hours on the activities associated with handling it. Sigma is equipped with a plethora of pre-installed capabilities, such as Canvas and WebGL renderers, mouse and touch support, and so on, to make the user's experience of manipulating networks on Web sites as fluid and quick as possible. Here it is possible to instantiate sigma by providing it with the data and the DOM container, and it will function successfully.
Polymaps
The advent of interactive maps has fundamentally altered how we travel and investigate the world around us. The term "polygonal map" has been shortened to "polymap," and refers to a specific kind of map in which polygons are applied to depict geographical areas or regions. Polymaps provide a more subtle and comprehensive portrayal of geographic relationships than do standard maps, which depend on basic lines and forms to convey information. Besides the traditional cartography and other sources of image-based online maps, polymaps enable a range of graphical representations for smooth route data and provide a quick presentation of multiple-zoom datasets on maps.
Bottom Line
Designers often face the challenge of selecting the most suitable visualization tool from a vast array of options. They must consider factors like as usability and the availability of desired functionality in the best tool. Many data visualization tools provide free trial periods, especially if the product itself is not entirely free. Therefore, it is advisable to invest time in experimenting with many tools before settling on a specific solution.