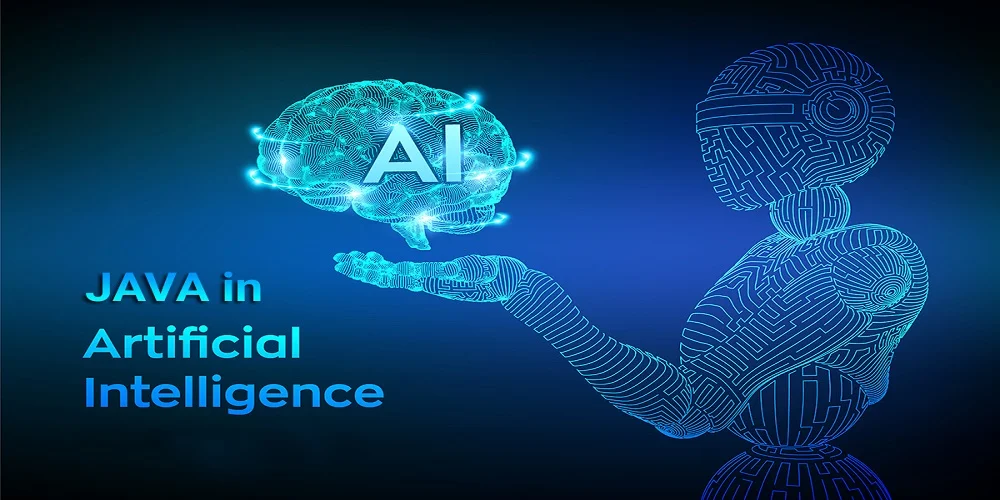 Artificial intelligence is now gaining a foothold not just in commercial settings but also in our day-to-day lives. In the same way that computer networks caused a significant shift in the 1990s, artificial intelligence is already bringing about the same type of shift, displacing man-made items.
In recent years, leading corporations like as IBM, YouTube, and Google have been making significant use of AI-based systems, and they aim to spend additional resources on it, to better their company and to be able to endure the most difficult competition that is now present in the business world. A Java development business can assist you in creating a quite of artificial intelligence solutions, which make it easy for any individual to satisfy the needs of your customers. Java has seen steady evolution and progress throughout its existence to build the ever-shifting necessities of the business world.
Java in Coding with AI
When it comes to programming, the importance of using languages for coding with an emphasis on artificial intelligence cannot be overstated. It is becoming more important for developers of the Java Development Company to have a solid grasp of the programming language. This would intend to cater primarily to the creation and deployment of AI-based systems as Artificial Intelligence (AI) remains to disrupt a diversity of diverse segments. Due to its user-friendliness and adaptability, Java is also known to be quite an important programming language for the creation of artificial intelligence. It is very well made for scientists and machine learning developers to use the quite frequently in response to a poll which was carried out by Stack Overflow.
These AI-focused languages are also gaining momentum among developers owing to the exclusive characteristics that make them excellent for constructing sophisticated algorithms. This is the reason why AI-focused languages are gaining popularity. Its capacity to support cross-platform app development stands out as its most notable feature. This capacity enables developers to create code just once and then distribute it on many platforms, including iOS and Android. Because of its quick reload feature, which enables developers to see the effects of any changes they make to the code immediately, the development procedure is made to be very effective.
But Why Java Programming Language?
Java comes with a greater number of distinctive characteristics that position it as a leading candidate for the most effective programming language for developing AI in 2023. This has been the case for quite some time.
When selecting languages for web development services, one of the most important considerations is how much time and money can be saved throughout the development process. The inability to succeed in this domain is the fundamental cause for the majority of projects falling behind their intended timelines. Java is given importance by businesses to cut down on the amount of time it takes to build their projects. Reputable outsourcing organizations often pay for access to the most recent frameworks and essential development tools, and they frequently have access to specialized technology that they implement across all of their projects. Because of this, many companies that specialize in Java programming provide clients with the opportunity to evaluate the quality of their work via the use of a preliminary test project.
Java's speed and security meet today's standards for online applications, and its high level of expressiveness makes it an ideal choice for developing these applications. Java is the choice for developers who wish to create B2B or corporate websites that can keep up with the ever-evolving trends on the web. Because Java has a large number of pre-built modules, it is no longer necessary for developers to create complicated capabilities from the beginning. This saves them a significant amount of time and work.
Primary benefits that Java offers as an AI Programming Language
User Friendliness
In the fast-moving world of technology, programmers are always hunting for new tools and frameworks that will help them be quite productive and add innovation to the projects they work on. Users want smooth and intuitive experiences that require no effort to explore and engage with, also because Java can provide this, it has become an essential component of contemporary design and innovation. Java can be used for anything from online shopping to mobile banking.
Quick Debugging
A significant number of developers lack prior expertise in managing a program when it is life. The process of debugging is not only challenging but also time-consuming. In contrast to simulation, real-world debugging is work that is taxing, time-consuming, and difficult to complete since there is no control and no view of the internal states of the signals. Developers must have access to Java quick debugging to swiftly discover and repair errors in their code.
Management of Portable Memory
In this day and age, the management of portable memory has turned into an important component of our everyday life. Memory management maintains a record of each memory location, irrespective of whether or not that location is currently assigned to a process or whether it is vacant. It verifies the total amount of RAM that will be allotted to the applications. Java is responsible for determining which processes will be given memory and when. In addition, this intelligent memory management assists in eliminating memory-related problems, such as buffer overflows and memory leaks, which ultimately result in applications that are more reliable and secure.
Adaptability
Java is not only a dynamic programming language that can be used in a diverse range of contexts, but it is also a flexible programming language in and of itself. It may assist with the development of a wide variety of skills, including data analysis, natural language processing, deep learning, machine learning, and many more.
Java helps with Object Detection
In digital still and moving photos, Object Detection may assist in the process of checking specific instances of semantic objects belonging to a certain class. Face recognition and pedestrian detection are two areas of object detection that have received much attention. Java helps object detection which is useful in several subfields in computer vision, including retrieving pictures and video monitoring, amongst others.
Examples of Effective AI Projects made using Java
1) Weka has recently seen a rise in popularity among AI experts and developers of data science programs. It can develop complex AI models and use such models in a variety of fields, like marketing, healthcare, and banking, among others.
2) The Deeplearning4j library is yet another impressive artificial intelligence project that was built using Java.
3) Netflix offers a very accurate prediction technology that is based on the responses of customers to the films they watch.
4) OpenNLP provides a set of tools that may be used for activities such as sentence identification, tokenization, recognizing named entities and tagging part of speech.
5) With the use of Java, HDFC Bank has created an artificial intelligence-based chatbot that they're calling EVA (Electronic Virtual Assistant).
Bottom Line
A Java development company that focuses on artificial intelligence has the potential to play a pivotal part in determining the course of the future of technology. It enriches the creative experiences of experienced developers all around the globe.