Power BI Development
Empower with analytics, visualizations, and seamless data integration for informed decisions.
Power BI is an advanced all-in-one platform that offers complete control over the data in your organization. It's developed by Microsoft to help businesses to gather insights from data stored in a cloud platform or an on-premise system. Aegis Softtech can help you make the most of Power BI via Power BI consulting. Our Power BI developers offer Power BI development services to companies, globally.

TRUSTED BY
GLOBAL CLIENTS


















Power BI Development has it all. It allows you to gather data from disparate sources analyze and visualize the vital insights by sharing the results with others. One of the best features of Power BI is its ability to visualize data through interactive dashboards that give a free hand to the user. Since Microsoft builds it, you don't have to worry about data security.
Power BI Consulting
Expert guidance, optimized workflows, and tailored solutions for your business
Well, to start with, it's one of the simplest BI platforms out there. Anyone can quickly learn how to interact with the platform as it's utterly user-friendly and intuitive. When coming to its data management and visualization capabilities, there are many.
Single-View Dashboard

You can have a bird's eye view of your entire business on a single dashboard! Though you may be using different applications integrated with Power BI, this dashboard will offer a single view of all the data operations.

Interactive Visualizations

One underrated feature that many organizations overlook is the interactive nature of BI tools. Power BI is the best at transformations, analysis and visualization of data that gives the users a better sense of the data.

Natural Language Q&A

This feature of Power BI is the most powerful one. You can write the questions and add answers on Power BI and get stunning visualizations for your answers. You can call back previous reports and create quick visuals.

Vast Libraries

Power BI has more than 200 functions, and it's increasing too. You have access to so many libraries that allow performing any complex data functions efficiently and enable the creation of analytical models.

Easy Collaborations

You can create one reusable model and use it across your organization. The people you give access to can collaborate on Power BI, interact with the data, share visualizations and ensure consistency of data.

Mobile Access

Power BI can be used on mobile phones, be it Android, iOS or Windows. You can access the dashboards, create reports, have a peek at the data and take advantage of the real-time metrics from anywhere.
With the best features and loads of customizations, all you need is Power BI consulting services to empower your team with data, and we can help you achieve that.
We deliver Power BI Service Across
USA

Canada

UK

Germany

France

Singapore

Italy

Israel

Australia

Japan

Netherlands

Sweden

Switzerland

Norway
Power BI Developers
Empower data-driven insights through development and visualization expertise.
Power BI has numerous features that can be used for any data challenge. You can use these features to create any platform for any industry for any data capability. As an organization, you need to customize the platform from scratch with these features. This customization should be based on your business and your expected applications from Power BI.
At Aegis Softtech, we have Power BI developers who will create the dashboard, enable interactions, set up the data pipeline and optimize the reporting functions. Our Power BI services will ensure that the platform is customized to the 'T' so that your analysts and engineers can start working with it from day one.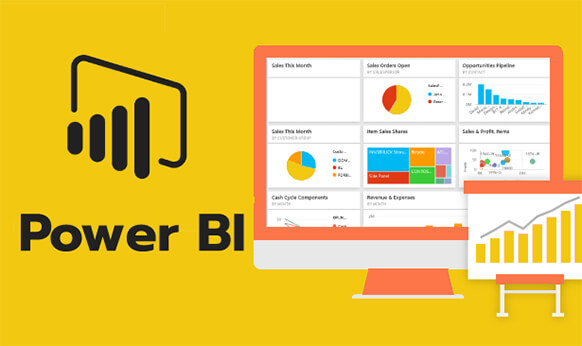 We can help you with the:
Creation of the data lakes and gathering from multiple data sources.
Setup of the analytics and accessible reporting features.
Quick, easy-to-use, pre-built visualizations built just for your applications.
Management of the data flows throughout the organization.
Creation of interactive reports that everyone can share with Power BI.
Transfer of data from Excel to Power BI.
Tracking of social media conversations and data storage directly to Power BI.
Setting up the analytics with your specific KPIs.
These are just a few things that we customize depending on your key takeaways from Power BI. You can always reach out to us for further customizations as and when the need arises.
Our Power BI reporting services are specifically aimed at helping you visualize the data, which is a huge part of understanding the real insights. Or, you can reach out to our Power BI consultants to solve a specific data issue or to improve your overall performance.
Power BI Consulting Services - Get the Best Out of Its Features
Power BI is a great platform, yes, but you need the help of expert Power BI developers to get the best out of it. We ensure that you get the right information needed to drive informed decisions. We work practically with the complete breadth of Power BI Development and are, therefore, quite adept at helping you out with anything regarding this platform. Our Power BI services cover the entire scope of everything you can do with the platform. Let's partner together to simplify how you analyze, interact and work with data.
Power BI Development
Experience a 360-degree view of the customers and get all the metrics in one place. We help in creating such a user-friendly, customized platform that simplifies data operations.
Dashboard Development
To align with your business efforts and goals, we develop appropriate dashboards that offer a single view of the data in the entire organization as well as the insights.
Power BI Reporting Services
Get creative with the reports and become clear with the data insights. Achieve quick delivery of the results of data analysis with our Power BI reporting services.
Power BI Migration
Running your data operations on another platform? Let's help you move to Power BI and manage your data with greater efficiency at lower costs.
Power BI Developers
You may have the best resource, but if you need your team to adapt quickly to Power BI without any delays, let's help you to speed up the learning curve.
Power BI Consultants
Our consulting team will be there to help you with any development needs or data challenges with Power BI.
Experience Efficiency Like Never Before with Our Power BI Consulting
Is your team already using the Power BI but you still think that there's a scope of improvement? We completely understand. Power BI has vast features that can be combined and leveraged for numerous purposes. Our Power BI services are aimed at helping businesses to uncover the true potential of what they can do with data as well as Power BI to become a market leader truly.
We have some of the highly skilled and experienced Power BI consultants who have helped many global companies to grow their business with data as the backbone. If you aren't sure about your data needs, you can always schedule a Power BI consulting session and get your queries answered.
Our Expertise Spans a Broad Scope
Proven expertise of our Power BI developers ever since Microsoft released the product.
Helpful Power BI consultants who look beyond the platform and consider your data troubles and business needs.
Ability to fill the resource gaps with our customized training aimed at not just empowering employees about Power BI but the whole data process and analytics.
Customized Power BI reporting services that take interaction with data to the next level.
Frequently Asked Questions
Aegis Softtech, a leading provider of Microsoft Power BI services in India and the US helps companies unleash the potential of business intelligence. We have a team of BI experts that provide advice and solutions to make the most of Power BI. We assist firms to optimize and view data and insights.
A well-planned data engineering solution allows the data engineers to have a better understanding of the data sources. Data engineers can efficiently interact with the data sources to make sure that the data is relevant. Data engineers can easily connect to the data warehouse using Microsoft Power BI. This simplifies and fastens the project's completion.
Microsoft Power BI is preferred if the users want to create valuable reports with high resolution. Power BI makes it easy to compare and filter the data whereas; Python mostly focuses on the code readability and productivity. It is preferred for its high speed of data analysis. Power BI is a proven choice over Python because of the ease of use as well.
Power BI allows the users to view numbers in the desired units using the 'Report' view. By accessing the "filed formatting -amount", and then "display units – million, trillion and crore" users can easily convert amount and unit.
Popular data types in Power BI are Text, Number, Date/Time Pass, True/False, and Blank/Null Data Type. Unicode character data of string falls under the category of Text data type.
Visuals can be customized with Microsoft Power BI. Visualizations like graphs, charts, KPIs, etc. can be used from Power BI's custom visuals.

The use and expansion of augmented reality (AR) and virtual reality (VR) have become more prevalent in contemporary society, indicating that these technologies are no longer restricted to the realm of futuristic projection.
The term "business intelligence" (BI) refers to an important component of every thriving company.
Power BI is an extremely effective tool that may guide organizations toward making choices that are informed by data.