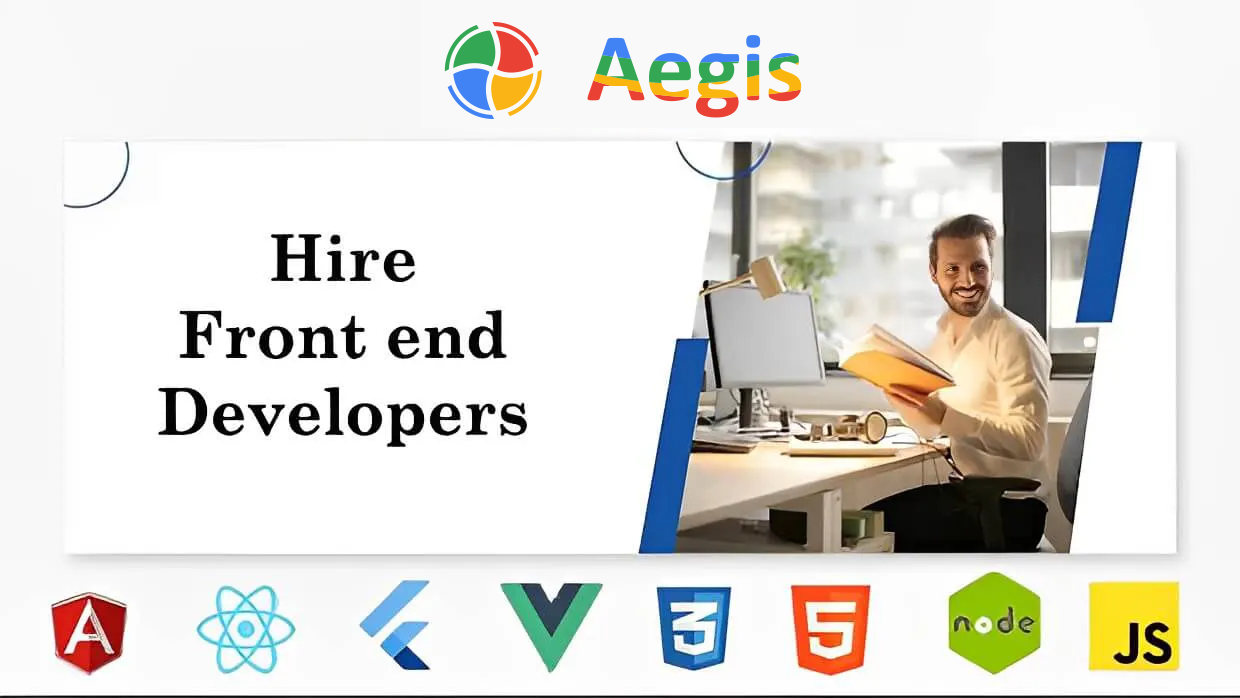 Introduction
The world of online technology has seen an unparalleled rise in recent years, which has revealed key trends that are transforming a variety of sectors and revolutionizing how we live, work, and communicate with one another. The proliferation of mobile devices and the associated increase in mobile internet use is one of the most noticeable examples currently taking place.
A future where connectedness, ease, and intelligence will be at the center of our digital experiences seems to be within reach, thanks to the tremendous expansion of web technology, which is continually pushing limits and driving innovation. The intense increase in the demand for front-end technologies in a relatively short amount of time is shown by a calculation of the market share of user interface concepts from 2019 to 2022. In addition, it forecasts that such tendencies will continue to expand over time and soon assume the position of leadership.
In this post we will look at the leading front-end developer businesses of 2023, and the factors that set them apart from competitors in the sector.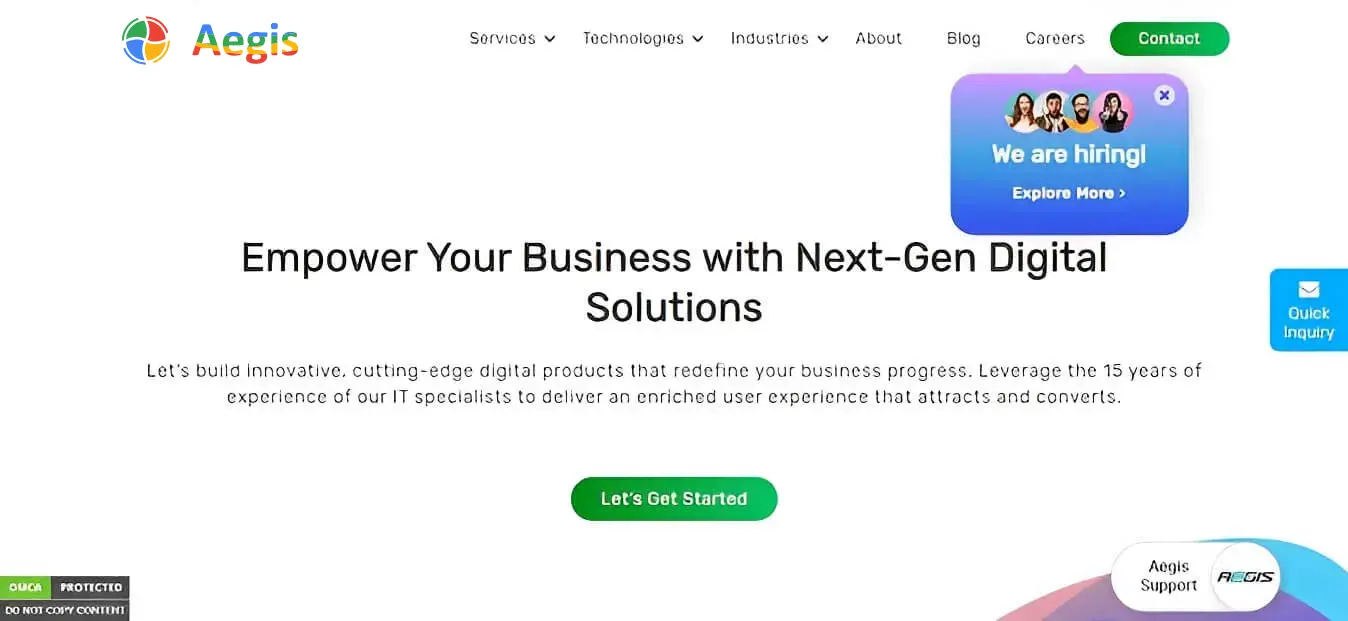 If you are trying to build a systems project for the organization and find it to be complex and require time and expertise then Aegis Softtech, is a reputed company with a trained talent pool of IT engineers. Outsourcing the workforce will curtail errors and unlock the potential to complete the project on time. You can hire nodejs Developers for a single phase or the entire completion of system integration. With world-class specialty to conduct digital transformation our software solutions provide the tools and technologies.
When you choose to hire dedicated front end developers, be assured of their specialty in ReactJS, JQuery, Joomla, Java Script, WordPress, Angular, Angular JS, HTML, CSS, Redux, Drupal, Ember JS, and Typescript. They will become parallel staff for your IT team with more than 10 years of experience in handling diverse projects. Aegis Softtech brings a complete transformation with front end services and Q & A testing. It is time to improve your IT department with skilled near-shore engineers.
We have a talented and hardworking team of front-end developers. When you hire front end developer they will be completely focused on delivering user-driven results that boost the value of your company.
Why Choose Aegis Softtech as Your One-Stop Front End Development Company?
Aegis Softtech is the best solution for companies that want to boost their online presence and give an amazing user experience. They have a proven track record of delivering successful projects across a variety of different sectors. Whether you require a mobile app that works flawlessly, a user-friendly interface, or a responsive website, we can help.
1. The Best Front End Solutions
We can upgrade front-end technology for better service by developing error-free using industry-best methods.
2. Aligned Time Zone
Improve communication by streamlining scheduling and event preparation with our time zone-aligned development that meets deadlines for projects and milestones.
3. Strategy Focused
Our team is strategically focused you can team up with our front-end developers to focus on your project where we provide high-quality work on time.
4. Experienced Team
We can add to your staff or outsource the job to a top front end development firm that can handle any TechBiz issue.
5. Top IT Achievers
Step inside the hub of the top 1% of the world's most talented software engineers, user interface designers, product managers, and quality assurance professionals.
Our Front end Development Services
Aegis Softtech is the industry leader when it comes to delivering interactive front-end development services. These services allow for the creation of user interfaces that are current, engaging, and dependable across all business fields. To create interfaces, we make use of some of the most up-to-date technologies and frameworks, such as React.js, Angular, Ionic, and many more.
1. Architecture & Design
Our front-end architects design cutting-edge web interfaces that provide users with a pleasant user journey and experience in every respect.
2. Maintenance & Support
Our front-end staff is available to assist you with the migration of complex data, the correction of issues, or the handling of post-deployment questions.
3. JavaScript (JS)
Our JavaScript developers can build dynamic user interfaces with careful attention to detail and limitless creative potential by illustrating their significant coding skills.
4. Development of PWAs and SPAs
No matter whether you want to create a Single Page Application (SPA) or a Progressive Web App
(PWA), we know how to offer you an advantage by creating responsive designs that resonate with your users.
5. Interfaces for Massive Workflows
Your complicated operations need a contemporary user interface (UI) that is not only simple to use but also helps save time. This might be for internal procedures or for apps that are used to interact with customers. Take advantage of our expertise in the design of individualized user experiences to meet the needs of your company.
6. Optimization of Performance
The software deployment is not the only part of our task that has to be done. We also do code optimization periodically to guarantee the uninterrupted and error-free functioning of your system.
7. Customized Applications for the Web
We guarantee that the aesthetics and usability of your bespoke web applications are in perfect alignment with the requirements of your company.
8. Development of the UI and UX
We are aware that an elegant and uncluttered user interface can make all the difference, and as a result, we are always looking for fresh ideas to introduce layouts that provide a distinct appearance and create an impression.
9. Developers Specializing on the Front End
You may save more if you hire dedicated front-end specialists and engineers from us on a full-time, part-time, or hourly basis. The software engineers are integrated into your team and perform their duties directly under your direction.
10. HTML5 and CSS
Using HTML5 and CSS, the front-end specialists at our company can create software that is more than simply appealingly attractive by adding interactive components, consistent colors, fonts, and so on.
11. Improve and Migration
To differentiate your company from its competitors, we can move your data, modify your old code, and update your frontends.
Our Dedicated Front-end Developers can help you with
1. Web Using All Layers
We curate both interactive front-ends and strong back-ends using our knowledge of system infrastructure, web architecture, and communication protocols.
2. Development of digital goals
We will guarantee that your digital objectives are met by feeding interactive features utilizing coding standards that are cross-browser compatible and comply with W3C standards, regardless of the creative or technological area.
3. Development of Tailored Web Applications
Our front-end developers can build tailored web apps via the usage of clean scripts and excellent usability.
4. Design and Development of CMS Systems
Our Front-end developers will assist you in designing themes for content management systems that are responsive and sturdy and can deliver content to a wider audience.
5. Migration of Data and Support
Our Front-end specialists can offer you with solutions for a wide range of issues, including the migration of essential data, the resolution of post-programming problems, and routine maintenance.
6. Front-end Optimization Services
With the help of our front-end optimization services, you can fine-tune the features of your current website to attain greater levels of usability and efficiency.
Our top-notch front-end web development services increase consumer engagement
Aegis' unmatched front-end development competence delivers clean code, consistent development, error-free UI/UX design, and outstanding aesthetic value. We can also assist you in getting front-end independence with cloud CMS. This lets you create, manage, and distribute content throughout your web presence from a single place.
Full-Cycle Software Development
Aegis Softtech is honored by its dynamic ReactJS web development services, varied portfolio, long-standing collaborations, and on-time delivery of high-efficiency projects. Our specialist services comprise analysis, planning, execution, validation, and maintenance.
Communication Transparency
We go above and above to guarantee customer happiness and project success as a client-centric front-end development agency. Our methods, commitments, and projects are customer-focused from conception to finish.
Mobile-First Strategy
The industry benchmark we are experts in is mobile-first, therefore we guarantee that your front-end mobile app development project will be agile and reactive. With globally recognized credentials and a full-service portfolio of technology and enterprise solutions, we have what you require to adapt to a changing IT landscape.
Best Customer Experience
We are continually learning and ready for new challenges. We always try to improve and speed things up. Our front-end web application development skills allow us to create best solutions that tackle your specific business difficulties and improve your consumers' experience.
FAQ
1. How do front-end developers utilize each language?
A front-end developer is essential to online browsing. They collaborate to generate browser content. HTML5, CSS, JavaScript, JavaScript frameworks, and code libraries help front-end developers understand each language.
2. Why hire front end developers from us?
Our front-end developer remote is passionate about leveraging their skills to offer cutting-edge technology, thus working with us gives you the greatest experience and outcomes.
3. What is the main responsibility of Front-End Developer?
A Front-End Developer is someone who primarily works on the user interface and who builds websites and online apps.
4. Why does front-end development matter to any company?
Front-end development emphasizes on making the interactive and visually appealing components of a website that users directly interact with. The design and backend data are combined to produce the building blocks that affect how an individual feels about what they read or do on a website.
2. Finoit Technologies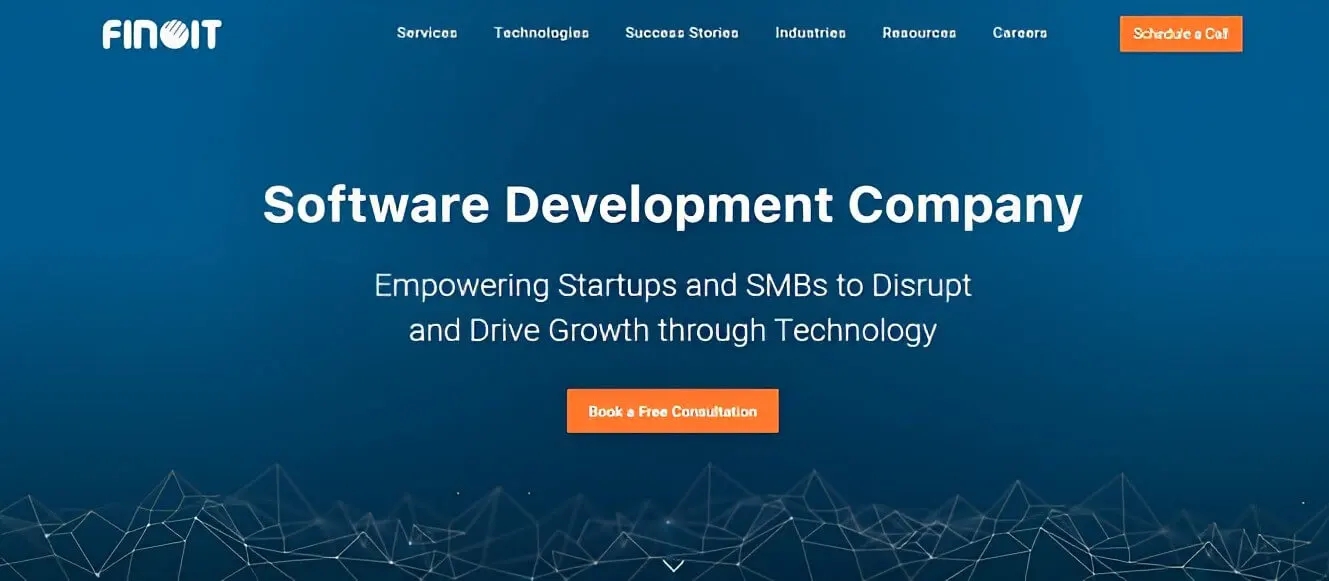 Finoit Technologies is a pioneering product engineering business that provides game-changing technological solutions for the Internet of Things (IoT), mobile platforms, and online applications. The firm now provides its more than 250 clients from all over the world with scalable goods and an easy digital experience.
As part of this effort, the company offers continuing support and maintenance to guarantee that its software solutions continue to function as intended. Within the Business Services industry, Finoit operates in the B2B area as a service provider. Some of the sectors that are covered include the automotive industry, banking, higher education, energy, medical treatment, the media and entertainment industry, and many more.
Its services include
Mobile App Development
Web app Development
IoT (Internet of Things)
Digital Transformation Consulting
Hire Dedicated Resources.

3. Consagous technologies

Consagous Technologies was founded in 2008 and focuses on developing online solutions and mobile apps for businesses, especially serving customers in the USA and India. Its dedication to quality is clear given that 99% of our US customers continue to do business with us. With its agile techniques in mobile app and web solutions, Consagous' main goal is to have a transformational effect on enterprises.

The company has developed its competence in native iOS and Android applications, hybrid apps with a focus on Flutter, and custom apps made to meet special business demands in various industries. They cater to businesses like social media Telehealth Exercise ad-hoc services Music and Dating Food taxis the team is committed to assisting you at every stage of the development process, from the original idea to design, from fine-tuning to final polishing.

Services include

Custom software
Wearable app
Mobile Application
Framework & CMS

4. PixelCrayons

The team of highly trained and experienced specialists at PixelCrayons, all of whom are committed to producing great outcomes, is what separates this company from its competitors. They have a track record of accomplishing projects on schedule, without exceeding the allotted budget, and while upholding the industry's most stringent quality standards. Since its founding in 2004, PixelCrayons has provided support to more than 5,400 consumers from 38+ countries across the world.

Services include

Web Development
Ecommerce Development
CMS Development
Mobile Development
Tradition Software Development
Frontend Development
Blockchain technology
IT Consulting

5. eSparkBiz

With more than 1000 projects successfully running, they have a fantastic score to hire front end developers in 2023. As nearshore recruiters, they work across GMT, EST, ACT, ECT, IST and PST. The company boosts of 300 employees which helps businesses to scale with software services. The teams work from conception to completion of a project. For the last 12 years, they have been transforming business operations for global clients. Their clients give repeat jobs that are highly rated by industry standards. The company is a CMMI level 3 web and ISO 27001 certified. Being a global player for front-end development, the company has a 4.9 clutch rating with improved customer experience.

Services provided:

Machine Learning Services
Artificial Intelligence
Cryptocurrency Development
Seo Services
Offshore services
QA and testing
Cloud computing

6. Innofied

If you are looking for premium front-end services then Innofied can help you out. Starting in 2012, Innofied has managed to raise the bar for the latest services required for websites. It provides solutions for diverse industries, e-commerce, transport & logistics and food delivery. The software engineers have vast experience in technologies and providing practical solutions. They make use of Artificial Intelligence and handle on-demand mobile app frameworks. The company has been recognized as a top developer since 2018. Mobile apps for educational institutions, health, financial and management clients are created by expert software developers. With good quality work around the globe, there is no stopping them from reaching their digital ambitions.

Services offered

Web development
Flutter app development
Blockchain technology
Software development services
QA Testing

7. WebSpero Solutions

If you require more conversions, visitors, and leads from your website, then choose Webspero Solutions. As a high-end company catering to the international market, it has a rich talent pool of front-end developers with knowledge and skills. Get optimal website functionality and move past your rivals by hiring their expert software engineers. Front-end development is necessary for customers to engage for a longer time. A strong presence in the online space brings the business to the forefront. The right team also is crucial to march ahead of rivals.

Software engineers with affordable rates per hour or project make this company a tough choice to ignore.

Services offered

Website Designing
App marketing services
PPC for ecommerce
Software development services
Google recovery services

8. Mtraction Enterprise

MTraction Enterprise has been selected by industry leaders from a wide range of fields to build the software that has digitally changed their company and increased their market awareness. From all around the world, the firm has collaborated with a variety of clients, including startups, agencies, companies, and charitable groups.

React.Js, React Native, Node.Js, Postgres, Mysql, Angular, Mongo DB, Docker, and Flutter, amongst other technologies and capabilities, are among the technologies that they serve. The group helps startups, SMEs, and large-scale enterprises modernize their business procedures by using innovative mobile app solutions. IoT, AR/VR, AI, Big Data, and Machine Learning are just a few of the technologies that the organization uses to assist you in conquering difficult business difficulties.

Services offered

Digital Consulting
Cloud engineering and automation
Cloud advisory
Web app development
UI/UX services

Bottom Line

In 2023, the demand for front-end developers is still flourishing. If you wish to reduce software development costs, only hire the best companies. Take a look at these above strategic partners with the best success rate. They have completed multiple projects with specialized front end teams, a crucial client-side interface and a part of essential IT service.