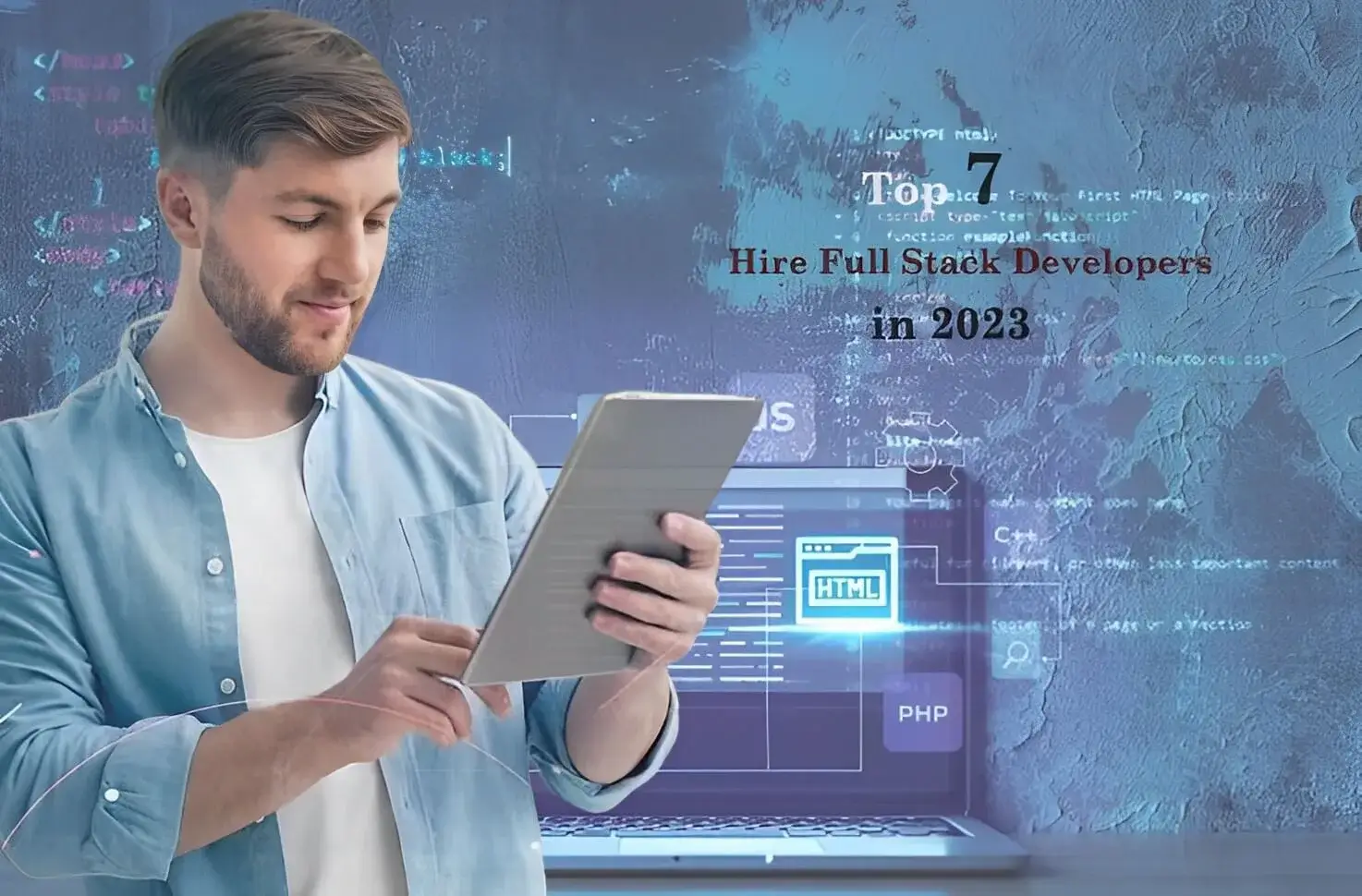 Introduction
Creating a site and any app needs professional help or a team of expert developers, and the people who could fulfill this role are known to be Full Stack developers. When you hire python developers these developers are accountable for the complete procedure that is from making the process comprises several stages, ranging from the very first layout and coding phase through the subsequent test as well as implementation phases. The increasing requirement for website expansion has led to the recognition of Full Stack Developers as essential assets inside several organizations.
Also, when you think of launching a new firm or modernizing the one you already working on, you would require an expert that specializes in full-stack development firms to help you out. Because there are now more full-stack development businesses than ever before in 2023, it may be tough to choose the correct firm to hire for such a particular task. Because of this, we have shown below a list of the best full-stack development companies operating in the world nowadays to start your search.
This post aims to examine the top 7 firms that are highly recommended for hiring dedicated full-stack developers for 2023. In addition to offering many kinds of software resolutions which may be modified to match your needs, the organizations listed here provide services like the creation of games and mobile apps and the creation and maintenance of websites. Large companies and also government institutions are among the clients they serve. So, let's get started!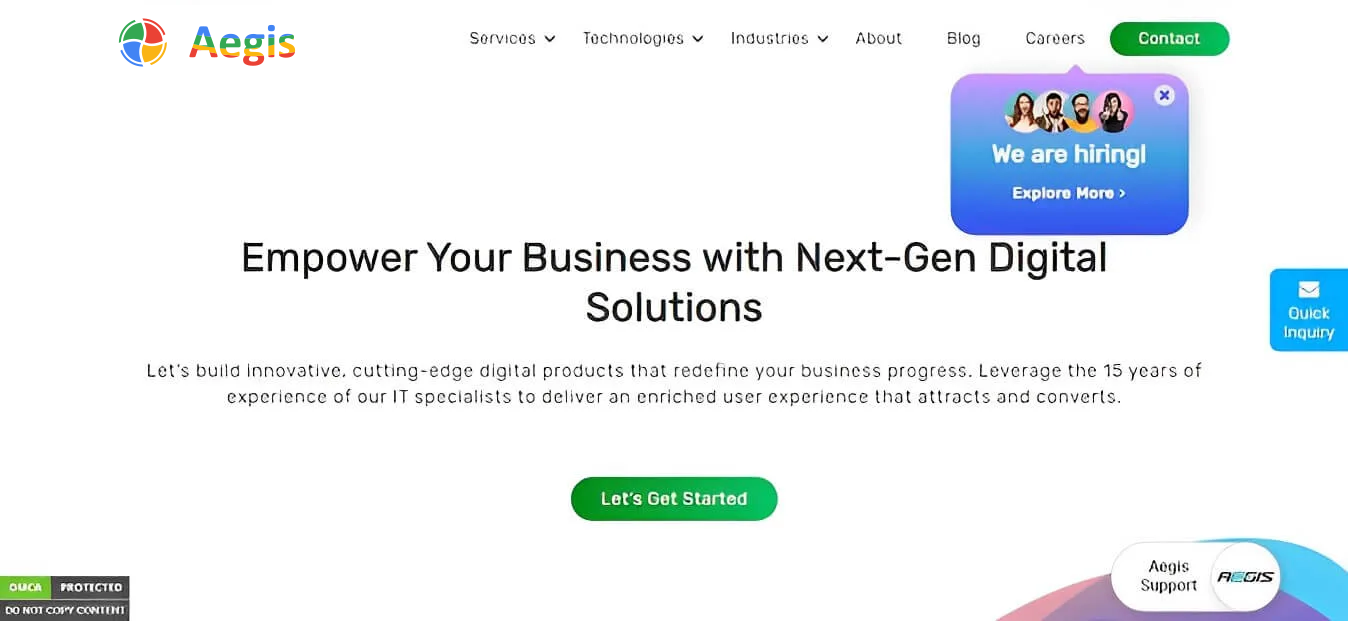 Aegis Softtech is a prominent multinational organization specializing in the digital field, with its situated in India. The firm commenced operations at present that caters to a global clientele exceeding 500+. The staff of tech professionals is highly committed and has expertise in a range of emerging know-how, enabling them to work in diverse industrial sectors.
The team consists of highly skilled full-stack developers that possess extensive knowledge in various modified website app development technologies such as Rails, Nodejs, React js, .NET, SharePoint, Drupal, Java and Python AngularJS, WordPress, and more. Possessing expertise in such emerging techs empowers individuals to effectively address intricate business challenges.
What is a full-stack developer?
The full-stack developer is a professional in the field of any industry who functions in back and well as front-end situations. From this it is understood that they can make complete best structures with the use of databases, servers as well as customers that are needed in developing various apps to function.
What can you expect from Aegis Softtech?
1. Competence on a Technical Level
In-house technical professionals can assist you in resolving any technical issues you may be experiencing across a wide range of technologies. We provide our clients with a comprehensive comprehension of the fundamental concepts as well as the capacity to adjust to fast-developing technology.
2. Efficiency in terms of costs
You will get the most bang for your buck if you put into action the strategies that make the most sense for your company. We provide them with novel means to make the most of their resources and accomplish their objectives without sacrificing the quality or efficiency of their work.
3. Transparency in the Workforce
Tools of the highest caliber for both communication and project management, to maintain full visibility at all times. In addition, we emphasize openness and transparency in all aspects of our decision-making processes, and we regularly brief staff members on relevant business developments.
4. Process Oriented
Procedures best in the industry to guarantee the highest possible level of productivity and quality at each stage. Furthermore, since people are completely involved in each phase of a procedure, being developments oriented encourages a feeling of awareness and presence in those who participate.
5. Embedded Systems
We possess expertise in developing software tailored to many platforms, including bespoke devices, raspberry pi, and other systems.
Reasons for hiring a full stack developer from our firm
The firm distinguishes itself by its inclusive and collaborative organizational culture, which is a key element. The organization places a high emphasis on fostering cooperation, effective communication, and mutual respect, so creating an inclusive work environment that promotes the sense of worth and active participation of all employees. This practice not only cultivates creativity and innovation but also enriches the entire employment experience. Our organization assists corporations and startups in the process of outsourcing highly skilled engineers.
Our team of professionals can enhance the project and elevate the performance of your progress teams. Aegis Softtech has shown a history of effectively facilitating remote development for both startups and large corporations in the Fortune 500. Our teams have made significant contributions to enhancing efficiency, reducing turnaround time, and meeting up skill needs, resulting in substantial cost savings of up to millions of dollars for several customers. Our organization specializes in the creation of bespoke software and applications, tailored to meet the specific requirements of diverse platforms, using a broad range of programming languages. Our staff have exceptional skills in effectively adjusting to the unique requirements of each client.
It involves the establishment of specialized teams that are solely focused on serving each client.
The availability of high-quality resources and the acquisition of valuable skill sets
There is a high degree of flexibility in terms of the ability to adjust the size of operations, either increasing or decreasing as needed.
Having complete control over the software development of a project.
Optimization of costs and visibility of progress.
One of the important characteristics that distinguishes this particular structure is the absence of setup or maintenance expenditures.
What areas of expertise do our full stack creators offer?
Engaging in the procedure of designing and making software that can scale effectively.
Producing efficient and effective code for front and back-end components.
The process of doing tests and resolving errors or additional code difficulties.
Conduct software testing to verify the receptiveness and effectiveness of the system.
The process of troubleshooting, debugging, and advancement of software involves identifying and resolving issues, as well as enhancing the functionality and performance of the program.
Developing robust safety and data guard configurations
The acquisition of proficiency in several back-end programming languages.
Demonstrated expertise as a Full Stack Developer or in a comparable position.
We offer Industry Specific Full Stack Development Services
Hire full stack developers from Aegis Softtech to get any work or occupational objectives via many productions and occupational places. As providers of full stack development services, we do a comprehensive evaluation of many elements to guarantee the provision of superior quality, in addition to conducting extensive testing of apps and products.
Several sectors have seen significant benefits through the comprehensive full stack development they are:
1. Healthcare
Our firm generates customized full stack apps to streamline and quicken many procedures in this sector industry that require immediate medical assistance.
2. Bank And Finance
Our firm enhances and quickens both functions having actual efficiency. Our developers are here making top- Implementing top-tier software solutions is crucial for organizations to optimize their operational efficiency.
3. Media And Entertainment
Having AI apps used by companies could easily convert your digital media to a completely new phase
4. Travel And Tourism
Our developers are here to create travel apps that can further give huge profits and ROI.
Aegis Softtech offers comprehensive full stack development solutions that include a wide range of tools and technologies such as:
Nodejs
Polymer
AngularJS
Backbone.js
JQuery
Digital Analytics
AI integration
Cloud computing services
Python and Java and so on
The company assists in addressing corporate difficulties via the use of cutting-edge technology. Aegis Softtech is a suitable option for anyone looking to hire full-stack developer India.
2. Science soft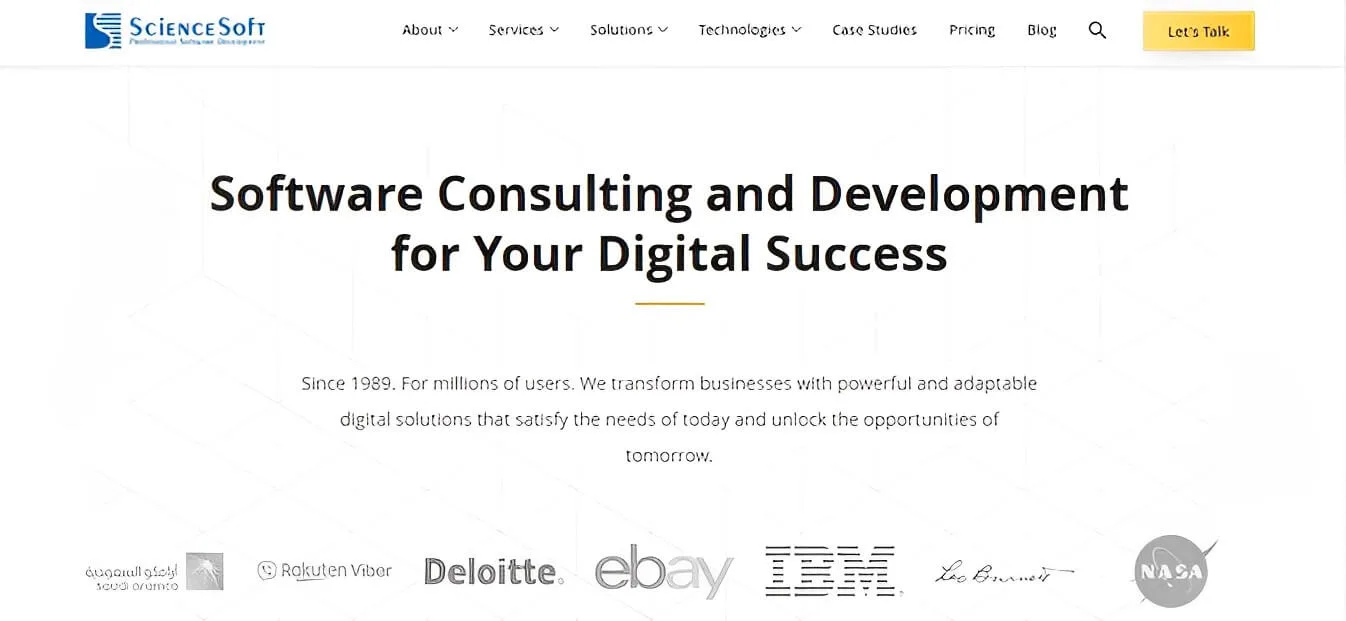 ScienceSoft, a prominent firm specializing in full-stack development, has a remarkable track record of over three decades in the field of outsourced software development. The company provides staff augmentation, a dedicated team, and complete process outsourcing services.
The staff at ScienceSoft consists of highly skilled full-stack developers, each with an average of 9 years of expertise. The aforementioned organization specializing in full-stack development has extensive proficiency in various development technologies and advancements, such as machine learning (ML), artificial intelligence (AI), and blockchain. Additionally, the company has acquired substantial experience in Agile, Kanban, and Scrum methodologies, headed by certified Scrum Masters. Furthermore, the company exhibits comprehensive expertise across more than 30 sectors.
Services offered are
Custom software development
Web and CMS solution
Saas product development
Flexible Engagement Models
Consulting and implementation
3. Resourcifi
Resourcifi is a globally recognized full-stack development firm offering a wide range of service skills and technological services to enhance the effectiveness of businesses. Resourcifi is a prominent full-stack development company operating in both India and the USA. It offers comprehensive services in full-stack web development technologies and various other domains to clients worldwide. This complete stack development business has expanded its portfolio by offering its services to several sectors like Healthcare, Education, Travel & Tourism, Finance, and Automobile, among others, using their extensive knowledge. Resourcifi has the necessary proficiency and resources to fulfill your outsourcing requirements, whether you are a fledgling business aiming to construct a resilient software program or a well-established corporation in need of supplementary developing capabilities.
The company boasts specialized teams proficient in
Mobile app development
Full Stack Web Development
Quality Assurance Testing
UX/UI Design
Native and Hybrid app development
Digital Marketing, and more.
4. Colan Infotech
Colan Infotech is a prominent organization specializing in full-stack development, offering inclusive software solutions to firms for over ten years. Established in the year 2009, Colan Infotech specializes in providing tailored software engineering, web designing and development, and developing mobile apps, IoT, and digital info solutions.
The staff comprising of skillful developers and creators that has expertise in emerging inventive solutions which align with consumer requirements. The individuals have a noteworthy collection of several projects, demonstrating proficiency in every facet of full-stack development, including both frontend and backend domains. The development team employs cutting-edge contexts and knowhows, including AngularJS, ReactJS, NodeJS, HTML5, CSS3, JavaScript, Java, PHP, MySQL, and Python.
Services offered
Specialized and specific technological
Mobile app development
Growth of blockchain technology.
The creation of a website app
Digital channels.
5. Konstant Infosolutions
Founded in 2003, Konstant Infosolutions is the most famous firm within the proficiency sector and is recognized for its keenness to foster the growth and expansion of designers. This organization distinguishes itself as a very favorable option for potential and knowledgeable full-stack engineers because of its notable emphasis on career advancement prospects. Konstant Infosolutions have recognized a demonstrable history of achievements, positioning it as a dependable collaborator for firms seeking to make use of technological advancements for promoting expansion and prosperity.
The firm has a group of knowledgeable and adaptable developers who have accumulated widespread expertise in offering inventive and superior resolutions to its clientele. The programmers possess a complete comprehension of recent know-how prevalent in the industry, allowing them to offer modified explanations that effectively address every issue of the customers.
Services provided
PHP
Node.js
AngularJS
Ruby on Rails
6. LeewayHertz
LeewayHertz is an eminent technological service firm specializing in its activities of full-stack development. LeewayHertz offers resolutions to customers, boasting 300 talented full-stack technologists. They have successfully created and built more than 150 digital results in several industrial verticals.
The attention to code quality is a significant component that contributes to the excellence of LeewayHertz as a solution for employing full-stack engineers. In addition to their development services, LeewayHertz provides extensive post-development support to provide continuous help and upgrades for their customers. LeewayHertz is a pioneering company in the field of information technology that specializes in artificial intelligence (AI), blockchain, and other advanced technologies such as the Internet of Things (IoT). The firm is devoted to supporting businesses in overcoming complex technical tests and promoting economic development.
Services delivered :
Generated AI Growth
ChatGPT developers
PHP
Data governance
7. ManekTech: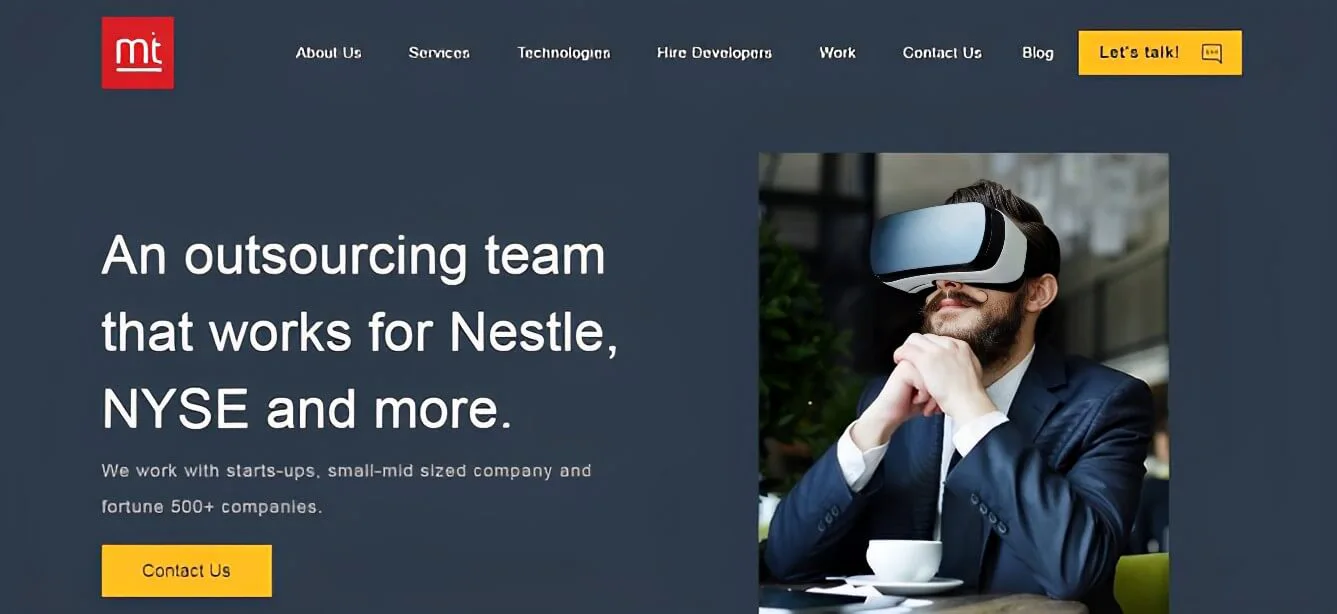 ManekTech is a well-established software development and IT consulting firm that specializes in offering bespoke software services. The firm has established itself as a prominent player in the field of information technology for over a decade, exhibiting a widespread international reach via its offices located in the United States, Germany, and India. Clients have the opportunity to avail themselves of exceptional IT solutions and access a pool of highly skilled professionals by engaging with ManekTech. Furthermore, the organization is committed to assisting customers in effectively managing their comprehensive requirements by providing continuous support throughout the whole process.
ManekTech, an Indian website development firm, gives its services as a technology partner, with primary importance on delivering high-quality full-stack development solutions. The organization espouses the use of scientific knowledge and technological intelligence to effect change inside industries, having the aim of enhancing operations and addressing hindrances. ManekTech assists organizations in embracing technological breakthroughs and effectively adapting to self-motivated environmental conditions.
Services offered
QA testing
UX/UI Designing
DevOps
AI, and IoT
PHP
Blockchain
Email Marketing
Bottom Line
It is essential to look for a developer that can not only suit your requirements about the budget but also deliver on time. The companies mentioned above are among the most successful in their field and possess an in-depth knowledge of the topic. If you consider their services, you will have the confidence to pick the greatest full-stack development firm, which will both satisfy your requirements and go above and beyond your expectations.