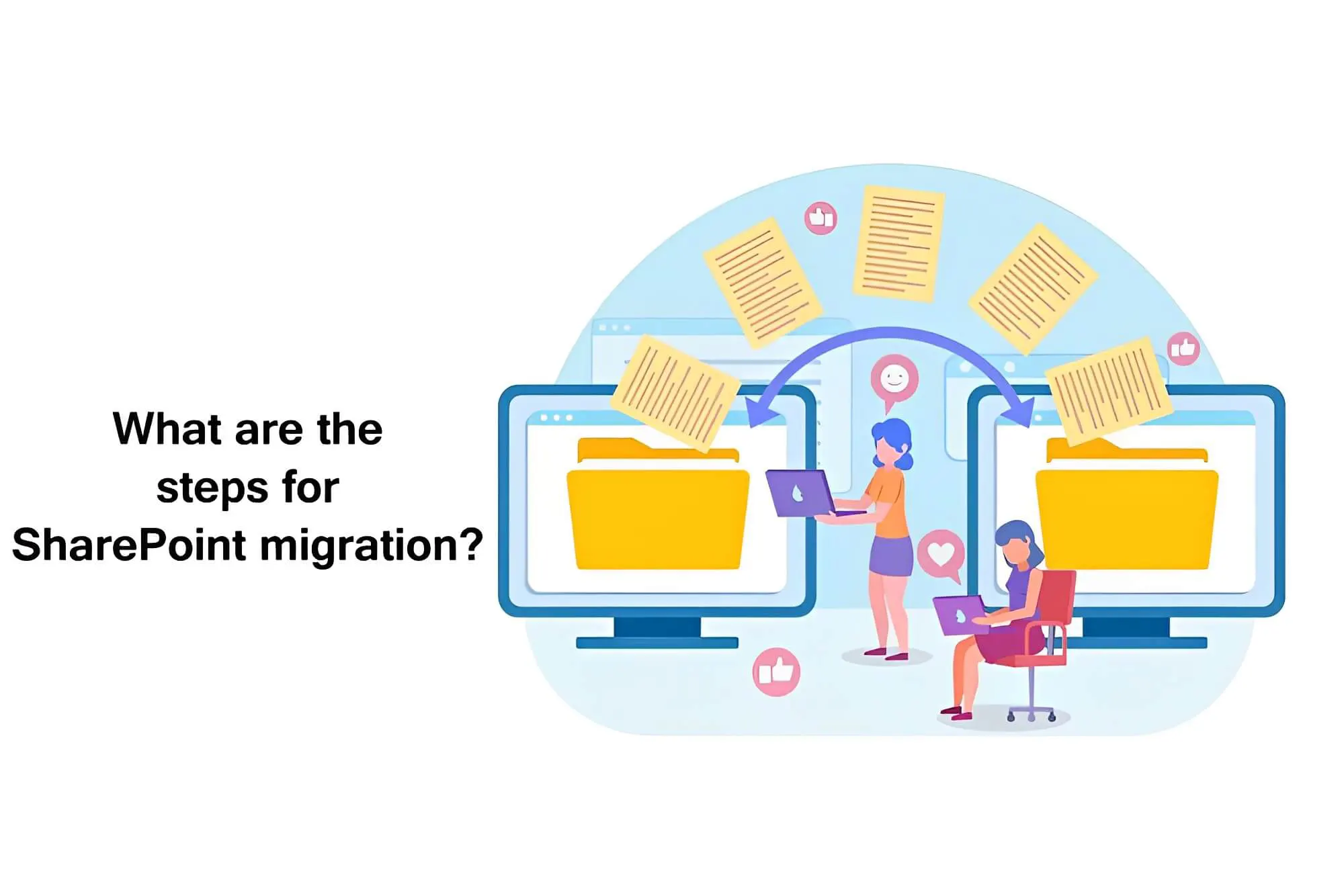 Microsoft SharePoint is a framework for communication that is hosted on the internet and has been utilized by companies all over the globe for many years. Microsoft makes its recent versions of SharePoint available to users to enhance the platform's dependability as well as its level of protection. These newer editions come with improved features which help companies more effectively manage their processes, records, and data. Cloud access and enterprise-grade security provided by Microsoft guarantee that users who have registered with the company may view and exchange their files using any device.
However, the procedure of transitioning from one version to another can be difficult and time-consuming. Because of this, Microsoft encourages companies to prepare thoroughly and obtain the assistance of experts if required when making the switch from one edition to another. The possible advantages of switching to a newer version of SharePoint are important, and they may assist companies to remain ahead of the competition in terms of digital and technological communication. You can use one of the numerous migration options that currently exist on the market to shift your SharePoint migration plan to a successive version.
One of the most effective software for visualizing data is called Microsoft Power BI. It does this by providing organizations with the resources they need and by assisting users in transforming their basic data into useful information. It assists with the conversion of SharePoint, which ultimately results in increased productivity and improved decision-making for the whole company.
The advantages that Power BI can provide for your company are as follows:
1. Real-time information about your company at any place
Because of advancements in technology, it is now feasible to monitor the status of your company in real-time regardless of where you are located in the world. When you use software that is hosted in the cloud, you can access the data related to your company from your notebook, smartphone, or means of telephone regardless of whether you are in the workplace, at home, or traveling. In addition to this, having access to these data enables you to rapidly adjust to any shifts in the market or the behavior of your customers.
2. You'll get access to interactive statistics
Interactive reports can be readily shared and obtained by numerous users in any industry, ranging from education to the pharmaceutical industry. This is made possible by the rising prevalence of online collaboration tools. Because the interactive reports can be quickly changed, it is an excellent option for companies who require routine monitor their data. This makes it a fantastic solution for businesses. In general, interactive reports are an indispensable resource for anyone who intends to conduct meaningful data analysis and display it interestingly.
3. Offers a simple data-visualization
The organization and presentation of large quantities of data in a manner that is simple to understand can be facilitated through the utilization of visual components such as charts, graphs, and other such elements. To assist people in understanding what they are aiming at, it is essential to use labeling that is both obvious and succinct, as well as crucial indicators.
4. Gives you the ability to make accurate information
When it comes to security program efforts, many organizations get wrapped up in attempting to be 100% secure, rather than implementing the ability to make educated decisions 100% of the time. This is an inefficient use of resources. When used as a tactic, data-informed decision-making can assist teams in avoiding these and other potential drawbacks associated with allowing data solely determine their course of action.
5. Integrates with Excel and Office 365
It is useful in Combining with Excel and Office 365 is one way for businesses to significantly boost their levels of output and effectiveness. It guarantees that the records that are produced are correct and up to date with smartphone applications that are compatible with Apple iOS, Google Android, and Microsoft Windows phones, you can get access while you're on the go.
What exactly is meant by "BI SharePoint Migration"?
It is essential to have a firm grasp of what BI SharePoint migration entails before we can move on to discussing the best practices for achieving an effective translation. A SharePoint migration is the procedure of transferring business intelligence solutions and data from an earlier version of SharePoint to a more recent version of SharePoint.
Companies typically move as they want to use the most recent tools for partnership and productivity that SharePoint has to offer to improve their efficiency in operations, minimize time lags, and provide excellent customer service. This, in turn, lets the same customers get back and client campaigning, which can be defined as the promotion of the brand via referrals and suggestions. If you want to use SharePoint Migration Services, you should first analyze your business's objectives, strategies, and needs so that you can make the successful jump toward streamlining your company's procedures while adding to the development and extension of the company.
To carry out a successful migration of BI solutions to SharePoint, top Power BI Developers are required who are knowledgeable in both of the platforms involved and hold the technological knowledge to navigate the procedure without hitches. The newly developed content migration solution that is facilitated by AI even allows you to speed up the transition to SharePoint.
Reasons: Migration of Business Intelligence to SharePoint
To begin, the present framework might be out of date or may no longer be maintained, which makes it challenging to keep up with the most recent developments in technology. This may lead to issues with data analysis as well as reporting, both of which are important to create the best decisions about a company's operations.
The restrictions that the On-prem ecosystem placed on users' abilities to exchange material with external users were addressed and rectified in the SharePoint Online edition. Sites, directories, and individual documents can be shared by users with anyone else who also possesses a Microsoft Account that is connected to their organization's e-mail address. Users can be given the ability to view or modify particular content if they are allocated visitor connections.
Thirdly, there may be a requirement to combine numerous platforms and sources of data into a singular, uniform environment. This may help to consolidate processes, decrease the amount of time that is duplicated, and boost the precision of data.
If you are a company shifting your operations to SharePoint Online, security, and regulatory issues should be your top priority. This is particularly true if you are working with data that is essential to your operations and highly confidential. Microsoft monitors SharePoint Online to make sure that it complies with all of the most recent regulations.
Having a sound backup and recovery strategy in place is another essential element that contributes to the success of a migration. This guarantees that any data or content that is lost or disfigured during the process of translation can be readily retrieved, thereby decreasing the risk of any data loss or disruption that may occur.
By allowing you to avoid a time-consuming and error-prone migration or upgrade process, Power BI tools make it possible to perform straight conversion from earlier to more recent versions of SharePoint. The process of migrating data from earlier to newer ones is simple and easy for businesses.
The following procedures need to be carried out to guarantee a smooth transition when migrating to SharePoint, which can be started by a user or a company:
1. Determine your business's specifications
SharePoint is a powerful platform that provides users, both individually and as part of a team, with access to a broad variety of helpful functions. When you have a thorough comprehension of the needs of your company, you will be in a better position to decide whether or not SharePoint is the appropriate solution for your needs, as well as which features and capabilities will be of the greatest value to your company.
This line of thinking will come in handy when making any possible alterations to project management plans, automation of workflows, and project management systems. This planning is necessary for effectively making use of the SharePoint conversion checklist in the company because it describes the purpose of your SharePoint migration strategy and shows how the process of migrating can be effective and productive.
2. Create a Team for migration
When making strategies to handle SharePoint conversion procedures, it is necessary to form a migration team. If you have a team, you can guarantee that the migration will go off without any issues, causing as little interference as possible to the daily activities of your company. In addition, the team will be able to recognize and address any problems that might come up during the procedure of transformation thereby ensuring that your SharePoint environment will continue to function at its optimal level. It is essential to put together a group of people who would consist of developers, project managers, and IT personnel at the very least. It is also a good idea to determine the possible risks of the relocation and to develop an emergency strategy just in case something does go wrong during the migration.
3. Conduct an audit of the infrastructure
Before beginning to plan a SharePoint migration it is essential to first conduct an audit of the infrastructure that is already in place at your business. During this stage of the process, you will have the opportunity to identify any potential roadblocks that may affect the translation procedure. You might require to conduct an audit of the hardware and software that you currently use, in addition to analyzing the company's safety and regulatory needs. You can start planning the relocation process once you have a thorough comprehension of the environment in which you are currently operating. The creation of a comprehensive project plan, the analysis of potential threats, and the formulation of a response strategy, as well as the setting of a timetable and a financial plan for the relocation, may all fall under this category.
4. Clean up the SharePoint framework
You are required to begin the pre-processing before you can begin the relocation. Any company that runs its business operations entirely on SharePoint must place a significant emphasis on the SharePoint infrastructure they implement. It is essential to organize the infrastructure of your SharePoint system to guarantee that it is operating as effectively as possible. This could be performed by determining the main elements of your SharePoint structure, which may include your server farm, online applications, site collections, and libraries. In addition, clearing up the cluttered surroundings of the business can improve the general functionality of the site and ensure that only the essential data is transferred.
5. Preparing primary data and apps for transfer
The collection of data can be a time-consuming task for data architects as well as for business consumers, but it is nonetheless essential. This involves having a comprehension of the connection that exists between the various applications and data, as well as any possible challenges that may arise. It is necessary to ensure that your primary data and applications are in good shape before beginning the process of migrating to BI SharePoint. This stage is essential to ensure that the relocation process goes off without a hitch or any complications. Additionally, applications should undergo a comprehensive check for any flaws or issues that might jeopardize the transmission.
6. Plan your capacities properly
Any company needs to carry out suitable capacity planning because doing so helps to ensure that resources are distributed in a way that is productive and effective. Planning for capacity necessitates looking at historical patterns and making predictions to ascertain the resources that will be required to fulfill customer requests. Examining variables like sales growth, consumer desire, manufacturing capability, and staff efficiency is a part of this process. It is important to have a clear idea of the company's requirements for information preservation, as well as the requirements for both the present and the future of your hire SQL server experts.
7. Data externalization
Emerging groups of visualization-based tools need to have a solid understanding of the function of externalization. The process of keeping data in a location that is independent of the primary system or application is referred to as data externalization. Data can be made more secure by having it externalized. You can rest easy knowing that your data is safeguarded by security measures that are at the forefront of their field. In conclusion, externalization is useful in the process of catastrophe rehabilitation. You can make use of the strength of data externalization by making use of an application called Maximizer to transfer significant amounts of data that are no longer in use.
8. Perform a Migration Test
Perform conversion testing before making it available to end customers. The conversion procedure is difficult because it includes restrictions with data migration on Office 365. These restrictions include limitations on the number of characters and the length that can be used in file titles, as well as limitations on file size and the length of file route. One of the many advantages of conducting a test migration is the increased likelihood that any problems will be discovered and resolved before the complete migration is carried out. As a result, you should make use of appropriate testing tools to ensure a smooth conversion.
Power BI SharePoint technical migration basic steps
1. Build and setup your new SharePoint ecosystem in such a way that it resembles the previous one in every practicable way. The configuration of all essential features, products and services, and site categories are a part of this process.
2. Install and customize any third-party tools or customized offerings that were used in your former SharePoint environment. This includes all possible alternatives that were built from scratch.
3. Transfer all of your previously accumulated information, such as notes, libraries, and records, to the new configuration.
4. Provide your customers with training on the new surroundings and any documentation or resources that will assist them in getting up to speed as quickly as possible.
5. The final step is to eliminate the previous SharePoint system once the migration of everything has been completed satisfactorily.
Bottom Line
Moving to SharePoint can be a challenging process; however, if you are prepared with the appropriate tools and information, you will be able to make the transition much more easily. SharePoint conversion checklist is a difficult and time-consuming procedure; Moving slowly and attentively will assist you in having a more seamless transformation. Consequently, it is imperative that you completely prepare for your relocation by engaging Power BI Developers. They can improve profits while simultaneously lowering expenses.