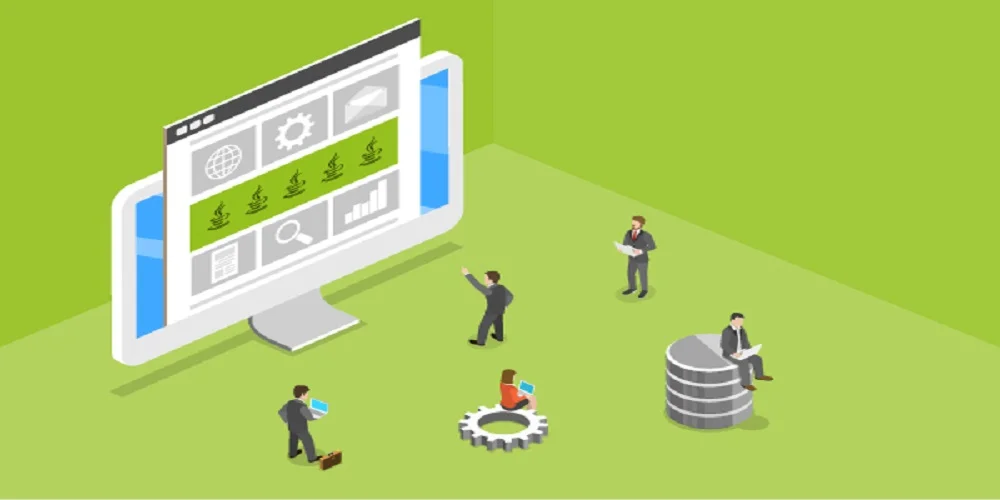 It is essential to a company's success in the competitive world of Internet commerce to have a website that runs without any hiccups. The proliferation of mobile devices has led to an increase in online purchasing, which is steadily gaining more consumers' attention. Developers who work in Java come into play at this point. They are responsible for the creation of software programs that are optimized for speed, security, and scalability, and they are an essential component of the process of developing E-Commerce platforms.
If you want to expand your online store and take it to the next level, hiring Java developers can be the best way to achieve what you want to do. If this is your objective, read on.
Overview
The purchasing and selling of products or services through the Internet is known as E-Commerce, sometimes known as electronic commerce. It includes a vast array of data, processes, and tools for buyers and sellers doing business online, such as cryptography for online payment processing and mobile purchasing. The vast majority of companies that have an online presence use an online store and/or platform to manage E-Commerce logistics and fulfillment, as well as marketing and sales operations related to online purchases.
E-Commerce gives firms the ability to contact clients outside of their immediate geographic region, which is one of the most significant benefits of this kind of commercial interaction. Businesses have the potential to bring in clients from all over the globe if they have an attractive website and use successful marketing methods. Businesses that engage in E-Commerce have the opportunity, in addition to growing their client base, to lower their overhead expenses by doing away with the need for a physical storefront and by cutting down on the number of employees they require.
There is no such thing as the perfect E-Commerce platform that can be recommended to any business. In any event, if you require a powerful E-Commerce solution, the whitepapers advise that you invest in a solution that is based on Java. They can handle bigger order numbers, offer a greater potential for scalability, have more native features, and are more trustworthy in general. On the other side, Java platforms are more difficult to use than alternative options.
Different Dimensions of E-Commerce Companies
Businesses centered on online commerce may range in scale from sole proprietorships to multi-million dollar conglomerates. Let's take a look at the four most common that you're most likely to run across.
1. Startup
A company or initiative that is in its early phases of development is known as a startup. Startups are often formed by entrepreneurs to seek novel forms of business organization.
2. Small Business
Small companies are sole proprietorships, partnerships, or corporations that offer fewer goods or services, generate less revenue, and have fewer workers than huge multinational organizations. Small businesses may be single proprietorships, partnerships, or corporations.
3. Mid-Market
Small and medium-sized companies (SMEs), also known as "mid-market," organizations generally have between 101 and 500 workers.
4. Enterprise
Large enterprise companies typically have more than one thousand workers and bring in more than one billion dollars in yearly sales on average.
Advantages of conducting E-Commerce Business with Java Developers
The majority of developers working in the software industry have expressed gratitude for Java. This is because it makes the process of developing software more pleasurable, simplifies problems related to distribution, and eliminates the misery of regularly switching between platforms. As the server-side language, Java is often the language of choice for developers working on conventional back-end development projects.
Java is a powerful, scalable, and secure programming language that is utilized by a large number of people. Hire Java developers to assist you in constructing and maintaining a dependable E-Commerce platform. This would manage enormous quantities of complicated transactions and a variety of different types of traffic.
It is thus not surprising that ninety percent of the organizations included in the Fortune 500 list continue to use Java in their business operations. The difficulties that come with legacy code might be quite scary, but they can also provide an invaluable opportunity for personal development and professional advancement. But with Java, of course, a substantial portion of this may be ascribed to familiarity and legacy code. Nevertheless, it is undeniable that the language is also being utilized in more contemporary configurations.
Java has existed for more than 26 years, and it is showing no signs of slowing down anytime soon. This demonstrates that it is a language that can be relied upon by enterprises. If you find yourself in need of assistance with your project, you need to locate developers that are proficient in Java.
Benefits of Java in E-Commerce Businesses
1. Memory and Processing requirements
When it comes to technological considerations, memory and processing needs are crucial aspects to take into account. The capacity to store and retrieve information is what we mean when we talk about memory, whereas the ability to change information is what we mean when we talk about processing. When it comes to speed and effectiveness, a device's capabilities directly correlate to the amount of memory and processing power it has. It is essential to do a Java memory and processing needs analysis whenever a potential new device or application is being considered.
2. Access to highly skilled Computer Programmers
The intricate design of the Java programming language makes it simple for beginning programmers to get started with the language. This results in longer development periods and lower expenses. For companies that depend significantly on technology, having access to knowledgeable programmers is essential. Businesses need to ensure that they are on the cutting edge of technology developments to ensure that they remain relevant and current in today's highly competitive market. Professional programmers can assist firms in accomplishing this objective by delivering individualized solutions to intricate technological issues.
3. Optimize your E-Commerce
Java developers can assist you with optimizing the speed and efficiency of your E-Commerce platform so that you may maximize sales. Java is recognized for its high speed and scalability, which means that your platform can manage enormous traffic volumes and complicated transactions without slowing down or crashing. Java's reputation for great performance and scalability dates back to its inception. You can guarantee that your platform is quick, dependable, and responsive with the assistance of Java developers, which may enhance the user experience and generate sales.
4. Software Development and Design
The Java programming language was first developed to transform the web into a full-fledged application platform. This required JavaScript to be capable of running on both the client and the server simultaneously. It took many years before it was taken seriously as a language for backend development, so even now we can't say that it was a complete and utter success. On the other hand, it became quite popular on the front end very rapidly, and over time it evolved into the major programming language for the web. The creation of software has the potential to improve the overall experience of the customer, make existing environments safer, more productive, and more environmentally friendly, and allow the introduction of more feature-rich and innovative products to the market.
Bottom Line
In conclusion, Java is an effective programming language that has shown itself to be essential for the achievement of success by companies engaged in E-Commerce. Java gives companies the ability to construct E-Commerce websites and apps that are dependable, secure, and have excellent performance levels. If you invest in hiring Java developers you can be one step ahead of the competition and provide your clients with a hassle-free shopping experience.