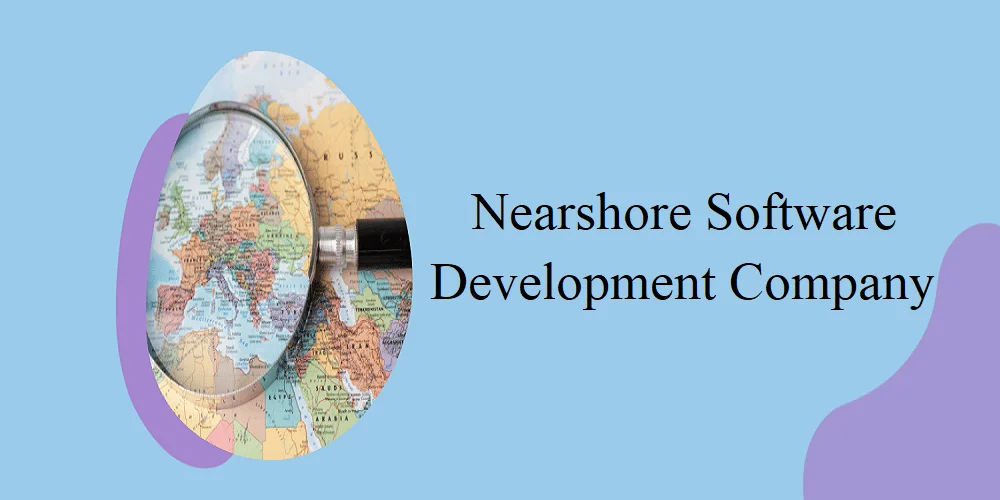 Introduction
When you need a high-performing team of software engineers, select a firm that leads with the best technological expertise. Augmenting services with nearshore developers is the way to go in 2023. You will need a firm that provides quick iterations, consistent delivery models, and solutions
This provides a choice of benefits over traditional software development outsourcing, such as cost investments, social propinquity, and good communication. With so many nearshore software development companies out there, it can be hard to know which ones to trust and which ones to avoid. That's why in this post, we're going to unveil the top nearshore software development firms and services to watch. Aegis Softech is a DevOps and Software Outsourcing firm that provides ground-breaking results for businesses of every size, including setups, SaaS, and small-scale industries.
How does its Pricing in nearshore work?
Although employing either an offshore or a nearshoring service provider is more cost-effective than recruiting an onshore team, hiring a nearshoring or offshoring service provider will cost you somewhat more money than investing in a nearshoring or offshoring setup yourself. Offshoring is the most cost-effective method for building your project; yet, it also presents the greatest potential danger since it is not protected by Aegis Softtech infrastructure. On the other hand, nearshoring strikes the ideal balance between the two in terms of being an option that is both cost-effective and productive.
They have been specifically chosen on key parameters and KPIs. If you select to hire nearshore developers following criteria are applicable.
Proficiency in technology
Outsourcing the best talent
Services
Skills that clients appreciate
Tech Stack
Portfolio
Industry Speciality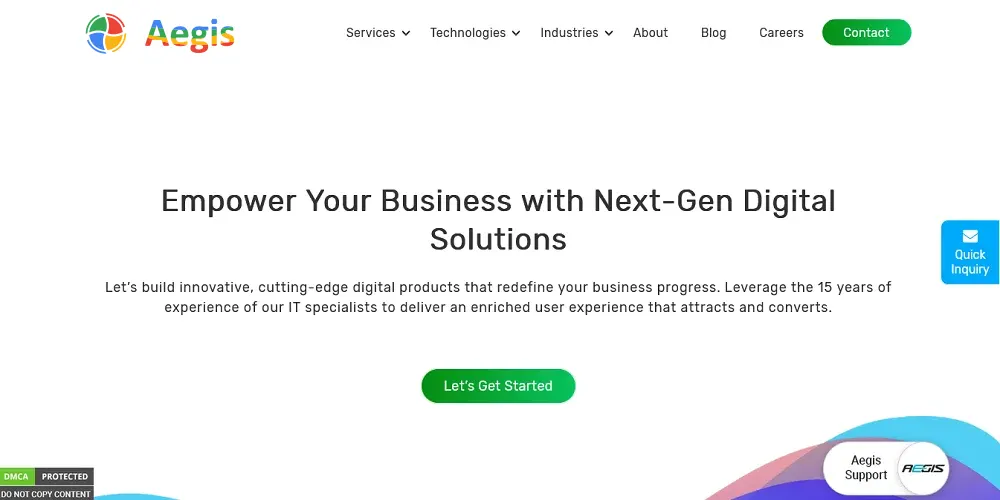 To bring agility for diverse IT results, a nearshore software development subcontracting firm is the best partner. Aegis Softtech is serving worldwide corporations closer to the time zone having an enthusiastic and loyal group of professionals. Having existed in business for more than 20 years, with over 1500 projects delivered successfully to many clients. In case you need an IT staff expansion, it is accessible greater proximity to the precise period. Our software engineers integrate their expertise which includes software architecture, engineering, cloud & UX design, DevOps, data solutions, and AI-ML tech stacks.
The best technologies being used include React, NodeJS, Python, .NET, JAVA Ruby, PHP, Golang, and Angular.
When you hire nearshore developers, they will also perform software-related projects; testing, BI, Data Science, App development, UI/UX, ML, Data Mining, Front-End Programming Utilizing any Techniques, etc.
Benefits
They assign developers to emphasize only the work and project during the complete time working together on this project.
They offer services for IT staff growth so that your employees internally might get possession of the proper skills and assets which is necessary to effectively finish the project. This is necessary for the project to be effective.
We are a Nearshore software development firm that provides a comprehensive variety of nearshore software outsourcing services, including designing, developing, and quality assurance (QA), as well as backing and maintenance.
They are good to manage the cross-functional expansion teams as well as provide their products exceptionally and on time.
How you will benefit from our nearshore team?
Our team is not just a collection of people but rather a cohesive body that works in coordination to achieve results that are superior to those expected by our customers. When you engage with our Nearshore Software Outsourcing team, you can have confidence that you are receiving the very best of what is available in the industry. They are powered by the top one percent of all technical talent. We are at the forefront of the digital transformation of businesses all around the globe.
Dedicated Team
We have handpicked the most skilled and experienced professionals in the industry to ensure that we deliver exceptional results to our clients. For over ten years, our devoted teams have collaborated closely with major international companies. We have over 1500 practitioners that are skilled in Cloud Native, Microservices, DevOps, data miners AI, etc of which all are certified practitioners.
Enriching IT Personnel
We provide several advantages, including access to a larger talent and knowledge pool, filling skill shortages within the team, and decreasing the expenses and time involved in hiring and onboarding new full-time workers.
Software outsourcing
We provide businesses access to a vast expertise group. When you don't have the capacity or experience in-house, we provide end-to-end software outsourcing, from concept and design through development and testing.
Enterprise Solution
Partner with Aegis Softtech as our nearshore software development team makes use of AI and ML to create intelligent and scalable corporate solutions that increase productivity and help you remain one step ahead of your rivals. We provide scalable, modular, and adaptable corporate software solutions that are designed to accelerate profitable development while streamlining intricate business procedures.
Custom Software Development
Aegis Nearshore Applications Development Services uses cutting-edge technology to construct unique applications. We build efficient, safe, and scalable bespoke applications using contemporary programming languages like Javascript, Java, Python, .NET, etc.
What services does our offshore software development center provide?
Our innovative approach, Software Infinity, is driven by agile software development principles, effective accelerators, high-performance teams, and a transparent governance architecture to improve software engineering strategies and generate hyper-scalable software solutions swiftly.
Product quality might increase by as much as 60%.
expedited time to market of up to 40%
The advantages of an offshore model combined with the ease of an onshore model
Flexible teams with cutting-edge technological abilities that may be increased or decreased as needed
Greater accessibility and greater adaptability due to time zone mismatch
Aegis Systems lets you build up a fully functioning Agile Center without the difficulties of working with an overseas vendor.
Our Full-Stack Expertise, From the Initial Concept to the Final Product
1. The Development of Tailored Software
Develop bespoke software that caters to your specific requirements and includes both the front-end and the essential back-end technologies.
2. Quality Assurance and Inspections
Through both human and automated testing, you can ensure that your technology is secure.
3. The fields of AI and Data Science
To free up value for your company, make use of cutting-edge technologies like AI, machine learning, and data engineering.
Our Custom Nearshore Development Methodologies
Agile
Agile nearshore development is normal for most of our projects, code, and design outputs. Agile improves customer participation and helps us to react to changing needs.
Learn
Our lean approach teams can complete complicated projects on short deadlines. Avoid resource waste and meet tight deadlines for a speedier, more efficient GTM approach.
DevOps
We firmly think that every measurable parameter can be improved. While leading with creativity and procedure honesty, our cross-functional nearshore development teams can monitor all project KPIs.
Waterfall
Our waterfall technique is excellent for projects requiring high-quality standards and timely resource deployment.
Scrum
Our qualified Scrum Master prioritizes, assigns, and time-boxes the whole development project.
X
Our extreme programming style works well for dynamic scenarios that need new technology to produce current goods.
Prototype
If your product prioritizes user engagement and requires frequent input for a seamless user experience, we may assist with quick prototyping to assure numerous beta rounds before release.
Quick Application Development
With a quicker time-to-market and fewer resources, you need constant progress monitoring, speedier resolutions, and project division to meet the deadline with a full product.
FAQ
1. What is nearshore software and why is it vital for any firm?
The term "nearshore software development" refers to forming a partnership with a software development business that is based in a nation or area. The firm and those responsible for developing it are located in the same time zone and have comparable cultural values. A nearshore software development business may provide a vast skill pool and cheaper expenses. It also removes linguistic barriers.
2. Why pick Aegis as a nearshore partner?
Aegis Nearshore Services provide affordable, tailored solutions. Our developers are rigorously verified for technical and communication abilities. By working with us, you can leverage the world's greatest software expertise to produce high-quality software at a cheaper cost. Aegis also consistently delivers projects to Fortune 500 firms and fast-growing startups.
3. What nearshore software services does Aegis offer?
Aegis provides a variety of nearshore software services to help organizations build high-quality software at cheaper costs. Aegis can design any software solution for your organization, including websites, mobile apps, cloud-native apps, and complicated corporate apps.
4. Which companies use nearshore services?
Toyota, the automobile industry, Big Pharma, Whirlpool and so on are a few of the prominent firms that take advantage of nearshore services companies.
5. Why should you give nearshoring during a crisis?
Because it is an efficient technique to build a high-quality product while avoiding the complications of a big time zone difference, it may save money. In addition to this, you will have an easier time growing your team and access to a large pool of technical expertise.
2) Future Processing
The company is 25 years old. The teams' nearshore developers combine tools and technology to achieve results. The company is close to GMT +1 and also close to European shores. Hence, the team is accessible when an important project is underway. Most engineers live and work in different cities but are close enough to maximize the potential project with capability. The process of team staffing is agile no matter what the project size is. When we work in a similar time zone most services are accessible. The company conducts software development and digital transformation. They provide blockchain solutions, modernizing data.
Benefits
Because a nearshore firm engages directly with individuals it can depend on dedicated engineers rather than on helpdesk systems.
Due to the larger level of responsibility that is assumed through the nearshore team, this firm doing it possible for industries to advance the quality of their work and the services they provide to their clients. This includes requiring less supervision and dependent.
Due to the improved communication and interaction across teams, the team gives ultimately results in higher-quality work, having the same culture and benefits.
3) eSparkBiz Technologies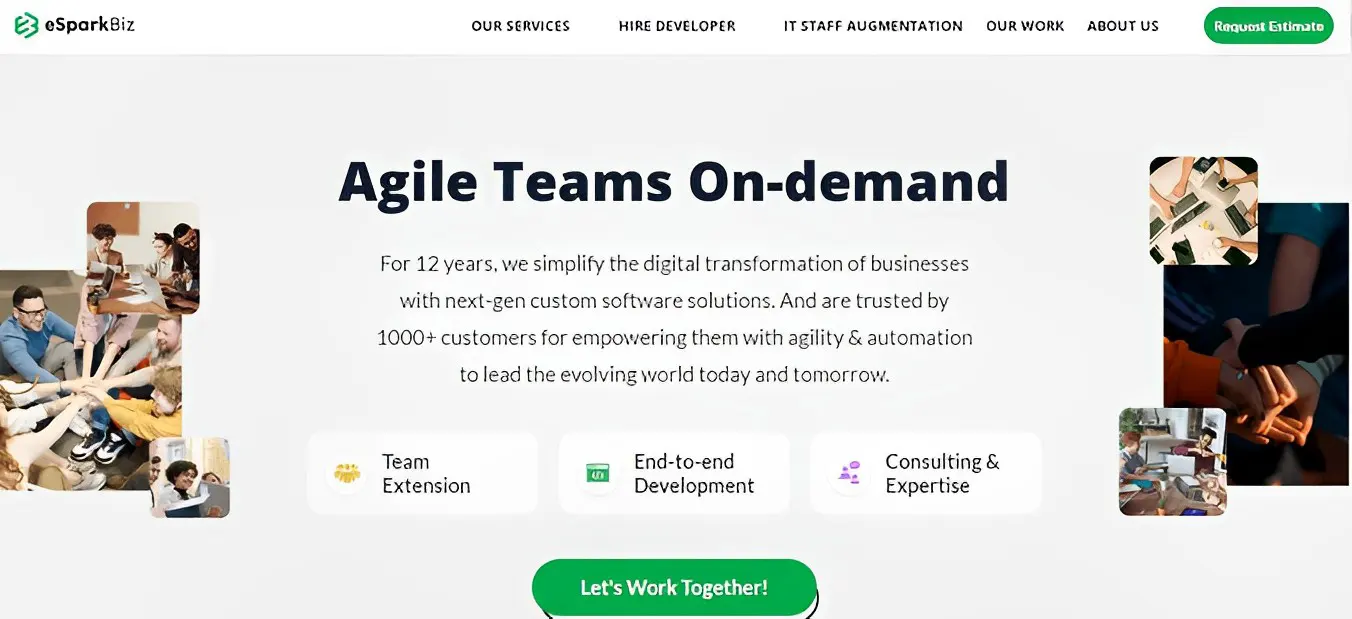 eSparkBiz is a trustworthy industry leader in both India and the United States They commit to delivering innovative and leading-edge resolutions, and they have recognized themselves as a trusted partner for companies globally. What sets eSparkBiz apart is the professional team and experienced specialists who are driven by the passion for creating remarkable digital experiences. Thanks to our customized services, advanced technology, transparent dealings, and the ability to adjust your schedule to different time zones, & highly regarded safety. Digital projects that are robust, completely functioning, feature-rich, simple, and comprehensible might be seen in our miscellaneous, lively collection.
With this approach, the company makes it easy to collaborate on scalable, innovative software thanks to our top-notch programming expertise, cutting-edge infrastructure, ODCs, and ISO-certified specialists who are only focused on your project. The implementation of nearshoring techniques is made simple for major corporations and aspiring entrepreneurs by our benchmarked quality standards. In less time & money, stay up with the quickly changing market trends & company demands.
Benefits
The company enables you to find workers who already have cultural backgrounds that are comparable to those of people of the company or product team.
They make it easier for you to give up control of the procedures inside your firm.
These applications, which were made with specialized software and leading-edge sensors, improve the realism of knowledge that can be had on mobile devices like smartphones and tablets.
It confirms into the perfect IT partner in your time zone for facilitating easy workflow, having access to a variety of skills, and innovation for quick advancement.
4) Agile Infoways LLC
A pioneer in nearshore software development outsourcing development, Agile Infoways LLC offers a wide variety of innovative services which are reshaping the IT landscape division.
Designing, creating, and delivering new products as well as maintaining and improving current ones are all part of the Product Engineering service. It comprises a wide variety of tasks, such as product designing, prototyping, tests, and deployment. From conception to CI/CD to MVP to workflow optimization, Brocoders' knowledge will be used to assist you in developing an actionable company.
Benefits
It enables you to significantly cut expenditures, freeing up funds for use in activities that are more essential to the organization.
The proximity of your subcontracted staff to your place of business makes it possible for them to pay you occasional visits.
It gives your teams the advantage of speaking the same language and operating in the same time zone. As a direct consequence of this, working together with professionals who are outsourced is now simpler for you.
5) TatvaSoft
TatvaSoft is a reputable and innovative software development company that has carved a niche for itself in the IT industry. With its headquarters located in India, TatvaSoft has a global presence and serves clients from various industries. The company is TatvaSoft stays ahead of the curve by staying updated with the latest industry trends and technologies. It guarantees that the needs of the customer and the objectives of the project are effectively and efficiently addressed, while also offering creative ideas and pushing the expansion of the company. TatvaSoft has positioned its development centers in countries such as India, Ukraine, and Romania to provide its customers with the advantages of nearshore cooperation.
Benefits
A strong team comprised of top-tier technological experts recruited from a nation nearby.
Combination of skills made to the exact needs, including software business, cloud computing, DevOps, SRE, QA product approach, involvement enterprise, and project administration.
You will have access to expert teams that will be deployed at each phase of the product development process, which will enable you to swiftly build your workforce to fulfill the goals of your company.
6) Leanware
Leanware is known as a seasoned software development company situated in Latin America that has a primary emphasis on developing the best solutions of superlative standards made for digital visionaries located everywhere in the world.
The company believes in quality, transparency, and integrity as the cornerstones of its business culture. You will have a considerable edge over your rivals if you adopt this mentality, as it will, in conjunction with the cost-effectiveness of nearshoring and the consistency offered by comparable time zones. The Engagement Model that it normally works under is project-based staff augmentation managed by a team with a particular scope.
Benefits
It allows both parties to collaborate on a variety of initiatives.
This will guarantee that the software is suitable for nearshore projects by meeting their criteria and standards.
It does it by putting together a committed group of developers and professionals to work on the project. This will assist to guarantee that the project continues without interruption and will lessen the likelihood of any communication issues occurring.
7) Brainhub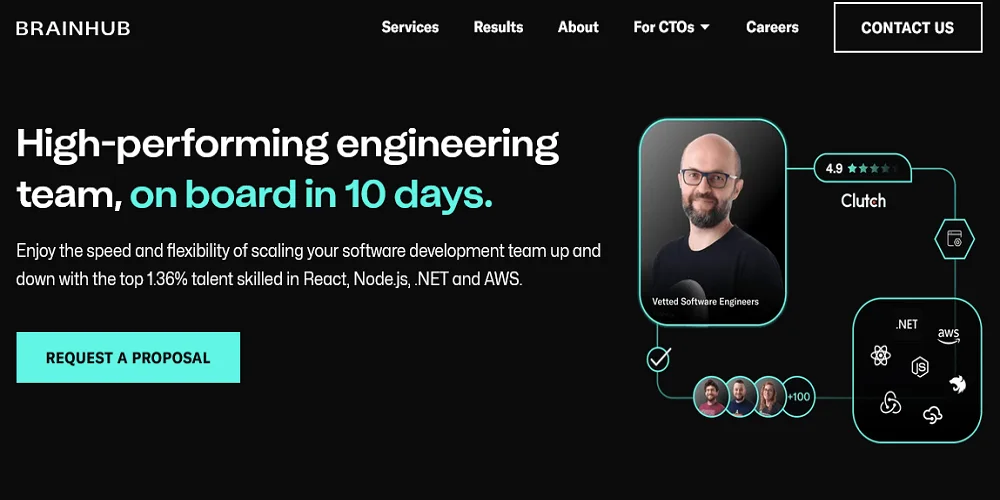 When different teams work there are issues related to design, strategies, or even implementation. To stop wasting time, energy, and costs of experts, hire nearshore developers that can deliver without any constraints. Brain Hub is in the industry of nearshore outsourcing for their customers. Now it is simple to conduct project workshops or prototyping with ease. It is one of the best firms to watch out for in 2023 with its engineering teams. The firm comes with a scale of tech stack which could be implemented in partnerships.
Brainhub is the best option if you're checking for a scalable application that can run on several platforms and is compatible with all JS outlines and libraries.
Benefits
This not only improves the quality of the communication but also results in significant cost reductions and simplifies the process of doing just about everything.
It guarantees that your company will remain to be competitive by providing you with an extended staff and a greater worldwide presence, allowing you to be flexible in meeting the needs of your clients.
8) Clarion Technologies
Another renowned nearshore software development firm Clarion Technologies provides software answers for an extensive variety of industries. Clarion gives a wide variety of services, such as website development, app development, and digital renovation, among others.
Clarion serves clients everywhere in the globe because of several development centers located in India. It has a portfolio that has completed 1,500 projects, and such projects cover a diversity of know-how, like .NET, PHP, Quality Assurance, BI & Analytics, and DevOps. Moreover, the firm has a significant amount of business proficiency and, since the year 2000, it has been offering flexible work ways to customers from across the world.
Here 400 skilled developers are working on numerous client projects, and since it mostly hires full-stack developers, it can hold developments of any small or huge scale.
Benefits
These platforms bring together people who have a wide range of skills and knowledge and are prepared to share their expertise with others.
Clients' intellectual property (IP) is protected in different ways, counting via the acquisition of patents, trademarks, copyrights, or trade secrets.
It enables you to keep full control over the project by allowing you to collaborate with local resources who are familiar with your requirements and can successfully convey those requirements to others to produce benefits that give you a competitive edge.
9) Peerbits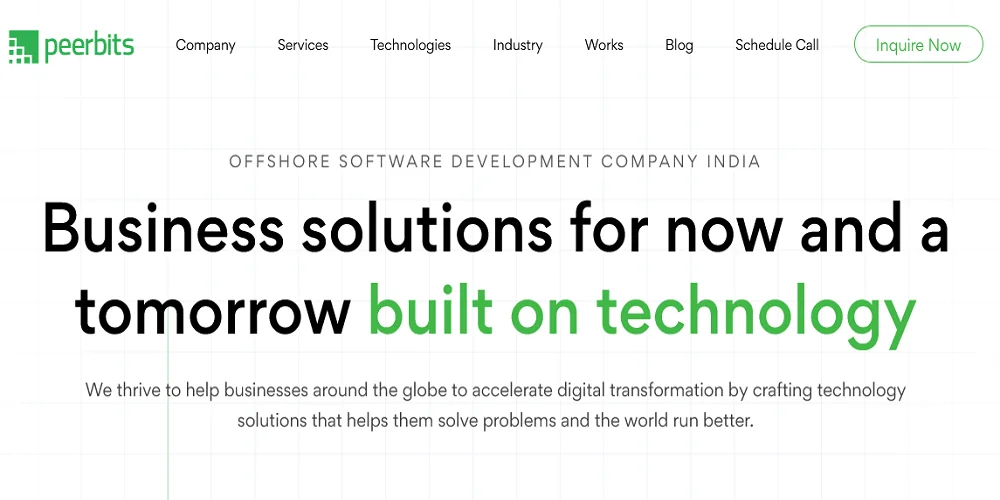 Since the beginning of this century, Peerbits, a nearshore software development firm, that caters to the requirements of customers all around the globe. The headquarters of the corporation are located in India and has many positions in other countries.
Peerbits was an early pioneer in the field of supporting corporate clients in the construction and maintenance of software across several sectors. The firm provides services for the creation of mobile applications using native as well as cross-platform technologies, in addition to web development. In addition to this, it assists clients in understanding the advantages of DevOps and cloud computing. Peerbits offers a large number of professionals in a variety of technologies, so whether you want to create an application using Java or one using the.net framework, Peerbits can help.
It offers Resource as a Service, which enables you to engage remote developers at fractional prices while still providing the security of dealing with an outsourcing organization.
Benefits
It offers several services related to software development, such as eCommerce, app prototypes, as well as app support and maintenance.
Their software outsourcing services, include UI/UX design and quality assurance.
They provide a full suite of DevOps services including CI/CD, Microservices, platform as a service, and many more.
We design electronic products that contribute to the development and success of your company, and our work ranges from improving the human experience to developing cutting-edge digital results.
10) The elks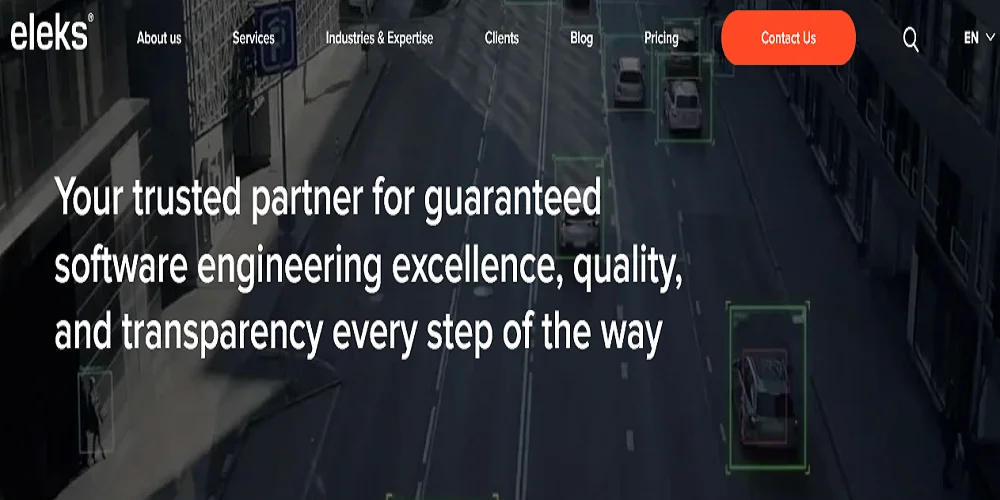 Eleks is a well-regarded nearshore software development firm that operates out of South America. The following are the most important aspects of their business overview, including the services they provide, the projects they've finished, and testimonials from satisfied customers. Eleks has been in the business of offering nearshore software development services for more than 10 years. The company has a team of highly experienced experts that make use of the most pioneering technologies to give the highest excellence development services possible.
Benefits
Eleks has successfully finished several projects for customers all over the globe, ranging in size from small to big. A few examples of such projects comprise a supply chain management system, a healthcare management solution, and a fintech platform.
It offers high-quality services in the field of software development, including bespoke web development, mobile application development, and quality assurance.
Its nearshore expansion benefits offer the proximity to the close market, which allows for easier communication, lessened travel times, and gives proper market research
Conclusion
Thus, the future of nearshore software development services holds immense potential as well as promises exciting opportunities for firms worldwide. As technology continues to advance at an unprecedented pace, staying informed about the top nearshore software development firms and services becomes vital for people who are looking to thrive in the digital landscape. To guarantee that your collaboration is effective, it is important to keep in mind the importance of aspects such as location, experience, knowledge, and communication skills.
Don't take our word for this brief list. Our list of engineers, developers, and designers work on challenging projects for different industry verticals. We cater to Fortune 500 firms, start-ups, and several businesses. With nearshore software development, repeat business contracts are exciting. We continue to combine resources, tools, and tech stack to provide flexible solutions.