Goal of Certification
Tableau is one of the most popular BI Analytics tools in the market today. I am not surprised with the astounding number of applications for any Tableau openings.
Holding a Tableau development services certification certainly gives you an edge. Be different from other applicants & get noticed by your boss or potential employers.
Prove your technical skills with a Specialist or Certified Associate Exam, then get tested on best practices in a Certified Professional Exam. Whatever you choose, your title will showcase your expertise and skill in Tableau.
There are new digital badges to showcase certification titles, let your online resumes and social profiles stand out. Becoming #certifiablytableau lets your badges speak for you.
You can also highlight your badges at Tableau Community Forum like me :)
Desktop Specialist:
It is valid for a lifetime. To take this course you have to pay 100$.
Fee: $100
Suggested Training: Desktop I: Fundamentals
Required Prerequisites: None
Suggested Product Experience: 3+ Months
Product Version: Currently testing on 2019.2
Title Valid For: No Expiration
Desktop Certified Associate:
It is valid for two years with fee 250$ and is focused on foundational functionality and product comprehension.
Fee: $250
Suggested Training: Desktop I & Desktop II
Required Prerequisites: None
Suggested Product Experience: 5+ Months
Product Version: Currently testing on 2019.2
Title Valid For: Two years
Today, I am going to share my experiences with Tableau Desktop Qualified Associate certification. There is no prize to guess that it is bigger and better than 'Desktop Specialist'. This journey of Certification preparation has taught me a lesson and would like you to benefit directly from the same. I am hoping to save your time and redirect you to my exclusive preparation resources and strategy that benefitted me to crack the certification.
How to prepare for the Exam, Step by Step approach?
The exam is done online with the presence of a proctor who monitors you throughout the exam; they are not from Tableau Software but a Third-party vendor. The duration of the exam is 2 hours and this time should be enough for you to review your answers. Once you are done with the examination it will take no time to receive the results. I still remember that magical line "Congratulations! You've passed."
Time Limit: 2 hours (Please plan for extra time for online exam setup) Passing Score: 75% Number of Questions: 36
Step by Step:
Read the exam preparation guide https://mkt.tableau.com/files/DesktopCA_ExamGuide.pdf, please note that different sections are having different scores, this will help you to set the priorities
This pdf will have a set of sample question papers that should help you to get familiar with the type of questions you might encounter with.
Start with all the training videos on the Tableau website.
Join https://community.tableau.com/ and try to answer different questions posted there. Believe me this is one of the best Knowledge Base of Tableau where different registered users answer and question frequently. You need to be persistent here, initially you may have to wait a little while for anyone to acknowledge your answer as CORRECT or HELPFUL.
Once you get the first CORRECT or HELPFUL hit then it will encourage you to be more active and soon you will start enjoying it, please go through my community profile to get an idea https://community.tableau.com/people/ritesh.bisht.0
After completing the exam preparation guide https://mkt.tableau.com/files/DesktopCA_ExamGuide.pdf you should test your skills
I have created a special dashboard for Tableau Certification preparation https://public.tableau.com/profile/ritesh.bisht#!/vizhome/TableauTerrificTips/PreparationZone, this is a one-stop shop that will guide you to not only Knowledge Base but also to live mock tests.
Test your ability, Mock tests zone will definitely help you to analyse your performance in different sections, you need to work harder on your weaker sections
Cover all the topics , but be very good with Calculations & Stats because it can be time-consuming if you are not good at that. Yes, both have very good weightage as well. But questions will come from all the corner.
Preparing Your System
This is one of the most important but surprisingly ignored sections. Trust me there are a section of users who suffered or failed just because of the system issues. Please go through this link https://community.tableau.com/thread/255733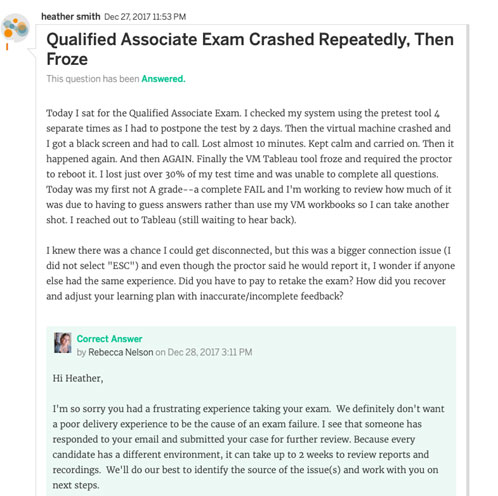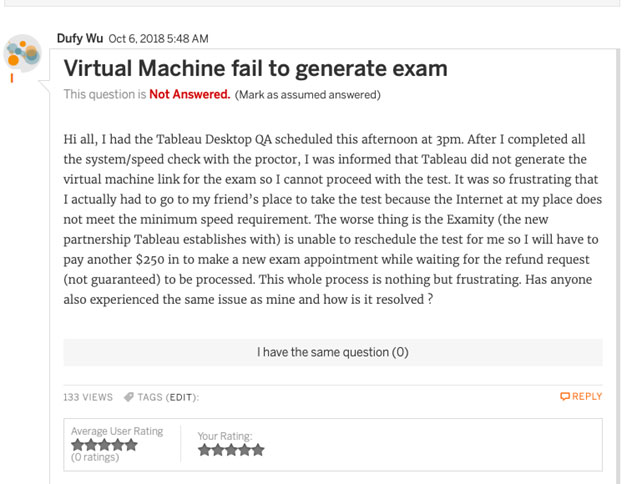 Another example https://community.tableau.com/thread/284033
According to Tableau's tech specs page, the minimum requirements for running Tableau Desktop are:
Microsoft Windows 7 or newer (32-bit and 64-bit)
Microsoft Server 2008 R2 or newer
Intel Pentium 4 or AMD Opteron processor or newer
2 GB memory
1.5 GB minimum free disk space
1366 x 768 screen resolution or higher Similarly, for Mac the requirements are:
iMac/MacBook computers 2009 or newer
OSX 10.10 or newer
5 GB minimum free disk space
1366 x 768 screen resolution or higher
On the exam day
During the exam if you are stuck in one quest, just leave it and bookmark it, leave it for the end.
Use a good network, I would even suggest an office network, Exam is totally Online from your laptop/MacBook.
1 mark question would be knowledge base & 3 marks questions will be hands-on
16 knowledge-based (1 point each) and 18 hands-on (3 points each) Multiple choice, multiple responses, true/false, matching
So if you know all the topics, 1 point each question will take no time and you get a lot of time for remaining questions.
Golden points to remember
Yes, you can make use of GOOGLE That does not mean that you can cheat, also most of the questions will be hands on but still you can make a lot of difference (Specially 1 mark questions).
You will have more than one sheet to analyse. (Superstore is not the only Core) So be ready for data sources other than our favourite Superstore excel.
Do some exercise on World Indicators as well to have hands-on experience so that you feel familiar while giving examination.
Not only that you might get a twbx sheet directly, which means direct access to the workbook with data source embedded in it.
Don't get Lost with the same Sheet and Filters/JoinsSuppose your first question needed a join between two tables Order & Return.
And, you get the next question based on the same excel Superstore. It is better to go with a new data source even if it is the same Superstore. Because you might filter data based upon your questions hence do not take any chance by using the same data source for different questions.
Don't waste your time on a single question. Yes, you might feel you can nail it and spend more time on a question for which you answer won't match with any of the present options. Remember to Flag it (option is present) so that you can analyse it later.
Take a screenshot for any doubtsProctors present during the exam are not TABLEAU Consulting Software Employees. In a rare case of a data source not being present or missed, don't forget to take a screenshot so that you can present your case later and earn points if you deserve.
I hope that the above suggestions and resources will help you to clear your dream certification on Tableau Desktop Qualified Certification and I am waiting for your badge as well