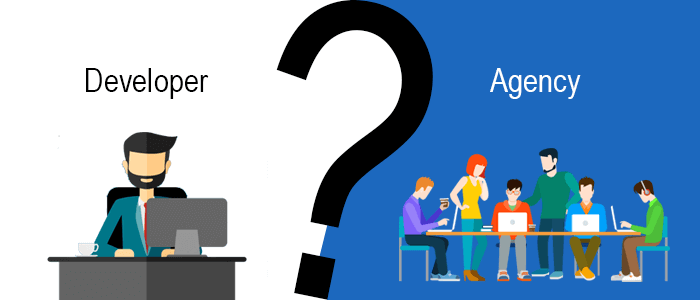 There are some major factors which should take into consideration before the final decision.
Budget

Goal

Availability

Process

Time-Limit
Budget is a very important concern for every business owner. An app developer would charge you less than a mobile app development company but, the company will offer a complete solution with expert advice.
The next factor is you must be clear in the goal of your app. If you have a proper vision, then a freelancer won't be able to guide you in the right direction. On the other side, any mobile app development agency can assist you with a consultation where you both can discuss the objective of the project with a well-experienced project manager.
Availability is also a factor, like if you are operating any business that requires your precious time. So, hiring any app development agency can handle the whole project could save your lot of time in the long run and can be a very effective decision for your company profit.
Any development agency has well-trained project managers who can constructively interact with the people building your app and will ensure they are communicating and working together for a common goal. Having, a project manager can play a very significant role in building software projects.
In the end, time estimation comes. You have to make a proper framework of time where you can make a contract with the development agency. Because, freelancers work on an hourly basis, which may not be the best condition for your app development. Time is a valuable asset in every company.
By analyzing the above mention aspects, you should make the right plans. Are all the conditions matching your requirement? In most of the cases, you will see that hiring an app developer cannot be a good decision.
So, why hiring app development agency than hiring freelance app developers is a profitable deal?
Here are the key reasons for that:
App Development Agency is a specialist -If your app development process demands some advanced-level skilled developer. Then hiring a development agency can be the best option. They have dedicated experts in their team who are pro in their specialized area of app development. It will make all process very easy and less time-consuming.
Agency offers fixed-price contracts- Working with freelancers, they will charge you an hourly basis. But in the app development agency, the company will offer you a fixed price for their work. That means app development companies cannot even help you to costs down, but they can also help you get a better understanding of your budget.
They have access to the best technology- During the app development process, you might need to make sure it will work fine on all of the mobile platforms. To check this, we require the right platforms. Mobile development agency has access to the most advanced technology, which will make sure that the app is developed to be compatible with all the diverse platforms. That is why it is one of the top reasons that the experts always recommend to use development agencies.
If you are also planning to create a mobile app for your company, you must consider an app development agency to help you design and launch your product based on your requirement. You can also hire Java developers if you have specific requirements. If you take their services, the agency can schedule that your application will not work smoothly with a better user interface, but you will get all the technical help and guidance for future app complications.