BI Analytics Development for User-friendly Business Decision
In today's competitive world, the difference between the companies at the top of the industry and the ones who are just getting by is the way by which they leverage data.

TRUSTED BY
GLOBAL CLIENTS


















From increasing the employee efficiency to improving customer satisfaction rate, Business Intelligence (BI) takes precedence in helping a company become the best at what they do. At Aegis Softtech, we are known for accelerating digital transformation that allows organizations to gain quick, accurate insights. We have skilled BI Analytics experts who help organizations to solve any complex business challenges by leveraging the potential of data.
BI Analytics Development to Ramp up Your Growth
We understand that the data needs are never the same, even for the most similar companies. So, we customize our BI analytics services to your requirements to derive the maximum value out of the data. Business Intelligence is possible only with the best set of data operations and tools with algorithms designed to answer your problems accurately. Every development of BI Analytics follows a three-step process: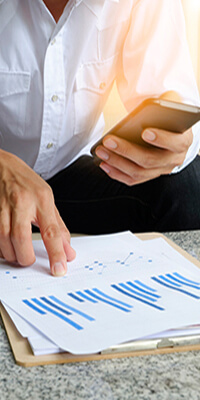 Data Mobilization
It's a given that you cannot get great data insights with bad data. So we, BI Consulting Company, put in a tremendous effort to identify numerous reliable data sources that will become the basis for your usable data insights.
We build algorithms that extract, transform, blend, aggregate, cleanse and categorize the data. These data will then be loaded into data warehouses optimized for business intelligence. We provide unified control over these operations that can be changed at any point you desire.
Data collection
Data validation
Data warehousing
Data virtualization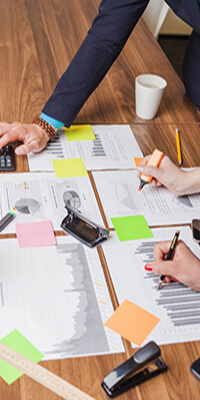 Data Analysis
The next step in the process is data analytics. It is a crucial step in the BI analytics development that analyzes the relevant data. We have highly skilled programmers who create an automated setup of analyzing the data lakes. We ensure that the process abides by the data security and governance and meets the industry standards of ODBC, REST and ODATA.
Our integrated data setup will allow you to run advanced analysis that can be directly accessed from customizable dashboards. You can also use smart tools and techniques to get business-focused decisions.
Data visual analysis
Predictive analysis
Machine learning algorithms
Advanced analytics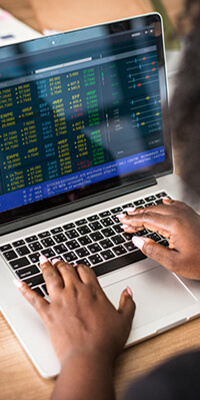 Data Visualization
The visualization of data analytics is crucial to obtain that element of enlightenment. The data analysis can reveal important facts about the customers, industry, employees and competitors. The data visualization tool gives life to the results of the analysis. It offers a visual indication of the patterns that helps you to go beyond what you see on the paper.
We include advanced yet easy-to-use data visualization functions like data clustering, a direct switchover to other visual forms, predictive charting and many more to get a full grip on what a data set means.
Embedded analytics
Interactive dashboarding
Customized charting
Pattern identification
We deliver BI Analytics Service Across
USA

Canada

UK

Germany

France

Singapore

Italy

Israel

Australia

Japan

Netherlands

Sweden

Switzerland

Norway
Solving Operational Challenges with BI Analytics Services
The path to achieve Business Intelligence is different for each company. The strategies, the research and the approach are defined depending on the current situation and plans. Therefore, there will be so many challenges on the BI journey.
You need to align your goals and adapt continually to the changing industry dynamics. You may need clarity on the best ways to include the data analytics in your operations and make it a part of your everyday working. You may need to establish a correct performance path to manage the vast data lakes efficiently.
At Aegis Softtech, we have the answers to all that and many more. We are an expert BI consulting company with the best data experts, programmers and analysts working with us. We help businesses to manage the operational challenges with data analysis and increase their working efficiency.
Data Strategy
From setting up Hadoop clusters to integrating with BI visualization tools, we will devise the data strategy to implement advanced analytics for specific challenges.
Real-Time Analytics
Quickly take business decisions with fast data processing that happens at the speed of microseconds and speed-up your decision-making process.
BI Chatbots
Improve the way you interact and consume with data and run data analytics with intelligent chatbots that are self-learning and self-improving.
Master Data Governance
We extensively analyze the master data to make sure that it's of the highest quality without any false data and readily prepared for the data analysis.
AI and Machine Learning
We harness valuable insights from unstructured and structured data with machine learning algorithms and uncover key trends and discoveries with AI.
Built-In Collaboration Tools
Instead of switching between multiple screens, collaborate on the same platform and work around with the data and visualizations quickly.
Bringing Fresh Approach with Our BI Consulting Services
Becoming a market leader with data is easier said than done. We make it happen by gathering intelligent data, performing extensive data analysis and facilitating quick reporting. Our BI Analytics Development helps in anticipating future trends. We bring a fresh approach to every problem and deliver business intelligence solutions that give an edge in the competitive market. Being a top BI consulting company for more than 12 years, we have solved many business challenges, operational challenges and working challenges for businesses across different industries.
We have offered our BI consulting services in industries including:
Financial sectors like banking, insurance, investments, etc.
Manufacturing sectors for demand forecasting, equipment life prediction, operational optimization, etc.
Supply chain optimization and demand prediction
Retail sectors, like physical stores and online stores.
Life sciences like pharmaceutical companies for drug testing, production and procurement.
Travel sector for customer satisfaction, product optimization, buyer identification and marketing.
These are just a few industries we have worked in. We have customized our offerings for BI analytics services to include some unique solutions like:
Storytelling Experience
With our customizable dashboards and storyboards, tell a beautiful story with data analysis that easily conveys the insights and helps in faster understanding.
BI Customized to KPIs
We set up an end to end data process with your business KPIs as the key elements, which means, every analysis will have something for your business.
Analysis of Core Business
If you are planning to branch out to a new product or want to know the capabilities of your core business, our BI consulting services can help in empowering you with practical knowledge.
Self-Serving Operations
You don't have to depend on your IT team or data team to get insights. You can equip and train your employees to run analysis and understand insights in the simplest way.
Frequently Asked Questions
The goal of BI and Data Science is primarily the same. They both empower businesses to get valuable data-driven insights from the data. The difference between BI and Data Science is that BI looks at the past and present whereas, Data Science looks towards the future. BI and Data Science solve different types of problems.
BI is used for the conversion of data into actionable insights. The insights help companies make smarter business decisions. They open up profitable business opportunities helping businesses to enter a new market.
Yes, BI and BA are useful for enterprises because almost every day, companies create a huge amount and variety of data. BI focuses on past and present events. Whereas, data analytics focuses on what's going to happen in the future. Both are valuable for a business to plan its strategies and make decisions.
Business Intelligence implementation can be a complex process. However, an experienced team and a solid plan of action containing the requirement analysis can simplify the implementation process.
Aegis Softtech allows companies to identify and solve their key problems making better business decisions thereafter. We offer you the right techniques, methods, and tools to turn your data into meaningful insights. BI solutions by Aegis Softtech are mainly targeted at producing and connecting analytics tools and cloud, web-based apps. We help companies make the most of their data!
BI consists of the methods to collect, store and analyze data from business operations. BI offers thorough insights, which allow businesses to create performance benchmarks, business plans, identify market trends, enhance compliance, and much more. With BI analytics offered by Aegis Softtech, you can improve every aspect of your business.

In this type of IoT platform, normally what they mean is they can do set and get on the end devices so to collect data from them and to control them and from the IoT platform and there are portals maybe sometimes where you can see inventory you can most of the time do big data or bi analysis rules and automation and connect applications to it and sometimes most of the time you can do some basic firmware update again not necessarily to the end devices because a lot of them don't have the firmware update capabilities.
Intelligent buildings have moved from the future to the physical reality, yet the genuine guarantee of the advancements is only understood at the core of this change.
Big Data processing has changed almost all the sectors of our economy so it is no wonder that the way we deal with geospatial data is being transformed.