Data Warehouse Testing Services - Maximizing Data Efficiency
As organizations develop, migrate, or consolidate Data Warehouses, they must use the best practices of ETL Testing and Data Warehouse Testing services. The success of any on-premise or cloud Data Warehouse depends on the execution of valid test cases that identify issues related to data quality.

TRUSTED BY
GLOBAL CLIENTS


















The complication that surrounds data integration and duplication are removed by Aegis Softtech, making it simple to obtain and evaluate the most important data for your business. We do not value technology more than the capabilities of the human intellect. Rather, we let the best solutions determine the best proportion for the situation.
Quality Benefits We Offer To Businesses With DWS Testing
Reduce Errors from Manual Testing

We are aware that Data Warehouse analysis needs to deal with significant amounts of data from systems. Additionally, we are aware that a manual QA testing strategy in business intelligence is time-demanding and expensive. Our team uses a continuous testing platform, where you will be able to expedite the launching of your product with minimum costs

Reduce Test Creation and Maintenance Time

Test creation and maintenance time tests are significant challenges for businesses. Our team can implement testing techniques to cut down on the amount of time spent on test development and maintenance. Also, our team assists you in achieving success in the industry, meeting the requirements of the business, the requirements of the design, and so on.

Recognize Data Acquisition Errors

An ETL procedure is one of the many methods that can be used to capture data, but it is one of the most prevalent. Other methods include: We assist in determining the best bug management technique with ETL testing that is most suitable for you.

Comply with Regulatory Requirements

Data Warehouses are subject to strict regulations, and this system ensures that it satisfies regulatory standards. These requirements are difficult to understand and may call for a substantial amount of hard work to fulfill. We conduct an official evaluation of their compliance, and we already have a strategy in place to deal with any potential threats that may be found.

Test Automation Framework

The Test automation framework can guarantee that tests are carried out in an error-free way while simultaneously lowering the expenses associated with traditional testing. Our team of experts specializing in DWS testing has developed a framework that provides value by promoting modifiability, service virtualization, flexibility, and performance.

Offer Better Access

Today's businesses are always searching for new methods to increase their level of intelligence and improve their understanding of how successful their activities are. Our DWS testing services grant access to various forms of business intelligence and statistics by utilizing various data sources, such as consumer datasets and social media platforms.
Why Leverage Our Data Warehouse Testing Services?
Aegis Softtech constantly delivers excellence in testing service. We comes under the list of top agencies for Data Warehousing Solutions recommended by top branded companies. Intending to create a difference in the testing landscape through quality assurance, on our path to success we see positive outcomes and customer satisfaction. We have a great collection of internal frameworks with best-in-class infrastructure with a decade of experience in the IT field that helps us to deliver solutions with superior quality at all times. Thousands of customers rely on our services to make the most of their data and propel their business forward. Here are some of our application testing services that we provide.
Testing of this kind is carried out to ensure that the Data Warehouse can upload and process data on time while maintaining a high level of precision. It will take you several hours of testing before you will have the assurance that your software is operating at its full potential. We assist you in determining how well your data handling is performing.
ETL Testing offers a user interface that is controlled by the data model to create data rules to check whether or not the data adheres to quality standards and a variety of values. Our team uses only the most recent version of the Data Warehouse, and we maintain a high level of quality by incorporating testing into each stage of the development process.
The Data Mining Testing tool allows you to perform data analysis to uncover previously hidden trends and patterns. We make use of and rectify issues by delivering unparalleled testing solutions across a variety of business sectors thanks to the expertise we have gained over many years of industry leadership.
The experts on our team can evaluate how well the data repository is performing. We are the experts who organize the most valuable test automation-related tools, software, expertise, and services from around the globe.
The data in the warehouse should be correct and up to date at all times. Before making important business choices on the data it provides, based on this our team will verify the accuracy of your data assets.
We Deliver Testing Services Across
USA

Canada

UK

Germany

France

Singapore

Italy

Israel

Australia

Japan

Netherlands

Sweden

Switzerland

Norway
Stay Ahead by Partnering with our DWS and ETL Testing Team
Through the use of our Data Warehouse testing services, our knowledgeable professional team, first of all, understands the scope of the problems, prepares reports and analyses them, and then collaborates with you to determine whether or not your Data Warehouse contains any problems. They are the pioneers and the center of excellence for DWS testing.
We have supported well-known companies all over the globe in becoming more agile in their business operations. Our clients all over the globe respect us because we help businesses repeatedly experiment, use agile principles to evaluate outcomes, learn from these experiments to discover new value propositions to consumers, and execute end-to-end solutions to achieve the best results.
Techniques that are incorporated into our Testing Methodology
Checking for Both Effectiveness and Safety
Report on the Audit and Quality of the Data
Tests of the functionality of businesses
Modification of the test using tried and true techniques
Test across any platform cloud, browser, or device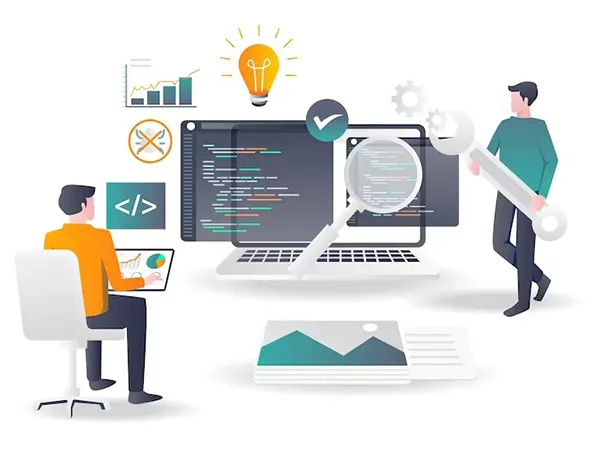 Select Aegis for your Continuous Delivery of Quality Tests
Using our in-depth technology, we analyze one hundred percent of the data in your Data Warehouse. We do continuous research and skill development to keep updated with technology. Also, we help you gain real-time insight into where you currently stand, and where you want to go. Our services are designed to help organizations of all types and sizes.
If you're considering going through a trial or would just like some more information, you can contact us right away!
Frequently Asked Questions
There are total of two methods. You can either make new data or choose from the subsection of previous data. Both must be done so that the chosen data covers accurate, flawed, efficient, and null test cases.
Testing an ETL system and testing a Data Warehouse are two distinct processes. The process of transforming your data from one format into another is the ETL test. On the other hand, DWS testing refers to the process of determining whether or not the transformation was successful.
The data from an organization is stored in a real-time Data Warehouse as soon as it is created. The data in dispute will become immediately usable as soon as the relevant business activity is finished and will be made accessible in the flow at that point.
Cleaning the data, integrating the data, and consolidating the data are all processes of Data Warehousing.

The realm of data warehouse automation transcends the simplistic notion of robots traversing the physical expanse of your corporate warehouse, diligently executing assigned duties.
The acceptance of a software program by its target audience is essential to the product's overall success.
The world of application development is rife with cutthroat competition, making software testing a necessary step.