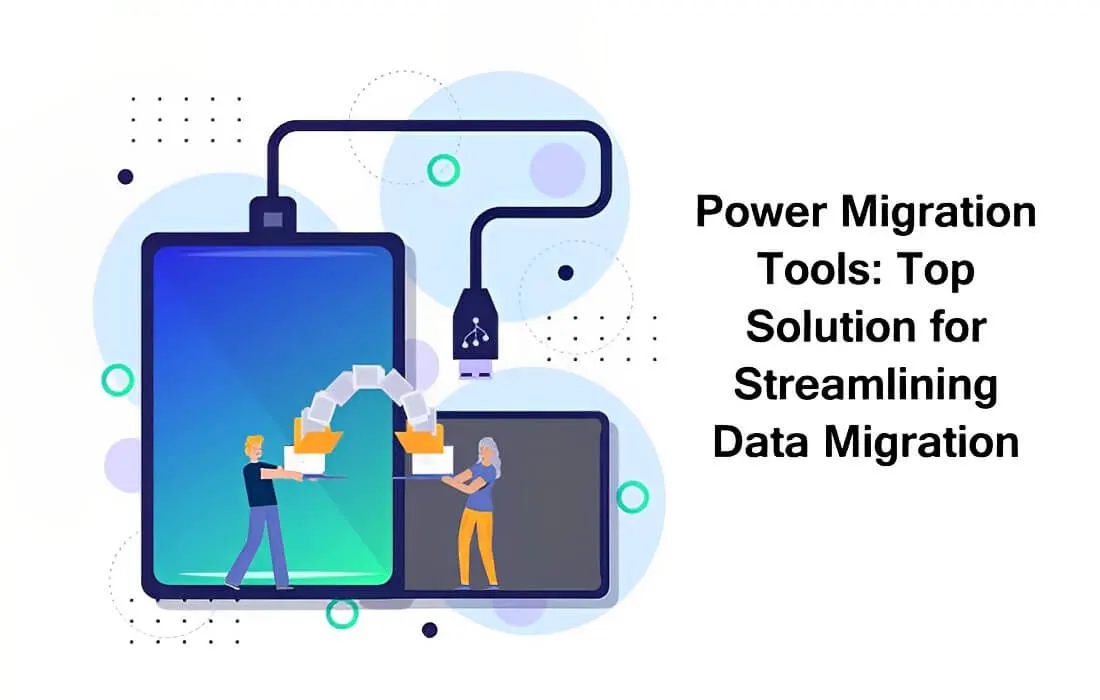 Introduction
Every company strives to achieve the status of being "data-driven." The migration to Power BI is necessary for any company that aspires to become insight-driven, atomized-informed, or data-driven.
The practice of basing strategic or practical decisions on data has grown in popularity in the world of business, and there is a solid explanation for this trend. Decision-making that is propelled by data allows business to base their choices on hard evidence as opposed to going with their intuition or making conclusions. This strategy has the potential to result in a decision that is more effective and tailored, in addition to enhanced business outcomes.
Why companies must move from traditional BI?
Business intelligence software has been used for several decades by businesses in a wide variety of sectors to gauge performance and enable future developments in areas where traditional BI services are not sufficient. In the past few years, there have been substantial patterns of consumers switching from traditional business intelligence (BI) products to Power BI. This migration has been driven by the benefits that Power BI offers. This can be attributed to a variety of factors, including the expanded capabilities and functionality provided by Power BI, as well as the cost reductions associated with switching. Another possible explanation is that Power BI is becoming increasingly popular.
As the date for license extensions draws near, many companies are searching for methods to reduce their expenses in light of the present economic environment. Using open-source software is one of the most efficient and effective methods to cut costs and save money. The use of open-source software is not only cost-free, but it also offers cost reductions of more than 50 percent when compared to proprietary software. In addition to this, it can offer many of the same features and functions as proprietary software, which makes it an attractive alternative for a lot of businesses. Organizations can guarantee that they will be able to continue to function in an efficient and streamlined way in the years to come by adopting a strategy that is both preemptive and purposeful.
What is Power BI?
Power BI is well-known for having an intuitive user interface, which makes it simple for users with varying degrees of technological expertise easily generate visualizations and reports.
The process of using Power BI to evaluate and display data to enable business proprietors to make well-informed choices is what is referred to as "Power BI." A company that specializes in Power BI Consulting can assist businesses in better understanding their data as well as in developing reports and interfaces that will assist them in more effectively managing their operations.
Use of the Power Migration Tools According to Best Practices
Power Migration Tools has the potential to be a game-changer for your company when it comes to the process of migrating data. However, to get the most out of it, Users need to make sure they use it the right way, just like any other instrument. When working with Power Migration Tools, it is important to keep the following best practices in mind:
1. Prepare for the future
Before beginning the process of translation, it is important to take the time to carefully plan out precisely what data needs to be transferred and how it ought to be arranged. This will help to ensure that the relocation process goes smoothly and effectively.
2. Perform exhaustive testing
A thorough functional testing procedure will help to ensure that the data translation process was successful and that the data is accessible in the new system without any mistakes or inconsistencies. This will be accomplished by ensuring that the procedure was carried out successfully. This test can be carried out by hand or with the assistance of automatic tools, and it serves the purpose of assisting in the detection of any inconsistencies or mistakes that may exist within the data.
3. Backup your files
It is essential to back up your data regularly, so it is a good idea to make a schedule for yourself to do so regularly, whether it be weekly, monthly, or annually. This will ensure that your important information is kept safe and private at all times.
4. Keep a close eye on the migration procedure
Maintain supervision over the translation process to ensure that it is operating as expected and to detect and address any potential issues as they come up. They oversee the data translation method, and having a thorough comprehension of the data migration strategy is one of the most important things that must be taken into consideration.
5. Data should be profiled
The process of data segmentation is an essential stage that needs to be completed before mapping programs can be written. The results of the mapping programs could be affected by inconsistencies or inaccurate information in the data, both of which can be uncovered with the assistance of profiling. By analyzing data, you can also discover any prospective data quality problems.
6. Organizing the data
This may involve organizing the data into categories or developing new sections to provide a more accurate description of the data. During the process of translation, if you dedicate some of your time to organizing and cleaning the data, you can increase the likelihood that the new system will be successful.
7. Train your team for the best results
Training employees is essential if you want to achieve the best outcomes that can be achieved. You can encourage your team to work more effectively and productively by providing them with the appropriate tools and the information they need. First things first, conduct a requirements analysis of your team and pinpoint the areas in which they might benefit from more instruction. The improvement of specialized skills, interpersonal capabilities, or technical abilities could fall under this category.
Why your Power BI tools must be supported?
You run the chance of experiencing data loss, functionality problems, and security concerns if you do not have sufficient support. It is necessary to have support for all of your Power BI products. Users who have access to assistance can pose inquiries, receive direction and instruction, and troubleshoot problems more effectively.
When we talk about conducting data analysis, creating databases is an essential step, and if you are utilizing Premium and making connections through the XMLA Endpoint, you will have no problem fulfilling this. The XMLA interface is an Analytical Services interface that enables you to link to your cloud-based implementation of Analysis Services. This makes it much simpler for you to create datasets that you can then evaluate. You can make complicated searches with the help of Premium, and then you can use products like Power BI to evaluate those queries. In conclusion, when you use Premium together with the XMLA Endpoint is the effective pair that can aid you in creating data models.
Power BI Intelligent Method
Because it does not require any infrastructure assistance or financial expenditure, Power BI is an extremely cost-effective solution for companies of all kinds. This makes it one of the most distinctive business intelligence tools available today. To get started with the process of generating visualizations, dashboards, and reports, all you require is access to the web and registration to the Power BI program. The Power BI has quickly become a well-liked option for use in enterprises so its usability and user-friendliness. The quite informed kind of BI tool is unobstructed by the limits of all outdated software and creating BI visions does not require its users to have any earlier experience or instruction in the specialized area. The setting of Power BI integration could be finished rapidly and without any problems, as it is common for all Microsoft online services.
There is no difference in the Power BI data transformation procedure whether a large impact strategy or a trickle approach is used. Following is a concise summary of the two techniques which have been taken:
A. Big Bang Data Migration Method
The Big Bang Migration strategy is an alternative to the sequential approach that involves moving data from a particular system to a different one in a single move rather than in stages. This technique is especially helpful in situations in which there is a requirement for rapid and instantaneous data switching with as little interruption as possible. It requires moving all of the data from the previous system to the new one, then performing testing to validate that the data was successfully transferred. Additionally, it shouldn't be utilized on systems that are unable to tolerate any interruption at all.
If everything proceeds according to plan, it might not cost as much.
When compared to migrations taking place in order, they seem to be simple
The exact hour of relocation will come up in a relatively brief amount of time.
B. Trickle Data Migration Method
This strategy is especially helpful in situations in which there is a significant quantity of data to be transmitted but it is impractical to complete the process all at once. Instead, the data are transferred in discrete chunks, generally spread out over several days or weeks. This guarantees that the entirety of the data conversion will not be affected if a mistake or malfunction occurs. Only the data migration that is currently taking place is impacted, which makes it much easier for the teams responsible for data migration to deal with the problems that have arisen. It gives below benefits
Recovery from failing is easier to handle
There is no requirement for the interruption.
Any information obtained can be utilized for consecutive mini-migrations.
Awareness throughout data migration phases
Considerations of importance when evaluating data migration tools
The procedure of selecting the appropriate translation application is an important component of the overall data migration preparation process. The following is the summary of essential considerations that you must know when selecting the most appropriate software solution for the requirements of your company:
1. Versatility
The ability to successfully handle data and transfer it is necessary for the success of any organization operating in the fast-paced business environment of today. Any data management approach absolutely must include a data migration application as one of its constituent parts. A decent instrument for data translation should be adaptable so that it can adapt to meet the ever-evolving or increasing requirements of an organization's business. In addition to this, it should be able to deal with numerous varieties of data, including both structured and unstructured data.
2. Connection of data structures
XML, JSON, Electronic Data Interchange (EDI), and several other standards of data structures offer a standardized means by which data can be stored and exchanged between various methods and platforms. They have superior tools at their fingertips to develop and implement efficient algorithms.
3. Automated workflows
When it comes to the management of a project, selecting the appropriate Power BI application can be extremely important to the project's overall performance. You should be able to easily use a decent project tool, and it should provide an understandable summary of the progress being made on the project. This will enable you to recognize constraints, which will eradicate the need for manual work, simplify the processing of data, and enable quicker data communication.
4. Flexible and simple pricing structures
When it comes to products for data migration, the costing measures can differ significantly from product to product. The number of users, the quantity of data that needs to be transferred, and the level of difficulty involved in the conversion process are all elements that can have an impact on the cost. While some sellers base their prices on the amount of space in megabytes that is used, others base their prices on the amount of work done in an hour. It is also essential to consider that the pricing for some data translation solutions may vary according to the degree of complexity.
5. Provides thorough documentation & training
In general, offering documentation and training is an excellent investment for any business because it can help increase customer satisfaction and devotion while also helping to reduce support expenses. This is particularly true when utilizing more complicated features such as programming languages as well as APIs.
The Most Effective Tools for the Data Migration
The following is a summary of some of the best effective Data Migration Tools currently accessible on the market, from which you can select for your data analysis pipeline:
1. Fivetran
Fivetran is the top data integration tool that offers organizations a completely automatic solution for connecting their different source of data. Such data sources include databases, analysis tools, advertising methods, CRMs, and more. Managing and incorporating a company's various data sources directly is a time-consuming chore that can be eliminated for businesses that use Fivetran. Even further, it offers a complete selection of over 100 pre-built connections.
2. Talend Open Studio
It offers a basic collection of capabilities for managing data and has the potential to function exceptionally well as an ETL utility for the benefit of business intelligence. As an aspect of the Talend Data Fabric technology, it provides high-throughput data processing that runs in memory at a very high speed. It offers a graphical user interface that is both interactive and easy to use.
3. Matillion
The simplicity with that Matillion could be utilized is among the most significant and main benefits of using this tool. Because it operates in the cloud, there is no software to download or install on your machine so that you can use it. It has a toolset consisting of several different kinds of functional components, which can be used on ETL. The tool can be charged on an hourly basis and provides some significant benefits available at its releases.
4. Stitch Data
Only the transformations that are required to create the data consistent with the endpoint are carried out by Stitch Data. Stitch Data additionally provides continuous tracking and notifications, which allows one to keep a check on the development of the data conversion and take quick action if any problems occur at the time of the procedure. In addition, Stitch Data provides a variety of features, such as automated database conversion, data type visualization, and error management, to guarantee the correctness and exhaustiveness of the data.
Bottom Line
The process of data migration with various tools is becoming increasingly significant as businesses continue to expand and transform. The process can be made significantly easier by utilizing the appropriate tools and strategies, thereby reducing the probability of data loss and the amount of time the system is unavailable. We strongly suggest that you research the many power BI tools that are currently accessible and select the one that meets the requirements of your company the most effective. Power BI consulting services will assist you to select the right tool for your organization that can improve BI capabilities