The first things that come to mind when thinking of a brand are logos, color schemes, and taglines. A brand, on the other hand, is much more than this.
When it comes to brands, they are the whole experience that your business offers to consumers during their purchasing relationship with you. Every interaction with a client is a brand moment.
The first step in developing successful marketing and sales strategy for your business is to establish your organization's brand. It helps your whole organization understand your position in the market, which means you'll be better able to communicate with your target audience with the appropriate messaging.
The value that your brand adds to your business is referred to as its brand. It may be measured in a variety of ways, such as the price premium you can charge over a no-name product or long-term client loyalty, among other things.
You may be familiar with customer relationship management software as a solution that allows you to monitor and handle leads with ease. A powerful CRM program, on the other hand, is capable of much more than that. The information provided in this article will provide you with a comprehensive guide on how dynamic CRM systems may benefit your company and can assist you in developing a significant brand value.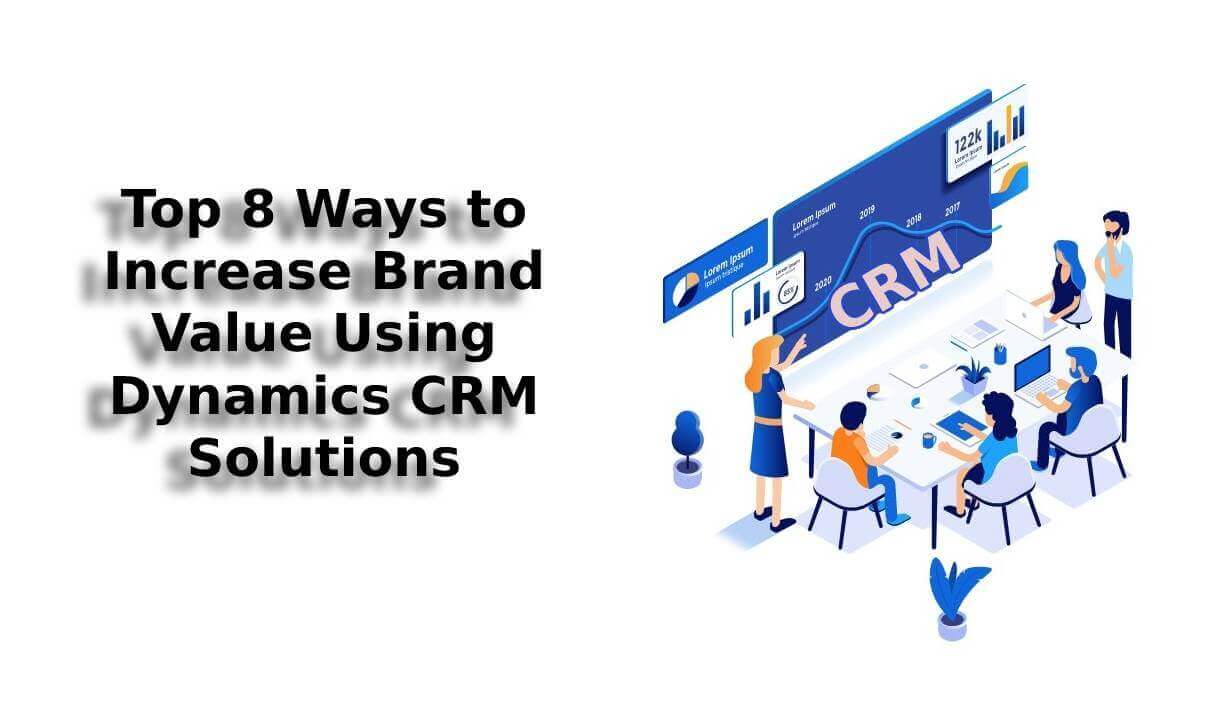 Top 8 crucial ways that Microsoft Dynamics CRM assist brand improvement
1. Consistency is provided through CRM
One of the most important stages in the process of brand development is to provide amazing consistency to your consumers' purchases. All of the information about the brand that you post or say about the brand should be consistent across all channels and platforms, including social media. Any little degree of discrepancy in the facts may have a negative impact on the brand's value.
The use of a powerful customer relationship management (CRM) system allows you to monitor and manage all types of interactions between your customers and your company. If all of your business channels are capable of sending out notifications and alerts to the general public at the appropriate and appropriate time without making any mistakes, this will not only offer you more business prospects, but it will also enhance the value of your company's brand.
2. Helps to set strict deadlines for yourself
It is easy to get bogged down in the creative process and to spend an inordinate amount of time looking for the ideal logo, slogan, or website design. Making a plan for the creative process may be tough, but establishing deadlines can help you remain on track and keep your creativity flowing.
The creative process will enable you to create new ideas, and allowing your team to exercise autonomy throughout this phase is very essential. However, moving on to the innovation process in order to put those ideas into action is just as crucial as the creative process. Predict what the creative team will need to achieve in advance, establish deadlines, and allow everyone on the team to exercise full creative freedom.
3. Providing Business Analytics Capability
Data is a precious commodity, and technologies that can turn that data into actionable insights are in high demand. The Microsoft Dynamics CRM Solutions assists companies in identifying patterns that may indicate opportunities or issues that may be about to worsen.
One of the most effective instances of CRM application is the use of the Dynamics 365 platform to evaluate client groups that are experiencing problems with a particular product or service. Your customer relationship management system (CRM) enables you to come up with a solution before the issue develops into a company-wide problem.
4. Customers are targeted based on their income
Surprisingly, you have the ability to affect the wages of your consumers. We're talking about indirectly, and we don't mean by offering them a discount. Instead, altering your customers' revenue is based on whether your product is being used upstream or downstream in the supply chain. Countless goods have been introduced to the market that was first targeted at a certain kind of consumer in a specific economic bracket, only to be rapidly switched to another.
5. It Maintains excellent design standards
Designers communicate visually via their work. When it comes to a website page, an email campaign, or even a product packaging, the way you utilize color and font and how you organize components can determine whether or not your brand is regarded as valuable or not.
The way your brand is packaged has an impact on how your brand is viewed and understood. A "strong visual branding system" may provide the impression of more power to a tiny business or show the might of a big corporation. Take a look at this clever parody to see how bad design may have a detrimental impact.
6. CRM aids in brand evangelists
The stronger your connection with your consumers, the more likely it is that your company will succeed. Customers are the most crucial element of any company, and understanding this is essential to being successful and flourishing in your endeavors. In addition to acquiring new consumers, it is essential to keep current customers happy and loyal.
Because a good customer relationship management system may provide you with a deeper understanding of your customers' preferences, it becomes simpler for you to engage with them. You have the ability to provide them with an immediate response to their individual questions. If your consumers are pleased with your goods and services, your customer loyalty rate will rise, and the value of your company's brand will rise in tandem.
7. Scalability
Modern customer relationship management systems can simply adapt and expand with your company. Depending on its age, your legacy CRM system may not be compatible with other company systems, such as your ERP or marketing software. Alternatively, your legacy CRM system may not be adaptable enough to support the new applications and improvements needed by your organization's evolving requirements.
If any or both of these scenarios apply to your organization, you may be postponing development and innovation simply because your CRM system is unable to keep up with the demands of the business.
8. It provides meaning to one's life
Branding is the process through which you establish a reputation and, eventually, a future. Because of the significance of branding, companies and organizations should establish a strong brand from the beginning so that they can retain it throughout time as their operations develop and expand. Whatever your brand may be, be certain that it has objectives and a deeper purpose behind it. Branding is more than simply your logo, typeface, and colors; it is a combination of these elements.
Conclusion
Branding is based on a solid concept that you and your team can believe in, that you and your team can commit to, and that you and your team can deliver on.
Your brand must be present across your whole company. When your company has a strong understanding of its brand and is able to execute on the promise of the brand, you will notice great results while simultaneously increasing brand loyalty among your clientele.
Dynamics 365 for Marketing is an excellent toolkit for mid-sized organizations that are willing to put in a little more effort and money into their marketing strategies. This is especially true for organizations that have outgrown the basic, native marketing functionality available in other Dynamics 365 apps, such as Sales and Service.