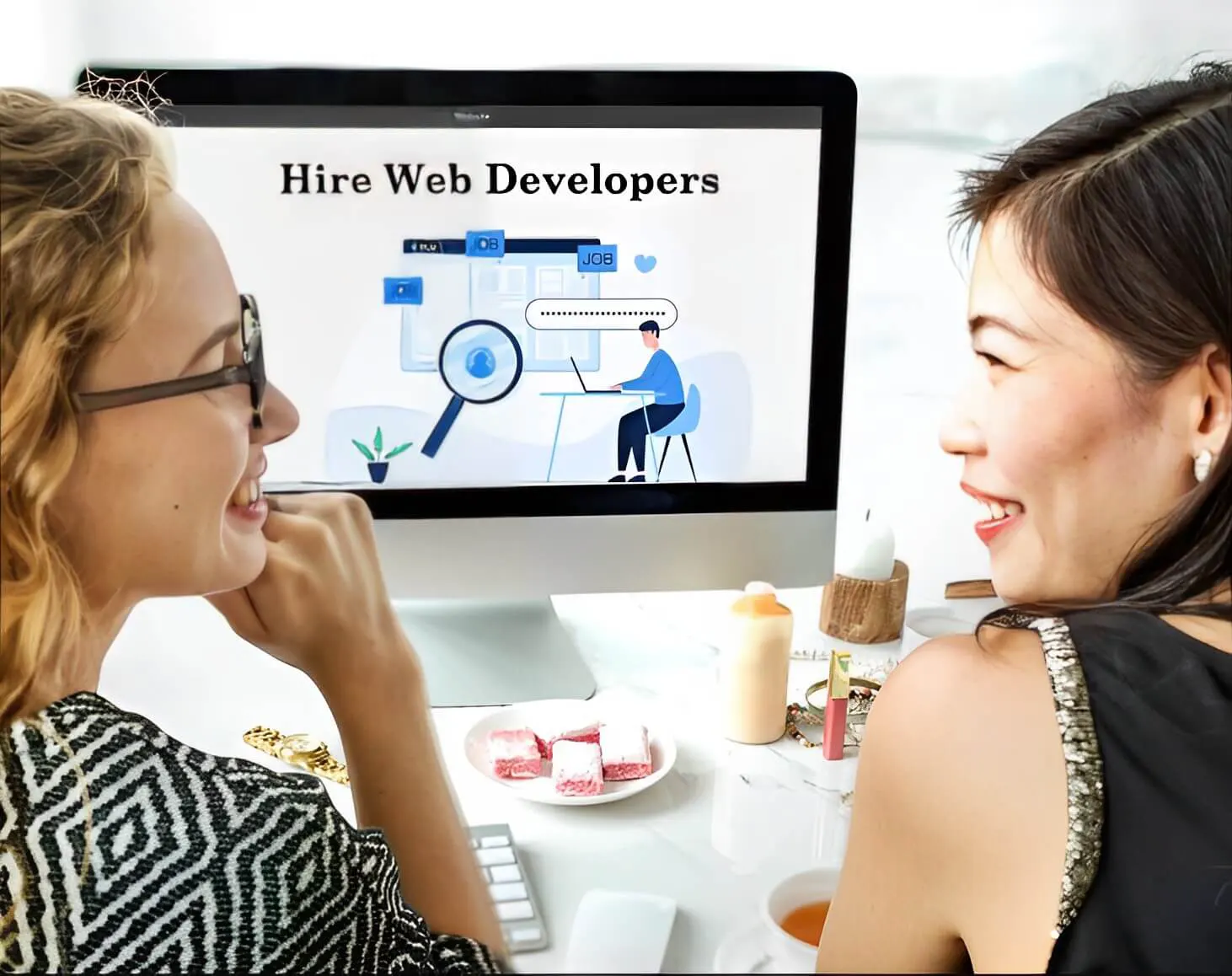 Introduction
Your online platform stands as the very nucleus of your brand identity, encompassing your products or services and the experiences you commit to delivering. A single misstep could irreparably damage your user relationships.
So, what's the cornerstone to ensuring the successful creation of a high-performing website that garners optimal results? If you hire dedicated web developers from reputable web development agencies in India, you ensure that your users' requirements take precedence.
By harnessing the expertise of these skilled professionals, you secure a potent blend of technical proficiency, creative innovation, and meticulous attention to detail.
A proficient and dedicated web development team crafts code that leaves a lasting impression and garners significant attention.
Yet, given the vast expanse of choices, with thousands of such agencies spanning the globe, pinpointing the ideal fit can be a formidable challenge. Worry not, as this blog post is here to your rescue. We've meticulously curated a list of some of India's finest web development companies where you can hire Java developers for your upcoming project. Keep reading!
Crafting the Digital Future: Best 12 Web Development Companies to Hire Web Developers in India (2024).
Amidst the multitude of web development companies in India boasting top-notch services, only a handful truly merit the investment. Simplifying the search for you, we've meticulously curated a list of India's finest 12 web development companies. You can easily hire full-stack web developers for your next project here.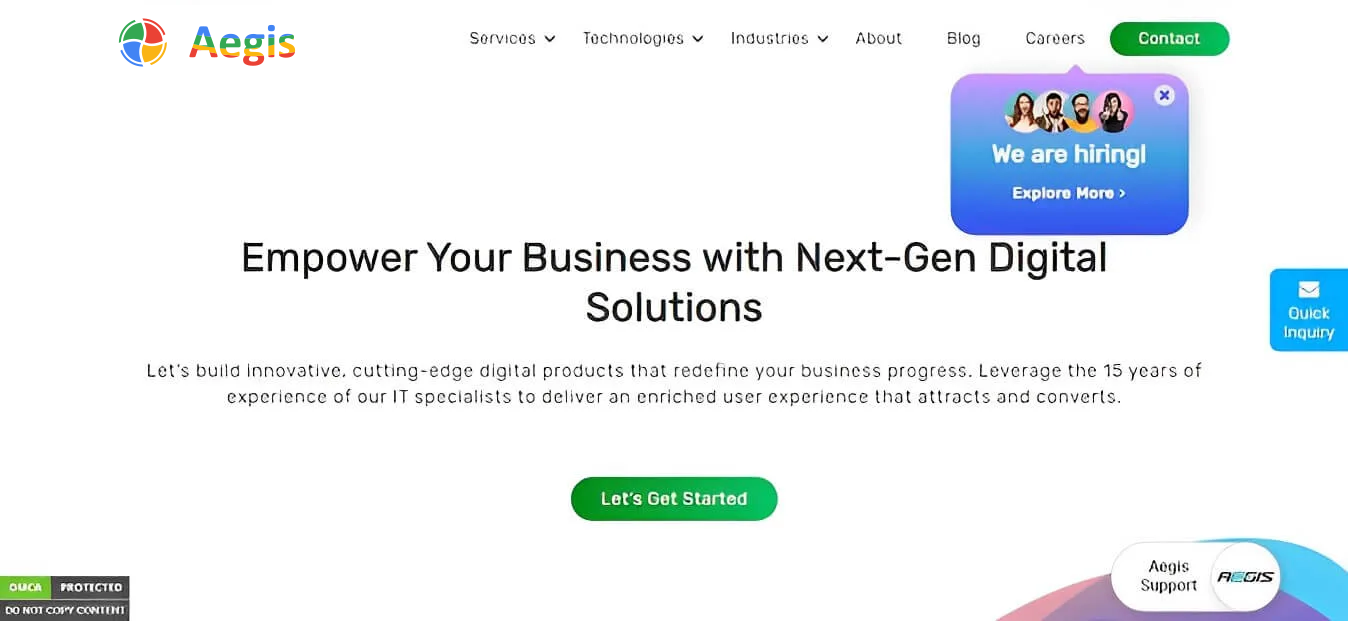 Aegis Softtech">
For over 15 years, Aegis Softtech has guided businesses, igniting fresh dimensions in their operational prowess by exploring untapped digital possibilities. With an unwavering commitment, they craft influential IT solutions driven by cutting-edge technologies and digital breakthroughs. Their global footprint enables numerous brands to erect formidable digital bedrocks to accommodate their future ambitions.
At the heart of Aegis Softtech is an in-house assembly of IT virtuosos, each bearing a proven mastery over various software platforms and technologies? Fortified by a robust infrastructure replete with the latest tools and technologies, they're adept at crafting innovative IT systems that catapult your business into the future.
Their trailblazing offerings include:
Incisive IT consultancy
Software development
Seamless system integration
Meticulous app design and analysis
Comprehensive IT support services, and various other cutting-edge IT solutions
These are the compelling reasons businesses turn to them to hire web developers in India.
2. Zensar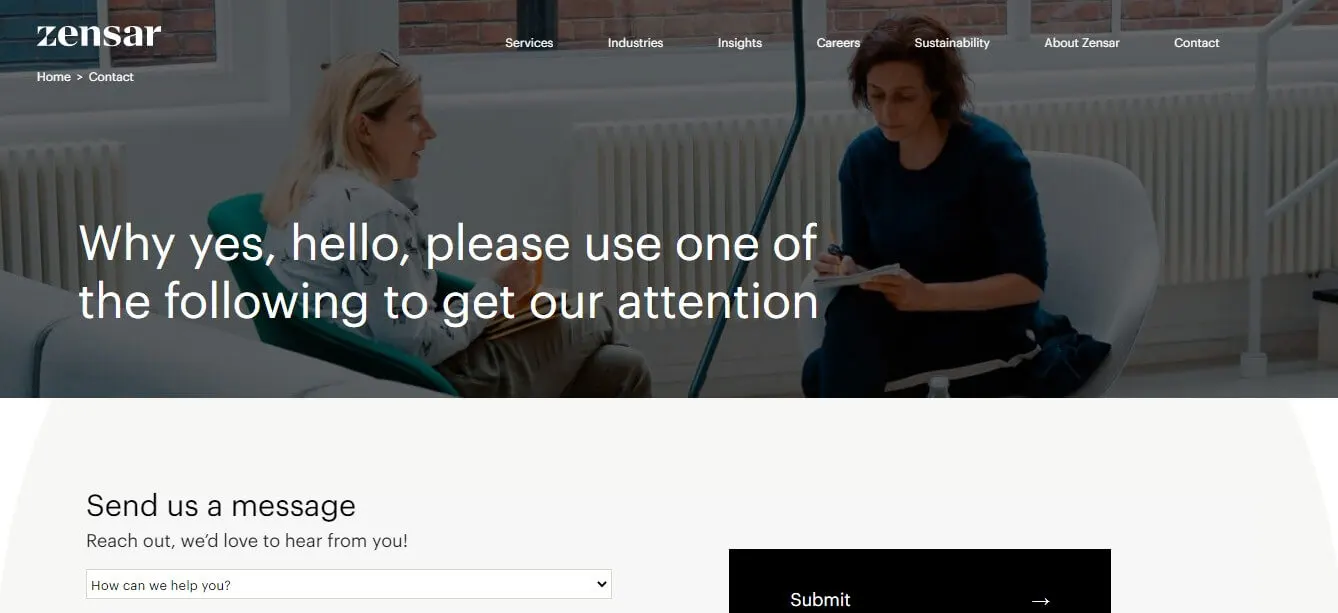 Hailing from India, Zensar Technologies is a prominent publicly traded entity renowned for its multifaceted operations. Their strategic focus extends across critical domains, including digital products, data engineering, analytics, and comprehensive application services. They specialize in cutting-edge platforms like Oracle, SAP, and Salesforce.
Diving deeper into their digital domain, Zensar's websites are a testament to their unwavering commitment to captivating and engaging users. These platforms are meticulously crafted to provide an immersive experience, reflecting their keen understanding of the significance of user engagement and seamless interaction.
Furthermore, Zensar Technologies goes beyond business transactions by offering a value-added dimension through its insightful blog. This blog serves as a virtual platform where the company's representatives share their informed perspectives on the most recent trends and advancements shaping the industry's dynamic landscape.
3. QBurst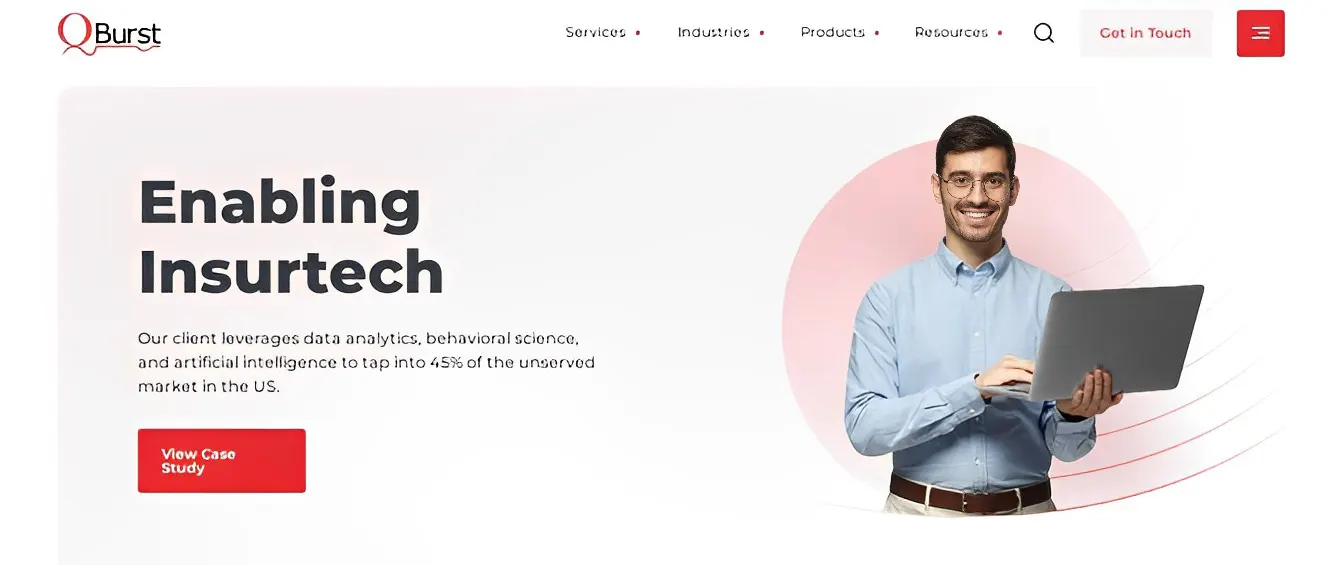 QBurst is a prominent global product development and consulting firm that caters to businesses of varying sizes. Offering specialized software development services and cognitive solutions, QBurst plays a crucial role in helping clients harness the power of digital technology to enhance their business operations.
As a full-service software solutions provider, QBurst collaborates closely with its clients to fully leverage digital advancements, optimizing business performance. The company's extensive expertise makes it an end-to-end solution supplier and a valuable research and development partner for diverse companies.
The company offers a range of services tailored to the client's specific preferences and budget. With specialized teams dedicated to each stage of the development process, QBurst ensures that the client's vision is realized with precision and efficiency.
4. eSparkBiz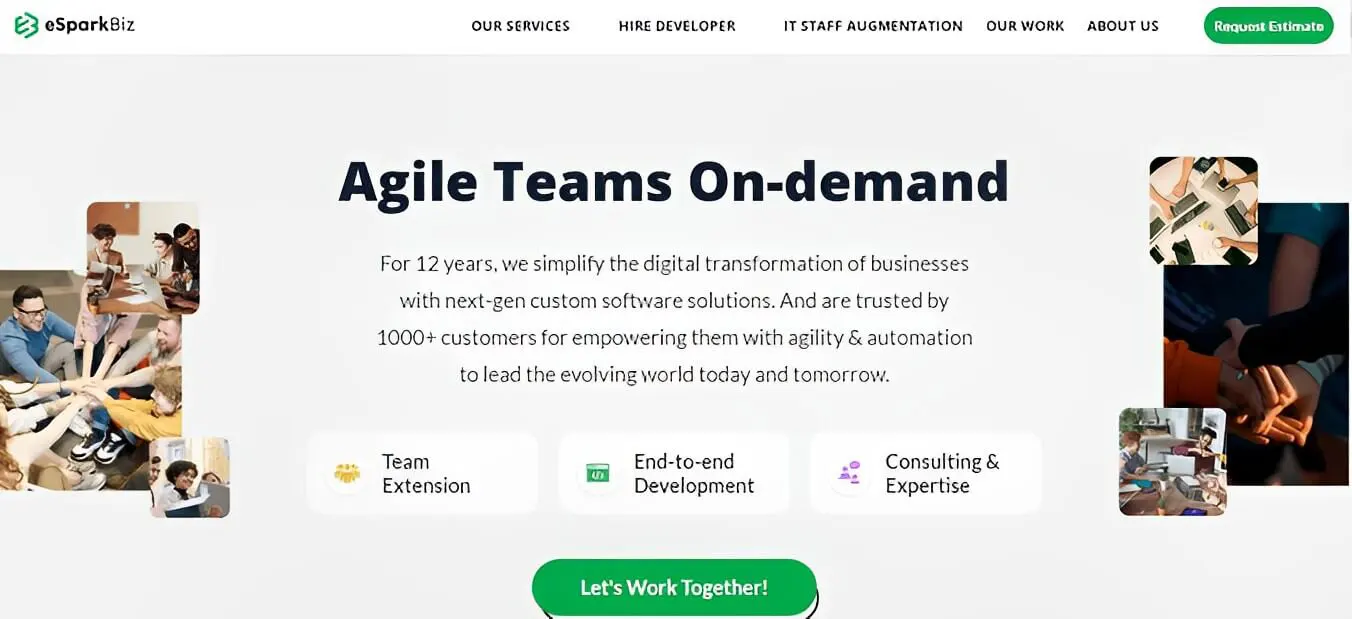 As an innovative leader in the IT industry for over a decade, eSparkBiz has continuously demonstrated its prowess by delivering end-to-end services that cater to businesses of all sizes. With a strong commitment to client-centric approaches, the company is dedicated to crafting digital solutions and fostering a commanding online presence globally.
Remarkably evolving from a modest team of 5 developers to a thriving force of over 200 professionals, the company's extensive expertise spans diverse specialties, including contemporary full-stack development, tailor-made software solutions, pioneering SaaS development, etc.
By harnessing this comprehensive skill set, eSparkBiz empowers businesses to unlock the full potential of their ideas while also captivating audiences and driving scalable growth through innovative web applications.
5. Mphasis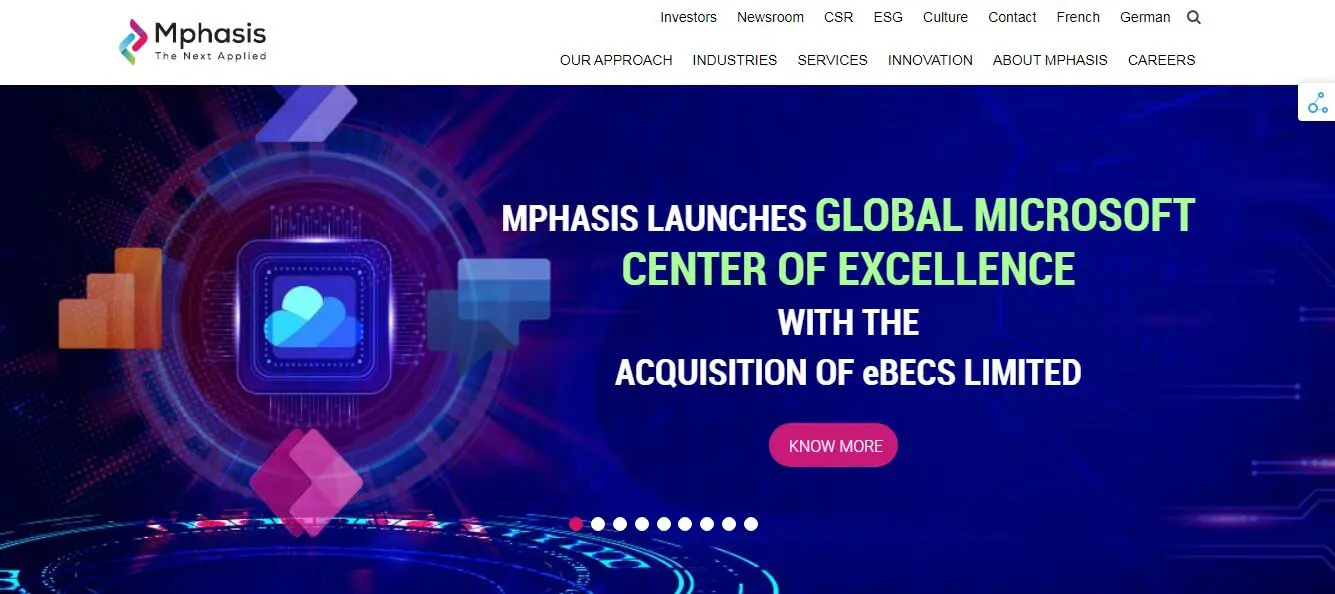 Mphasis, a pioneering force in applied technology services, leads with innovation, driving remarkable sales, delivery, and development results. Their customer-centric, agile approach places clients at the forefront of industry progress, backed by exceptional service excellence.
Guided by a visionary strategy, Mphasis anticipates emerging technologies, ensuring clients stay ahead. This foresight empowers businesses to navigate shifting landscapes and seize opportunities, keeping them agile and future-ready.
Mphasis's hallmark lies in next-gen solutions, setting architectural standards. Leveraging these solutions accelerates digital transformation, unlocking efficiency and competitive advantage. Seamlessly transitioning clients into the digital realm, Mphasis fuels growth and operational excellence.
6. Tech Mahindra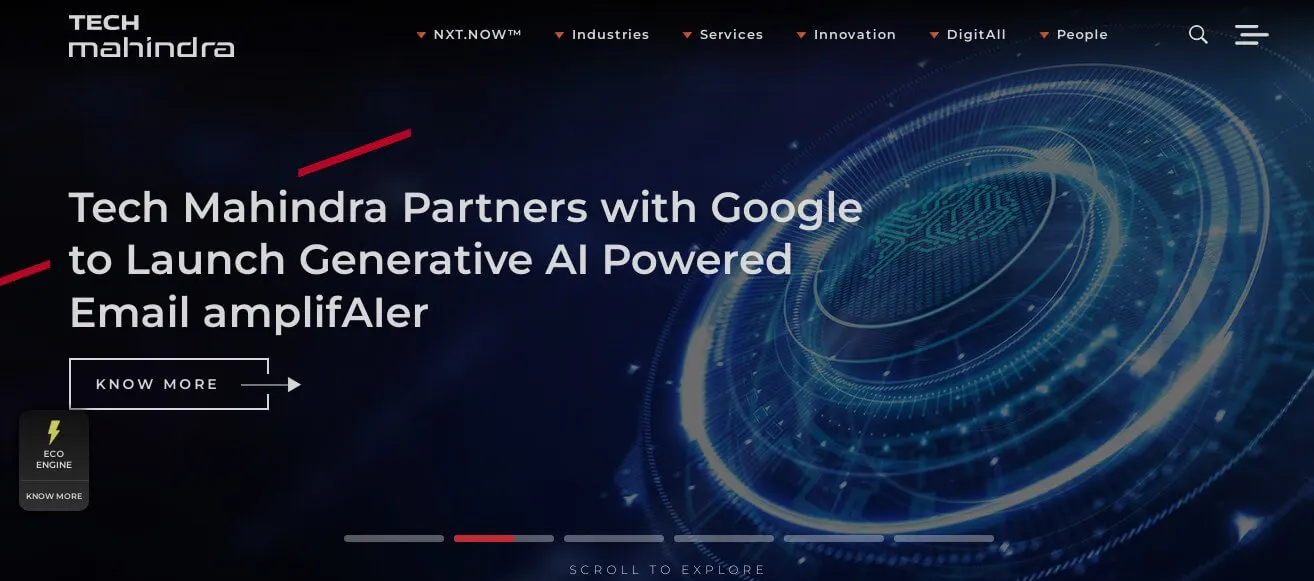 Tech Mahindra, an integral member of the Mahindra Group, is a pervasive provider of information technology (IT) services, leaving an indelible mark across global landscapes.
Earning distinction among premier web development companies to hire full web developers in India, Tech Mahindra extends diverse offerings, encompassing data science, web and app development, cloud computing, comprehensive business solutions, and the intricate realm of the digital supply chain.
As a multinational powerhouse rooted in India, Tech Mahindra takes center stage in championing next-generation technology implementation and catalyzing digital transformation. Their expertise shapes the virtual world of tomorrow, elevating them beyond mere service provision.
7. Cognizant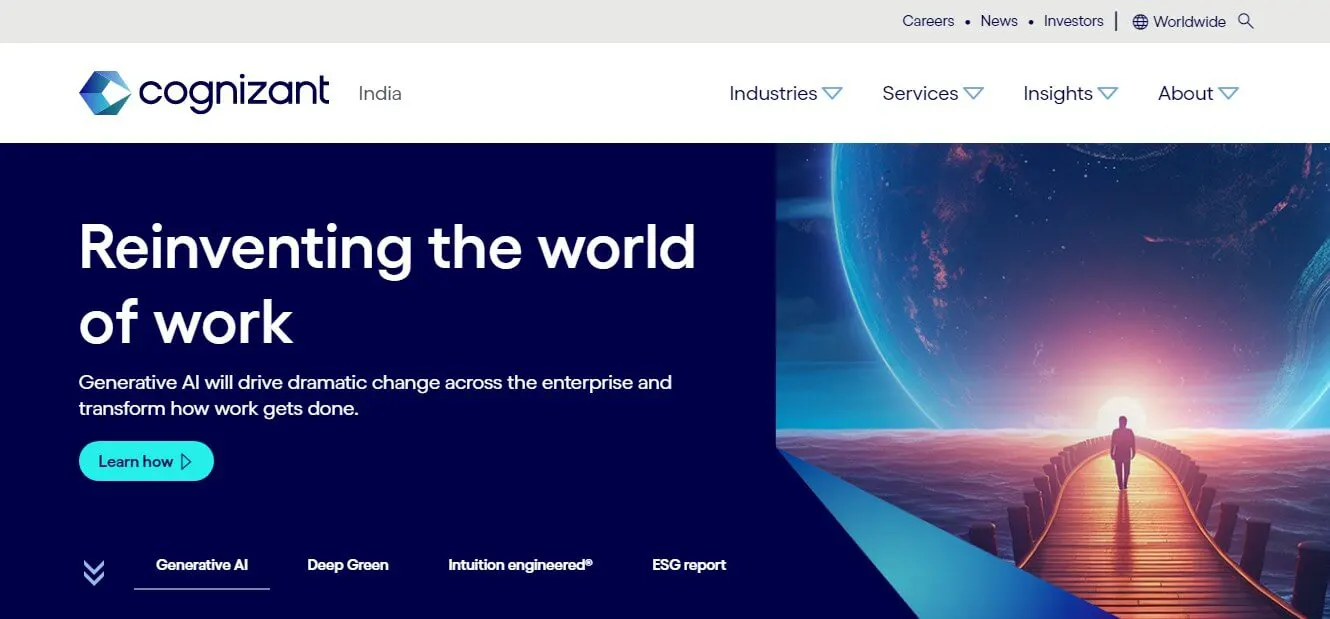 Established in 1994, Cognizant stands tall as one of India's premier web development giants. Headquartered in Bangalore, the company commands a global workforce exceeding 10,000 dedicated professionals. With an impressive total revenue of US $18.5 billion, Cognizant secures a notable position at #194 in the 2024 Fortune 500 ranking.
Notably, Cognizant boasts a significant clientele drawn primarily from the pharmaceutical sector, serving the top 30 prominent pharmaceutical enterprises. With a commitment to innovation, the company plays a pivotal role in ushering in technological advancements, reshaping operational paradigms, and enhancing user experiences.
Cognizant empowers its clients to stay competitive and thrive amid transformational shifts in a swiftly evolving landscape.
8. Katalyst Technologies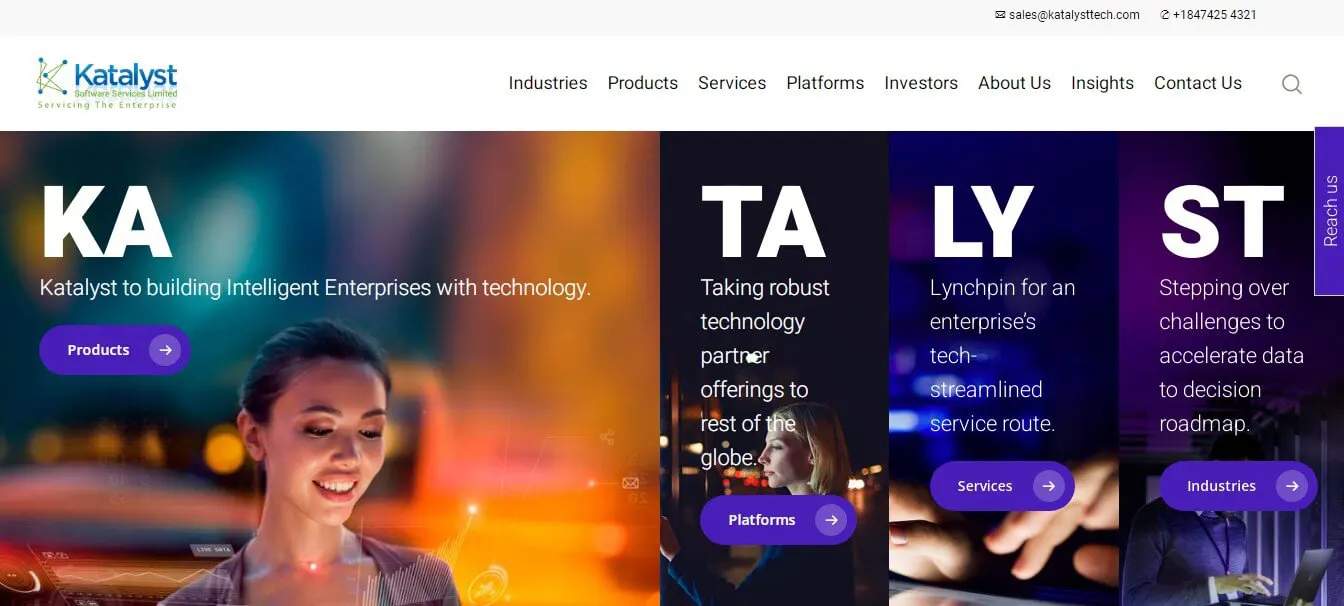 Katalyst Technologies stands prominently among India's top-tier web development companies. With a team of skilled professionals, they offer expertise in executing expansive, game-changing initiatives - ranging from warehouse automation to complete digital transformation and all that lies in the spectrum between.
Also, Katalyst Technologies positions itself as a compelling choice to hire web developers, particularly for those mindful of budget considerations. Their adeptness at maintaining cost-effectiveness adds to their allure, making them a standout option for individuals seeking quality solutions without compromising their financial parameters.
9. India NIC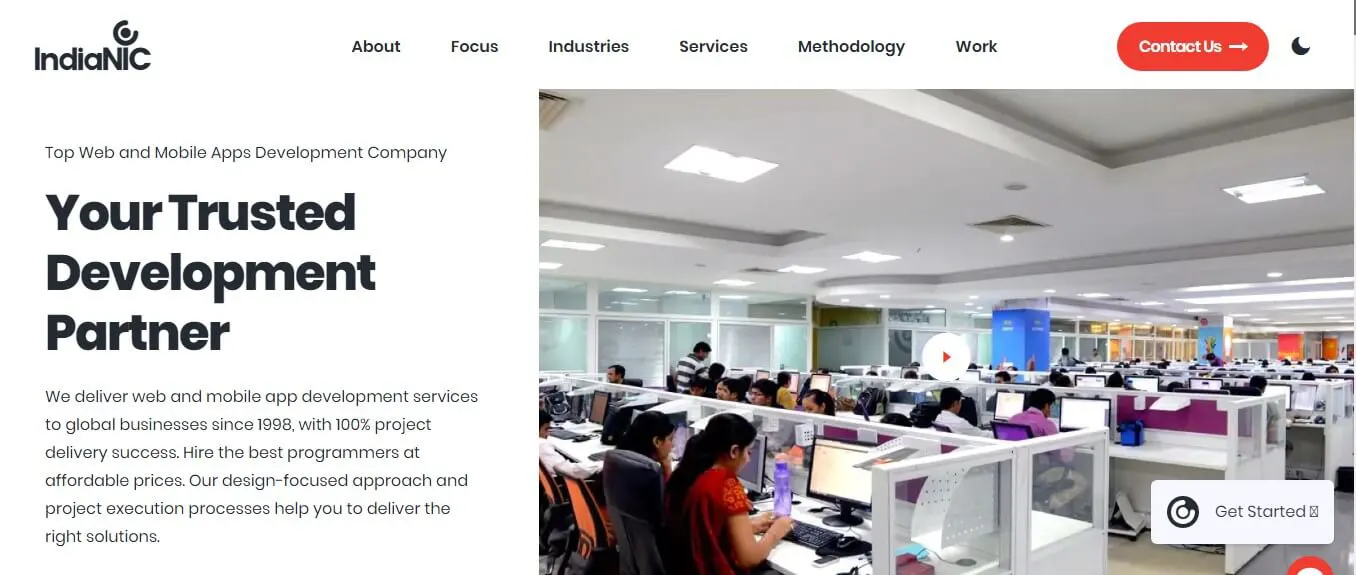 India NIC stands as a beacon of excellence in website design, fortified by a noteworthy 10-year journey marked by unparalleled expertise. Their hallmark lies in providing top-tier, cost-effective website development services that have significantly enhanced the digital presence of many brands.
The adept team at India NIC possesses a keen acumen for strategizing and comprehending the nuances of custom mobile applications and offshore websites, which serve as potent catalysts for expansive business growth. Their approach yields a compelling outcome: a portfolio of solutions seamlessly blending functionality, security, and scalability.
India NIC's impact reverberates across diverse industries, where they have consistently demonstrated their ability to weave digital experiences that resonate with audiences. Their track record of delivering solutions that meet and exceed client expectations underscores their prowess in turning concepts into impactful realities.
10. Bacancy Technology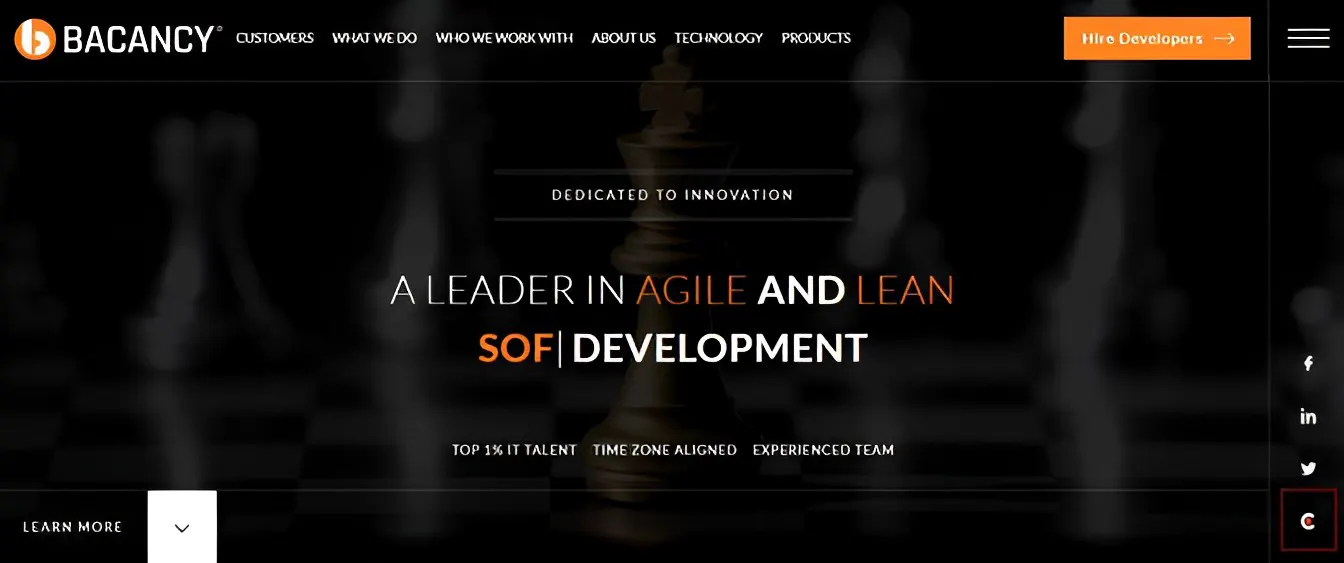 Bacancy, a trailblazer among India's premier web development companies, specializes in crafting reliable, scalable, and fortified products tailored to your business requirements. Bolstered by a formidable team of over 250 adept technical professionals, Bacancy harnesses the forefront of technology to engineer custom-tailored IT solutions that yield substantial returns on investment.
Spanning its reach across India, the UK, and the USA, Bacancy is celebrated for its prowess in website development and software services, meticulously calibrated to align with the exacting needs of discerning customers. Their hallmark lies in their ability to conjure digital solutions that meet and transcend expectations, solidifying their standing as an industry leader in delivering tailored excellence.
11. Cyber Worx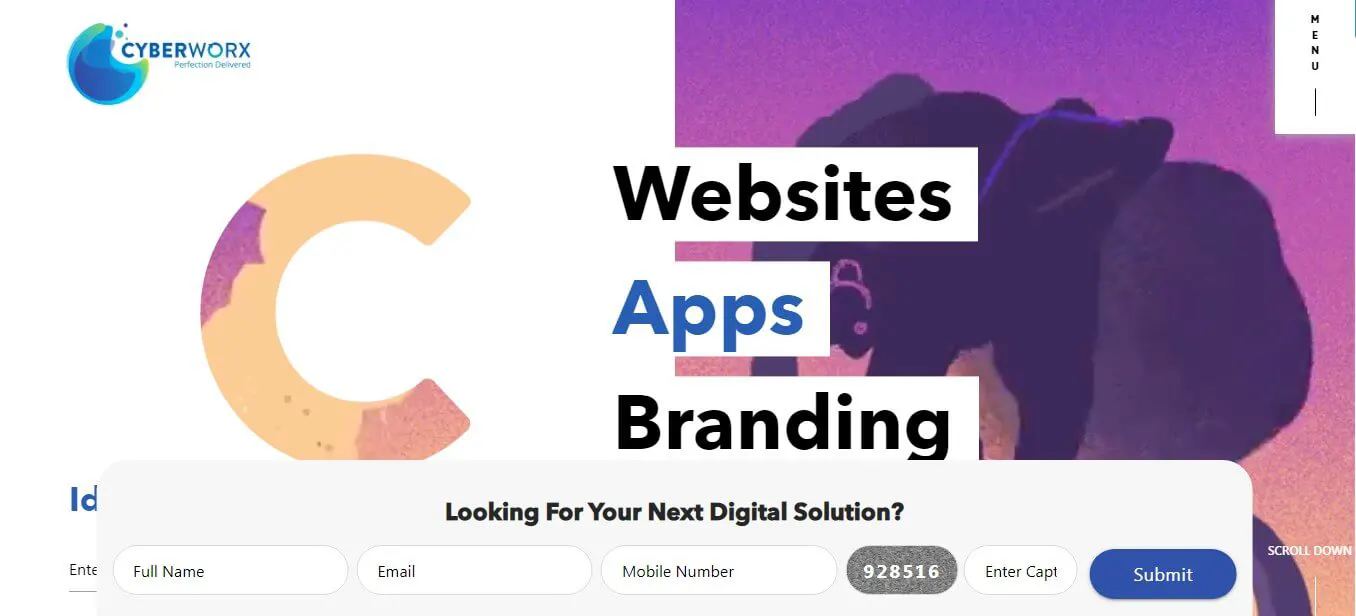 Empowering businesses to leave an indelible digital imprint, Cyber Worx specializes in crafting static and dynamic uncomplicated websites and responsive e-commerce platforms. Leveraging the expertise of their skilled developers, they have conceived an impressive array of corporate websites and applications that have served over 500 businesses with remarkable effectiveness.
The weight of their accomplishments positions Cyber Worx as a paragon of reliability, particularly if you're pursuing a preeminent web designing and development agency in India to hire dedicated web developers. Their proven track record is a testament to their unwavering commitment to excellence and makes them a compelling choice for businesses seeking a partner that consistently delivers exceptional digital solutions.
12. Tata Consultancy Services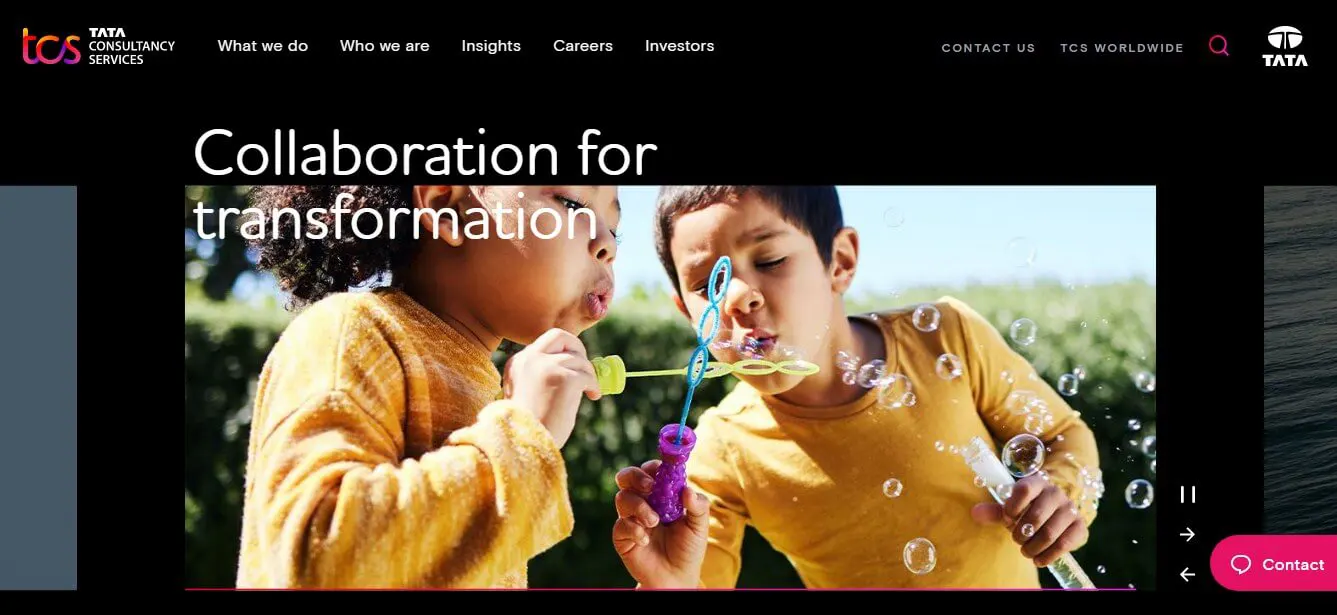 Tata Consultancy Services (TCS), an eminent global IT enterprise headquartered in India, traces its inception back to 1968. A repository of adept talent, TCS offers an expansive spectrum of collaboration opportunities, spanning diverse projects such as web development, IoT, cloud services, blockchain, cybersecurity, analytics, sustainability, and beyond.
With a formidable presence across 46 nations, TCS is a testament to global prowess. Distinguishing itself through a unique blend of traditional IT expertise and comprehensive consulting services, the company presents a distinct competitive edge. This fusion facilitates cost optimization and enhanced organizational agility, making TCS a strategic partner for navigating the dynamic digital landscape.
The Bottom Line
The gateway to accessing the domain of internet traffic lies in the embodiment of your website. In today's digital landscape, search engines serve as the compass guiding individuals to discover businesses like yours, eventually driving their purchasing decisions. Naturally, securing a visible presence before these potential clients becomes paramount.
After all, how could your business possibly register on its radar without an online presence?
Irrespective of the scale of your enterprise, whether it be a modest venture or a colossal organization, the solution to this digital imperative rests within the realm of web development companies. These expert entities are key to crafting a website that perfectly aligns with your requirements.
If you hire java developers from India's top web development companies, as highlighted above, you open the door to myriad strategies and approaches in web development. This strategic collaboration ensures you maintain a definitive edge in the digital race, perpetually positioning your business at the forefront of engagement and innovation.