Reasons to upgrade to MS Dynamics CRM 2016 are explained by professionals in this blog. Read them thoroughly and evaluate the advantages offered by this upgrade.
Great user experience or user engagement is helpful in retaining the customers. In both B2B and B2C areas, customers are altering their purchasing behaviors. The buying process has become multi-faceted and disrupted, while brand loyalty still drives sales for the products and services. Customers have broad spectrum of products and services and distinct possible ways of buying than before.
Companies need CRM today to determine what their customers want to buy, track their purchases, and work how to drive stronger relationship across multiple channels.
It's an ideal time to upgrade to MS CRM 2016 as mainstream support for CRM 2011 withdrawn in July this year. And if you are presently leveraging CRM 2011 features, you won't be able to access latest product features and fixes. Moreover, security fixes will not be available to you.
To perform efficiently, people require tools that will help them in multi-tasking, and make them eligible to make sound decisions in their interactions with customers.
MS CRM 2016 supports this by prompting users to take action that will add value to a client relationship. It also include document-creation facility that enables users to export and create documents like sales orders, agreements, and contracts with just a click, using pre-determined Excel and Word templates.
The upgrade offers more flexibility to developers. They can use MS dynamics CRM 2016 with any device. The web interface has been intended to work on tablets. The upgrade is also having device-specific functionality, offering enhanced tools and applications to users that are based on the device used by them at the time.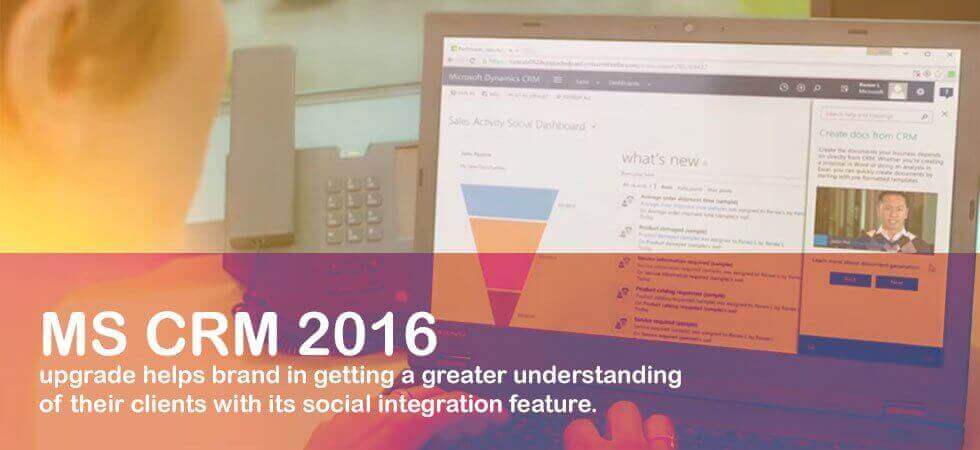 In order to match the standards and requirements of the customer, MS dynamics CRM 2016 upgrade offers fast and precise service. For successful results, it is critical for every team member to have access to relevant customer data. The latest upgrade enables this feature by making it easy to share and access client information. Even external users can also avail a smooth, integrated experience.
Social integration feature is another highlight. Social media plays significant role in determining opinion and feedback for the services from public, and has made it convenient for consumers to review product or service and share it publicly.
MS CRM 2016 upgrade helps brand in getting a greater understanding of their clients with its social integration feature.
In order to excel in CRM, companies have to understand the performance of the teams with the help of reliable and easy to understand metrics. Instead of exporting data to Excel for manipulation, companies can now upload complex excel templates within CRM, with pivots, graphs, and vast range of components. The latest upgrade also integrates with Power BI, which empowers users to create their own analytics and embed them in CRM. It also helps them in taking their dashboards to new levels and this make them more comprehensive than before.
Enhancements in new MS Dynamics CRM 2016
Since this CRM 2016 upgrade is considered to be the most comprehensive upgrade ever, it includes mobility and service, advancements in intelligence, and productivity enhancements. You can note down top enhancements made by officials below-
Contextual documents
Next Gen CRM app of Outlook
Mobile Offline support
Enhanced Excel Experience
Personalized sales documents
Guided user experience
Cortana integration
The Microsoft Dynamics CRM online 2016 upgrade is available for use. Developers can explore its features and offerings and avail major benefits. To know more about CRM, connect to professionals today.
For further information, mail us at [email protected]