Reasons to upgrade to MS Dynamics CRM 2016 are explained by professionals in this blog. Read them thoroughly and evaluate the advantages offered by this upgrade.
Great user experience or user engagement is helpful in retaining the customers. In both B2B and B2C areas, customers are altering their purchasing behaviors. The buying process has become multi-faceted and disrupted, while brand loyalty still drives sales for the products and services. Customers have broad spectrum of products and services and distinct possible ways of buying than before.
Companies need CRM today to determine what their customers want to buy, track their purchases, and work how to drive stronger relationship across multiple channels.
It's an ideal time to upgrade to MS CRM 2016 as mainstream support for CRM 2011 withdrawn in July this year. And if you are presently leveraging CRM 2011 features, you won't be able to access latest product features and fixes. Moreover, security fixes will not be available to you.
To perform efficiently, people require tools that will help them in multi-tasking, and make them eligible to make sound decisions in their interactions with customers.
MS CRM 2016 supports this by prompting users to take action that will add value to a client relationship. It also include document-creation facility that enables users to export and create documents like sales orders, agreements, and contracts with just a click, using pre-determined Excel and Word templates.
The upgrade offers more flexibility to developers. They can use MS dynamics CRM 2016 with any device. The web interface has been intended to work on tablets. The upgrade is also having device-specific functionality, offering enhanced tools and applications to users that are based on the device used by them at the time.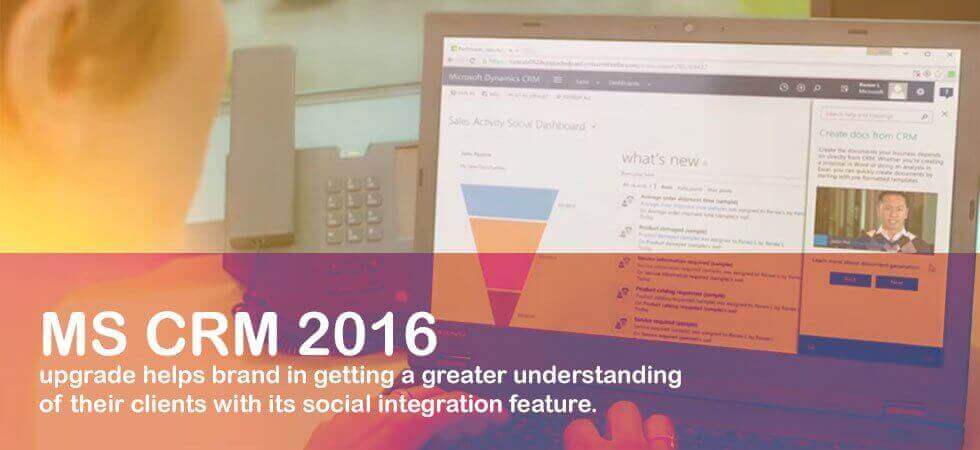 In order to match the standards and requirements of the customer, MS dynamics CRM 2016 upgrade offers fast and precise service. For successful results, it is critical for every team member to have access to relevant customer data. The latest upgrade enables this feature by making it easy to share and access client information. Even external users can also avail a smooth, integrated experience.
Social integration feature is another highlight. Social media plays significant role in determining opinion and feedback for the services from public, and has made it convenient for consumers to review product or service and share it publicly.
MS CRM 2016 upgrade helps brand in getting a greater understanding of their clients with its social integration feature.
In order to excel in CRM, companies have to understand the performance of the teams with the help of reliable and easy to understand metrics. Instead of exporting data to Excel for manipulation, companies can now upload complex excel templates within CRM, with pivots, graphs, and vast range of components. The latest upgrade also integrates with Power BI Development, which empowers users to create their own analytics and embed them in CRM. It also helps them in taking their dashboards to new levels and this make them more comprehensive than before.
Enhancements in new MS Dynamics CRM 2016
Since this CRM 2016 upgrade is considered to be the most comprehensive upgrade ever, it includes mobility and service, advancements in intelligence, and productivity enhancements. You can note down top enhancements made by officials below-
Contextual documents
Next Gen CRM app of Outlook
Mobile Offline support
Enhanced Excel Experience
Personalized sales documents
Guided user experience
Cortana integration
The Microsoft Dynamics CRM online 2016 upgrade is available for use. Developers can explore its features and offerings and avail major benefits. To know more about CRM, connect to professionals today.
How do you evaluate a CRM system?
Sales and customer relationship management (CRM) software may help you enhance your company performance, raise your profitability, and give you critical indicators that can assist you in better analyzing your organization. However, to get the greatest outcomes from your CRM software, it is critical to select the platform that is most appropriate for your company.
CRM solutions are many, which implies you'll have lots of alternatives to select from, which implies you'll have to complete your monitoring and studies before making your final decision. Adoption of a customer relationship management system (CRM) typically entails training all of your employees on the new system, making it critical to choose the finest CRM from the start. Learning how to analyze customer relationship management software might be beneficial. If you've determined that a cloud-based CRM system is the best fit for your company, you've progressed a step forward down the road to success. The next step is determining whichever of the several accessible systems is the most appropriate for you.
There are a variety of factors to take into consideration. Here are a few examples:
1. The participant's perspective
A positive user experience is critical to creating a business product that your staff will like using to its full potential. Incorporate the online and mobile features that your customers anticipate into your product.
2. Budgeting
Decide how much money you have to spend on a CRM system, and then research which solutions are best for you. Many "freemium" outcomes are possible. However, they might not have all of the functionality and integration possibilities that you will need as your business develops.
3. Return on investment
Can you tell me about the advantages that your company stands to achieve by using a certain platform? What key performance indicators (KPIs) will you use to assess your success? Most significantly, how fast would the investment in your selected CRM software pay off?
4. Application
Selecting the most appropriate form of CRM system for your staff is often determined by what they could quickly learn and put into practice. You should look for a system that is easy to use and a provider that can assist you in getting everybody on board.
5. Durability
If you want to expand rapidly, having a readily expandable CRM system is essential. The last thing a company would wish it to happen is to reach a specific level and have its platform's capabilities completely exhausted. Evaluate a CRM system that you are certain will meet or surpass your existing needs
Step-by-step upgrade CRM
Upgrading is a determinate project. There are indicators to finish, and challenging is quite significant
1. Development
First and foremost, we ensure that we fully comprehend the customer's current setting as well as the versions to which you will be updating. Once the update is complete, we will look for scripts or capability that has been deprecated in prior versions and address such issues. Then we'll go through another round of quality management and screening to make sure everything is perfect.
2. The Production
Once we are satisfied with the results, we will build up a second server, which we will refer to as "staging," and transfer the finished development update to the test scenario.
3. The Staging of Your
The client should have access to a different testing environment once we have reached the stage where they are certain that everything is functioning as planned. By taking the additional step to prepare in your setting, you will be able to see precisely what it would be like in the production server.
4. User Acceptance Testing
Following that, the client will be required to participate in UAT or acceptance tests. When you incorporate more individuals in the design and functioning assessment process inside your workplace, the results are more positive. Later we have been through the same procedure as before to get input.
5. Continue the cycle
Later we would go from a procedure to specify any adjustments that need to be made, and then we will effectively implement the changes in the software platform.
6. Go into Action
As soon as we get confirmation and are in consensus that everybody seems to be in working order inside your test environment, then arrange a "Go Live" date with an accompanying fixed term.
7. Education and training
Already, proper training with end consumers and the CRM administration has been organized at the client location. If you are utilizing the Outlook for CRM client, we would also install it as part of the process. Aside from that, we normally give directions for someone in information technology to go through the procedure, or we offer directions to the end customers themselves.
Which is better, on-premise or cloud?
Over the past few years, cloud computing has gained prominence. Fundamentally, the primary distinction between cloud-based software and on-premise is the position of the software. On-premise is connected locally, whether it is your corporation's pc, laptop, or any server, while the cloud is introduced at your seller's server and is accessible through a website browser on your PC or server. Other factors that must be taken into consideration while making a selection include accessibility, cost, and time commitment.
One prominent tendency which can be seen across a wide range of businesses is the adoption of hybrid systems, which combine cloud and on-premises technologies. This implies that you are not required to use either on-premises or only cloud-based technology in your business. Alternatively, you may combine the two for the most suited purposes. Using this approach, you may have a few in-house servers for the quite sensitive data while storing the rest of your data on the cloud so that each of your workers can view it promptly.
How is Microsoft Dynamics licensed?
Microsoft Dynamics 365 are known as the forthcoming generation of business intelligence apps that allow companies the ability to develop, expand, and adapt. The main Microsoft Dynamics licensing technique is termed user payment. The Dynamics 365 user subscriptions are categorized into 2 kinds that are user kind, a complete user, and the other one is the light user. Also, the complete users are the one who needs to take advantage of the capability of the functionality platform software.
How long does a CRM project take?
Given the scale and price of the business, the whole development of the CRM system might take anywhere from a few weeks to several months.
In most cases, the sequencing of tasks will be the same, although the length of time spent on each stage differs from one program to program. In general, the study entails establishing your corporation's requirements for a customer relationship management system (CRM) and identifying the procedures that are already in place in your firm.
Whether you're deploying CRM for the first time or upgrading an older, less efficient system, all members of the impacted team must examine the system before proceeding. Determine the best techniques for carrying out tasks, work procedures, document management standards, and approaches that have been created over time.
For further information, mail us at [email protected]