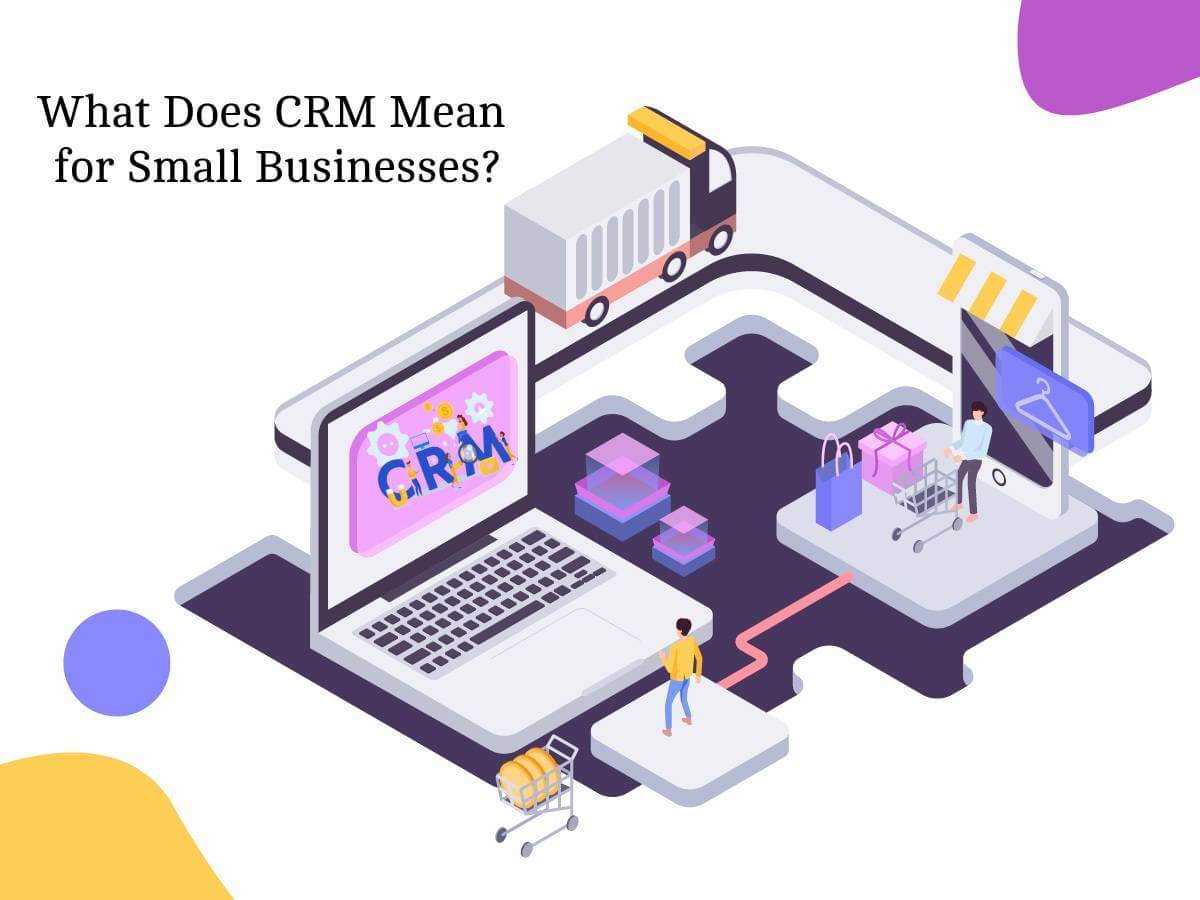 CRM isn't necessary for small firms since it's prohibitively costly and not required, right?
False! Each smaller firm whose founder believes the sentence above is stated to failure is bound to fail.
In the past, you may have been able to get by without a customer relationship management system. However, things have changed. Relations with customers have become more crucial than ever, necessitating the use of an effective tool to handle them. This is particularly true if you are a small enterprise that has yet to create an impression on an intended audience.
In the below post we would discuss what a small business customer relationship management system (CRM) is when a small company must use one, whether will several fields might profit from a CRM and how a CRM can help your company expand.
What does CRM mean for small businesses?
(CRM) is the solution you've been searching for. If you're asking, CRMs aren't only for major organizations with enormous sales teams, that's understandable. The truth is that you don't have to be a large corporation to get the benefits of a customer relationship management system. Utilizing a customer relationship management system (CRM) for your smaller business will assist you not only organize your connections, sales and deals, however, but you could also even change time-consuming procedures such as data entry, allowing you to devote more attention to strategizing and engaging with consumers.
All businesses rely on their customers to survive and thrive. Small enterprises are no exception to this rule. The customers who purchase your goods or services are the heartbeat of your business's day-to-day activities. Customers and clients are always on the lookout for a pleasurable experience, regardless of the services or goods you provide. The ability to capitalize on possibilities to establish a loyal client base and boost customer engagement is critical in this era of growing competitiveness. Organizations are installing Microsoft CRM development systems at a breakneck pace to get the outcomes they seek.
Small businesses with limited sales teams must make every effort to maintain a streamlined approach to operations. The result is that all of their time and effort is focused on what matters greatest that is providing an exceptional customer experience and cultivating customer retention for their clients.
Irrespective of what you may have heard somewhere when it comes to installing CRM software, size doesn't matter and not in the traditional sense at all Regardless of how many workers a business has or how much revenue it generates, an online customer relationship management system may always assist to optimize procedures, save money, and enhance profitability.
Explore a few of the advantages of CRM systems in the following sections to understand why organizations of every size especially small size may profit from using one of these systems.
When should small businesses implement CRM?
After COVID-19, (CRM) will not slow down; on the contrary, CRM is assisting many firms in navigating through these unpredictable times.
Every firm is different, with its own set of operating procedures and ways of dealing with difficult circumstances. While corporate operations throughout the globe have altered as a result of the COVID-19 epidemic, many parts of business management, such as CRM) software, will remain constant over the years. With a full CRM system, you get a slew of significant advantages that may help you operate your company more efficiently, including the following perks that a CRM can provide:
1. Organizes Data
To expand your small business in 2024, you must first organize every area of your company's operations. Putting processes in place that will lead to a long-term organization might be challenging if your small company lacks applying CRM.
CRM is very effective for small businesses. The way you arrange your data has a significant impact on whether or not you can properly express your primary arguments to your customers. People want to get to the heart of your message without having to wade through a heap of irrelevant information, and they want to know where they can go to discover the information they're looking for, whether it's numbered, a list of concerns, or your own beliefs. Your readers may read even if your report is badly written if they feel the content is relevant to their lives. They will not come if the event is badly arranged.
2. CRM plans social media campaign
Considering whether or not social media is appropriate for your small company, here are a few more advantages to consider, which go beyond just engaging with your customers via social media followers and influencers.
A presence on social media and strategy may assist you in the following ways:
Promote brand recognition and exploration
With an advertising campaign, you may find new leads and consumers and encourage them to visit your website, therefore increasing sales and visibility.
Influencer marketing may be used to generate excitement for impending events, product launches, sales, and other activities.
Gather consumer feedback and provide them with a convenient option to ask questions at any time.
With good, informative material, you can improve your brand and position in the market.
Microsoft CRM development team are professionals for small businesses, where they assist companies with administering your CRM to guarantee that your workflow solution is being utilized properly to support your company objectives.
3. Increases the quality of analytical data
No firm does not have a consumer base. How a company deals with its customers and customer data speaks volumes about the organization's performance. Consumer relationships are by far the most helpful aspect in gaining customer trust and expanding a company's operations. Customer interactions, without a doubt, serve as a link between your services and the demands of your customers. A customer relationship management (CRM) analytics system assists organizations in better understanding their customers, including their contacts, their interactions with the firm, customer insights, and their requirements.
4. Creates Lead Generation
CRM can also help to see the cost per conversion, which tells you how much it will cost to acquire a consumer who will eventually become a customer. Lead generation data analytics services are used to determine which sources of consumer traffic are generating the most leads. A smart strategy to determine where your organization should allocate its marketing expenditures is to do a market research study. When combined with other data, this is an excellent way to get insight into lead nurturing, understand more about your industry's purchaser identity, and move clients along your sales funnel.
5. Making Data-driven decisions
Never before has there been such a large volume of information gathered, yet it has also never been more complicated. Because of this, it is more difficult for firms to organize and evaluate their information. Your firm must establish data-driven decision-making as the standard, while also cultivating a culture that fosters critical thinking and curiosity among its employees. The establishment of CRM fundamental capabilities will assist in encouraging data-driven decision-making across all job levels, resulting in business groups questioning and investigating information regularly, resulting in significant insights that drive action.
Bottom Line
The advantages of small company CRM systems are many and diverse. These professionals can assist you in keeping your customers and clients satisfied, streamlining your company procedures and increasing productivity, as well as saving you time and money. Large corporations with large budgets are no longer the only ones that use CRM analytics. Around 80 percent of small organizations use it in a certain manner, indicating that it has become widely accepted. In a very short period, the field of CRM has flourished significantly. It may be used to assist in a variety of areas of operations and can be a true game-changer for numerous firms.