Tableau Consulting Services
Data analysis and management is no easy task. What's more difficult is the generation of useful data insights and delivering it in the right tone for everyone to understand. Employ Tableau BI development to get ultra-fast data insights backed by visual help.

Tableau - The Only Data Visualization Tool You Need
Tableau is a simple and easy-to-use tool that makes everything about data analysis better. The analysis is not useful if the appropriate people can understand what it means and use it for their business operations. This is Tableau is of immense help. It helps to make sense of the data insights through easy visualization options that anyone can understand - even those who don't know much about data analysis. We offer Tableau development services as well as consulting to facilitate organizations to start employing Tableau as a part of their data analytical process.
Real-Time Data Analysis

Real-time analysis is a rage now as it is so much advantageous to make quick, on-the-spot decisions. Tableau can extract data from any database and run analysis at the same instant and present quick results.

Collaboration On-the-Go

There are several versions of Tableau most of which allow the users to share the results of analysis, visualizations and dashboards through the Tableau interface no matter the location of the users.

No Technical Knowledge Needed

Tableau doesn't need any coding experience or backend knowledge to use the platform. It's completely user-friendly, even for those with no technical knowledge. Anyone can easily start using Tableau without any help.
We deliver Tableau Consulting Services across
Sydney

Melbourne

Brisbane

Perth

Adelaide

Gold Coast

Newcastle

Canberra

Cairns

Darwin

Hobart

Byron Bay

Geelong
Trusted Tableau Development Services by Australia's Industry Leaders
One of the main reasons why we recommend Tableau to our clients is the ability to quickly analyze data and represent it in a simple visual form. There are limitless options for the customization of visual analytics in the Tableau platform based on what kind of representation you are looking for. At Aegis, we have Tableau BI development experts who helped many organizations to set up and customize the platform according to their business applications. We configure the virtual environment of Tableau with the operating system and hardware for a highly satisfactory experience.

Tableau Data Analytics
We help in setting up the entire system for data analysis with the integration with other tools, ending with Tableau visualization. We are highly equipped to customize various features of Tableau that align with your data plans and practical needs.

Tableau BI
Working with Business Intelligence isn't such an easy feat, but we can make it happen for you. Our Tableau consultants are experts at designing and coordinating with the development team to create intensified Tableau features that help businesses to inch closer to BI.

Tableau Visualization and Customization
Apart from helping businesses to implement Tableau for data analytics, we also help in customization of existing Tableau software. We eradicate confusion and long-winding processes and include easy data visualizations and customizations that simplify the whole process.

Tableau Integration
Tableau can pull data from any source which is why you need to streamline the data process from extraction to visualization. We ensure proper integration of the ETL tools for all the data gathered from multiple sources to be processed and analyzed.
Enhance Data Performance with Our Tableau Consulting Services
There is meaning to go all the lengths to set up ETL pipelines and invest in pricey data analytical software if you aren't able to understand what the analysis says. To avoid this major issue faced by many, Tableau visualization tools are being employed by organizations from all over the world. Our Tableau consulting experts is one of the best and have been helping many Australian corporations from across different industries to understand what the data analysis truly meant. Our Tableau software consulting process starts with highly intense background research on business needs and suggests intelligent ways to make the most out of data.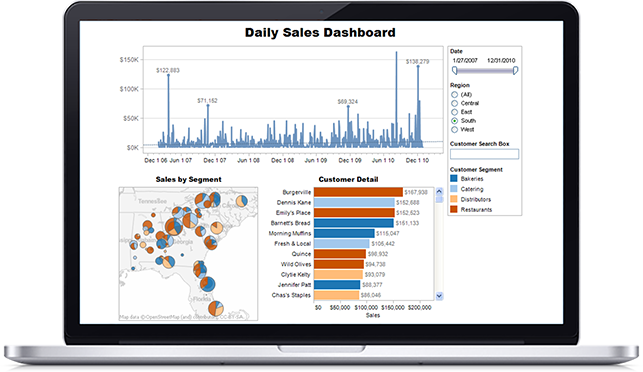 Tableau Planning
Every business has its working style and expectations out of Tableau which is why we analyze and understand what they are before planning the Tableau installation and customization.
Choosing Tableau Product Suite
Tableau Suite includes Tableau Server, Tableau Desktop and Tableau Reader. Our Tableau consulting experts can guide you to choose the most suitable one depending on the scale of your data requirements.
Tableau Outsourced Analysis
There may be situations when you need an extra pair of hands for analysis or to make sense of the data. We can chip in during those times and help in conducting and completing the analysis.
Tableau Dashboard Consulting
Dashboards are an important component in Tableau that you can customize all you want. We can lend a hand in suggesting the best Tableau dashboard development and customizations that will save you a lot of time.
Tableau Training
Tableau can be used by anyone who doesn't have any technical or coding experience. However, if you want to quickly get over the initial transition phase, we can help in learning the ropes of the Tableau.
Data Consultations
We are not just experts in Tableau; we have a large data team who specialize in various stages and tools of data management and analysis. So when you hire us for Tableau consulting services, you get the whole package.
Cost Effective Tableau Consulting Services
Offering unparalleled Tableau Support & Consulting services to global clients.
Hire the Best Tableau Consulting Experts in Australia
Tableau is a powerful platform with so many features to make your life easier. But when you aren't able to extract and use the platform to the maximum, you are losing out on valuable hours of productivity. Our Tableau consultants can help you in making a difference in your data analytical process. Our Tableau software consulting services are not just aimed at the results you get from Tableau but also to refine and simplify the process you go through to reach the results. This is what sets us apart from the numerous other Tableau consulting companies in Australia.
End-to-End Tableau BI Development
If you have ever faced difficulties in making others understand the data insights, then you need the help of Tableau. We have helped many such businesses who struggled to grasp at what the data analysis meant by transforming their experience with Tableau. And we can do the same for you. Our Tableau BI development focusses on analyzing installing customized features that simplify the data pipelines.
Tableau Dashboard Development
Customize the Tableau dashboard based on your priorities, include real-time data insights and make it user-friendly.
Tableau BI Insights
Let us help you in optimizing the big data process by intelligent BI insights that quickens the process.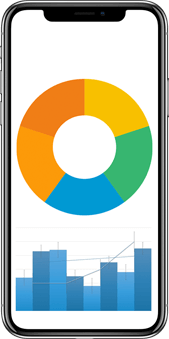 Data Enrichment
Improve the quality of the data and the insights extracted from it through our customized development process.
Performance Tuning
Get the best out of Tableau by increasing its performance through dedicated tools, integrations and modifications.

Why Choose Tableau?
At times, it can be daunting to handle or put into words what the analysis means. And there are time-critical situations where explaining the data insights has eaten up the useful time. Tableau is a perfect solution to avoid such lags and bridge the gap between analysis and business process. As a great visualization tool, Tableau has quickly made an impact on many businesses by helping them with the data processes.
Remarkable Visualizations
Tableau has several in-built features that allow you to customize and build any kind of visualization that you see fit. The additional options for switching between visualizations, exploring data and working from the visualization formats itself have added to its worth.
Interactive Reporting
It is very simple to perform data analysis with Tableau. You can just click on the charts, graphs or any other visual forms and interact directly and understand what the data means without the need for any external assistance.
Intuitive Usage
One great benefit of Tableau is that anyone can start working on it easily. It's that intuitive. You don't need to search around for the options; it is easily understandable by anyone who can use a computer.
Single-View Platform
Instead of jumping and shifting between different visualizations, you can merge and have a single view for data gathered from multiple sources. This makes it easier to cross-reference and get a bigger picture of the analysis from multiple sources.
In-Depth Insights
The various visualization options have made it easy to see the data from different directions. You get numerous perspectives from the same set of data, hypothesize with the visual tools and include comparisons for a better understanding of the analysis.
Frequently Asked Questions
Have any more questions on your mind? Here are the answers to some common questions that our prospects have asked.
We have very flexible models that are customizable based on your needs. You can hire us on a project basis or a monthly basis. Our team will work with your in-house employees in the Australian timezones.
Yes, of course. We have several data experts who specialize in different data analysis and management tools. We also have data analysts and managers on our team who will work together to implement the entire data system.
We have highly secure firewalls installed for our in-house purposes and take complete precautions to keep your data safe from our side. We also sign an NDA given from your side to protect the sensitive data.
The three main types of Tableau products - Tableau Reader, Tableau Server and Tableau Desktop - differs majorly in terms of data security and privacy. Therefore, based on the level of security you need and the additional features offered in each of the products, we can help you to choose the best Tableau product for your business.
Yes, you mostly can. Though Tableau is a data analysis and visualization tool, we can integrate your analysis software with Tableau for visualization. We can give you a better idea and outline of how it's possible when we know more details of your ETL process.

Problem(s) I must admit that the Tableau Desktop Qualified Associate was not a piece of cake for me. Questions can be tricky and time-consuming, you need to prepare for it tactically.
There are two ways in tableau BI Services by which we can connect two data sources.
Companies are responsible for the safety and confidentiality of their client data and employee information.
Conversation
X LEAVE
X Close