Power Pages Consulting Services For Strategic Growth
Welcome to our Microsoft Power Pages Consulting Services! We specialize in quickly building website pages tailored to meet complex business scenarios powered by Microsoft Power Pages. We help you launch a website beyond basic design and functionality without writing a single line of code.

TRUSTED BY
GLOBAL CLIENTS


















Our expert Microsoft Power Pages Consultant can build secure, modern, and responsive business pages that will help you rapidly engage your audience and partners. The website makes authoring, designing, and launching engaging websites effortless than ever to meet your enterprise business needs.
Why Hire Microsoft Power Pages Consultant?
Microsoft Power Pages can be a game-changer for your business, but only if you know how to use it effectively. A consultant can guide you through the process and help you achieve your goals. Our consultants' help you add power page components while creating your websites, streamline your processes, increase productivity, and achieve better results.

Affordable and Punctual Services
At Aegis Softtech, we provide our clients with exceptional service and are committed to the best possible experience at a low cost. We deliver our solutions to you ahead of schedule.

Expert Consulting
Our partnership with top technology providers allows us to approach each project holistically. We ensure you to provide with the most comprehensive and effective Power Pages Consulting Services.

Strategic Technology Solutions
We understand the fundamental IT infrastructure and digital business models & innovations before arriving at solutions for our clients.

Diverse Range of Experience
Our technically proficient team helps you perfect your IT with professional advice on advanced technology utilization based on your requirements.

Unique Consulting Roadmap
We got the importance of data in driving business success. We collect and condense data from our clients, perform thorough technical analysis, and develop a technical architecture that meets the unique demands of your business.

Dedicated Assistance
At Aegis Softtech, we pride ourselves on being more than just a Microsoft Power Pages consultant. We offer end-to-end solutions and commit to standardization to ensure you receive a seamless and consistent experience throughout the process.
We Deliver Power Pages Services Across
USA

Canada

UK

Germany

France

Singapore

Italy

Israel

Australia

Japan

Netherlands

Sweden

Switzerland

Norway
Discover Benefits Of Microsoft Power Pages Consulting Services
Our ultimate goal is to provide the best strategic technology solutions tailored to satisfy our client business needs. Our well-versed team is committed to delivering exceptional services that are not alone satisfactory but exceed the unique needs of each client we serve.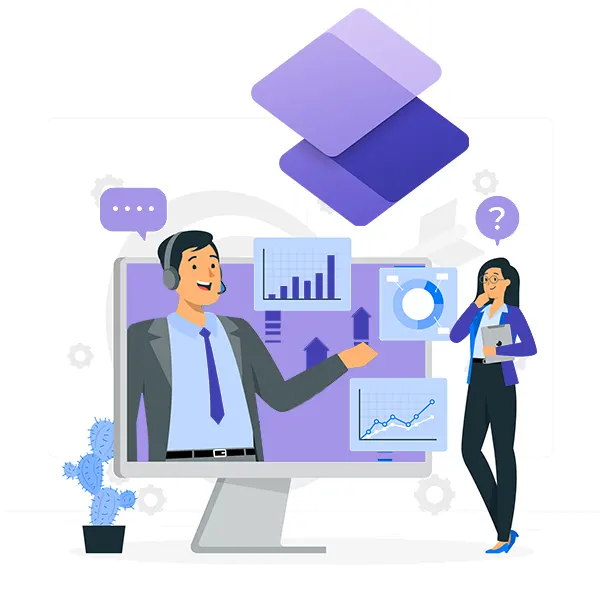 As a Microsoft Power Pages Consultant, our expertise lies in helping you find the tool that can offer you the following:
Launch websites quickly
Enterprise-class websites
Save money and time with readymade templates
Provide Personalize experience
Responsive and secure websites
A website with Tracking technology
No-complex-code website
Vendor management system
Data-driven websites
Improve enterprise efficiency and streamline communication
Technology with elements such as a Design studio, template hub, learning hub, etc.
Highly Skilled Team For Microsoft Power Pages
Our highly skilled and certified team of Power BI Development will consult with you to maximize the potential of using Power Pages.

The out-of-the-box business solution templates will get you up and running quickly.
With advanced tools, build custom-tailored sites without boundaries and take your pages to a new level.
The secure and convenient central environment ensures compliance and accessibility. You can share it confidently with your audience.
The website offers exciting new capabilities that easily integrate with a wide range of other Microsoft services such as GitHub, Azure DevOps, and visual studio Code.
You can elevate your website tools for security, management, and visualization, making it easier to connect and collaborate with your audience and partners in a whole new way.
Frequently Asked Questions About Power Pages
Power pages are for business website development. Microsoft Power Pages is a powerful addition to the Microsoft platform, providing advanced web design tools and out-of-the-box business solution templates that can help businesses rapidly engage with their customers and partners.
No, Microsoft Power Pages are designed for users of all skill levels and do not require any coding knowledge. The platform uses a drag-and-drop interface, making it easy for anyone to create a website.
Our process involves collecting data from clients, performing technical analysis, and develop a technical architecture that meets the unique demands of your business. We also offer ongoing optimization and support to ensure that your website continues to perform at its best.
At Aegis consulting firm, we offer a range of support options to ensure that you have a seamless experience with Microsoft Power Pages. From the initial consultation to ongoing support, our team is here to assist you every step of the way. Whether you need custom functionality or design, our team of experts can help you achieve your goals.

As a part of the focus on low-code no-code and empowering citizen developers, Microsoft recently announced Power Pages.
In this blog, we are going to discuss one workaround to resolve the case using power flow with action.
The provision for creating and sending Dynamics 365 CE (CRM) Emails from a Power-Automate (MS Flow) has always been appreciated due to its simplicity.