Outsourcing has stepped up the ladder of success like no one has ever. And, the reason is quite simple; outsourcing is enabling corporates to save cost and time, and still meet the right level of efficiency. However, the breaking news is, that IT outsourcing is not limited to only the corporates. In fact, it has grown beyond, and now, various segments of the world, including healthcare are outsourcing their IT requirements. Healthcare, as we very well know is one of the biggest industries of the world. On a regular basis, we see a lot of advancement in the field of healthcare, but most of these advancements are related to medicines, cures, product research as well as medical devices. Though, these are the key fields, and they require continuous evolvement, but, healthcare IT is an important sphere to look at as well. Why? As, world-class healthcare IT solutions will help to defragment the industry. A strong focus on healthcare IT will lead to advancement of the quality of services. Therefore, a lot of developments are happening in the field of healthcare IT outsourcing, and we can expect a lot more from the healthcare IT outsourcing world in the coming year, 2022. In fact, it is believed that by the year 2023, the mean hospital costs will have to be lessened by almost 24%, and this can only happen because of healthcare IT outsourcing.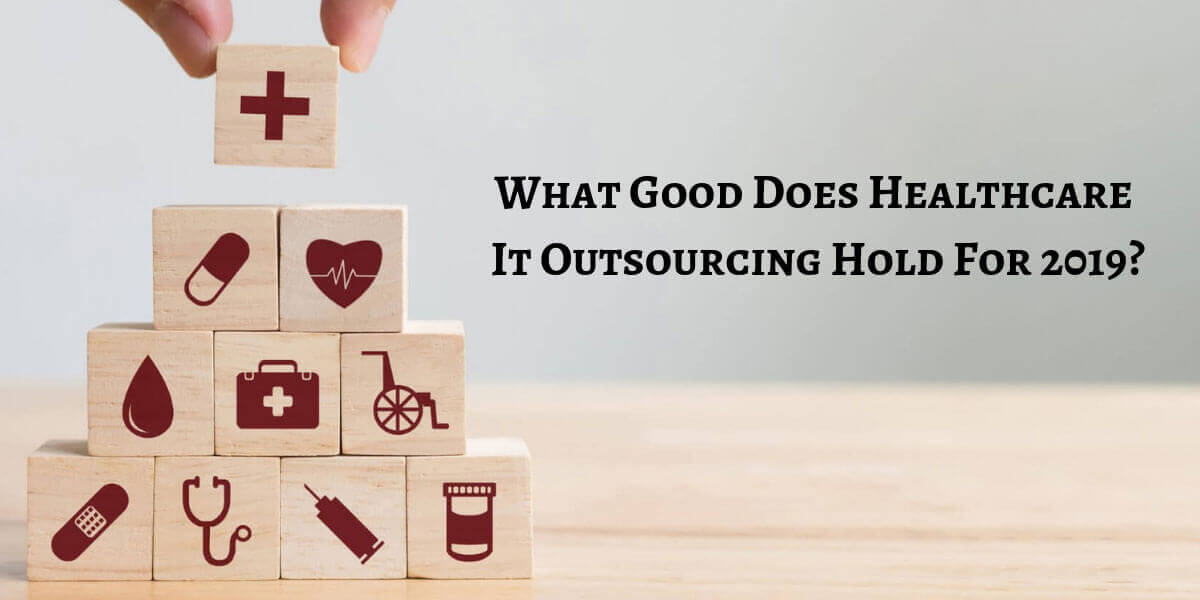 There are various reasons why healthcare IT is growing at such a high speed, and some of the top reasons are listed below:
Access to the best of technology:

The healthcare industry is not untouched by the advancements of technology. In fact, it is one of those industries, which are constantly seeing a lot of new inventions. When it comes to IT in healthcare, the healthcare institutes might not be able to manage the latest advancements, or they might not even be able to make the best of such technological advancements. Therefore, they need an outsourcing firm, which will help them to offer superbly high-tech solutions. The biggest transformation that healthcare IT brings to any healthcare institute is the automation of the administrative work. Also, this allows the healthcare experts to focus mostly on the most important part of their work, quality of care rather than wasting time in administrative activities. Whether it is the software for the institutes or mobile apps, there is a lot that technology has to offer to the world of healthcare, but only a good outsourcing provider can not only offer such services, but also manage them.

Higher Efficiency, Advanced Performance, Reduced Costs:

The main purpose of technology is to automate the processes and amplify the efficiency. This is exactly what happens in the field of healthcare. Topnotch technology is now used in the healthcare industry to boost the quality of activities. At the same time, technology plays a major role in reducing both the time and the cost. For example, now, with the help of a high-end EHR solution, practitioners would be able to quickly understand the complete history of the patient, as they will be able to access the important documents a lot faster. This is just one example, there are many such example that symbolize the benefit of using IT solutions in the healthcare industry.

Listed above are only a few of advantages of using technology in the field of healthcare, but there are definitely a lot of other reasons as well. However, for any healthcare institute or a clinic, it is not quite easy to develop IT solutions or to even manage them. As, this would require extra resources, and also extra level of involvement, which may or may not be feasible for the healthcare experts. This is where the role of healthcare IT outsourcing come into play.
Listed below are some of the top reasons why healthcare IT outsourcing seems to rock 2023:
Ease of using the latest technologies like AI and Big Data

Healthcare industry is welcoming technological innovations, as we have already seen multiple utilizations of the latest technologies like AI and Big Data, and this is only going to grow. Artificial Intelligence will be completely transforming the healthcare space. Healthcare IT solutions centered on AI may touch the $1.7 billion mark by the year 2023. This would not only lead to more innovations and higher productivity, but the overall quality of healthcare services will also increase. Similarly, we can expect more use of Big Data analytics services. And, all this can only happen if healthcare institutes are ready to go for outsourcing. As, only the outsourcing providers can offer such latest services, and that too at lower costs.

Boost profitability

Cost-effectiveness is surely one of the top benefits of choosing an outsourcing partner for your healthcare IT needs. With the help of a world-class IT outsourcing partner, the healthcare industry is able to save almost 30% to 50% of the cost, that they would otherwise had to spend on hiring new talent, and setting up the complete system. Healthcare institutions/hospitals would only be able to boost their revenues only if they intelligently hire the best outsourcing provider. As, by doing so, they would not only be able to get access to the best technology and experts, but they will also be able to enhance their quality of services.

Conclusion

Healthcare industry is now interested in leveraging the next-generation IT solutions to enhance their performance and activities, and to also reduce cost and time. Though, the admin departments and even some of the clinical departments have been using Healthcare IT since ages. But, now, because of the introduction of more advanced electronic health records and various other tools, healthcare IT outsourcing has become a lot preferable, and it is only going to grow in the year 2023! Also, the main reason that will lead to the growth of healthcare IT outsourcing is the need of the latest technologies. The demand of the high-end technologies like new-age EHRs, high-end EMRs, AI, Big Data, Machine Learning etc. is increasing. And, we are sure more and more healthcare IT outsourcing providers will be ready to cater to the rising demands.