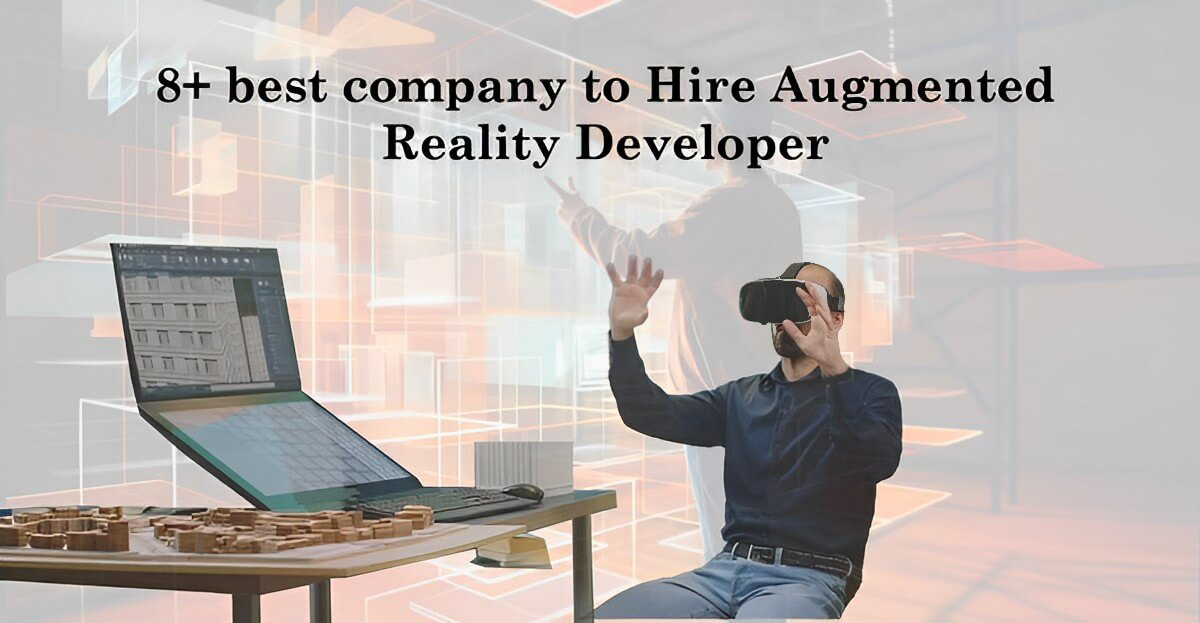 Introduction
Augmented reality (AR) is a game-changing development in the rapidly changing field of information technology. Because it can be used in so many different spheres, from the medical field to the entertainment sector, it has become an important tool for industries. Augmented reality makes experiences that are very engaging and collaborative because it brings elements of virtual reality into the real world. Employing skilled big data developers is necessary to realize the full potential of AR. Their one-of-a-kind skill set enables the production of amazing augmented reality (AR) experiences, which have the potential to radically alter the way people interact with your product or service.
In this article, we'll take a look at the quite important considerations to make when you hire an Augmented Reality Developer firm from a top-notch company.
Let's get started!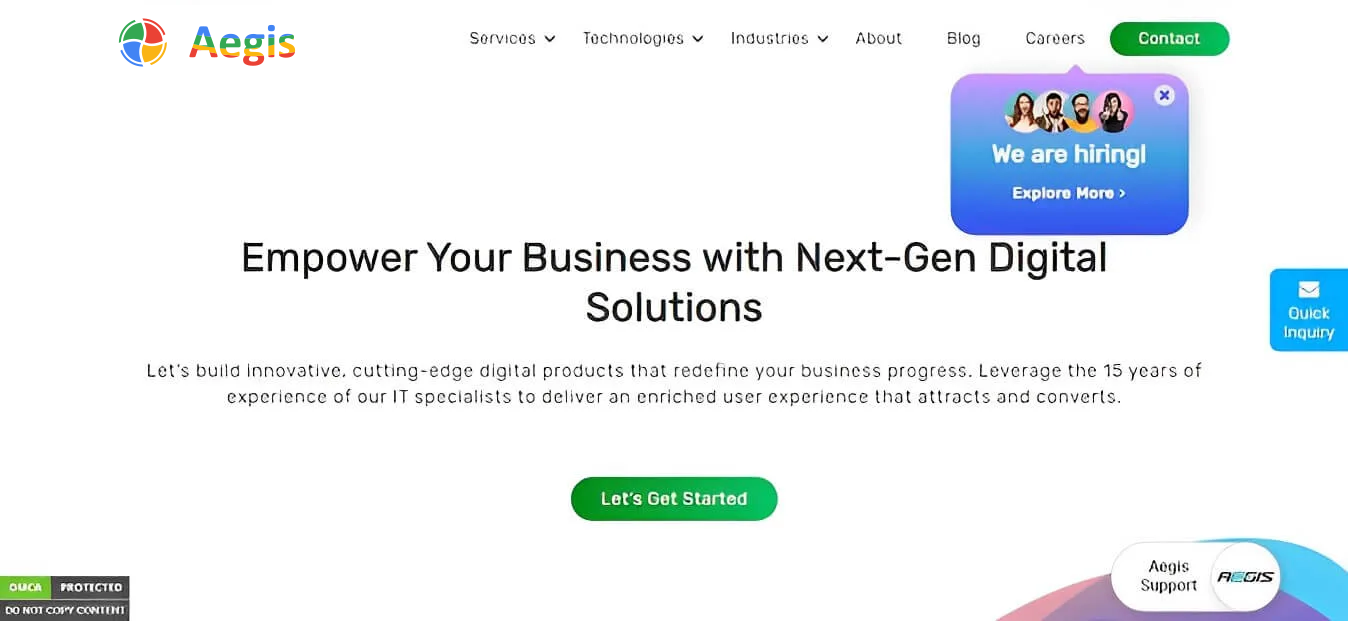 A renowned augmented reality development business, Aegis Softtech has more than 15 years of industry expertise and a team of technological professionals who have extensive industry knowledge. The firm provides a diverse selection of services for small and medium-sized businesses as well as large-scale corporations. These services vary from the creation of simple AR apps to the production of complicated products.
The field of augmented reality is a dynamic sector that is seeing rapid expansion, and Aegis is here to assist your company in capitalizing on the opportunities it presents. In addition to the development of ground-breaking and cutting-edge technologies, the major emphasis of the firm is on enhancing the user experience to make it more interesting and meaningful. It's time to seek out and hire augmented reality programmers who can bring your vision to life.
We offer an All-Inclusive Approach to IT Solutions
We are here for you at any moment, and we guarantee a speedy delivery of both our products and services. Aegis Softtech, with its innovative ideas and its code of conduct, works toward the goal of transforming the world into a place where technology is integrated into the daily lives of all people. Our work is varied and takes place in a great number of countries, but it is all directed toward attaining a single, aspirational objective that the team has of providing extraordinary outcomes to the market. Our services include:
1. Design and Development of Websites
Aegis Softtech takes great care in developing strategies that are ideally suited to the requirements of our customers and enable us to provide them with outstanding websites.
2. Development of mobile applications
We work in conjunction with mobile app development professionals, such as business analysts, user experience specialists, and engineers who are proficient in the construction of native as well as cross-platform applications.
3. Digital Marketing
With the aid of our digital marketing techniques, we will assist you in achieving higher levels of traffic, participation, and income, and we will also assist you in achieving higher levels of reach and engagement on social media. It is the least costly strategy you may use to increase the number of visitors to your website.
4. IT-Support Services
Investigating, Examining, or seeking counsel is the step that we take before beginning any task. In any case, our IT expert will take care of it for you in a short amount of time while also offering you the most effective IT solutions and advice.
5. Assurance and Testing of the Software's Quality
We give you the very best techniques and methods of software engineering, including testing at each stage of the development process, which are what we use to guarantee the quality of our products. We provide our clients with software that is 100 percent free of errors using a solution that uses a steady state.
6. Application Maintenance
Maintenance and support are included. Apps that are aimed at "keeping things going on" rather than generating money is the target that we have set for ourselves. We address any current problems and improve any new features.
7. AR Migration and Integration
Our personnel will adhere to industry standards while they transfer your outmoded platform into AR, which will result in superior and cutting-edge solutions. They make use of the most effective technologies available to convert your platform to AR efficiently and seamlessly, no matter what.
Why choose us?
Every project that we take on at Aegis Softtech is approached with an emphasis on the customer, with the goal of not just meeting nonetheless it even exceeds the expectations of the clients. What separates us from the competition is our unwavering dedication to offering services that are both of high quality and affordable. Our primary emphasis is also on developing high-performance online and mobile solutions that can be safely hosted in the cloud, and we do this by using new technologies.
Personalized information technology services for a variety of businesses and people.
Professional programmers specializing in full-stack application development.
The agile technique emphasizes cooperation, adaptation, and flexibility.
Continuous assistance to ensure the product runs well and is intensive on the user.
An option that is both very cost-effective and provides outstanding value for your investment
Your one-stop shop for problems that arise in early-stage businesses
Industries that we focus on
1. Healthcare
Utilizing cutting-edge technology such as augmented reality may provide your healthcare company a competitive advantage. We are here to assist you in recruiting the most qualified augmented reality (AR) developers who are experienced in integrating digital information with the surroundings of the user by providing material that has been created by a computer. They develop user-friendly applications that help you comprehend how new medications and medical gadgets interact with the body of the patient, therefore streamlining a previously time-consuming procedure.
2. Retail and Online Shopping
Our employees have received extensive training and are prepared to integrate augmented reality technologies into your eCommerce development company. They propose to clients that they correctly preview items with clear visuals and assist them in choosing the appropriate things that they want to invest in. This helps you obtain a substantial amount of customer traction, which is beneficial to you.
3. Banking and Finance
Not only may efficient AR services in banking improve efficiency, but they can also simplify some activities, allowing for a more seamless experience for end-users. If implementing fresh, cutting-edge banking technology is one of your primary goals, then our resources will serve you well in developing your banking and finance enterprise.
4. Transportation and Tourism
Our resources can impart advanced augmented reality solutions that provide your tourism business with the ability to describe and explain the offerings in an inventive manner. We help you adhere to international tourism standards and norms.
Aegis Softtech is the most advanced AI-based platform in the world, and it can connect you with the best Augmented Reality developers anywhere in the globe. Get in touch with us now!
2. Glorium Technologies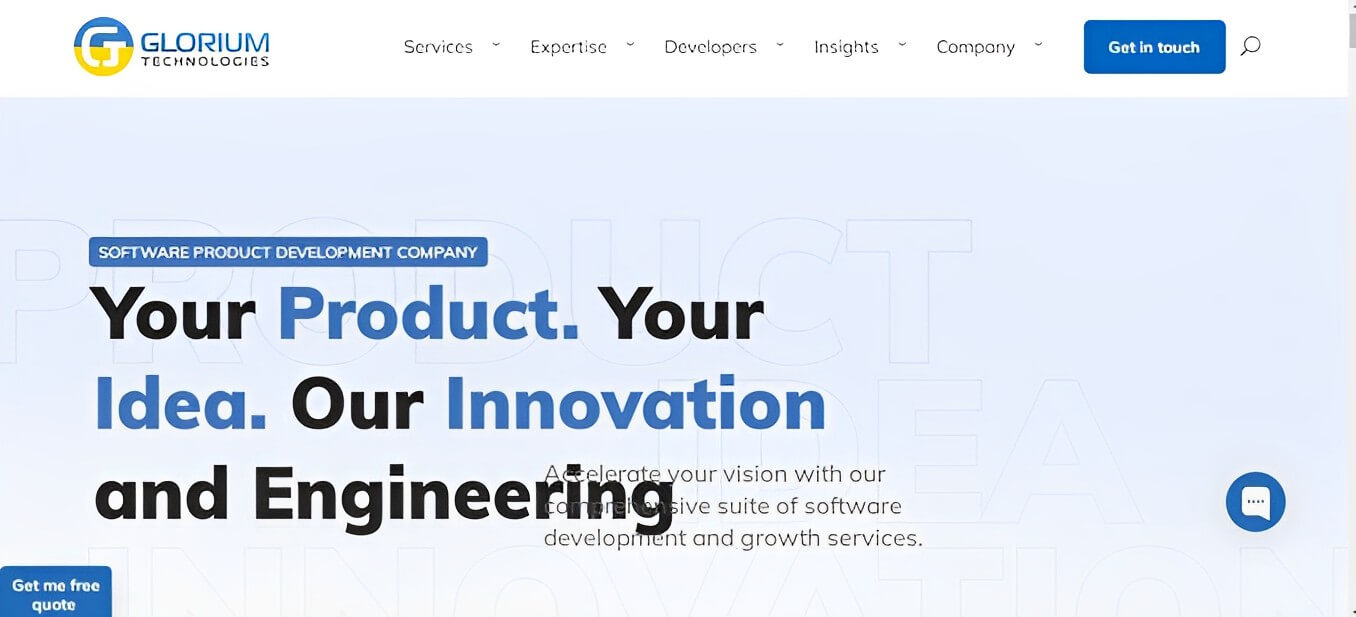 Glorium Technologies is a complete app and software development organization that caters to the specific business needs of its clients and strives to answer those objectives by implementing the most effective technical solutions. This allows Glorium Technologies to provide its customers with the highest level of service possible. Are you a startup company or a medium size that needs to move your project forward more quickly? Then this company gives less expensive access to the strategic and technical knowledge that is necessary for technology businesses to realize their vision.
Services offered
Mobile Development
Healthcare software
AR development
3. Simbott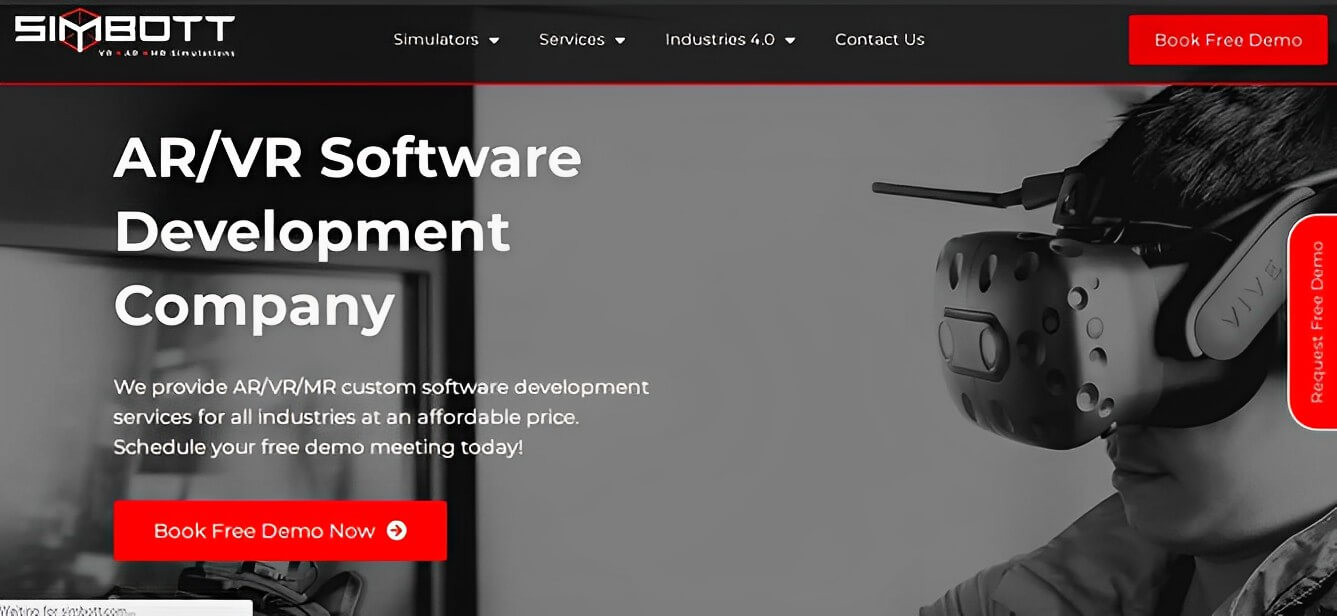 Simbott has finished 150 projects to this point, both in India and in other countries across the globe. The team of highly competent individuals at Simbott has a wealth of expertise in the field of designing individualized applications dependent on VR, AR, and MR technologies. The products completed by Simbott are utilized by industry leaders in the construction, automotive, and aerospace sectors, as well as the manufacturing industry.
Virtual Reality Safety training
Web development
Cybersecurity
MR development
4. CXR.Agency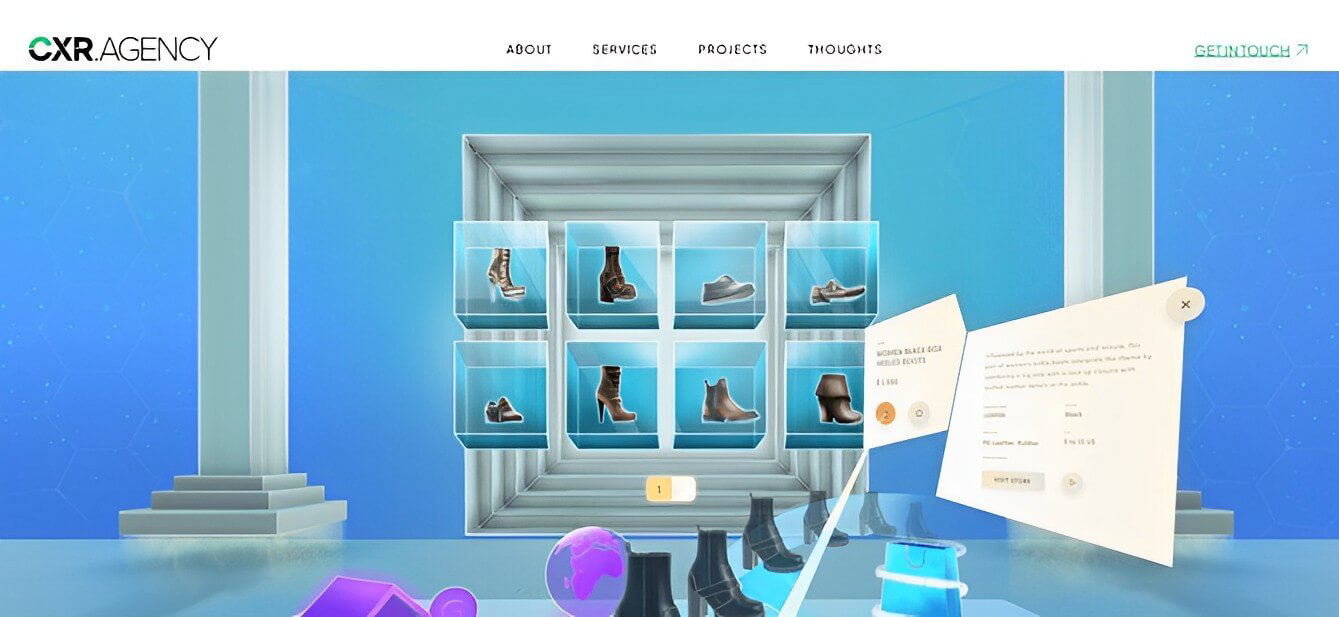 CXR provides comprehensive offerings that combine efficient design with the most cutting-edge technologies, such as the web, mobile platforms, augmented reality (AR), artificial intelligence (AI), and blockchain. They provide customers with the tools necessary to reach their business objectives by using cutting-edge VR/AR, web, and mobile technologies. The success that the firm has had in achieving remarkable outcomes for a variability of firms, comprising high-profile companies such as HBO and Richemont as well as more modest organizations and new ventures, has helped it earn a well-deserved reputation.
Services offered
Branding and UX/UI Design
Mobile app development
Extended reality
Digital transformation
5. Vention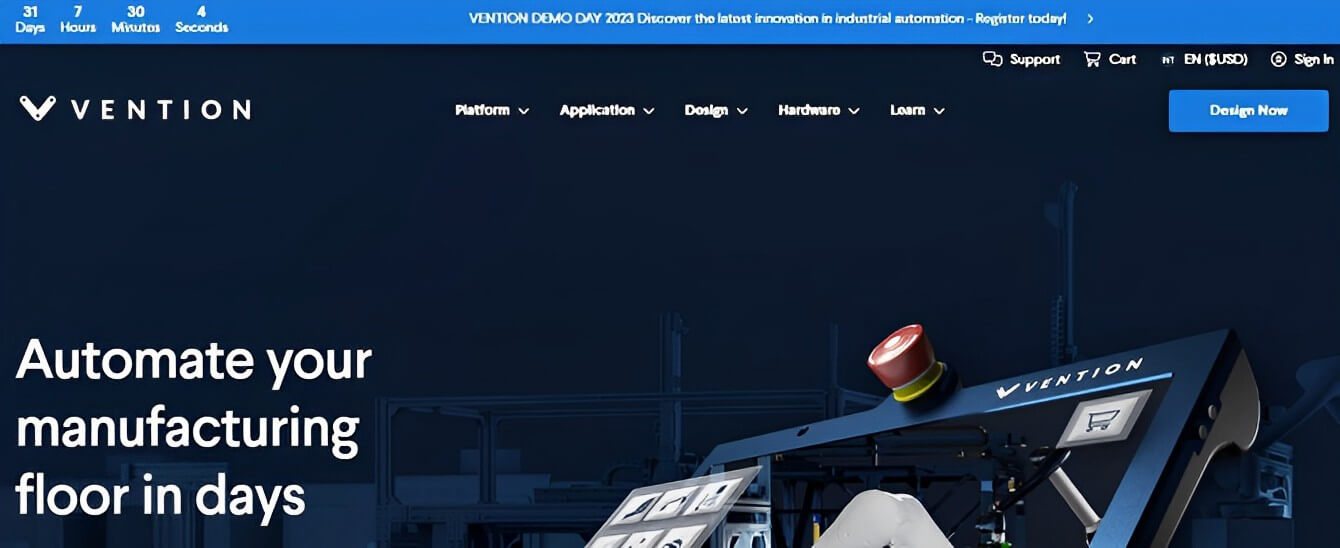 The company's technical teams are both quicker and more intelligent as a result of their more than 20 years of expertise working in partnership with tech-enabled industries and successful startups all around many countries. They provide inventive leaders all over the globe instant and high-fidelity access to top technical talent from the most reputable IT centers in the world. Regardless of the idea you have for your project, the teams provide the deep experience necessary to transform your solution from a concept into reality. They provide solutions that are not only cutting-edge but also long-lasting and safe to use.
Services offered
Software expansion
Web development
IT techs for startups
Blockchain
Big Data
6. Cartoon Mango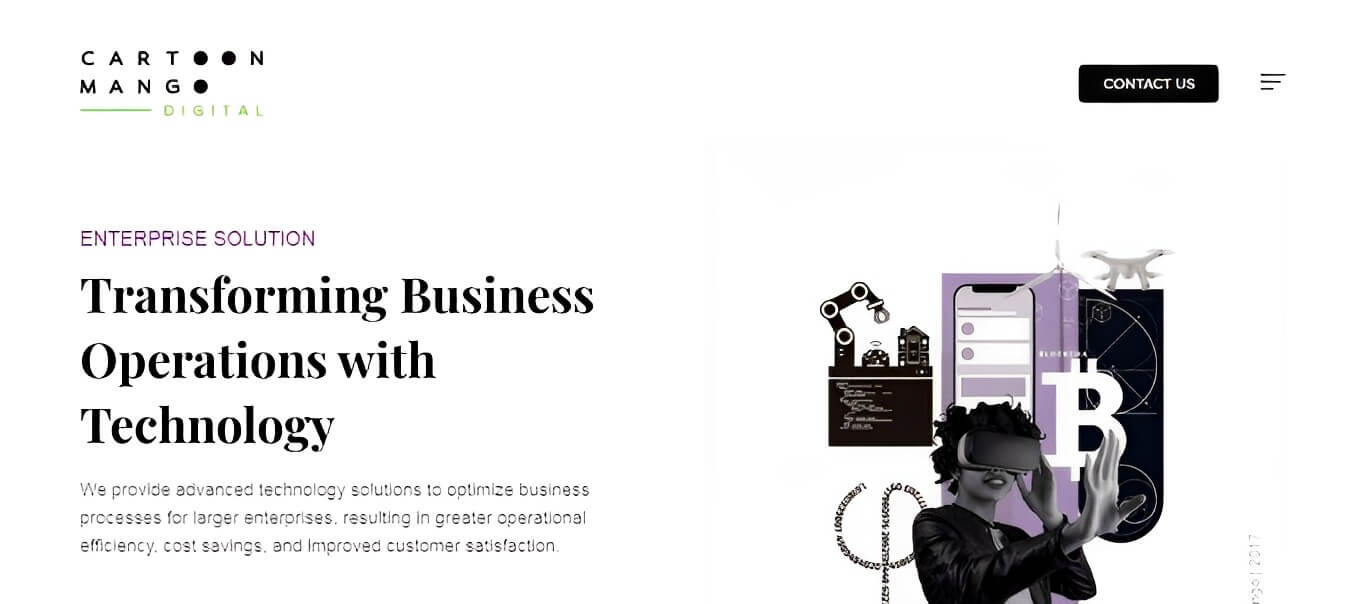 Cartoon Mango is a design firm that works across several sectors. Since the company's launch in 2014, they have provided apps for enterprises as well as consumer goods that are used by millions of consumers. They recognize the need to exceed the expectations of their customers to attain high levels of excellence and are working hard to do so via strategic planning and execution.
Services offered
Custom Software Development
AI Development
UX/UI Design
7. Webkul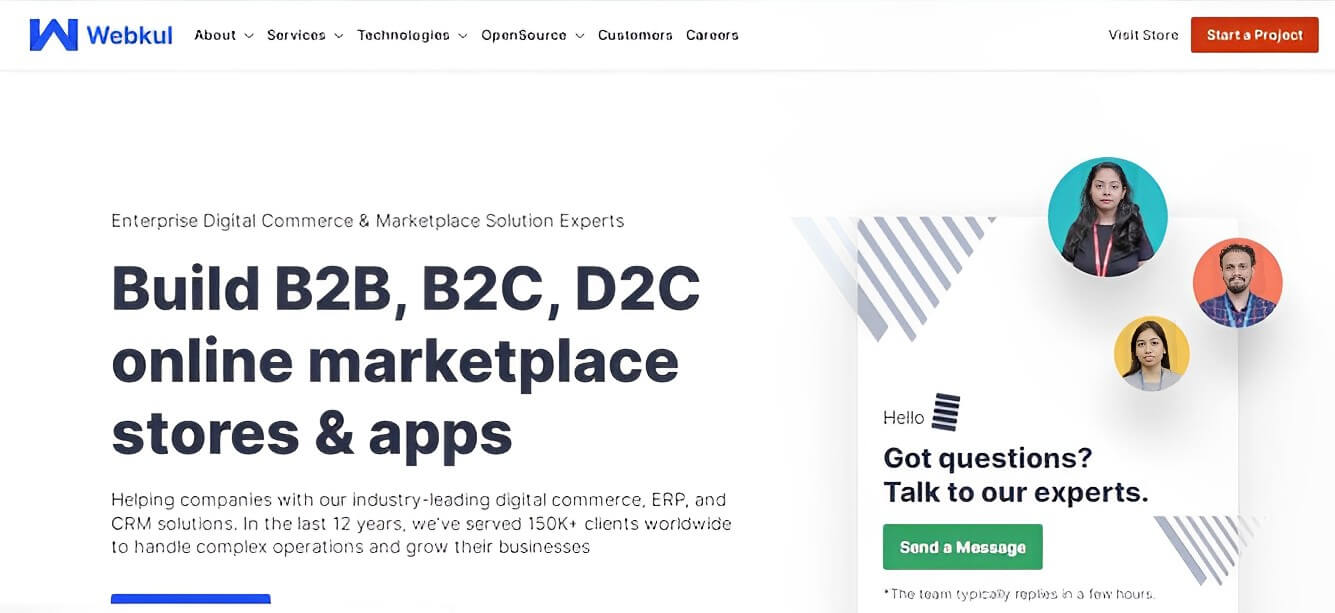 Webkul's digital commerce, ERP, as well as CRM systems, are the most advanced in their respective industries, and they have been assisting businesses for the past several years. Over the last 12 years, they have assisted more than 150,000 customers all around the globe to manage complicated processes and expand their companies. In addition to this, they are one of the very few organizations that are entirely self-funded. The team is constantly open to trying new things and experimenting to better meet the requirements of both the business owner and the customers.
Services offered
ERP software development
Digital marketing & SEO
Native and hybrid mobile app development
Machine Learning, and Mobility.
ERP/CRM development
8. Variance Infotech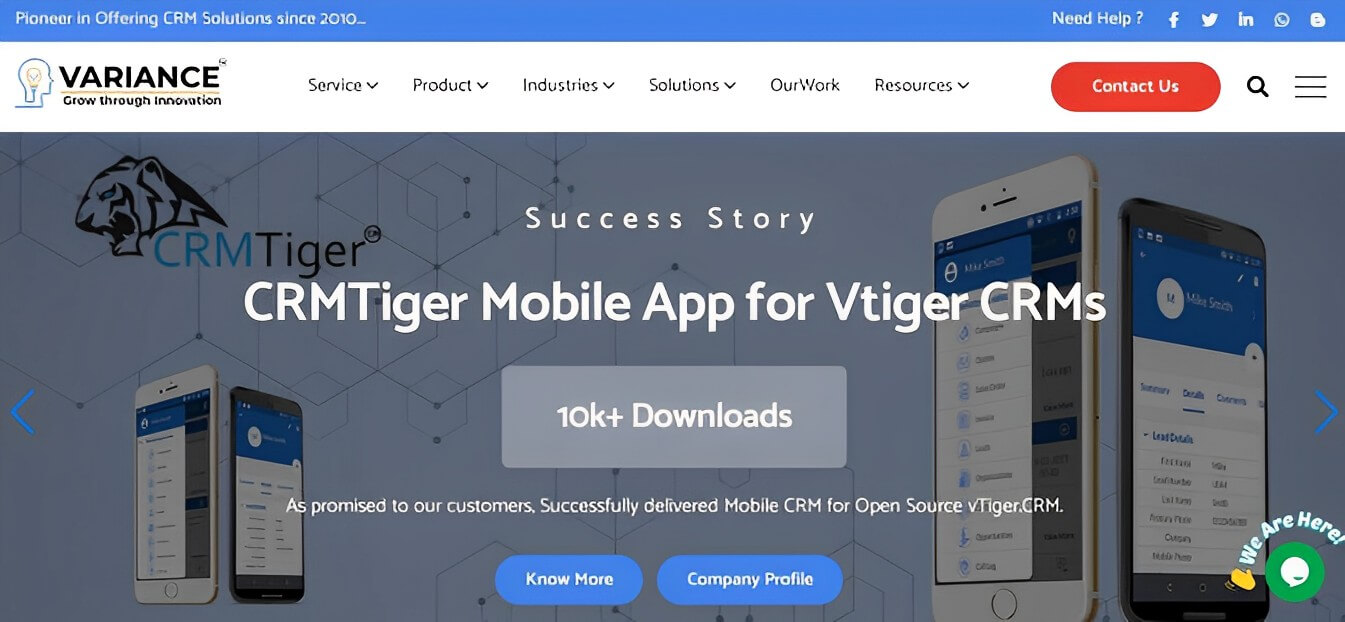 Variation Infotech is one of the most cutting-edge augmented and virtual reality organizations in India. The company assists its customers in accomplishing their long-term goals as well as their short-term goals by using the most recent and powerful technology as well as resources.
The organization begins the process of developing AR and VR applications by doing research and analysis, followed by brainstorming and then implementing optimal methods and practices. The business is affiliated with significant organizations such as ESC and ISO.
Services offered
Social Network
Augmented reality
API development
CMS
NFT market place
eCommerce Marketplace Development
Bottom Line
Finding the proper business to assist you in bringing your idea for augmented reality to life is essential in light of the growing demand for this technology. Embrace the future and witness your concepts come to life with the assistance of a qualified Augmented Reality Developer in India.