Introduction
In the field of virtual reality, we never stop keeping an eye out for breaking news, emerging tendencies, and ground-breaking developments. There is always something amazing occurring in this field, whether it is the most immersive VR games or the most cutting-edge VR technology.
Virtual reality (VR) is the technology of the future, and it is quickly becoming the dominant trend all over the globe. Because it is anticipated that the VR market will reach $209.2 billion by the year 2024, businesses all over the globe are beginning to investigate the possibility of investing in VR technology to advertise their goods and services. However, generating VR apps and platforms demands a thorough grasp of the technology; as a result, the majority of firms prefer to hire virtual reality developers. This is because developing VR applications and platforms requires a strong understanding of the technology.
In this post, we've compiled a list of the top virtual reality developer platforms to hire in 2023 so let's get started!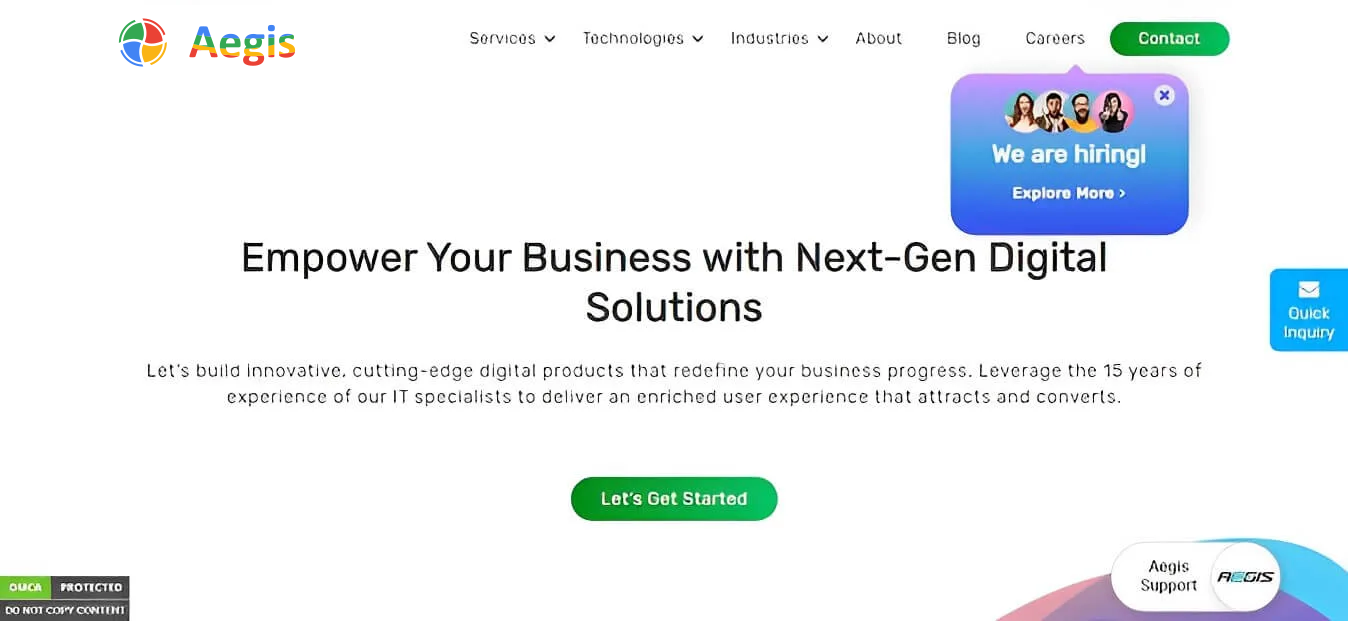 Is your company on the verge of expanding or introducing new technology to enhance digital deliveries? Currently, virtual reality is creating a 3-D environment. It is an enriching experience making users understand services better. Hire VR developers, India which has some of the best programmers. Virtual Reality simulates everything available in the real world. This technology is powered by a series of shocks, motions, sensors, blows and smells and many other sophisticated features.
The environment is created with software applications and wearable hardware tools. Hire a virtual reality developer, to get a professional, on-demand tech person to design the software. There is a huge demand for them to cater to industry-level applications. Aegis Softtech is one of the best sites to hire Virtual Reality (VR) developers, in 2023 to create flagship products. We make a flexible headset platform for iOS and Android with the best VR experience.
Why hire VR developers from Aegis Softtech?
Hiring VR developers from us has the potential to push the limits of technology and creativity. Because of our developer's extensive knowledge of VR platforms and techniques, they can design aesthetically attractive and dynamic virtual worlds that fascinate viewers and keep their attention.
Also, these professionals can enhance both system performance and the user experience. They have a good eye for detail and can fine-tune the virtual reality experience so that it has smooth navigation, realistic visuals, and interactions that are not difficult.
Our VR developers may assist you in being one step ahead of the competition. Businesses that can provide cutting-edge and immersive virtual experiences will have a huge competitive advantage as the demand for virtual reality (VR) experiences continues to increase.
Working together with our VR developers provides additional benefits for your company, like increased adaptability and scalability. These individuals are competent at dealing with a variety of virtual reality systems and can adapt to the needs of a variety of projects. They can familiarize their talents to fit the individual requirements of their clients, whether those requirements call for a simple application for virtual reality or a complicated experience that spans many platforms.
At Aegis Softtech, we are driven by our enthusiasm for innovation and our commitment to assisting our customers in achieving success in the rapidly changing digital market. Get in touch with us right now to find out more! On how we can assist you in the recruitment of AR/VR developers and help you take your company to the next level.
Our AR VR development services consist of
1. AR/VR development
Using video transmission, image recognition, and 3D rendering, the augmented and virtual reality (AR/VR) applications developed by our AR/VR development services give users an engaging experience that extends to real-world settings.
2. Designing the AR/VR Experience
We create an immersive experience by integrating the concepts of user experience design (UX), sound design, and animated visuals with rich content to guarantee a dynamic appearance and attract users.
3. Hardware-level Development
Our AR/VR app development solutions are supported by a variety of server-side solutions, accelerometers, cameras, and GPS, allowing our solutions to be integrated into a variety of different hardware configurations.
4. Multiple Device Compatibility
We provide AR/VR development solutions that are interoperable with a variety of devices, including smart TVs, VR viewers, AR glasses, tablets, smartphones, and more.
5. Face Recognition
We create augmented and virtual reality apps with facial recognition capabilities, which allow them to automatically recognize individuals and detect their faces so that devices and applications may be locked and unlocked using their faces.
6. Custom UX design
At our firm, we are aware of the significance of a user interface that is both well-designed and easy to use, since this improves the whole experience for the people who are using your product. Because of this, we provide individualized user experience design services that are catered to your exact requirements and objectives.
Our Notable Characteristics
Comprehensive Expertise: We have expertise in the Expansion of Virtual Reality Applications Aegis developers have an in-depth understanding of a diversity of virtual reality platforms, such as Oculus and Incredible Engine, which enables them to build immersive experiences that can be accessed across a variety of headsets and devices.
A Vast Selection of Programming Languages: Our developers at Aegis are well-versed in a variability of programming languages, including JavaScript, which allows for uninterrupted operation and interaction with the company's VR products.
User-Centric Approach: When it comes to VR development projects, Aegis places a high priority on user experience (UX) design, to develop experiences that are both easy to use and interesting for end users.
Aegis Pricing Plans
We provide price options that are both flexible and customizable to meet the requirements of your VR development project. Their pricing structures are both open and competitive, which ensures that you get value for the money you spend.
Hire Virtual Reality Developers If you want to grow your company to another level,
Global customers get the finest Virtual Reality service through Aegis Softtech. Our revolutionary VR solutions provide the greatest business solutions for your requirements.
1. VR Health Apps
VR health apps top the market. Aegis Solutions offers specialized Virtual developers to offer tailored solutions for your organization.
2. VR Fashion Application
Hire our ML developers to make innovative fashion apps. We assist every size of organization to develop quickly with unique professional solutions.
3. VR Event Management Apps
Our developers are skilled in building event management software and may employ Virtual Reality developers at affordable prices. Our knowledgeable developers design powerful VR applications for many businesses.
4. VR Hospitality Apps
Our company is a resource for businesses in the hospitality industry that need the creation of virtual reality applications and are looking to recruit virtual reality application developers. The services provided by our team of VR app developers are unmatched.
FAQ
1. What exactly is Virtual Reality (VR)?
VR immerses users in a virtual world through a headset or helmet. A person may often interact with virtual items, which enriches the experience.
2. Virtual Reality examples?
VR is utilized in practically every business. Pilots and physicians train VR headgear, consumers enjoy immersive games like BeatSaber, and fashion and car corporations create virtual showrooms. VR is here to stay, like it or not.
3. Know the dissimilarity between VR and AR?
VR is full immersion in a simulated world through a headset. Augmented reality (AR) is applied with the help of AR glasses. AR is where you can view actual world aspects. VR is when everything is digital.
What are Metaverse's advantages?
The Metaverse does enable distant employment, education, business, and entertainment, as well as social interaction in today's world.
2. Unreal Engine (UE)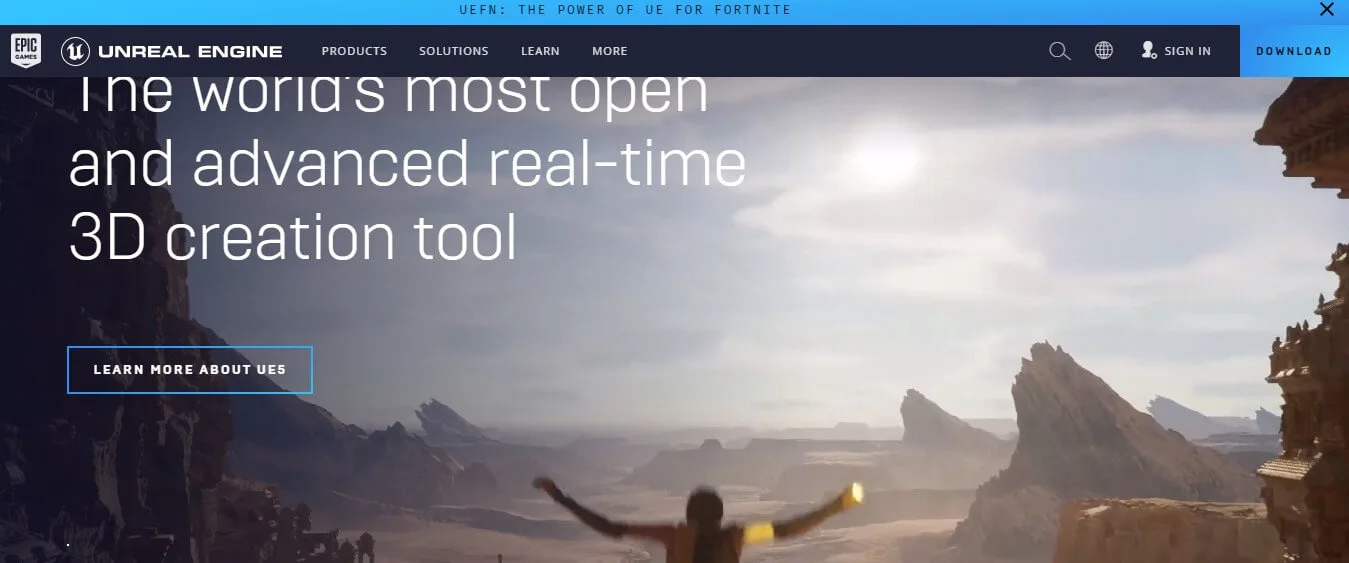 A unique well-liked option for the creation of virtual reality software is the Unreal Engine, which was created by Epic Games. Unreal Engine is well-known for its impressive visual capabilities and sophisticated physics engine. It also provides a high degree of customization and flexibility for virtual reality (VR) applications. It is the most sophisticated real-time 3D design tool in the world, and it is used to create photorealistic images and immersive understandings.
Services provided
Production in virtual reality
Animation
Movies and shows on television
3. Cubicle Ninjas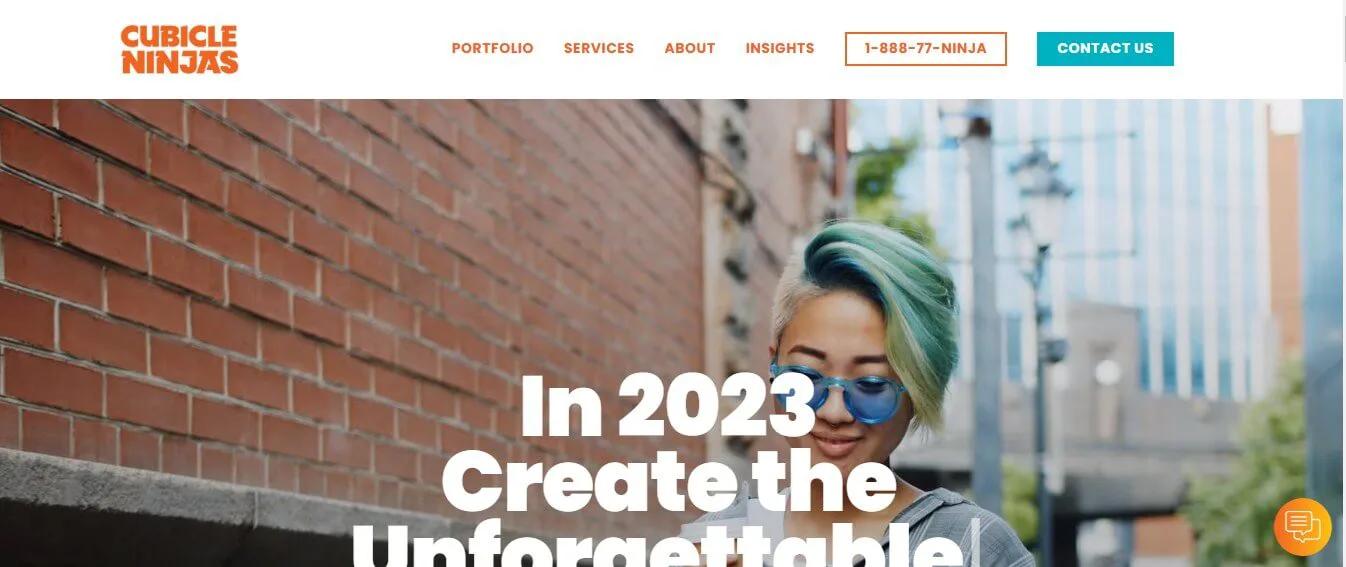 Although the title "Cubicle Ninjas" may seem like something out of a children's book, it has taken the business world by storm. A multiple-award-winning business pioneer in the creation of virtual reality its virtual reality development services are available to businesses of any kind and consumers of any bar, and we build apps on all of the major virtual reality platforms. They handle the complexity of workplace politics with the dexterity of ninjas, turning obstacles into chances for personal development and development.
Services provided
Prototyping
Application Launch
Quantified Biometrics
Tradeshow Practices
UI/UX Design
Wireframing
4. Steam VR
Valve Corporation is responsible for the creation of the platform known as SteamVR. It enables developers to create virtual reality (VR) content for a variety of devices, including the HTC Vive and the Valve Index, amongst others. SteamVR is a flourishing ecosystem that gives virtual reality (VR) programmers the opportunity to showcase their work by offering users a vast selection of games and applications from which to pick. It is compatible with a wide range of virtual reality headsets, such as the Valve Index, HTC Vive, Oculus Rift, and Windows Mixed Reality, amongst others. Its tools may be used with any of them.
Services provided
Photogrammetry
Micro Interactions
Gear VR Development
Analytics Integration
UX designing
5. VR Vision
Businesses that are interested in using virtual reality technology for a variety of applications might benefit from utilizing VR Vision's end-to-end solutions, as the company is a reputable dealer of a full suite of VR development services. Businesses have access to a comprehensive portfolio of virtual reality (VR) development services under a single roof when they form partnerships with VR Vision. Their team of expert VR developers assures a fluid and efficient process, which results in high-quality VR experiences that are designed to suit particular business objectives. This enables them to make high-quality VR experiences that are personalized to meet specific business demands.
Services provided
Virtual reality
Augmented Reality
360-degree video production
6. Lucid Reality Lab
Lucid Reality Labs offers immersive virtual reality (VR) solutions for a variety of industries, which enables companies to create exciting and engaging experiences for the audiences they are trying to reach. Its immersive technologies can make a positive contribution to the overall quality of life for individuals all around the world. Their virtual reality professionals use cutting-edge technology and fresh approaches to design to create virtual reality experiences that are aesthetically attractive and fascinating.
Services Offered
VR Solutions
AR Solution
AI and Robotic solution
7. PixelCrayons

PixelCrayons is an IT firm that has won several awards and it offers endwise solutions to companies, ISVs, or freelance software suppliers, as well as digital marketing firms, and startup firms. Since 2004, the provision of a full range of services, and is widely recognized as being among the most successful virtual and augmented reality development companies.
This solution provides businesses who have an interest in outsourcing software development services with the ability to receive everything they want in a single, handy place. Because they are a trustworthy company that specializes in outsourcing software development, they can assist clients hailing from a wide range of industries with all elements of the requirements associated with their software development projects.
Services offered
Advanced 3D Modeling
Quantified Biometrics
Mixed Reality App Development
AR solutions
8. Visartech
Visartech is a prominent enterprise that offers a diverse array of digital experiences to its clientele. These experiences include innovative concepts as well as customized 3D solutions. By using state-of-the-art technology, Visartech aids its clients in maintaining a competitive edge within their respective sectors. This particular company is also recognized as a prominent entity within the virtual and augmented reality expansion sectors.
In 2023, the CPCC honored the firm by bestowing upon as the "Best Golf Editors" title, and Popular Start-up accolades. This firm strives for excellence by using a combination of expertise and artistic expression, which helps its partners achieve their goals and constructively drives commercial income.
Services offered
Gear VR Development
Blockchain
Gaming
Menu Designing
9. Quytech
The company is widely regarded as one of the world's leading providers of mobile app development services. They provide bespoke services for platforms like Android, iOS, artificial intelligence, blockchain, gaming, and augmented reality with VR. The firm assists businesses in redefining their reach across a variety of industry verticals to meet the ever-rising request for virtual reality (VR) applications.
Services offered
IT staff augmentation
Blockchain development
Game expansion services
Metaverse development
10. TECHUGO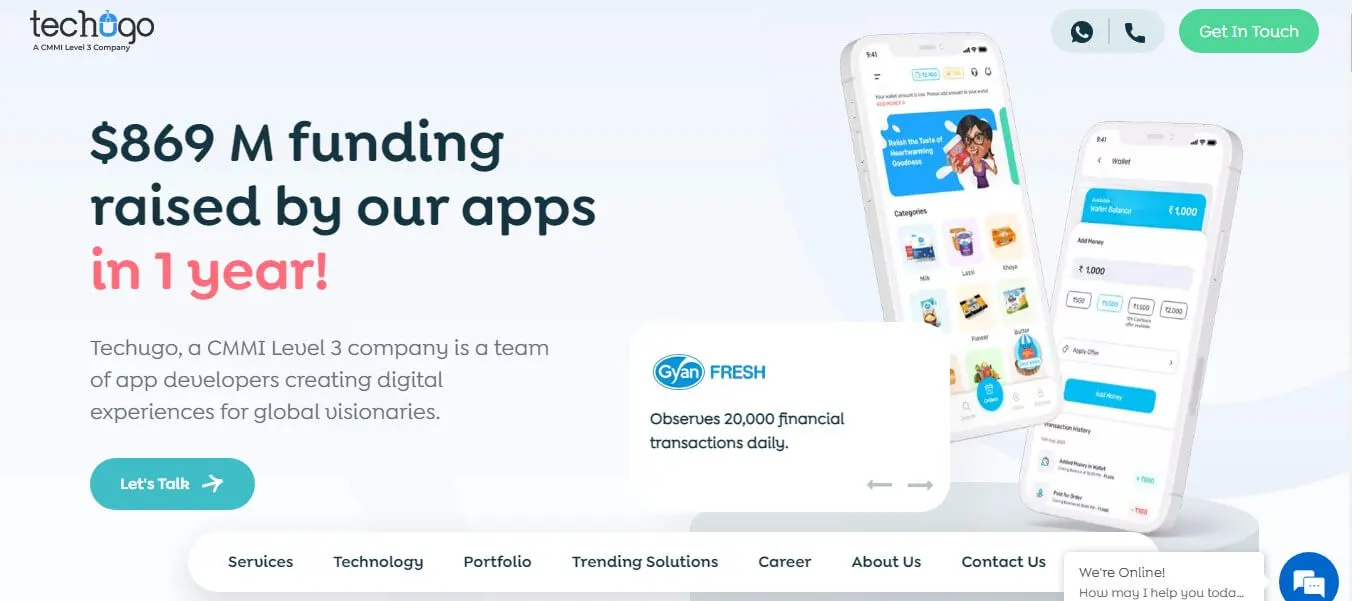 TECHUGO has handled more than 250 projects worldwide. Techugo is an industry-leading virtual reality development company that specializes in creating scalable robotics and cutting-edge software for start-ups, entrepreneurs, and established businesses. The firm converts visitors into consumers and clicks into patrons of its services.
They worked together to come up with ideas for workplace applications that are now considered to be among the very best of their kind. Our commitment to the customers is founded on their fundamental work ethics at every phase of the procedure, from the inception of the project to the provision of technical assistance and the sourcing of money.
Services offered
AR solutions
Google Cardboard Expansion
App Launches
Oculus Quest Development
Website development
11. Devstree IT solutions
Devstree IT Solutions is a highly recognized and forward-thinking software development firm which have been offering companies situated everywhere in the world solutions that are at the leading edge of their respective industries. They provide a broad variety of services, such as e-commerce solutions, digital marketing, web development, mobile app development, and bespoke software development. Its staff of qualified and experienced individuals allows it to offer this extensive range of services. The organization starts the procedure of emerging AR and VR applications by doing research and analysis, followed by brainstorming and then implementing optimal methods and practices.
Services offered
Branding
Interactive user experience
UX designer
Application Development Company
12. Notion Theory
Notion Theory is a boutique design and development firm that specializes in amplified reality solutions. It offers several industries with individualized and forward-thinking experiences by using this technology. Notion Theory regularly produces outcomes that cannot be matched in the industry, whether it be in the design of training simulators, the creation of immersive marketing campaigns, or the development of different solutions for areas such as manufacturing, retail, healthcare and education.
Services provided
XR creators
Ecommerce development
Customized User Interactions
Project Scoping
Computer vision
13. Sparx it solutions
With the help of knowledgeable Virtual Reality developers, Sparx IT Solution can provide the most effective programming solutions for your websites, online portals, and mobile applications. It has worked in this field for more than 4 years. It offers the very best Virtual Reality services possible to its customers all around the world. We build the finest possible solution for every business problem using cutting-edge VR technology to meet your specific objectives.
Services offered
VR Architectural Applications
VR Event Management Applications
VR Hospitality Applications
Input Controls
Journey Mapping
Bottom Line
It is essential to select a developer platform that could cater to your unique requirements and provide you with high-quality virtual reality (VR) experiences as its popularity continues to rise.
Before settling on a choice, you should be assured to do a comprehensive analysis of each platform and carefully analyze your needs.