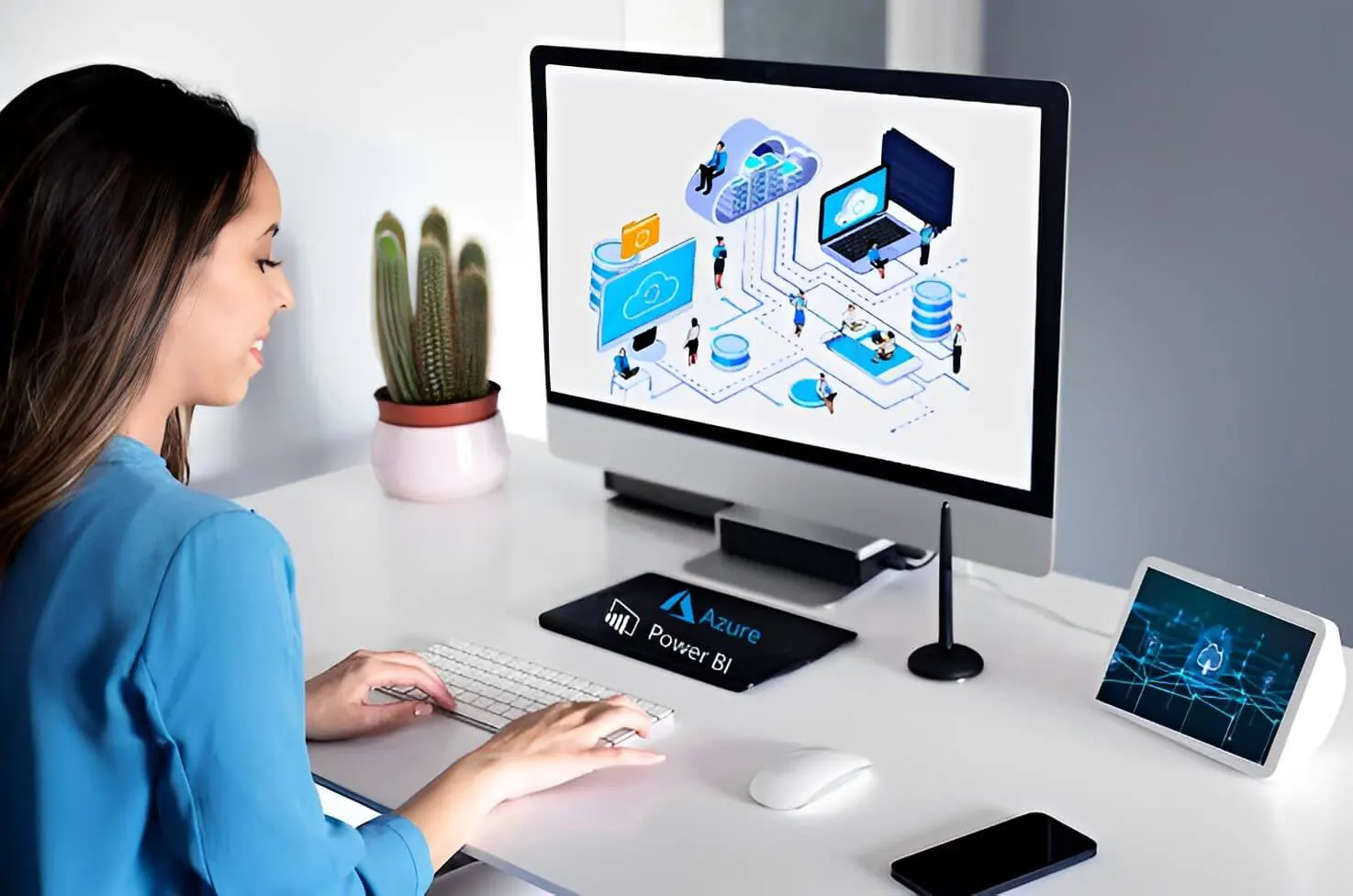 Itroduction
Data has advanced into the crucial driving force behind all features of the business, from the formulation of game plans to the creation of decisions. The issue that faces companies as they continue to assemble an ever-increasing number of data is directing how to turn that data into insights that can be put to use. Azure and Power BI Development come into play at this point. The combination of these technologies gives organizations the capacity to gather, store, and analyze data, which in turn enables them to make more informed choices and progress toward their objectives.
This article set out to illustrate the benefits and possibilities of Azure with Power BI in unlocking the real future of your data, and it does so regardless of the size of your organization, whether it is a tiny startup or a global enterprise. Let's get right in and find out how the use of these tools may transform the way you create decisions for your company.
What exactly is Azure?
Microsoft Azure is a cloud computing platform that enables enterprises to design, deploy, and manage applications and services in the cloud. Azure was built by Microsoft. With Microsoft Azure, agencies can adjust the size of their infrastructure according to their requirements, which enables them to reduce expenses while still satisfying customer requirements. Azure offers organizations a variety of services, like data storage, virtual machines, and software development tools, all of which may be tailored to the particular requirements of the company using Azure's flexible and scalable cloud infrastructure.
Power BI and Azure together provide an unrivaled combination for analytics, making it possible for businesses to extract the most value from the data they collect. Companies can utilize Azure to execute real-time analytics on data that is being fed into Power BI. Additionally, Azure can be used to harness artificial intelligence to optimize business operations. Customers can explore and analyze billions of rows of data to extract insights with rapid reaction time by utilizing Power BI with Azure SQL Data Warehouse, a fully managed cloud data warehouse that leads the industry in performance. Another essential component of efficient data management is the formulation and execution of rules and processes for data governance.
Integrating data and doing business
According to the study titled "Global Data Integration Market – Size, Outlook, Trends and Forecasts (2019 – 2025)" published by Envision Intelligence, a company that specializes in market research, the global industry of data integration was worth $6.56 billion in 2017. This number is expected to increase to $18.45 billion by the year 2025.
The tools and technologies that are used for data integration are meant to transform raw data into insights. Reports and dashboards for businesses not only inform decision-makers about what is occurring in their companies but also provide some insight as to why it is happening.
Data is a significant corporate resource; however, its utility is restricted unless the data are up to date, correct, and made accessible to all individuals in the company who might benefit from evaluating it. Its important trends, one of which is the rapidly accelerating development of artificial intelligence (AI) and machine learning. These game-changing technologies are causing a revolution in many different fields, including medicine, finance, manufacturing, and transportation, among others. The study conducted by Envision Intelligence dives into the possible uses of artificial intelligence (AI) and machine learning, demonstrating how organizations may harness these breakthroughs to gain an advantage over their competitors.
How Azure and Microsoft's Power BI Can Be Used Together?
Azure and Power BI, when combined, provide organizations with a robust set of tools for the management and analysis of their data. The underlying infrastructure and services that Power BI depends on are provided by Azure, while Power BI itself is responsible for providing the data analytics and visualization capabilities that companies need to make sense of their data.
The following is a list of many methods in which Azure with Power BI may operate organized :
1. Data Storage
Azure provides a variety of data storing choices to companies, such as in addition to Azure SQL MySQL and the new Azure Cosmos DB, Azure Data Lake Infrastructure is now available, amongst others. Businesses can build imaginings and intelligence depending on data that is stowed on the cloud since Power BI can join to say information sources.
2. Transformation of the Data
Power BI is equipped with a wide variety of tools aimed at converting data, such as clean of data, determining, and modeling applications. Businesses can bring data through a variety of bases to Azure with the help of Azure Data Place of Work. Once the data is in Azure, it could be converted and prepared using Power BI.
3. Analytics performed in real time
Industries can evaluate data in real time through a variety of bases, such as feeds from social media and strategies connected to the Internet of Things. After that, Power BI could be applied to display this data, which subsequently enables organizations to make choices depending on the information that is as current as possible.
4. Analytics Predictive of the Future
Businesses are given the ability to design and deploy their machine learning models in the cloud using Azure Machine Learning. After that, these models may be connected with Power BI, which then makes it possible for organizations to build predictive visualizations and reports.
The Advantages of Utilizing Both Azure and Power BI
Azure and Power BI, when combined, provide several advantages to commercial enterprises, including the following:
Scalability: Microsoft Azure gives organizations the flexibility which requires to effectively handle their data by empowering it to increase or decrease the size of their infrastructure on an as-needed basis.
Utilizing cloud computing allows organizations to cut the amount of money spent on their IT infrastructure while also satisfying their requirements for the storage of data.
Personalization: Both Azure and Power BI may be tailored to the unique requirements of the company, giving them the capabilities, they require to attain their objective and become successful.
Real Analytics: It can analyze and display statistics in actual time, thanks to Microsoft Azure with Power BI. This gives them the information they need to make decisions quickly.
Using Azure Machine Learning, organizations can construct predictive replicas, which enables them to estimate future tendencies and make the best choices. This kind of analytics is known as predictive analytics.
Conclusion
Microsoft Azure and Microsoft Power BI Development give a commanding solution that gives companies the capacity to gather, stockpile, and check data in different and insightful methods. This mixture of technologies may assist organizations in knowing the behavior of their customers, which in turn enables the firm to make better choices and maintain a modest benefit.
Companies can make use of analytics provided by this combo, which allows them to keep watch data when they are in the systems. This gives the companies the capacity to react rapidly to changes in their operations and marketing changes of consumers. In addition, predictive analytics may assist firms in classifying prospective hazards or chances, which can offer them having to effect a competitive edge in the marketplaces in which they operate.
In general, Azure as well as Power BI development provide enterprises which are wanting to accomplish and retain their data with a solution that is both money-making and ascendable. Industries can keep their expenses below controller though also obtaining perceptions in its workings and their consumers when they can gauge upper or lower depending on their requirements. They will continue to be an important tool for the success of organizations as they continue to place an increased emphasis on data.