Choosing Pyramid Development Services For Business Needs
Among the many open-source Python platforms accessible, Pyramid is renowned for its versatility, ease, lightweight, and quick performance. Commence modestly, and end large is its uncomplicated core value.

TRUSTED BY
GLOBAL CLIENTS


















Being a micro-framework, Pyramid offers some essential starting blocks and gives you the option to select your chosen database, URL structure, scripting style, and other features. It is also one of only two Python frameworks operating on Python 3 that are currently accessible, demonstrating its ability to keep up with technological advancements in contrast to most other frameworks.
Many dynamic, high-quality Pyramid-based PC, online, and mobile apps have been successfully provided by Aegis Softtech. Hire Pyramid developers from Aegis to assist you in implementing your huge project plan. To find out more about how our professional Pyramid services can help you, get in touch with us.
Unmatched Pyramid Web Development Services
Your information technology project can benefit from Pyramid web development services. Aegis Softtech, a multi-functional company offers Pyramid development services that provide custom-tailored solutions. As a market leader, we can provide the following services:

Web Design & Development
Our specialists in web app development have comprehensive knowledge and experience in a variety of fields due to their substantial experience. Our company offers time-bound and value-added solutions for computationally complicated business problems that call for the knowledge of trained professionals in the relevant subject matter.

Pyramid Desktop Application
We assist you in successfully managing both your time and your responsibilities. This application assists you in dividing up your jobs into smaller, more reasonable segments. We provide an interactive desktop application that is responsive, quick, and dependable so you can get improved outcomes.

Pyramid for Data Science
Allow us to explore the real strength of Pyramid, which is that it is equipped with all of the necessary components for cleansing, transforming, processing, and analyzing large amounts of data, and it also produces the required procedure for putting the results into production.

Pyramid Mobile App
It is essential that a mobile application be simple to use and well-designed for it to be effective. Hire Pyramid developers to successfully present a mobile application that featured a fantastic User Interface (UI), high levels of security, and excellent performance.

Enterprise Pyramid Development
The organizational information Management System acts as the basis for the Pyramid Structure. We have our collection of python-based customizable applications, which helps to cut down on the amount of time it takes for a project to get to market.

E-commerce Solutions
At Aegis Softech, we recognize that the word "e-commerce" is quickly becoming the most current tag for businesses all over the globe. To meet the diverse requirements of e-businesses, we offer effective e-commerce solutions.
We Deliver Pyramid Development Across
USA

Canada

UK

Germany

France

Singapore

Italy

Israel

Australia

Japan

Netherlands

Sweden

Switzerland

Norway

Pyramid Development Services That Will Help Your Business Grow
Aegis Softtech can expedite the deliverance of software that is safe, private, compliant, and of a high standard. Our continuous Quality platform integrates effortlessly with modernization toolchains across the continuous integration workflow. This improves Pyramid web development services as well as the business outcomes.
A company is only as dynamic as its ability to adapt to changing conditions. To achieve brilliance, you should be prepared to experiment, test out new combinations of skills or solutions, and take the path that is less trafficked.
We are a full-stack product engineering company to develop digital products that are of the highest possible quality. Trust, collaboration, and going the additional mile to guarantee perfection are three things that are extremely important to all of us here at Aegis Softtech.
We use the agile methodology in our work, and we hold frequent agile events to improve our procedures and practices so that we can produce the highest quality output.
We provide our clients with the flexibility to choose from a variety of interaction and recruiting methods rather than operating on unwelcome fixed and stringent guidelines. This helps us better meet their needs.
Aegis Softtech is the leader in Pyramid web development services and creates simple internal user interfaces for a wide range of apps. The Pyramid structure lets developers safely integrate big data.
Our end-to-end business intelligence services, which involve evaluation and configuration, have helped a lot of clients speed up their path toward data intelligence.
Hire Pyramid Developers For Maximum Benefits
The Pyramid platform is an extremely efficient tool for simplifying statistics for a wide variety of applications. Aegis Softtech encourages businesses to hire Pyramid developers for data-driven AI-oriented business intelligence. This helps businesses build confidence in Pyramid Data analysis. The developers of our Pyramid development services team assist businesses that are quicker and more intelligent to successfully handle difficult challenges.
Our service has always been an essential factor in the improvement of our customers' business competencies as well as the expansion of their businesses. Pyramid Insights is a platform that is both adaptable and extensible. Users are given the ability to combine data from a variety of sources, and analyze data directly within the application.
Pyramid helps to execute the results in a matter of minutes as compared to manually performing these tasks, which could take several hours. To provide you with one-of-a-kind development services, our Python developers are hard at work on the best practices, most cutting-edge technologies, and most comprehensible methodologies in the industry.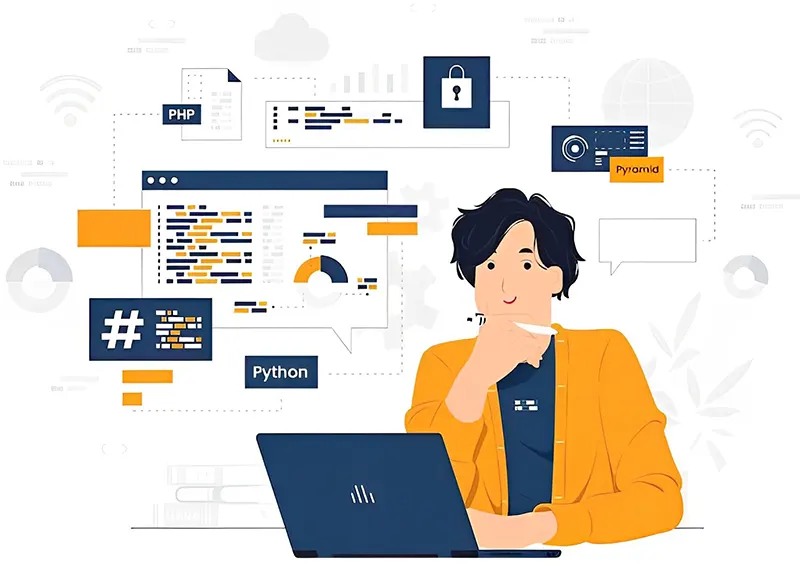 Why Should You Go With Aegis Softtech?
Aegis Softtech has a staff of top-notch Pyramid specialists who have significant experience developing complicated Python-driven applications. Because we have a successful track record of developing Pyramid Python software and online applications for big corporations, we can assist your company in achieving its goals.

The apps that we design are following the most recent best practices in the industry. When it comes to developing applications for desktop computers, mobile devices, and the web, we always follow the most up-to-date best practices in the business. Your Pyramid development collaborator, Aegis Softtech, can offer you unique application solutions written in Python, Django, Web2py, and Flask.
Pyramid allows you to deliver the experience to more people quickly with its browser-based experience, regardless of whether you are self-hosted in the cloud, on-premises, or both it overall provides you this power and opportunity. Get in contact with us to launch a software and online development project utilizing our experience in the Pyramid framework.
Frequently Asked Questions About Pyramid
A Pyramid is an effective tool for extracting maximum value from your existing data sources. Pyramid lets our company quickly obtain crucial data, provides users with self-service research and sharing, and is simple to use.
Pyramid and Django are both frameworks that are designed for bigger applications; however, they approach customization and adaptability in very different ways. Pyramid is designed to be flexible and gives developers the ability to select the appropriate tools for each project.
According to the feedback from all of the evaluators who have used this platform, the Pyramid can rapidly make data insights accessible to businesses.

In today's technologically advanced world, computers and mobile devices like smartphones and tablets have taken over many facets of our life, and the medical field is no different.
Python offers a plethora of libraries and frameworks, making it the go-to technology for creating AI and ML solutions. Even though there are many alternative tech stacks accessible, Python has taken the lead.
When it comes to software development, the concept of user experience (UX) refers to what happens on one side of the product.