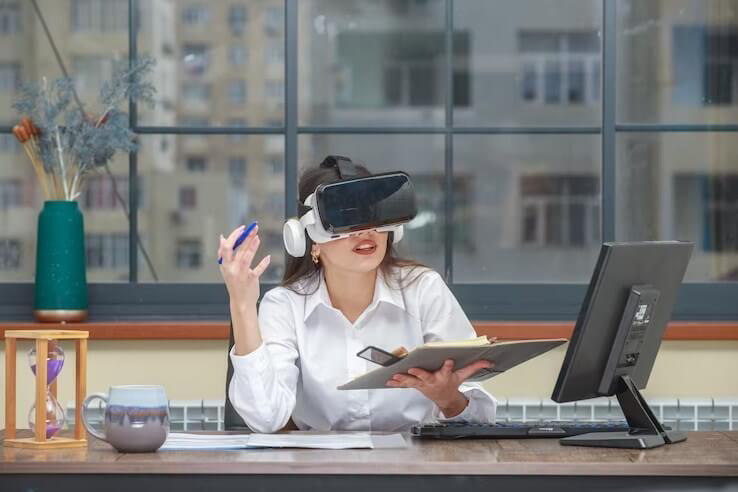 Introduction
The use and expansion of augmented reality (AR) and virtual reality (VR) have become more prevalent in contemporary society, indicating that these technologies are no longer restricted to the realm of futuristic projection. Industries like as education, health care, retail, and sports have emerged as early consumers, while other sectors are now exploring the implementation of their initiatives. In this post, we'll take a look at the top companies that are shaping the future of AR solutions and are expected to make a significant impact in 2023. Below, you can find a list of prominent virtual reality firms and augmented reality solutions companies.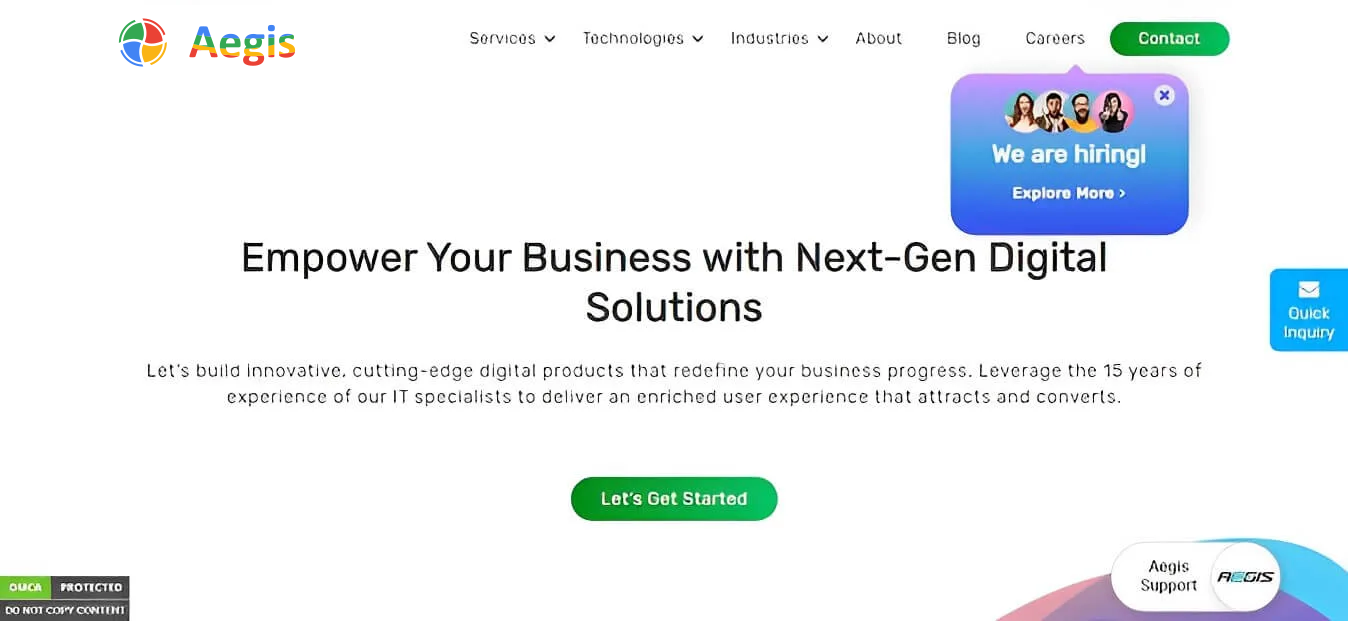 Aegis Softtech has emerged as a prominent business within the augmented reality (AR) sector, playing an important part in influencing the development of AR solutions and establishing itself as a noteworthy participant in defining future developments in this field. For several years this Augmented Reality Company has significantly transformed how individuals engage with the world of technology via its inventive methodology and state-of-the-art technologies. As the year moves to 2023-24, there is an expectation for sustained development in creativity and the expansion of the capabilities of augmented reality (AR).
Why Aegis Softtech?
Aegis has been able to effectively build and deploy a new augmented reality application, which makes consumer interaction with brands more appealing and dynamic. Aegis was established from the ground up to specialize in the research and Power BI development of new products as well as take on the most challenging issues in the AR industry. Our ability to provide all of these things under a single roof and on a worldwide scale is one of our greatest strengths.
Aegis Notable Features
1. AR Product Visualization: Aegis an AR Solutions Company enables businesses to view their products in real-world surroundings, which increases the probability of a transaction being made.
2. SDK Support: Their augmented reality applications provide high-quality virtual reality experiences by supporting advanced software development kits (SDKs) such as Apple's ARKit and Google's ARCore.
3. Real-time Visualization: The applications developed by Aegis provide real-time product imagining, which assists users in making more informed decisions.
4. Convention AR Apps: We generate unique AR applications that are built to fit the particular requirements of individual users as well as the requirements of certain industries.
Industries we serve
1. Automotive
To maintain their position in the market, businesses need to operate in a manner that is not just safe and reliable but also effective. Because of this, we have a team that is highly qualified and experienced. The majority of employees are experienced learners, with experiential learning accounting for the acquisition of 70% of their skills and knowledge. Our VR Solutions do away with the need for physical mock-ups by enabling engineers to conduct real-time collaborative design reviews on the same life-sized photorealistic virtual 3D model, notwithstanding their geographical location.
2. Power and Mining
Our Operator Training Simulations, often known as VR-OTS, practically reproduce the complete digital twin of the harsh nuclear plant environments and complex machinery systems. Before beginning construction on the final plant, our Augmented Solutions make it possible for engineers to participate in real-time, integrated design evaluations on a life-size, spatially correct immersive experience. This gives them a better knowledge of the finished plant.
3. Sports
Aegis Softtech is a provider of software solutions that enhance the efficiency of athlete recovery initiatives, assist sports casting firms in expanding their content reach, raise the number of people who attend events, and provide sporting organizations with the means to confirm athlete identification and performance data.
4. Industrial manufacturing
We provide a greater understanding of the production process, which supports factory floor digitization and back-office operations, by enabling engineers and manufacturers to see complicated machinery and equipment in a virtual world.
5. Retail
We make it possible for your consumers to utilize augmented reality (AR) while shopping online and to make more educated choices thanks to the ability to digitally place 3D representations of items anywhere in the real world. Additionally, we can revolutionize the in-store experience by introducing virtual fitting rooms or augmented reality (AR)--assisted navigation across shopping malls and hypermarkets.
6. Entertainment
Using augmented reality (AR) applications, you may create a more immersive and enjoyable experience while playing online games, going to the theatre, using social media, or watching live sports or entertainment events.
Our unique services include
1. Detection of the scene
Our augmented reality applications use the camera lens to scan the real-world environment, interpret the obtained data as an image on a coordinate plane, and then transform that picture into a depth map to ensure accurate placement of 3D models.
2. Image recognition
We use complex algorithms to perform analysis and interpretation of visual input. These algorithms provide computers with the ability to comprehend and make sense of the world around them.
3. Motion tracking
We use a cutting-edge method that makes use of several cameras, sensors, and computer programs to accurately track and monitor the subject's mobility.
4. Light estimation
With the assistance of advanced algorithms for assessing light, our augmented reality (AR) applications can instinctively alter the lighting of the 3D model so that it seamlessly matches the lighting of the scene captured by the camera lens.
Aegis pricing plans
The Aegis price plans have been carefully crafted to meet a wide range of requirements and sizes involved in the process of developing augmented reality applications. To come up with a price structure, they spend a lot of time doing in-depth research on market tendencies, client preferences, and industry standards.
We develop unique hardware enabling extended reality, use immersive technologies (AR, VR, MR) to show the material compellingly and provide VR and AR development services to companies wanting to optimize distributed systems' efficiency. Get in touch for more details!
FAQ
1. Where do you see augmented reality (AR) going in the future?
The future of augmented reality (AR) is filled with enormous promise and is set to disrupt many different businesses as well as parts of our day-to-day lives.
2. Which sectors may benefit most from augmented reality technology?
Some sectors are benefiting from AR, including gaming, medicine, Oil and gas, Mining, Chemicals, Electronics, Education, Automotive, and others.
3. What does Augmented Reality mean?
It is a unique technology that combines the actual world with the virtual one to create an immersive and engaging experience.
4. Is it possible for AR and VR to collaborate?
No question augmented reality (AR) and virtual reality (VR) may work together successfully to provide immersive and engaging experiences, even though both technologies possess their unique qualities.
5. Is AR costly to invest in?
When it comes to the cost of installing augmented reality, the amount may change based on the scale of the project and the level of intricacy involved.
2. Treeview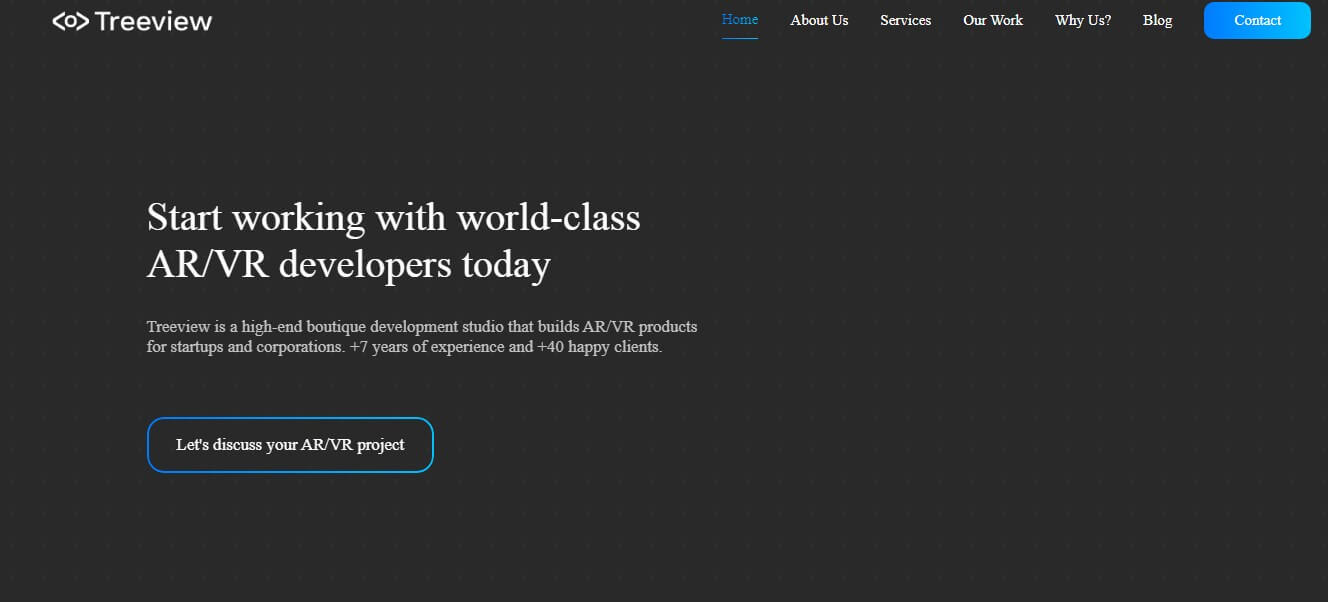 Treeview is an augmented reality and virtual reality (AR/VR) product development firm that caters to high-end companies. +7 years of industry expertise, with +40 satisfied customers. They are a top 10 AR/VR development studio globally on Clutch and they are located in Latin America. Their creative artists will bring your concepts to life with 3D designs that will create engaging AR/VR experiences. They also provide services in user experience and user interface design to help you construct one-of-a-kind experiences that will astound both your users and your customers.
Service provided
UI/UX DevelopmentAR/VR software
AR/VR products
3. Augment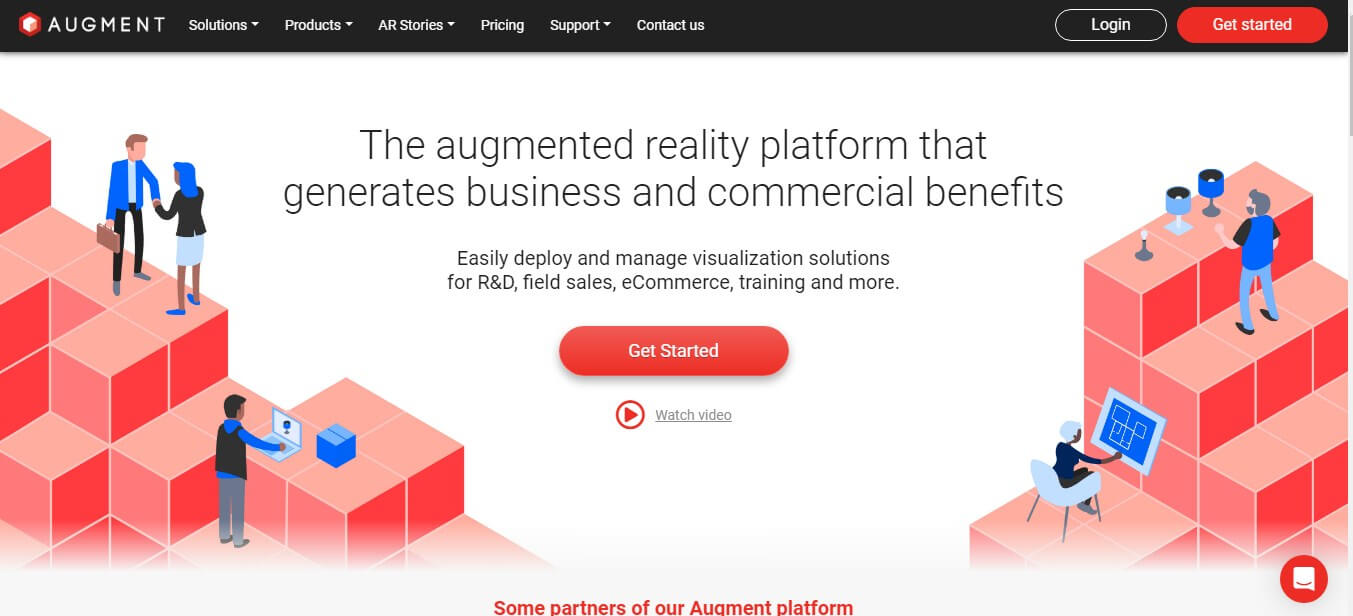 Augment, an e-commerce service that was established in 2011, enables users to see any kind of product or 3D item in augmented reality via the use of their smartphones or tablets, regardless of whether they are at home or in a professional setting. The organization is dedicated to assisting you in future-proofing your company in every way it can. They provide services such as digital twins, training simulators, remote help solutions, intelligent visualization solutions, and many more.
Services provided
Industrial consulting
3d vault
AR viewer
AR-ready 3D product development
4. Magic Leap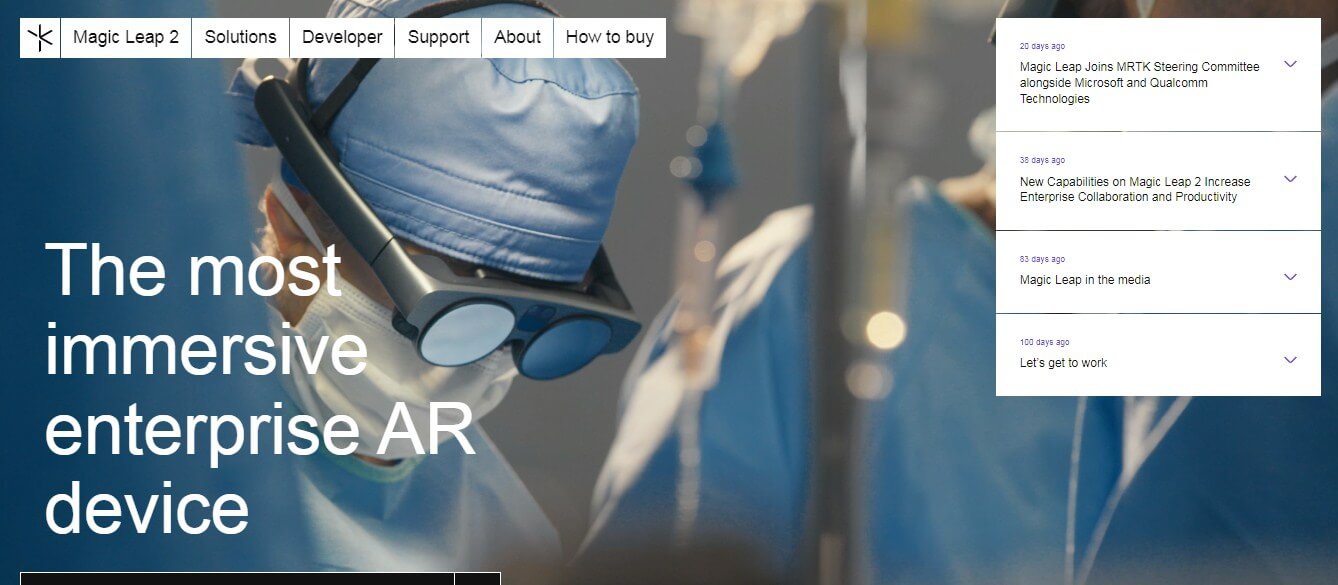 With over $3.5 billion in investment, Magic Leap is recognized as one of the most successful augmented reality development businesses and startups. The unique hardware and software technologies that the business develops are driven by augmented reality, which will alter how users access displays and view data. The company is a startup, but they are already making industry-leading optics for top-of-the-line picture quality by using mobile computing and dynamic dimming technologies. They are experts in defense, health, manufacturing and so on.
Services offered
Creating visual objects
AR development
Mixed reality
immersive software development
5. Interexy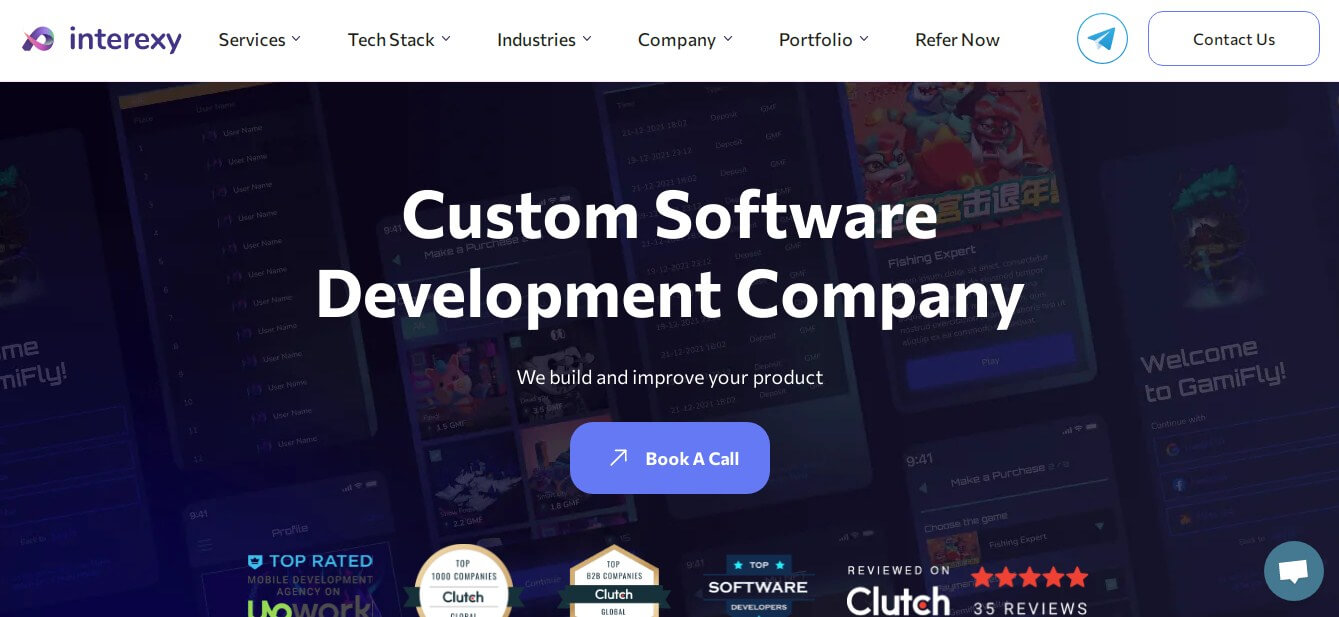 Interexy is a bespoke software development and IT consulting firm with a profound specialization in the Blockchain and Healthcare sectors. The company provides cutting-edge solutions for industry giants like SAP, and General Electric, as well as the most rapidly expanding web3 startups. The company's primary objective is to create a mobile application for its already successful and widely used online product that is intuitive to use and offers a consistent user experience across all platforms.
Services offered
Native development
Metaverse development
AR/VR Development
realistic 3D models
6. ScienceSoft
Since 2006, the augmented reality technology provided by ScienceSoft has been used to improve the business operations of companies in a variety of different sectors. This AR/VR startup offers augmented reality solutions that include extremely complex 3D model designs, accurate positioning of 3D models, and realistic interference among virtual and actual objects.
Services offered
Application modernization
Realistic 3D models
AR/VR content design
Augmented applications
7. Travancore Analytics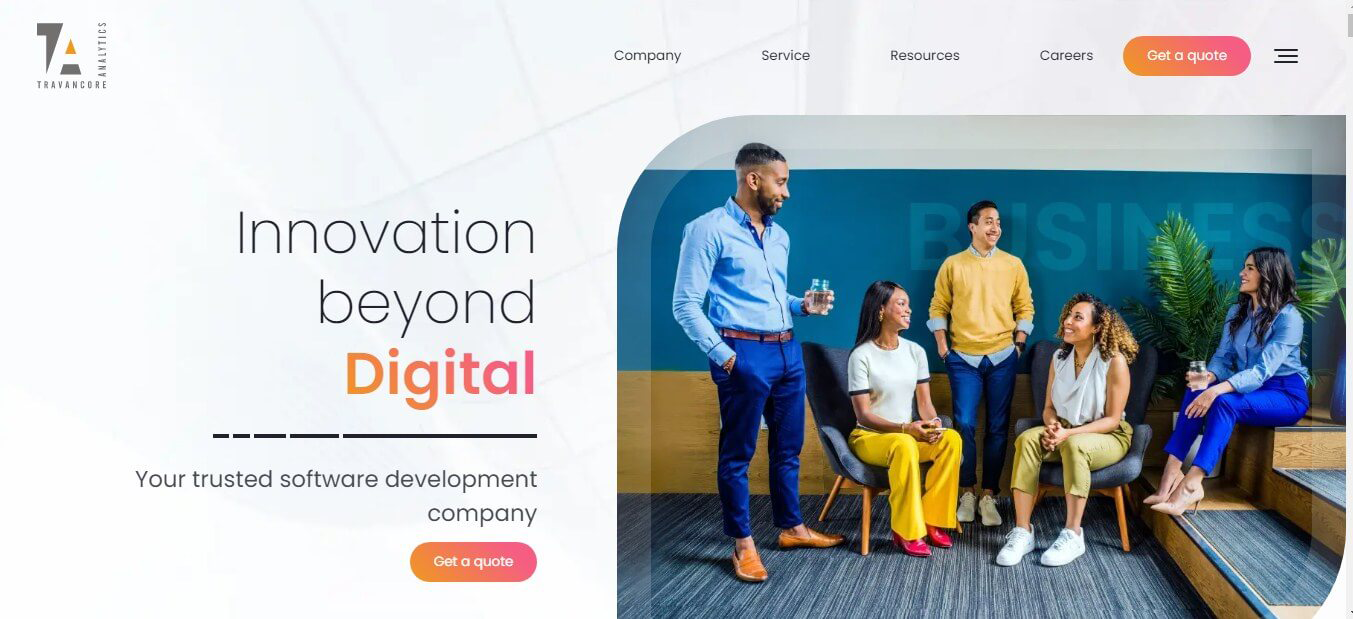 Travancore Analytics, a company that has over 15 years of expertise in the field of bespoke software development, recently made a successful entry into the field of augmented reality. The company comes with a dedicated XR lab and a staff of XR experts and enthusiasts. They provide all-encompassing augmented reality and virtual Services for the creation of reality, and they have hands-on experience working with the most cutting-edge devices available in the market today.
Services provided
Bespoke 3D content production
Augmented reality software development
Metaverse development
data analytics
8. A R Solutions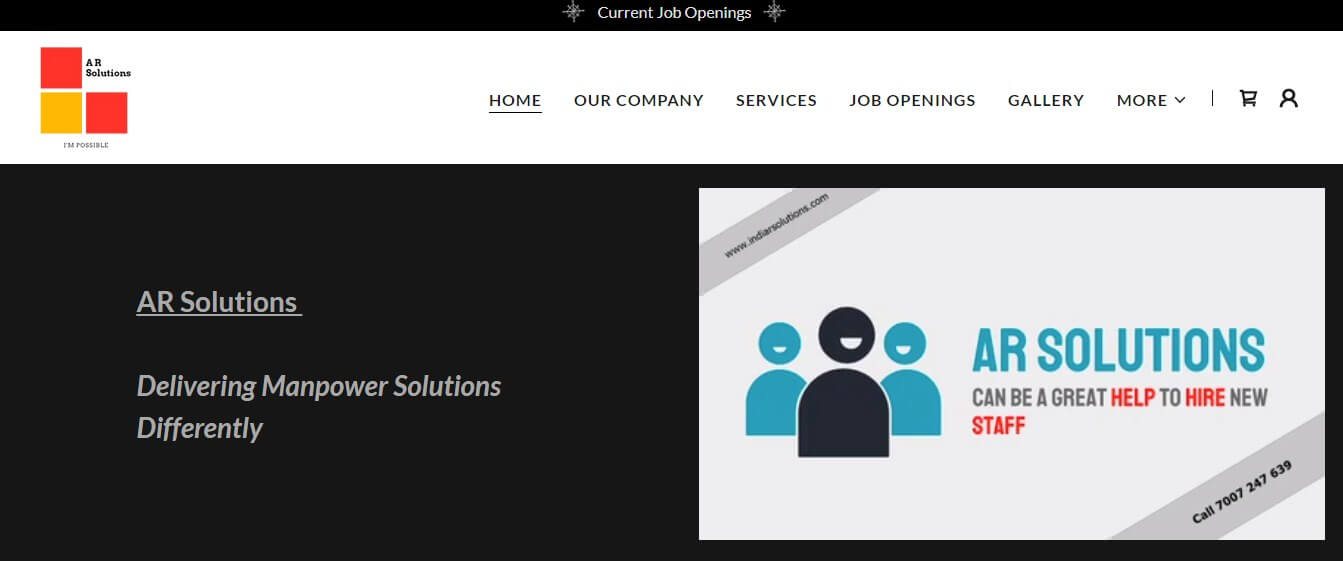 2018 saw the beginning of operations for A R Solutions. The firm is well-equipped to meet all of your AR needs thanks to their extensive knowledge, devotion, and commitment to ongoing learning and development. The gaming prowess has been proven, or at least put to the test, on every major platform there is. This includes everything from the creation of immersive worlds to the introduction of cutting-edge gameplay experiences. Get in contact with them right away if you want an app that focuses on the user and is worth its cost.
Services provided
Gamification
NFT Art
AR and VR services
Interactive applications
9. Lucid Reality Labs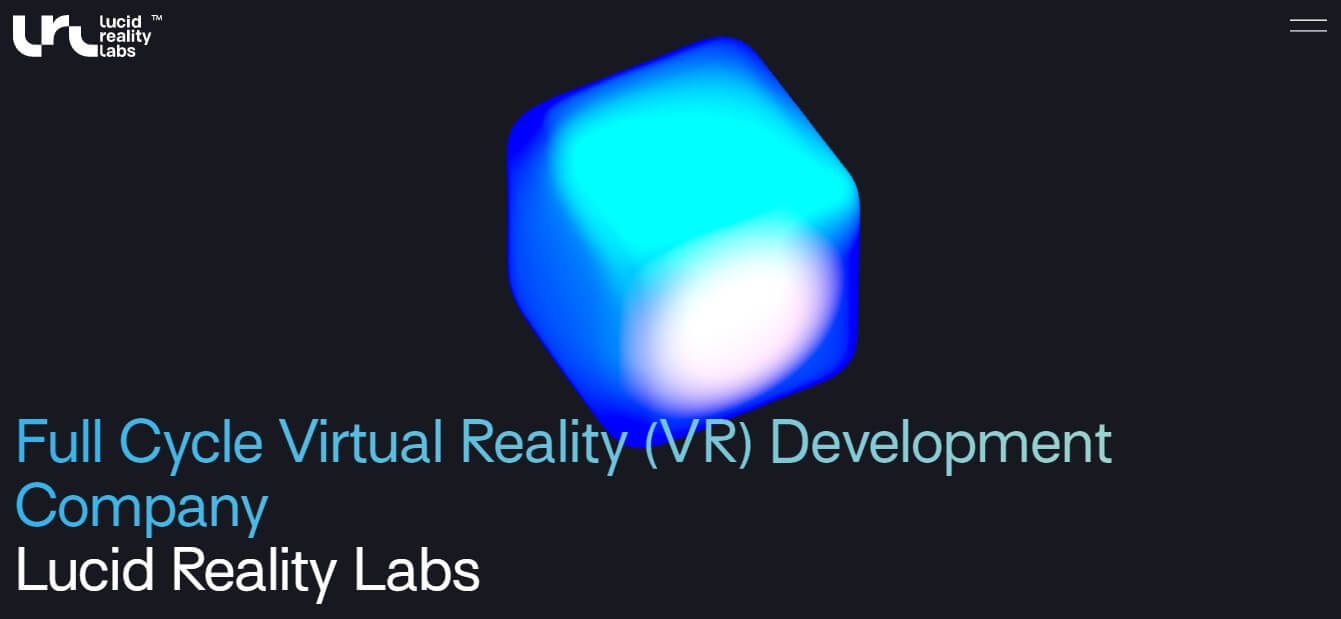 Lucid Reality Labs is the globe's top firm in the fields of immersive technology consulting, layout, and production. The business's major emphasis is on the creation of immersive XR training and simulations for the healthcare, pharma, defense, and aerospace industries. They enrich the real-world setting with virtual copies and visual overlays, which offer an infinite number of commercial options across all sectors. Its augmented reality (AR) technologies revolutionize the way people experience information, engage in learning, work together, shop, interact with one another, and discover the world.
Services provided
MR solutions
R&D Enterprise Solutions
Cyber security
Quality testing
DevOps
10. Toptal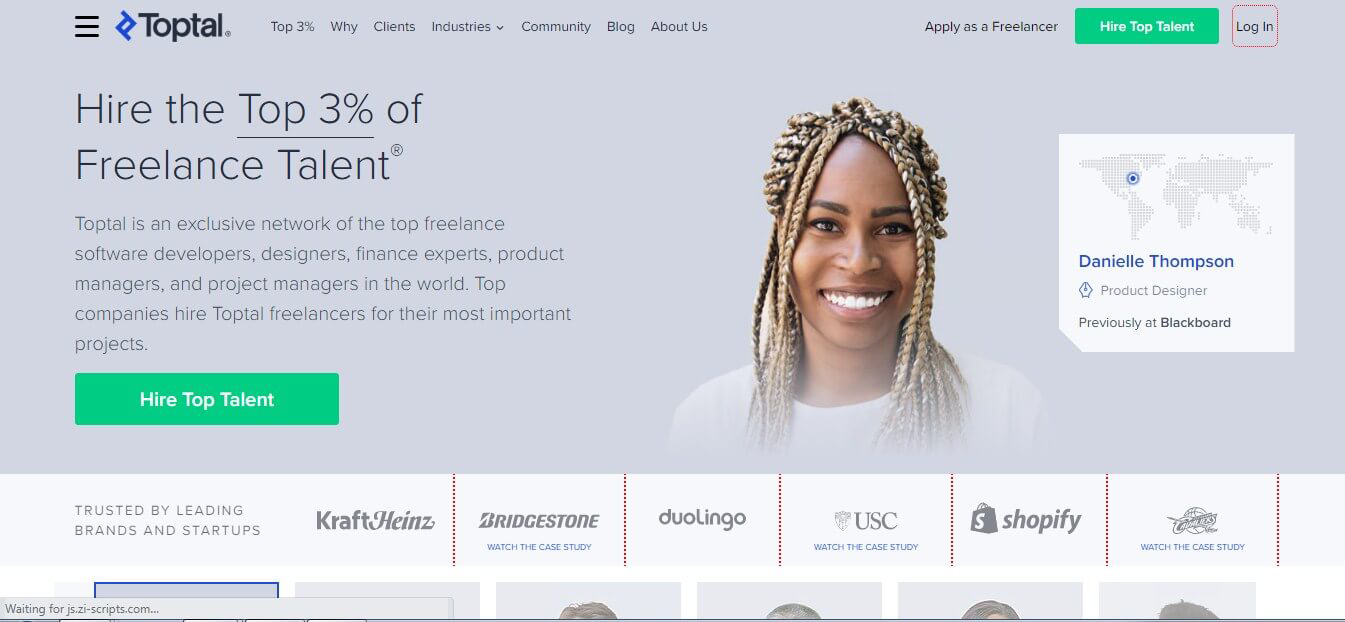 Leverage its augmented reality technologies offered by Toptal for the creation of immersive understandings, accessible all through the platforms and hardware. Founded in 2010 Toptal Platform has an exclusive piece of software that was developed to manage all of Toptal's activities Also it is a remote company. The AR developers of Toptal create fantastic applications that enhance real-world settings along the video delivery, picture acknowledgment, as well as 3D visualization to offer an engaging experience for the user. These apps are built using augmented reality technology.
Services offered
Blockchain
AI development
Custom software development
Website development
11. Mako IT Lab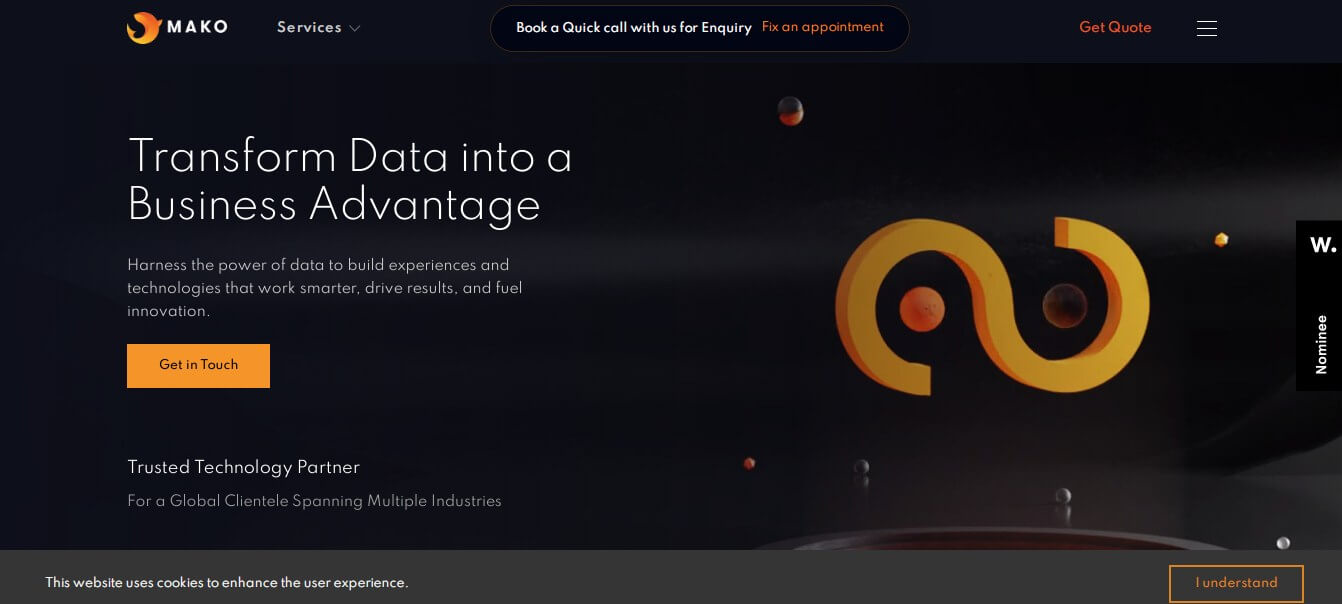 Mako is a Next-Gen technological powerhouse that works relentlessly to enable organizations to unleash their real potential by using software products and services that are on the leading edge of innovation. It has a broad clientele of over 400 customers. They have constantly assisted both startups and Fortune 500 firms to expand and fulfil their goal of generating AR apps that are not only amazing but also radiate an incomparable degree of complexity by using our unique services.
Services offered
Gaming development
Metaverse solutions
Generative AI
design and development
Web expansion
12. Innovacio Technologies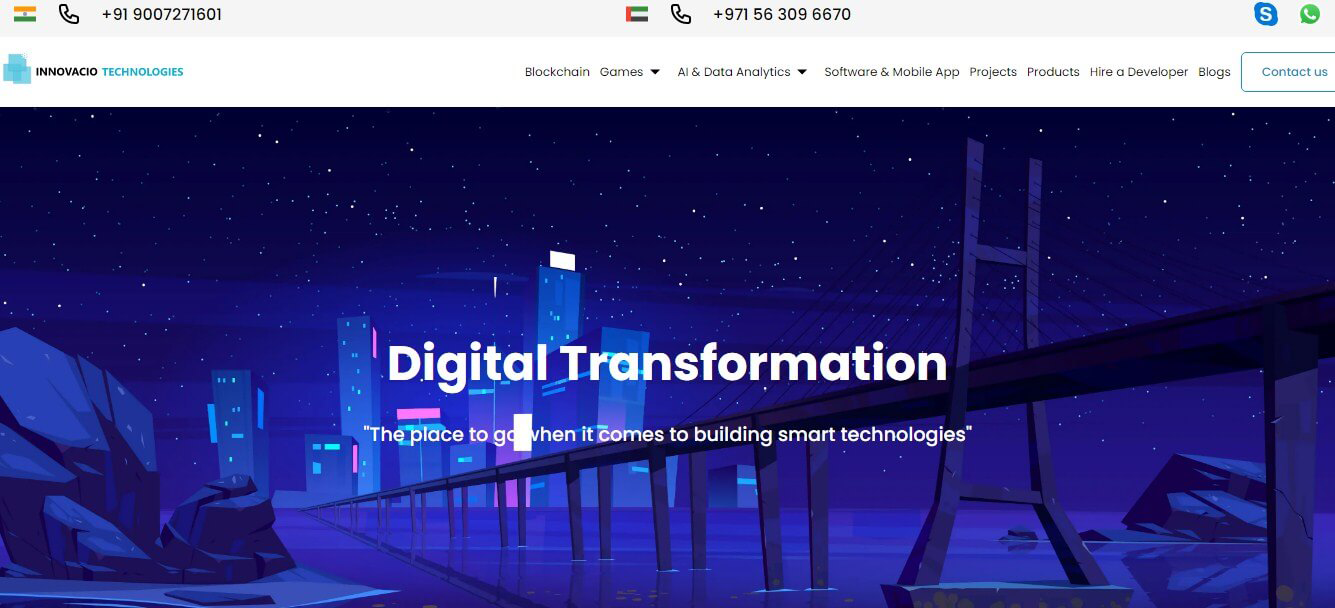 With their extensive knowledge and industry experience, Innovacio's goal is to transform the technology sector while simultaneously establishing themselves as a powerful brand. People will be given greater power as a result of the work that they do and the innovations that they develop; the goal is to make technology accessible and inexpensive to all segments of society. They work hard to provide solutions that are both effective and ingenious to ensure the success of their enterprises and their aspirations. The company is highly knowledgeable in its area of AR expertise and is familiar with how to carry out tasks and satisfy criteria.
Services offered
Blockchain development
Data Analytics
Software and mobile app
Games
13. PlugXR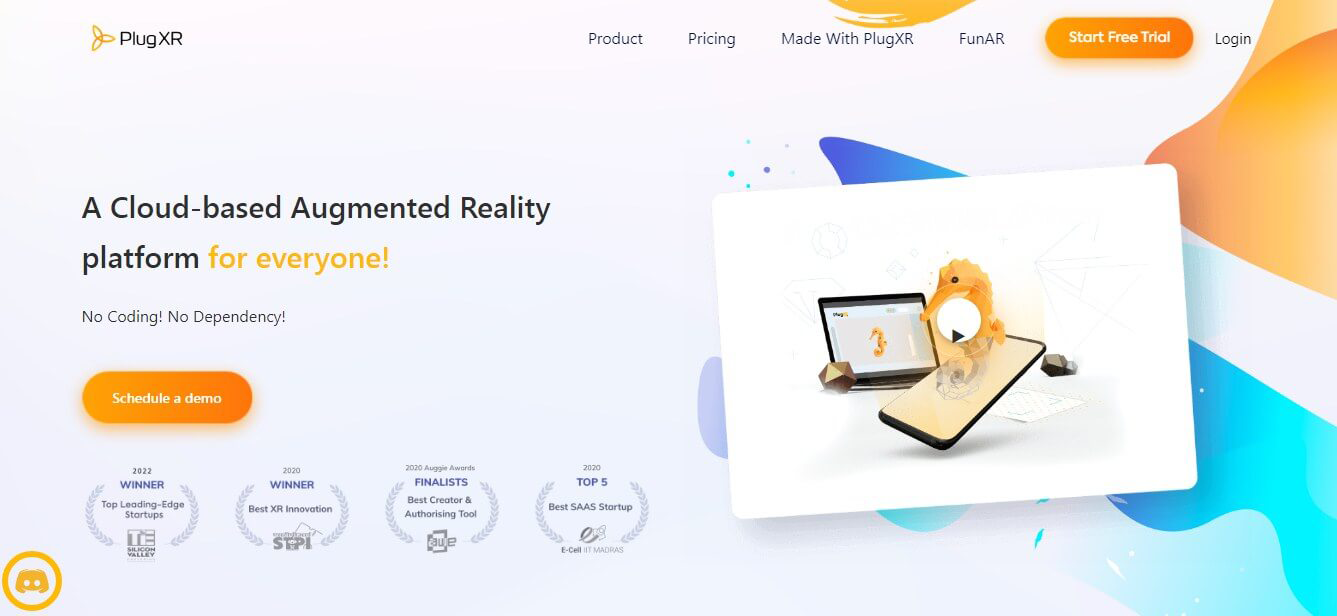 PlugXR provides a cloud-based platform that is provided with the necessary capabilities for the creation of flawless AR applications and experiences. These may then be published in WebAR, a white-labeled app for Android and iOS, or in the PlugXR app itself, and all of this can be done without the need for any code or needs. The goal is to expedite and grow the XR market having ZERO coding to build & publish XR Apps in minutes while assisting XR Ecosystem. This will be achieved while providing support for XR Bionetwork. The firm is at present on track to allow more than three million workers of XR across all sectors by the end of 2023.
Services offered
Cloud-based Augmented Reality
Immersive experiences in AR
Marketing development
Cybersecurity
Other app development
14. ChicMic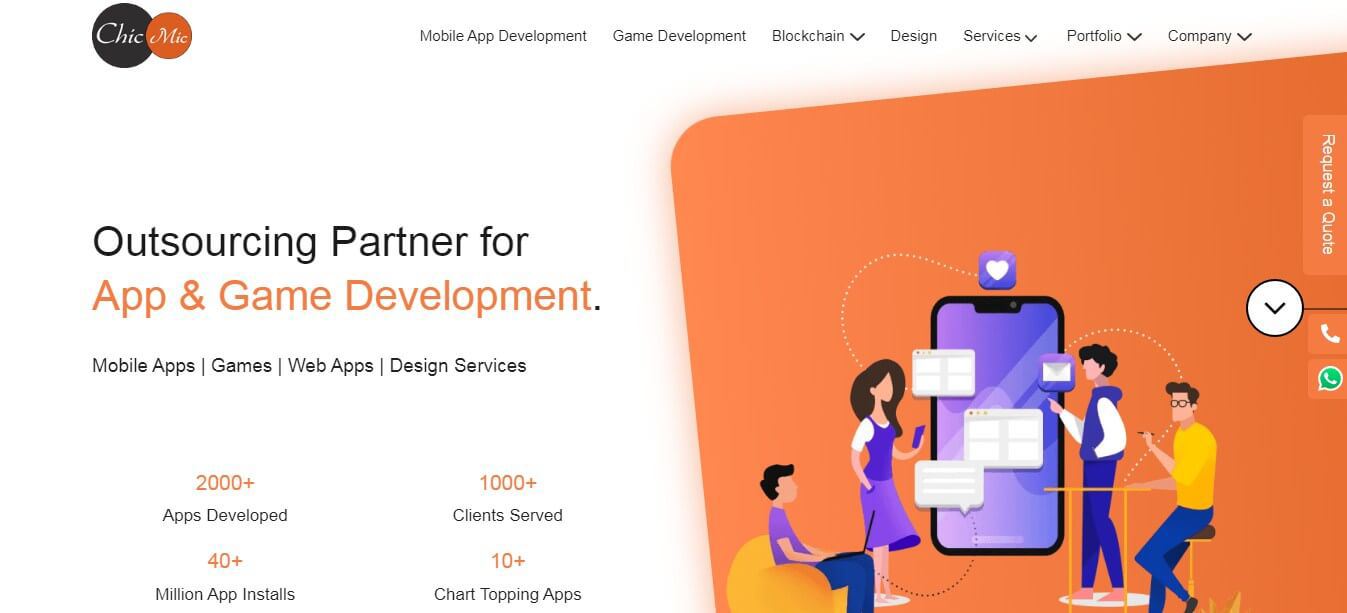 ChicMic was established in April 2012, and it now has more than one hundred fifty people working for it. ChicMic is a mobile-focused software expansion business having its primary area of expertise being the creation of apps and games. Along with web development, they also provide comprehensive advanced and referring services for the two most popular mobile operating systems, iOS and Android. The company's primary objective is to develop applications of the highest possible quality which provides consumers with continuous benefits.
Services offered
Blockchain
NFTs
Crypto based solutions
Metaverse
Cryptocurrency wallet
Graphic design
15. Imaginate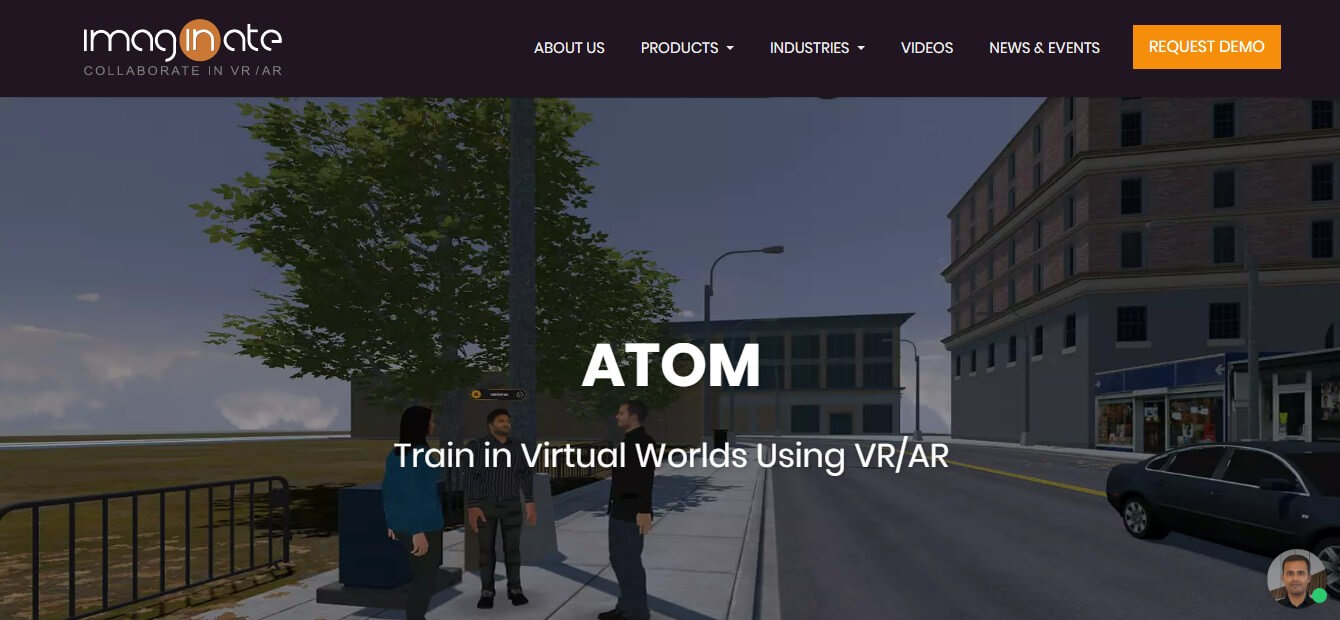 Imaginate originated in 2016 as a business that specialized in augmented reality (AR), and MR businesses. The company offered personalized 3D material for immersive training and assistance for a variety of machines and procedures. Since that time, Gartner, Forester, and IDC have all repeatedly placed them among the highest-ranked firms in their respective industries. From the very beginning, their main priorities have been offering products of the highest possible excellence and assuring total fulfillment on the part of their clients.
Services offered
Virtual Reality Solutions
Virtual Automotive Training
Application development
Digital Marketing
16. Parallax Labs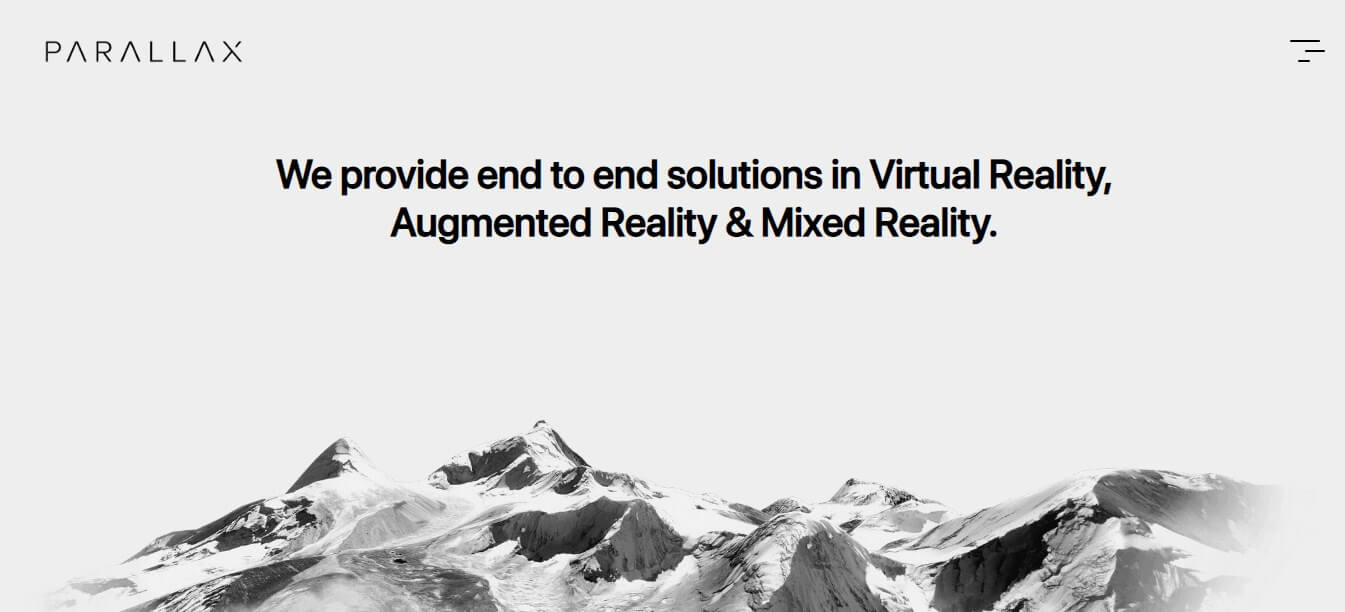 Parallax Labs is the first company in India to offer reality AR solutions, and its long-term objective is to evolve into India's foremost augmented reality supplier. In addition, they are the first company in India to provide these solutions. Parallax Labs is having a positive impact on the economic climate in India, and the company is well-positioned to become the most successful augmented reality (AR) company in the country. Because of their cutting-edge technology, they can produce stunning visual effects that are indistinguishable from reality while still being utterly enthralling.
Services offered
VR Flight Simulator
Designing
Internet of things
Big Data Engineering
Visual & Extended Reality
17. Quy Technologies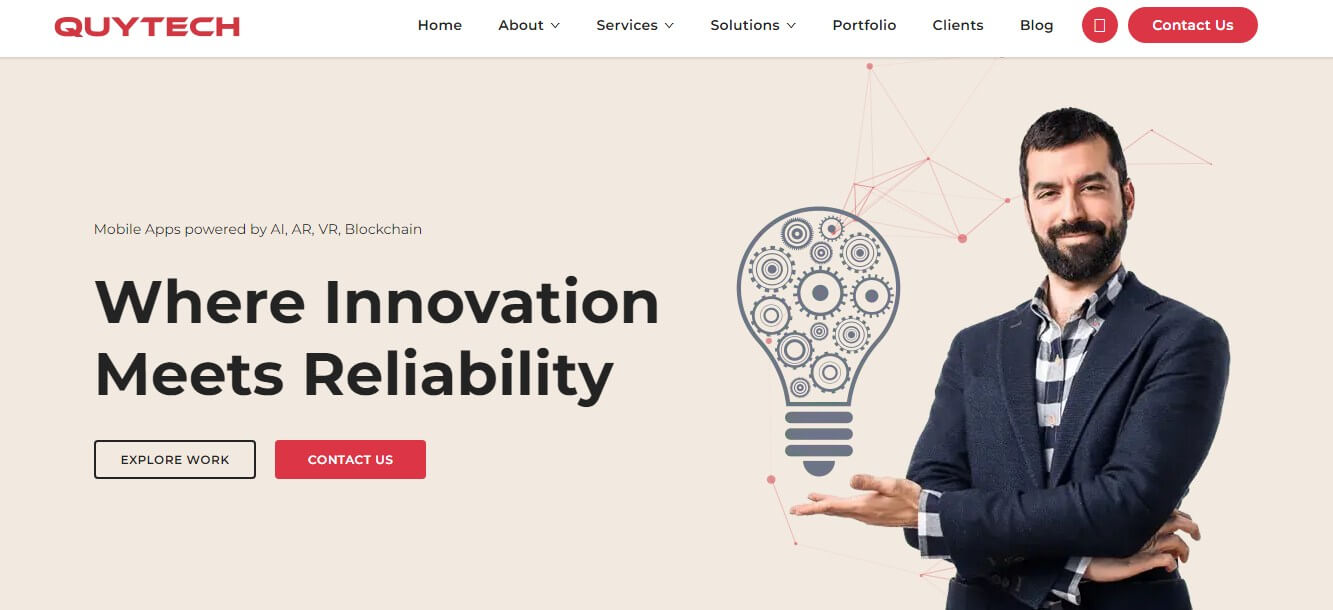 Quy Technology is a market-leading mobile application development business that has completed more than 350 projects for customers located in a variety of countries. They began in 2010 and have their headquarters in India, although they serve customers from the United States of America, Russia, Canada, the UAE, and Europe.
Services offered
Design Digital
Game Development Services
AR/VR & Metaverse Development
18. GreyKernel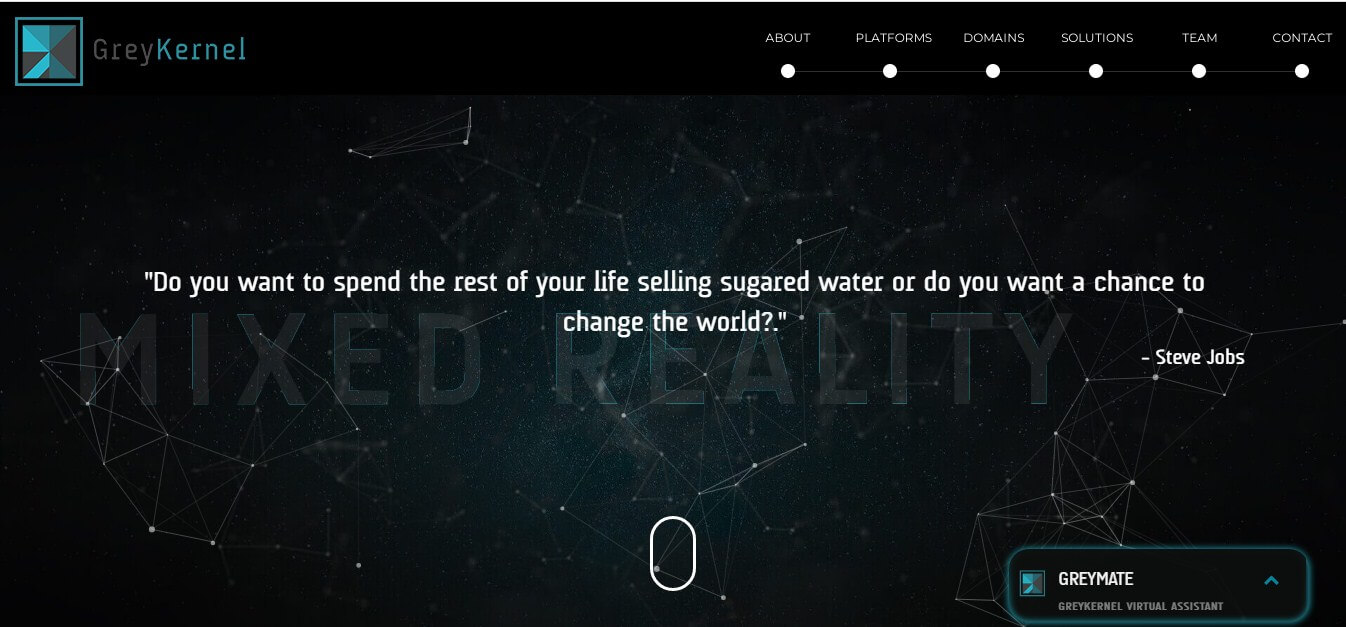 GreyKernel is an awarded AR and virtual reality (VR) business in India. The firm specializes in forward-thinking imagining and virtual realism. It is capable of producing immersive and gamified material for use in Education, Simulation, and Training. GreyKernel is ideally positioned to become the leading supplier of virtual reality and augmented reality (VR/AR) solutions in India because of its robust team of experts and leading-edge technology.
Services provided
Virtual Reality Resolutions
MR-based
Build up-to-date technologies and tools
Metaverse applications
Bottom Line
All above mentioned Augmented Reality Development Company is paving the method for an exciting future in augmented reality, which promises to be a reality shortly. These businesses are at the pioneering of technological advancement, continually testing the limits of what is possible in the field of (AR) technology. Augmented reality has a wide range of potential uses, including the gaming industry, education, the medical field, and lots more.