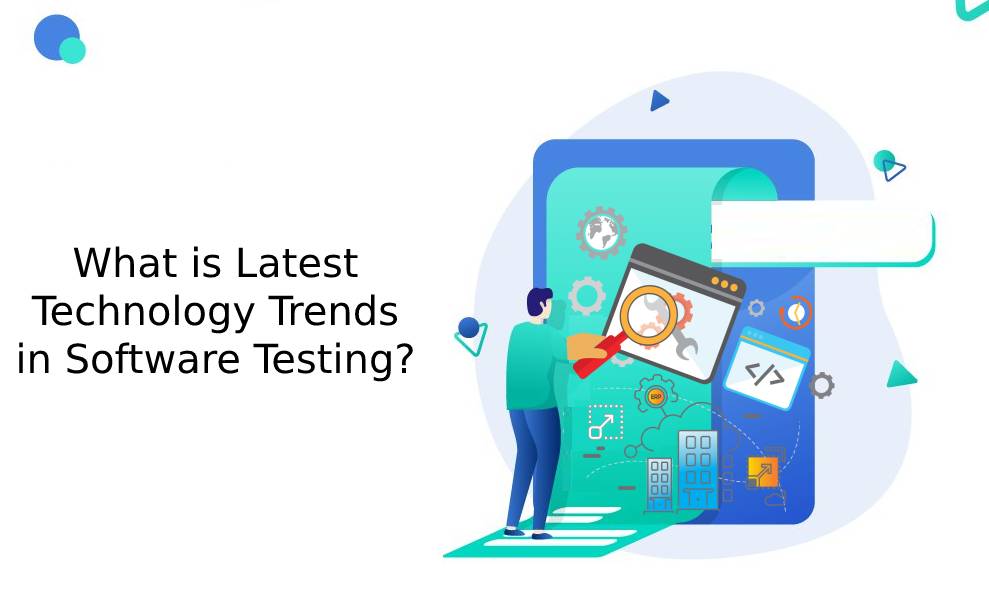 Software testing is the process of determining the quality of software after it has been developed by a programmer. A product's information is evaluated in this procedure, which is also known as product evaluation. When software testing methods are implemented, businesses may improve the efficiency with which they conduct their everyday operations.
As we transition to a world where "everything is software," automating the whole software delivery cycle becomes more important. Automated testing, as I stated in my last post, has fallen short of the quality and speed that are required to keep up with the pace of today's innovation delivery. Many software engineering teams are still hampered by the fact that test design and writing, test maintenance, and analysis of test results are all still done by hand. Automated testing is becoming more important.
Currently, available test automation solutions exacerbate this bottleneck by providing tools and scripts that reduce the need for human involvement. On the other hand, as applications get smarter and software is delivered at a quicker rate than ever before, businesses must guarantee that the user experience is excellent on an ever-increasing number of computer and mobile devices as well as browsers and apps.
The Transition from Automatic to Autonomously
To win that never-ending fight in the long term, you must first automate each and every stage of the process, then automate the interfaces between the various processes so that the process may operate automatically from beginning to finish. This is the point at which "automatic" transforms into "autonomous." What the software industry needs is autonomous testing, in which all processes are automated, including the development of tests, the maintenance of tests, the analysis of test findings, and the reporting of test results.
Such autonomy is already being shown in other sectors, where data is injected and human-like behavior is mimicked in order to get the desired result. Machines are already capable of simulating a wide range of human brain activities, including vision, motion, sensing, and processing. Despite widespread pessimism about the feasibility of autonomous testing, the use of simulated human-like behavior, such as computers vision, is finding its way into many sectors.
Approximately 75% of companies are expected to move toward operationalizing artificial intelligence by the year 2024, according to Gartner's research. The transition is expected to be very fast, particularly in light of the extraordinary market changes that occurred during COVID-19. Business behemoths are increasingly recognizing the necessity for enhanced data analysis in order to achieve greater performance.
There is no clear route to success in the future, but the process is likely to include next-generation technology for the transformation process, which will allow for more efficiency and effectiveness in the future. However, one factor that is likely to determine the final effect is the ability of automated software testing and quality assurance (QA) to achieve the objectives that are intended to provide value.
This transition will not be easy or modest; nevertheless, enabling companies to align with technologies such as artificial intelligence, big data, smart machines, the Internet of Things, 5G, and robotics will be a major shift. Businesses need a confident adoption of these technologies that is promoted via relevance, which can only be accomplished when the solutions are linked to the organization's goals.
Advantages of Using Next-Gen Technologies in Testing Software:
When you are doing a test automation framework, it must get adapted to the exact needs of the software application requirement, with a variety of testing tools available in the market. What's required is that it needs to be both dynamic and flexible at the same time to achieve the ultimate goal. Not only that, but it should also give quick insights into what's going wrong, why it went wrong, and how to fix the wrong without spending a lot of time.
Improved Decision Making
Many advanced technologies like AI, Robotics, 5G, and IoT can be implemented within the enterprise environment itself, helping to improve real-time decisions. These technologies can do various tasks such as collecting data from different sources, analyzing the information there, streamlining the system for tracking it efficiently and utilizing the required data to meet productivity goals associated with a particular decision.
Added Productivity in Routine Operations
When you use technologies like artificial intelligence and machine learning through IoT devices, it can help improve interdepartmental interactions while helping to accomplish any complex tasks. Even the use of smart devices could also improve productivity within routine operations, thereby elevating the entire experience for the internal teams and end-users of the system.
Better Interdepartmental Connectivity & Collaboration
When it comes to meeting different standards related to quality and performance, next-gen technologies like 5G can be used in this case to improve the connectivity between various departments. And the use of artificial intelligence and IoT in the testing process can allow for easier integration of data, improving the connection between developers, consumers, and other units of the whole organization. So, in short, if we put to maximum use of these technologies mentioned above, it could help in effective and proper communication between the stakeholders.
Security
Security is one of the crucial points why software testing should be taken into consideration cause it is the most vulnerable and sensitive part. We can see that there are a lot of situations where the information and details of various users are stolen to be used for the benefits. That's the reason why people would look for and prefer well-tested and reliable products.
So when a specific product undergoes proper testing, the user could be well ensured that they will receive only a well-tested and reliable product. The user's details can be safe, as well as; they can receive products that are completely free from vulnerability with the aid of software testing.
Artificial Intelligence in Software Testing
In the area of development, the procedure of software testing constitutes a very fundamental aspect. But many times, developers cannot do exhaustive testing of a particular application due to the lack of time and resources.
Accurate Data
According to Gartner, we can see that within the next five years, the data volume will expand by 800% in which unstructured data will contribute 80% of it. But the quality analysis of unstructured data will offer intelligent data insights that make it difficult to determine with data warehousing facilities and other types of traditional business intelligence tools. Since unstructured data is usually very large and cannot be used, it can be mined for business benefits. So, accurate data can help many businesses analyze their business competition and focus on the areas they are weak to strengthen their power.
Employ the Most Qualified Personnel
When it comes to your company's information technology requirements and staying one step ahead of the competition, it makes sense to employ the best. While doing so may result in a higher cost than you had anticipated, employing the incorrect individual may result in a loss of both time and money. Even worse, it has the potential to cause your company to lose customers. There is a lot of information available on the Internet regarding who to employ and who not to hire, and there are a lot of individuals who will encourage you to go ahead and utilize open source applications to assist your IT department in whatever capacity you need them.
Many companies have claimed that they already use automation technologies to speed up the development and engineering process in order to make better decisions quicker. Many, however, have not gone as far as to change the way time is monitored. Indeed, 34 percent of software developers still monitor time manually using spreadsheets, with the remaining two-thirds relying on internally created tools or time tracking software they have bought to accomplish their goals.
Conclusion
The integration of technology such as the Internet of Things, artificial intelligence, 5G, and top big data solutions into business operations will be central to the idea of digital transformation in the next years, and this will be the driving force behind it. The use of software testing in the creation of more stable and secure digital ecosystems that are seamless in their operations and performance, among other things, may become more common as technology becomes more widely available. Finally, as digital ecosystems grow more prominent, improving IoT testing, big data testing, artificial intelligence testing, and other testing techniques will provide a solid basis for the future software and application needs of businesses.