Banking CRM Solutions
With the banking industry in a state of rapid change and innovation, and with the rise of FinTech business models, it has never been more critical for banks to keep up with customer demands. Customer relationship management (CRM) has emerged as one of the most significant ways for banks to strive for improved customer experiences.
With years of experience in offering Dynamics CRM Solutions to financial companies, we can cater to your requirements designed per the current market trends. We provide banking CRM software solutions with opportunities to increase their satisfaction and deepen their loyalty.
Reach out to our banking CRM consulting experts to get started.

TRUSTED BY
GLOBAL CLIENTS


















Custom Banking CRM Solutions
Banking CRM is a system that provides banks to support their customers and their relationships with them. It helps in making sure that all your customer data is organized and stored in an easily accessible way so you can find what you need quickly. This makes it easier for you to provide better customer service.
A good CRM system should handle all the different types of information that banks need to collect, manage and store. Not only will this make it easier for customers to access their data, but it will also help banks maintain a more efficient internal workflow.
Building a One-Stop Banking CRM Software
Our banking CRM software development solutions help you track the data in real time and give insight into your customer's behavior. You can use this information to improve your services, which will help you gain more customers and increase your profit margin.
At Aegis Softtech, we help you increase sales, reduce costs, and improve customer satisfaction. We can also help you to gain a competitive advantage over your competitors.

Responsive
By having information on each of your customers at hand, you can be more responsive to their needs and concerns. This will help build trust with them by providing them with the right information at the right time.

Streamline Banking Operations
A comprehensive banking CRM solution helps banks to streamline their operations. This is especially important in mobile banking as there are fewer physical branches and most customers are using mobile devices.

Better Marketing
Banking CRM software can help you improve your marketing campaigns' effectiveness by giving you access to data on past purchases from specific customers or groups of customers.
Fulfill Your Customer Expectations with an Intelligent Banking CRM
Today, we live in a world where the concept of banking has changed. Customers have more options about where to do their banking and how to bank. Banks need to offer their customers the best possible experience to stay competitive in this environment.
A bank CRM solution is an essential component in any bank's customer relationship management strategy. A CRM system allows banks to organize all of their customer data into one place so that it is easy to access whenever you need it. We offer a comprehensive range of custom banking CRM solutions that provide the perfect platform for managing your customers and their interactions with your bank.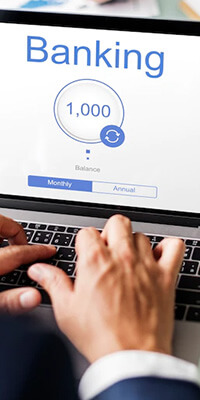 How Can Banking CRM Implementation Improve Your Process?
You can view all of your customer data at once instead of having multiple systems that don't communicate with each other.
It's easier for employees to access information about customers quickly and easily.
You can track sales opportunities and improve sales performance using analytics tools included in some CRM systems.
You can increase sales volumes through targeted marketing campaigns with relevant information geared towards conversions.
You can reduce costs through automation and collaboration between departments, eliminating information mismatch and redundancy.
How Can Aegis Softtech Help You with Improving Customer Relationships?
We understand your challenges in managing your customer relationships and have the right solution for your business.
We can help you manage, automate, and optimize all aspects of your customer interactions — from the initial contact to the end of the customer relationship.
Our banking CRM solutions are flexible enough to accommodate your unique requirements and scalable enough to grow with your business.
We can integrate with your existing systems, automate routine tasks and provide better visibility into your customers' needs and wants.
Our experience working with banks means we understand the challenges you face in managing your customer relationships, so we have developed an array of customizable solutions to help you manage, automate, and optimize all aspects of your customer interactions.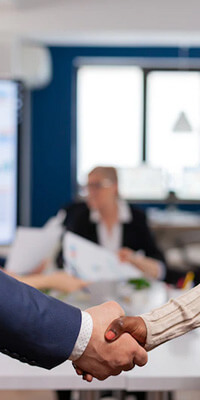 Our Banking CRM Solutions
The banking industry is a huge part of the global economy. It's one of the most critical industries in any country. This means that the banks themselves have to be very careful regarding their CRM systems. The banking world has been using CRM software for years, but it still needs improvement as technology advances.
This is why our handpicked, custom features for your banking services can help improve your customer interactions, marketing and sales effectiveness, and increase your retention and conversion rate.
Improving Customer Interactions Across All Banking Channels
Banking CRM solutions are vital to any bank's customer service operations. A CRM for banks is a solution that can help automate and streamline the data management process. There are several different types of custom banking CRM solutions available today, each with its unique set of features and functions.
Banking Sales Force Automation

This software allows users to create sales campaigns for specific sales representatives based on their performance history or target sales goals set by management. It also allows sales reps to monitor the status of all their pending deals from one location to close more deals faster than ever!

Banking Customer Relationship Management

Our banking CRM software solutions are designed specifically for banks, financial institutions and other businesses with similar customer interaction and management needs. It allows you to keep track of all your customer information in one place to better communicate with them and provide them with personalized support whenever they need it.

Banking Customer Support

We build CRM solutions for banks and financial institutions to create tickets and track them until they are resolved. You can also monitor all customer requests in one place and receive notifications when new tickets are created or updated. These are particularly useful for large enterprises that offer various services and want to provide top-quality service to their clients anytime.
We Deliver Banking CRM Services Across
USA

Canada

UK

Germany

France

Singapore

Italy

Israel

Australia

Japan

Netherlands

Sweden

Switzerland

Norway
Various Modules of Banking CRM Solutions
Banking CRM is a comprehensive package for banks and financial institutions. This solution consists of various modules that help manage customer interactions, communication and engagement. If you have specific needs in mind — like integrating with your existing systems or building custom reports — then make sure these modules are available before making any purchasing decisions.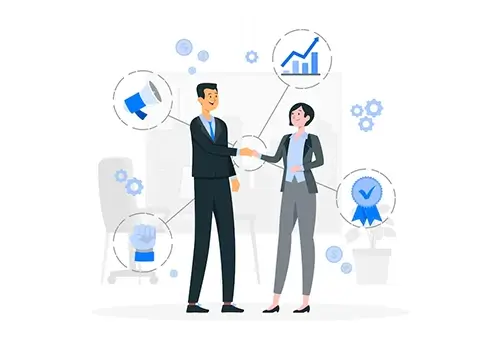 Customer Service Management Module
This module offers services such as call center integration, live chat, email management, social media management ,etc., which enables banks to be more responsive to customer needs while ensuring an efficient service delivery process that reduces costs per transaction.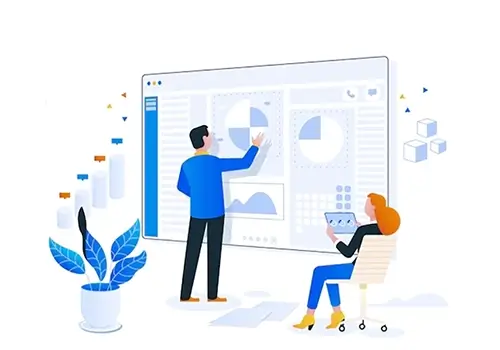 Campaign Management Module
This module enables organizations to create effective marketing campaigns for their customers based on their profiles, preferences and interests. It also allows users to track each campaign's performance to determine its effectiveness and make necessary changes as needed.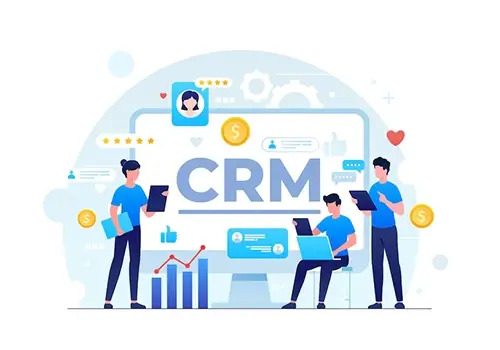 Customer Database Management
This module helps you efficiently organize your customer data by creating customer lists, managing contacts and storing information about them. It also helps you keep track of all your users and their permissions within the system.
Essential Functionalities of a Banking CRM Software
An end-to-end banking CRM solution helps manage customer relationships from initial contact to ongoing interactions. It also helps manage complex sales cycles and processes in selling financial products and services. Our banking CRM software development services provide an overview of customers' interactions with the bank over time. This helps enhance the customer experience by delivering personalized services based on their needs and preferences, making it easier for them to make informed decisions about their finances.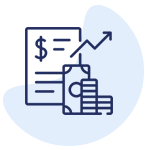 Financial Analytics
This module helps banks analyze customer data as well as financial information to understand their behavior patterns and preferences to cater better to each customer's banking needs through customized offerings or by directing them towards banking products that suit their requirements best.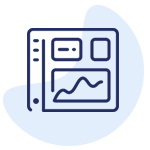 360-View Dashboard
The dashboard helps manage all the information related to customers, prospects and leads in one place so that it becomes easy for organizations to keep track of their clients' details, preferences and requirements.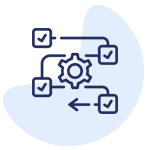 Banking Workflow Automation
Automating workflow processes will help you manage customer interactions more efficiently. We design custom banking software that allows you to create and modify workflows in real-time and provide valuable banking support and services.
Choosing the Best Custom Banking CRM Solution for You
Banking CRM solutions help you manage your customers, track their information and automate processes. It's a great way to improve the overall customer experience, and it can also be used to help grow your business. While choosing banking CRM software solutions, it's essential to consider the following points:
Scope of Your Banking CRM
The first consideration is how flexible your system needs to be. Some banking CRM solutions allow you to store all kinds of information about your customers and your business processes, while others are more focused on specific areas like sales or marketing automation.

Integrations Necessary
The second consideration is what type of integration you need with other systems in your bank. If you already have an existing customer information database, then it may make sense to choose a solution that integrates with those records.

Ongoing Support
The third consideration is how much support you need for implementing and managing your system. Banks vary widely in how well they can provide ongoing support for their customers once they start using their systems — so make sure that the support team you choose offers sufficient support during implementation and going forward.

Bringing the Best of Banking + Technology to You
Our banking CRM software can be used as a stand-alone application or as part of an integrated solution. You can use our CRM software to manage various business processes, including marketing, sales and service. This allows you to use your resources better and improve customer service.
Our FinTech solutions are designed for financial institutions that want to improve how they deliver services to their customers. We offer solutions for mobile payments, e-banking and more. Here are some of the features we include in a banking CRM software development process:
Multi-Channel Support
Our banking CRMs include support for multiple channels such as mobile apps, websites, call centers and even social media platforms. This allows you to interact with your customers on any device they choose.
Contact Management
The contact management we develop is simple and easy to use, so you can track who you've contacted and who you still need to contact. You'll also have an easy way to add new contacts to your list without starting from scratch every time.
Data Import/Export
Data migration is often necessary when switching from another CRM system or making big modifications. We develop solutions that include tools with importing/exporting capabilities into spreadsheets or database formats like SQL Server or Oracle — to make this process easier on your end.
Have something specific in mind? Reach out to our banking CRM consulting experts for building a new CRM or updating your old one to meet the rising customer demands.