Hire Expert Tableau Consultants
From sophisticated analysis to simple visualizations, Tableau is the go-to platform for many. We are certified Tableau consultants to implement, optimize, and deploy Tableau in your existing Big data analytics system. Let's our Tableau solutions make your analytics and, thereby, your business operations better.

TRUSTED BY
GLOBAL CLIENTS


















Translate Your Data into Smart Business Insights with Tableau Software Consulting Company
Do you think you're properly using the data you collect? With our customized Tableau BI services, you won't ever have to be in doubt. Our team of Tableau advanced analytics will help you include Tableau in your everyday business decisions and set up your complete workflow. Tableau data visualization can be integrated with your existing data infrastructure and add to the efficiency of the operations and the accuracy of the insights. Custom Tableau consulting services to accelerate the value of Tableau and become a data-driven organization to derive actionable insights.
Uncover Insights with Tableau BI Development

One of Tableau's prime strengths is its ability to uncover insights that would otherwise seem very hard. With the features like cross-database joining ability, you can work across multiple data sources and workbooks and deliver useful insights.

Reach Your Insights Faster

You can avoid the time-consuming process of working in data silos with Tableau predictive analytics. You can quickly use the highlighter for data exploration and easily conduct quick analysis and visualizations on the go with the superfast analytics platform.

Minimal Investment

Tableau is one of the most affordable BI tools available. It's not just cost-efficient but is also one of the most rewarding platforms to conduct data analysis and visualize insights. You can get your value for money by investing in Tableau.
We deliver Tableau Consulting Services across
Sydney

Melbourne

Brisbane

Perth

Adelaide

Gold Coast

Newcastle

Canberra

Cairns

Darwin

Hobart

Byron Bay

Geelong
Tableau Solutions We Offer
Understand business analytics at a higher level
You may have heard stories of companies utilizing data analytics to win over customers and achieve quick results. But you aren't sure how? Well, this is where our Tableau software consulting company comes in. Our certified Tableau consultants will help you to visualize how Tableau can transform your business and go a step further and help you with its implementation. We provide various Tableau solutions aimed at solving your business challenges and optimizing your data processes.

Tableau BI Development
Our Tableau BI services team will help create the dashboards and reports on Tableau based on your expectations. We'll also integrate the platform with other data tools for maximizing its performance.

Tableau Consulting Services
When you're already using Tableau but your business needs are changing, then you need to restructure the platform too. Our team of Tableau Consulting India will be there to make the changes based on your current needs and help your team navigate the same.

Tableau Data Visualization
Tableau is known for its data visualization features. With its various animations across Tableau Desktop, Server, Mobile, and Public; we can set up templates for quick use and set dynamic animations with filtering.

Tableau Training
Our virtual training sessions for Tableau are specific to your business domain and the team's applications. We offer one-on-one training for your employees and increase their working productivity with data analytics in general.
How Does Our Tableau Consulting Services Work?
As one of the leading companies offering Tableau consulting in India and Singapore, we have a great deal of experience helping organizations leverage Tableau to the fullest. We are the trusted advisors for Tableau BI services for many companies around the world. So, we can help you in the decision-making process and get the best out of your data with our Tableau BI development services. Our Tableau software consulting company can help you improve your analytics through our ad hoc services.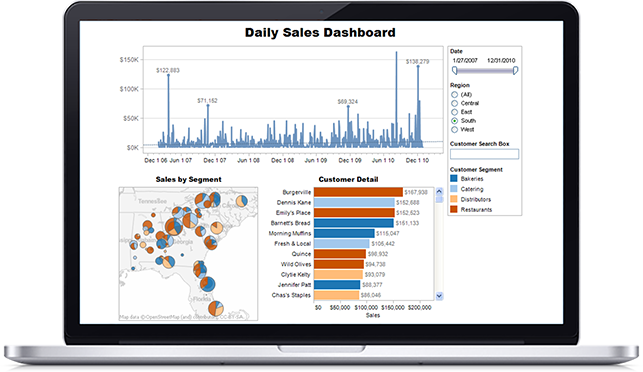 Proof of Concept
Something that works for your competitors may not work for you. We create a roadmap for your business by analyzing your core activities.
Planning
By understanding your need for analytics, we create a step-by-step plan to help implement Tableau in the dataflow process.
Quick Analysis
At times when you don't have the time or manpower to invest in project analysis, our Certified Tableau consultants will help you out.
Tableau Implementation
Our consultants will go a step ahead and helps you to implement the plan and deploy Tableau tailored to fit your organization.
Attractive Features of Tableau
Tableau is, hands down, one of the best data visualizations tools you can use. Tableau is built to simplify not just the analytics but also how we perceive the data analysis. The host of Tableau's features are best to customize and create dashboards, visualize results, and automate a portion of the data analytics process. Here are some features that make Tableau data visualization such a popular choice.
Dynamic Parameters
Set your parameters once and avoid republishing the workbooks whenever the data changes with automatic updates.
Data Stories
See the changes in the data visually from before and observe how and why the changes take place through time.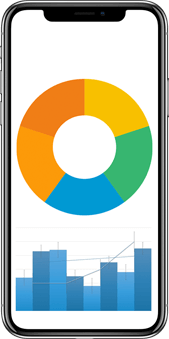 Spatial Analytics
With just a few parameters, you can visualize the distance and conduct better and accurate analytics around it.
Certified Data Sources
Get faster to the data you're searching for with data management add-on to filter out the relevant data.

Specialized Tableau BI Services to Maximize Your Data Outputs
Admit or not, there's always something more we can achieve with data. And data analytics is indeed an incremental process. You have to keep improving the process to be always one step ahead. With our services for Tableau Consulting India and worldwide, we have seen how companies improve just by adding a single tool to their data process. We're here to make such transformations in your organizations too, with our customized Tableau solutions.
Tableau Predictive Analytics
We help to set up Tableau BI development with the custom territories to load and work with the data. You can analyze and predict what happens when a specific business action goes through with the help of Tableau Predictive Analytics.
Tableau Advanced Analytics
If you want to include advanced data science algorithms, we can help you code and implement it through Tableau data visualization. Our Tableau advanced analytics solutions are an end-to-end service to extract the best out of the data.
Tableau Data Preparation
Tableau software consulting company will help you to set up the ETL pipelines, create a reliable system to share and filter the usable data for analysis. We ensure quick real-time sharing of data for immediate, time-sensitive analysis.
Dashboard Development with Certified Tableau Consultants
Want to customize the dashboard to display the critical elements of your business? Our Tableau consulting services team can publish and tailor the dashboard according to your specifications and guide in sharing the dashboard with others.
Tableau Governance
Make sure to define the processes, roles, and access to the different employees in the organization for Tableau Server. Our Tableau consulting India team will help you to maintain compliance, establish standards, and monitor the system.
Frequently Asked Questions
Have any more questions on your mind? Here are the answers to some common questions that our prospects have asked.
We have very flexible models that are customizable based on your needs. You can hire us on a project basis or a monthly basis. Our team will work with your in-house employees in the Australian timezones.
Yes, of course. We have several data experts who specialize in different data analysis and management tools. We also have data analysts and managers on our team who will work together to implement the entire data system.
We have highly secure firewalls installed for our in-house purposes and take complete precautions to keep your data safe from our side. We also sign an NDA given from your side to protect the sensitive data.
The three main types of Tableau products - Tableau Reader, Tableau Server and Tableau Desktop - differs majorly in terms of data security and privacy. Therefore, based on the level of security you need and the additional features offered in each of the products, we can help you to choose the best Tableau product for your business.
Yes, you mostly can. Though Tableau is a data analysis and visualization tool, we can integrate your analysis software with Tableau for visualization. We can give you a better idea and outline of how it's possible when we know more details of your ETL process.

Problem(s) I must admit that the Tableau Desktop Qualified Associate was not a piece of cake for me. Questions can be tricky and time-consuming, you need to prepare for it tactically.
There are two ways in tableau BI Services by which we can connect two data sources.
Companies are responsible for the safety and confidentiality of their client data and employee information.