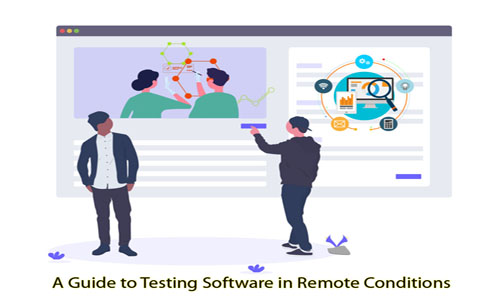 It wouldn't be incorrect to say that we are living in the age of software. Right from the tiniest needs of our lives to uncomplicating the most complicated systems. Application software is doing the job everywhere. It is helping integrate several functionalities of a system, bring manual operations to rest, onboard organized data to the digital culture along with several other things. In other words, software testing has been more than a boon.
It has brought the culture of change and helped industries transform their usual processes. But, as software goes on to conquer the world, there are other threats that one must prepare for in the long run. For example, data security, ease of use, seamless interoperability along with a bug-free experience are some of the desirable things that one wants when talking about a digitized system.
While software expands its network in every other industry, the need for a robust testing system grows at an unprecedented level. After all, to deliver a quality experience any system has to be tested against different parameters. These parameters are translated into the term of test cases when it comes to software testing services. As a result, testers have to test against different cases and make sure that all of these have one goal in mind- to enhance the usability of the application software for the people.
While testing software in the conventional sense such as on-site has challenges on its own but is something that testers have been habitual with. However, with the current crisis scenario going around the world, there are some stringent constraints on physical movement. This on one hand is slowing the progress of the world at various levels while also creating challenges for testers who are not in the live environment where the development is taking place. As a result, this is impacting the potential of the tester while at the same time leaving room for errors in the application software.
Software Testing Pre and Post COVID
The pandemic has not just impacted the Java web development of software applications but also slowed the testing process. This has impacted the growth trajectory of industries. In fact, the software testing market in itself has been adversely impacted due to the COVID slowdown. While organizations are exploring remote testing environments to keep with the growth pace of the software testing market, it still has a long way to go.
The constraints of an adequate infrastructure along with factors such as employee productivity and motivation are only the tip of the iceberg problems being faced by the software testing industry in the remote scenario. This might be even convenient to a great extent for giant players in the industry but is a huge setback for small and medium enterprises who are already facing budget issues and striving hard to compete in the market.
The current big players of the software testing market continue to remain Capgemini, Wipro, Cognizant, HP, Infosys, TCS, Hexaware, Katalon Studio, IBM, Tricentis Tosca Testsuite, Worksoft Certify, TestPlant eggPlant Functional among others.
Bringing Remote Testing to the Table
The new distributed working environment has a huge role to play in the existing COVID era. Even though a large number of offices are asking their employees to return back to work, as usual, it is still a challenge. The employees are skeptical about returning back to work due to health issues and an increasing number of pandemic cases on a daily basis. As a result, a more distributed work environment is observed, where everyone is preferring to work from distant locations.
Distributed Testing
While the picture appears entirely hassled due to the remote work scenario, there is also a silver lining to be observed. The distributed work environment is cutting the employee turnover rates as people are finding comfortable work environments from remote locations. More to this, for mobile app testing services location-specific testing is fundamental, creating even more opportunities for people to enhance the usability of their mobile applications.
On the other hand, the lack of infrastructure is a huge setback for the distributed testing environment. Without an exceptional test management system and integrated environment, software applications are hard to test, whether we talk about functional or non-functional aspects of testing.
Increased Documentation
The remote testing environment also creates the necessity for intensive documentation. While in an office scenario it is easy to move around and collaborate with peers, there is much difficulty in the remote environment. Testers have to create strong documentation that is easy to understand by the people in the organizations. Often there might also be a need for video-based documentation that will lead to a better understanding of test cases being run and instructions being followed.
Since software testing requires intense concentration, often the remote scenario is considered favorable. This means people can flexibly and get work done by being away front he distractions. Statistics exist to back this fact. According to it, 75% of remote workers report fewer distractions, and as many as 65% of people think that they work best from home.
Moreover, remote culture also brings the advantage of working with a greater team that involves freelancers. This model of work culture for testing is often known as burst testing. For example, distributed teams of freelance QA experts can help get the work done more rapidly and conclude it in a short amount of time. Even though humans require social connections to keep on working smoothly, remote culture brings the need for a greater organization at the work front. Teams and work have to be closely monitored to keep a check on productivity and help employees stay motivated.